Personalised Mugs
Personalised Mugs: simply the best gift ever!
Below more details on
Custom Mugs: The Most Classic Models for A Cosy Breakfast!
Some objects arouse positive emotions. They convey joy or evoke beautiful memories. They are items that have been with us since an early age and to which we have become attached from the first glance. Simple or colourful, they have made otherwise banal moments rich in value and affection. Think of your personalised keyrings on your cases and backpacks. Or of the personalised baseball caps that you used to wear during a school trip or a mountain adventure.
While many accessories became loyal companions on outdoor days or at school, others were at home, patiently waiting for us. Among these, custom mugs were undoubtedly the most successful.
They immediately give us the idea of home, warmth and family. They take us to the table for breakfast or on the couch to read a book on a rainy winter afternoon in the blink of an eye.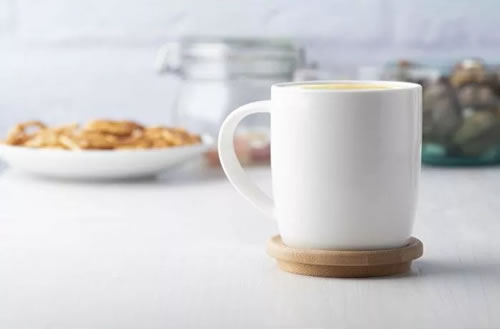 Gifted to a loved one, the custom mug communicates affection and becomes a simple and effective way to be with them during the day.
Custom Mugs: Valuable Corporate Gifts for Companies
Custom mugs, cups and glasses are among the most popular promotional products of all time. The reason is quite obvious: they are useful, serve both the customer and the employee and can be made in a thousand ways. Also, there are many models, all of which are very different from each other. Still, they share an important quality: if customised properly, they won't be forgotten in the cupboard, but will be used at all times instead.
Custom mugs have other features beside these. They make you feel welcomed and pampered and are very appreciated even by kids. They are in a nutshell an item for everyone and convey closeness and care to those who receive them. What better way to build customer loyalty and trust among your team?
A final advantage of the custom mug is its adaptability. Besides containing tea, milk and coffee, this corporate gift can become an ornament or a pen holder. In any case, it will bring your logo and your name in people's homes, together with the image of a company that has given a unique and useful accessory.
Just Custom Mugs? A Short Journey to Discover All the Models
Whether you want to give your best friend a custom mug or get the most out of your promotional campaign with this corporate gift, you have a wide variety to choose from. The models range from classic to particular ones. There cups made of ceramic and porcelain – which you can find in everyone's home and are never too many. Beside them, there are cups of glass and mugs of steel, which have an original appearance that can arouse curiosity. As for the types, we find cups, mugs, the mug with blackboard and travel mugs.
Custom mugs and cups
The main feature of the mug is its size. It is rather roomy, so it is suitable for containing large quantities of drinks. Thanks to its dimensions, it is often given as a souvenir and used as a pen holder. One of the main advantages is that it has a large surface, which allows you to print your logo, images and writings so that they are clearly visible and distinct.
The custom mug is a model which you should take into consideration if your company is looking for a promotional product that can serve your audience. Even if it doesn't fit into the cup collection in the kitchen, it could always find a good place on a desk or on a shelf. Whether it's served to guests with a hot drink or left in plain view in the living room, the custom mug will spread your brand thanks to your logo, which will hardly go unnoticed.
Clearly visible corporate gifts, mugs can be displayed in bars and restaurants, too. Placing them in a showcase next to personalised espresso cups will create a homely atmosphere that customers will appreciate. Custom cups, on the other hand, are smaller in size. Nonetheless, they are perfect for drinks of many kind, from tea to coffee.
Chalkboard Mugs
For those who are always looking for something special and want to leave their mark, chalkboard mugs are the right choice. This model has a coating on which you can write using simple chalk – which is part of the corporate gift.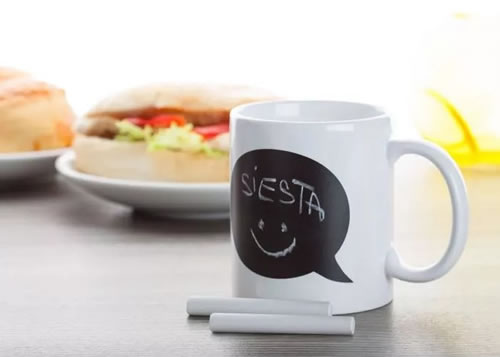 If the chalkboard mug is for a friend or relative, you can customise it by writing a dedication or a witty phrase, depending on the tone you want to give the gift. However, such a peculiar item can become a very interesting promotional product, too. Its greatest value lies in the fact that it involves those who receive it in the personalisation.
One of the reasons for the success of personalised items is that they make those who customise them feel like they have created the object. Besides giving life to a result that best reflects the identity of the creator, it stimulates creativity and strengthens the link between the product and those who make it. Customers who receive a custom chalkboard mug will establish an important connection with your promotional product and, as a consequence, with your company. Interaction is always the most effective way to imprint yourself in the memory of the public. Giving away custom chalkboard mugs is certainly one way to do it.
Your logo can be imprinted on the remaining surface of the mug, including the inner lining and handle – depending on the model.
The personalised travel mug
If, on the other hand, you are looking for practicality beside originality, you may be interested in a personalised travel mug. Designed for those who are often away from home, it is equipped with a lid that allows you to carry it around with extreme ease. These models can come in handy on several occasions. You can use them while walking, to sip a tasty drink between one step and another. They are very useful in the office as well, where they can be used to drink tea during working hours safely. The cap will prevent them from spilling the drink all over the desk in case they fall. An important precaution if you work in front of computers, sheets of paper and with other delicate tools.
The personalised travel mug is useful for everyone. Plus, it will be original thanks to the benefits it offers. You should take it into account if you run a company whose employees are often out of the office. The same goes for any activity whose target is interested in innovative and comfortable solutions.
If you're interested in travel mugs, you can look for personalised glasses, too, as some are take-away models. For a long-lasting corporate gift, you can opt for a personalised thermal mug. Thanks to its ability to maintain the temperature, it is suitable for longer journeys.
How to Personalise Mugs and Cups
Like all custom kitchen accessories, mugs and cups will surely find their space in the homes of those who receive them. To entrust them with a message – whether it is promotional or affective – you need to personalise them. There are many options available.
One is to create personalised mugs with photo. This idea will certainly bring a smile to your loved one, but it can do the same with your team.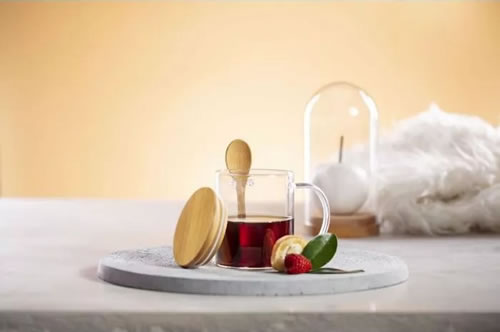 A pic of the whole work group or a company mascot will be an original way to make your cups even more unique. Finally, you should not underestimate the effect that a photo can have on the audience. A pet shop or business could print the image of a puppy or of an endangered species to sensitise for this subject.
Personalised mugs with name are equally common. It may be the name of the recipient or the name of the company, and it may come together with other writings. A company may choose the slogan for custom mugs intended for customers – to convey its philosophy to the maximum. For those that are meant for the team, it can go for motivational phrases. What a brand can't give up, however, is to print their logo on the mugs. More than the writing, it is the images that attract attention and remain in mind. This is why the company symbol cannot be missing on custom mugs. Even if applied on the inner side, it will be the signature of your brand, which will make the corporate gifts uniquely yours and inimitable.
Did you like this content? Click here to download it. 
Personalised mugs with your printed logo are a thought that lasts over time, a memory that every person who interacts with your company carries with them, a promotional item that, using it, will unknowingly advertise your brand. Personalised mugs are a simple and easy to use objects and this is the added value of the promotion that you will be able to obtain through this kind of promotional item. On this page you will find more than one type of personalised mugs, so that you can choose the promotional item that best suits your brand or your communication with object, based on price, colour, size, shape.
Where can I found all the information on personalised mugs?
Information about mugs such as quantities availability in stock, printing variables, prices, exact sizes of the items are visible on the relevant page dedicated to the product. It is possible to create customized estimates and graphic drafts in total autonomy by clicking on the two red buttons clearly visible on the page. If you need more information about thermal mugs, we are always available via chat, email, phone.
How can I see my logo on personalised mugs before the order?
When you buy personalized items such as mugs, thermal mugs or metal mugs with your logo, it is normal that you ask yourself in advance how the final result will be. With HiGift you will be able to have a vision of how your promotional items with a logo will be created, and this before purchasing. Go to the product sheet of the item you have chosen in mugs and click on the red button try your logo. You can save your graphic draft in your personal area or download it and you will realize personalised mugs you are purchasing. Please note that this will only be your graphic proof and that the professional print proof will be provided by us in the 24 hours following your order.
How can I calculate an estimate for personalised mugs?
On HiGift you can make, download and save all the estimates you need in your personal area! You are now on personalised mugs category, select your favorite customizable item and, once inside the product sheet, click on get your price and buy. Just enter the quantity, the color of mugs, the type of customization you require based on the characteristics of your logo. In a few clicks you will be able to get your quote. At this point you can download it or save it in your personal area. If you want to revise the quote, just go back by clicking on the appropriate button. If you add various products such as mugs, thermal mugs or metal mugs to your cart, you will also be able to download or save the overall estimate of all your promotional items before checking out. In this way you can do all the tests you want with your favorite corporate gifts!
Can I obtain some discounts with the purchase of personalised mugs?
If you are looking for personalized cheap mugs , here you are in the right place. In fact, on HiGift you can find different ways to save on your corporate gifts such as mugs, thermal mugs or metal mugs. Also if you buy a small quantity of mugs, you can save on the cost each, which decreases as quantities increase. Furthermore, by registering on our site you will participate in the HiGift Circle loyalty program which will allow you to obtain increasingly exclusive benefits as you climb your status. How to get to be a Platinum customer? Just buy your corporate gifts from us, so, once you have reached a certain spending threshold, you can scale from Bronze to Silver up to Gold and finally Platinum to get, among other advantages, an important discount on the purchase of all the promotional items present on the site. Finally, if you want to stay updated on discounts and promotions that can include mugs, thermal mugs o metal mugs, subscribe to our newsletter, you will receive it monthly and will always contain news on discounts and benefits for you.
Promotional Products have multiple benefits for businesses. They can be part of corporate merchandising, a promotional and advertising tool for customers, and also a gift for employees during holidays, anniversaries or corporate anniversaries. They are useful tools to leave a memory of the brand during events, fairs, promotions to potential customers. Promotional items customized with your logo, if chosen carefully with respect to the communication message you want to convey, undoubtedly create added value to your brand.
Personalised Mugs - FREQUENT QUESTIONS
Promotional items are a fundamental step for promoting and sponsoring your brand.
Who wouldn't want a company known by the logo?
Let's remember that Starbucks created a second line of trade for his business based exactly on branded cups, mugs and glasses.
The goal of each brand, in fact, is to become top of mind for its target audience.
Personalized cups and glasses are an excellent ally of your image and above all of your logo.
If you are a bar shop, a pastry shop, a drink or coffee dispenser, this gadget is your flagship.
The mugs and cups with the logo are highly appreciated by your customers and carry your brand around even without you moving.

HiGift offers a wide range of mugs to be customized according to the shape, material and color required.
Custom mugs and glasses can be chosen in:
When choosing glasses, be careful:
- In the shape: coffee cups are different from chocolate or tea cups.
- Color: light colors to stand out the logo, or maybe you prefer a more creative choice.
- To the material: the materials used are porcelain, ceramic, glass, etc.
In the dedicated section of our website you will find many ideas and designs ready to be branded with your logo.
And if you are looking for a special design that you cannot find on our website?
No worries at all. Just contact us and We are delighted to let you know! .
Verifying every detail is important. It is therefore normal to buy Personalised Mugs without having touched them can block your purchase process. For this on HiGift it is possible to receive a sample before ordering the entire quantity of the Mugs. The procedure is very simple: just click on the red button calculate your quote and buy and enter 1 in the desired quantity. Then need to click on confirm order to proceed to purchase the sample without the desired print, after registering on our site or logging in if you are already a customer. In many cases it is also possible to customize the sample with your own logo, in order to be able to see the finished promotional product. Just choose the personalization on the calculator and that's it. To find out the cost of the neutral sample, go to the price summary that you see in the product sheets of Mugsand you will find it highlighted. In case the timing does not allow you to wait for the receipt of the sample to place the order, write to our customer service, we will be happy to help you with information or photos of the selected product.
You can order your
personalised mugs
quickly by following these steps:
If you are not already our customer, sign in on HiGift or log into your account.
Choose the promotional item you prefer and, once you have entered the product sheet, click on the appropriate red button calculate your quote and buy.
Enter the quantity and possibly the color of mugs, choose the type printing and follow the steps indicated until you have the final quote.
Click on confirm order to proceed with the purchase.
When ordering, you can upload your logo, or do it later in your personal area within the relevant order. Our staff will proceed to make you a free print draft to show you the
personalised mugs with your logo
.
For more information click here
.
After your approval, we will proceed with production and you will receive Mugs in 15-17 days. If, on the other hand, you have purchased mugs without any customization, you will receive the goods in 3-4 days.
If you want to know more about delivery time, visit this page
. For more information on placing orders visit the section
how to order
. If you have doubts about payments, visit the section
payments