Personalised Thermal mugs
Personalised Thermal mugs: for an hot drink at your fingertips!
Discover more details on
Amaze Your Friends, Customers and Employees with a Special Gift Such as Personalised Thermal Mugs
Custom mugs have always held a position of prestige in the world of promotional products. They are useful to everyone at any time of the day. In the morning, you can gently wake up by drinking some tasty latte, while in the evening you can sip a warm herbal tea before going to sleep. Customising them is the key to making them special gifts for adults and children alike. Kids in particular will soon fall in love with a personalised mug, if it has their name or their favourite cartoon character imprinted on its surface.
Their versatility and popularity places custom mugs, cups and glasses among the most coveted corporate gifts. They will not only amaze your relatives or friends.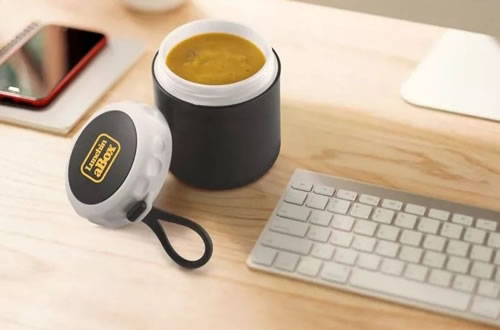 On the contrary, they will be appreciated by your team as well as by your customers, too. By engraving or printing your logo on a personalised cup, you will offer them a useful product that represents your business. The right customisation will bring your name to the foreground, so that anyone who uses your cup can notice it and remember or take an interest in your brand. One of the great advantages of personalised cups and glasses is that, thanks to their usefulness, they can be used not only by the customer who will receive them as a gift, but also by any friends and relatives visiting their house. Your logo will so be very likely to circulate. As a consequence, your company will achieve greater notoriety – all with a little corporate gift.
If custom mugs, cups and glasses ensure your advertising campaign the greatest success on the one hand, on the other there are special models which have an additional feature compared to the standard type. We are talking about personalised thermal mugs. These, as the name suggests, can keep the temperature of tea or coffee for a long time.
Personalised Thermal Mugs – What Makes Them Special
Think of an employee sitting at the desk of your office. While he is busy with emails and calls, he will need a sip of water to quench his thirst. It is precisely for this reason that many companies offer their team personalised water bottles. These corporate gifts come in extremely handy during working hours, as they allow all team members to stay hydrated. Besides, these promotional products can 'travel' with those who receive them as a gift. Seeing a personalised water bottle with your logo outside the company will not be strange at all. At home as well as in the park, this corporate gift can prove to be helpful in any situation.
Personalised thermal mugs are very similar to water bottles. They perform the same function, and, thanks to their cap, they can be carried wherever you need. Moreover, since they keep the temperature of the drink constant, they are perfect for taking with you tea, coffee and any type of drink you want to enjoy while it is hot or cold. This peculiarity makes these corporate gifts useful at any time of the year and in any situation, just like personalised thermal bottles or personalised thermos. As they are easy to carry around and thanks to their thermal property, they are perfect corporate gifts for your team and customers.
Making a Personalised Thermal Mug for Your Customers or Employees – Benefits and Tips on How to Create a Successful Promotional Product
Giving away personalised thermal mugs means offering a useful and comfortable corporate gift with an extra feature. Its qualities will make it a first choice item that will distinguish the name of the company.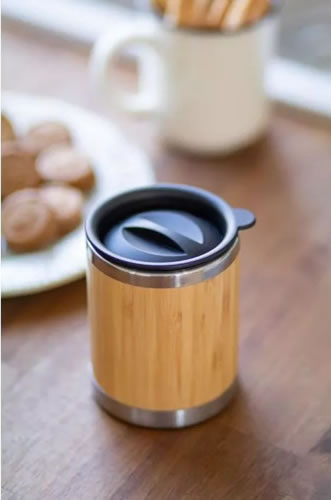 The special versions of the most common promotional products are always a great success. These items are as useful as the standard corporate gift while presenting an additional feature. This is the case, for instance, with personalised sports bottles or personalised photo keyrings. In the first case, we are in front of a product that is more comfortable than the basic water bottle. It is specifically intended for sports people or anyone who needs a lightweight accessory which is easy to carry. In the second case, the standard personalised keyring becomes a photo frame as well, as it can host a picture of your choice. In this way, you will be able to create a unique gift that speaks of yourself or a product that the recipients themselves can customise to their liking.
The personalised thermal mug has the same effect. Useful as a normal cup, it allows those who receive it to take it with them and to enjoy a tea or an infusion at any time of the day. To make all this possible, it must meet certain requirements. For instance, it must be made of insulating materials and provided with a lid. This latter allows to maintain the heat of the drink and to make it easier to carry around.
The Insulating Materials of Personalised Thermal Mugs
Our selection of personalised thermal mugs includes products made with different materials. All of them, however, are insulating in order to keep the drink constantly warm or cold. The choice of the material too determines the final effect of the corporate gift, as it will affect the aesthetic performance. On our website, you can choose, among others:
Personalised thermal mugs in stainless steel. This material will ensure your promotional product maximum durability as it will make it look as good as new even after a long time.
Personalised thermal mugs in plastic. These models are perfect if you are looking for a corporate gift which is colourful and easy-going.
Personalised thermal mugs made of glass. This type looks delicate and is generally provided with a bamboo lid. Most of them are made of borosilicate glass, which boasts excellent resistance to thermal shock and heat among its properties.
Among the several travel mugs available, you will find models made with more materials as well. You will see personalised thermal mugs with inside walls made of stainless steel and an outer lining made of bamboo. This combination gives your promotional product a natural and elegant touch.
Models and Extras – How to Choose and Make Your Own Personalised Thermal Mug
Beside the material with which they are made, travel cups differ in design, capacity and small extras. So, you can choose a personalised thermal mug with handle for an easier grip. In the same way, you will find personalised thermal cups with a practical dispenser in the lid. Depending on the type of model, you can select the background colour.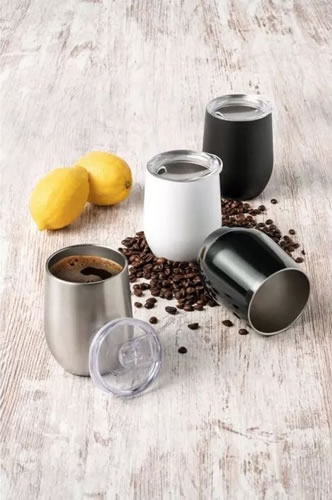 This is especially possible with plastic travel cups but is by no means the only option. Thermal mugs in stainless steel, too, can have different colours.
Once you have decided which model to take in as a corporate gift, you will need to customise it. Only so will you turn it into your promotional product. In this case, too, the type of personalised cup you have selected will affect the printing techniques which you can apply and the surface which you can use. Let's take the example of a personalised travel cup in stainless steel or with bamboo coating. These two types generally allow you to engrave your logo, as well as print it digitally.
As for the available area, several types of personalised thermal mugs allow you to apply a circular print or engraving. This means that you can print your logo or writing on the entire body of the mug. Cups provided with a handle usually offer the possibility to choose the area of the cup on which you wish to place your print. The choice can be made considering whether the recipient is left-handed or right-handed. The underlying idea is the same as for personalised espresso cups. In other words, depending on the hand with which you think the cup will be taken, the logo will be applied on the side from which it will be most visible to those who use it. In any case, you can choose to print or engrave your name on the side opposite the handle as well. Finally, if the thermal mug has a bamboo lid, you can often customise the latter as well.
Regardless of the type you have chosen, the name and logo of your company on a personalised thermal mug will not fail to attract the attention of anyone who use it, even just for once. For this reason, travel cups are a promotional product with guaranteed success. Besides being outstandingly useful, they are highly customisable, too. This makes them perfect for spreading your brand, both in the office and in the homes of your customers or your staff.
Did you like this content? Click here to download it.
Personalised thermal mugs with your printed logo are a thought that lasts over time, a memory that every person who interacts with your company carries with them, a promotional item that, using it, will unknowingly advertise your brand. Personalised thermal mugs are a simple and easy to use objects and this is the added value of the promotion that you will be able to obtain through this kind of promotional item. In our collection you will see a wide range of personalised thermal mugs, available in different colours and prices. Choose from if what you prefer; each object can be customized with your logo or your slogan.
Where can I found all the information on personalised thermal mugs?
All information about thermal mugs is reported in the product sheet of each items. Therefore, the quantities available in stock, the colours, the prices, the types of printing are always visible and updated in real time. To get a personalized quote or a pre-view of how the promotional thermal cups with your logo could look, just click on the buttons available on the item page. For any further information do not hesitate to contact us!
How can I see my logo on personalised thermal mugs before the order?
Personalised thermal mugs, promotional thermal cups or custom hermetic mugs are perfect to be personalized but...how can I see my thermal mugs with my logo before ordering on HiGift? It's very simple, just follow these steps. You are now in the personalised thermal mugs category, choose your item and, once inside the product sheet, click on try your logo. In this tab you can try your own writing on the personalized item or directly upload your logo and test your promotional article. You can even eliminate the colored background of your logo. Don't worry, your graphic proof is not the official proof that will go into production! That will be provided by us after the order, at the latest within 24 hours.
How can I calculate an estimate for personalised thermal mugs?
On HiGift you can make, download and save all the estimates you need in your personal area! You are now on personalised thermal mugs category, select your favorite customizable item and, once inside the product sheet, click on get your price and buy. Just enter the quantity, the color of thermal mugs, the type of customization you require based on the characteristics of your logo. In a few clicks you will be able to get your quote. At this point you can download it or save it in your personal area. If you want to revise the quote, just go back by clicking on the appropriate button. If you add various products such as thermal mugs, thermal cups or hermetic mugs to your cart, you will also be able to download or save the overall estimate of all your promotional items before checking out. In this way you can do all the tests you want with your favorite corporate gifts!
Can I obtain some discounts with the purchase of personalised thermal mugs?
On HiGift there are several ways to buy cheap thermal mugs. The first and most obvious: if you buy thermal mugs, thermal cups or hermetic mugs iin huge number, the price per item will be lower. If you buy the same items in smaller quantities, you will have a higher price each. This detail is clearly visible in the price table on each product sheet: it is often enough to add a minimum quantity of thermal mugs to get a better price. Also, if you subscribe to our newsletter you will be updated on the promotions we release every month. That's right, you got it right: you can find promotions on personalised thermal mugs, that is the articles you are looking for! If you become our customer you will also be able to access the HiGift Circle loyalty program which will allow you to have exclusive benefits by climbing the statuses. That is, more thermal mugs, thermal cups or hermetic mugs you buy, the sooner you will be able to reach the threshold for your passage of status and obtain increasingly important benefits, discounts included.
Corporate Gifts have multiple benefits for businesses. They can be part of corporate merchandising, a promotional and advertising tool for customers, and also a gift for employees during holidays, anniversaries or corporate anniversaries. They are useful tools to leave a memory of the brand during events, fairs, promotions to potential customers. Promotional items customized with your logo, if chosen carefully with respect to the communication message you want to convey, undoubtedly create added value to your brand.
Personalised Thermal mugs - FREQUENT QUESTIONS
Promotional items are a fundamental step for promoting and sponsoring your brand.
Who wouldn't want a company known by the logo?
The goal of each brand, in fact, is to become top of mind for its target audience.
Thermal cups or commonly called thermos are an excellent ally for those who love to have their hot drink with them ready to be enjoyed. The thermos are a super classic and useful gifts.
If you are a food and beverage company you have to consider the travel mugs as a must have promotional items. Starbucks creates an e-commerce and trade place with branded logo mugs, which a lot of people collect and buy exactly for the brand.

HiGift offers a wide range of thermal cups to be customized according to the shape, material and color required.
When you choose travel mugs you need to pay attention:
- To the shape: they usually have the shape of a large glass, but they can also be customized in the version of a bottle shape.
- Capacity: you decide the size of the thermal glasses. From 350ml up to 2L too
- To the material: the thermal glasses can be in stainless steel or aluminum.
And if you are a green oriented company you will save a lot of plastic to the environment.

Verifying every detail is important. It is therefore normal to buy Personalised Thermal mugs without having touched them can block your purchase process. For this on HiGift it is possible to receive a sample before ordering the entire quantity of the Thermal mugs. The procedure is very simple: just click on the red button calculate your quote and buy and enter 1 in the desired quantity. Then need to click on confirm order to proceed to purchase the sample without the desired print, after registering on our site or logging in if you are already a customer. In many cases it is also possible to customize the sample with your own logo, in order to be able to see the finished promotional product. Just choose the personalization on the calculator and that's it. To find out the cost of the neutral sample, go to the price summary that you see in the product sheets of Thermal mugsand you will find it highlighted. In case the timing does not allow you to wait for the receipt of the sample to place the order, write to our customer service, we will be happy to help you with information or photos of the selected product.
You can order your
personalised thermal mugs
quickly by following these steps:
If you are not already our customer, sign in on HiGift or log into your account.
Choose the promotional item you prefer and, once you have entered the product sheet, click on the appropriate red button calculate your quote and buy.
Enter the quantity and possibly the color of thermal mugs, choose the type printing and follow the steps indicated until you have the final quote.
Click on confirm order to proceed with the purchase.
When ordering, you can upload your logo, or do it later in your personal area within the relevant order. Our staff will proceed to make you a free print draft to show you the
personalised thermal mugs with your logo
.
For more information click here
.
After your approval, we will proceed with production and you will receive Thermal mugs in 15-17 days. If, on the other hand, you have purchased thermal mugs without any customization, you will receive the goods in 3-4 days.
If you want to know more about delivery time, visit this page
. For more information on placing orders visit the section
how to order
. If you have doubts about payments, visit the section
payments