Personalised Sports bottles
Personalised Sports bottles: light and resistant, always at your fingertips!
Discover more information on
No More Dying of Thirst While You're on an Adventure! Personalised Sports Bottles Will Always Be at Your Side
Think about long hikes along the mountain trails, or walks in the countryside, caressed by the wind and the sun. How lovely they are! Not to mention the beach, which welcomes us every year when we can finally relax. Going around exploring new places is always exciting. Travel is good, it fills us with motivation and gives us new inspiration. To do this, however, you must have all the necessary equipment.
A company that wants to promote its own brand can focus on personalised travel accessories, so as to give its customers a corporate gift with a safe image return. These items, besides being useful during trips, help those who receive them to live the best of moments of leisure and happiness. Any corporate gift that can be useful and linked to a beautiful experience will put you in the best light in the eyes of your audience. Thinking of an object that can be part of the equipment for a trip out of town is then a great starting point. Especially since the days outdoors – however relaxing – imply some difficulties.
Stressing your eyes, catching cold, finding yourself in heavy rain: being outdoors is certainly not comfortable. Corporate gifts that help overcome these drawbacks are always a success, because they allow us to enjoy the best of the day and keep a beautiful memory of it.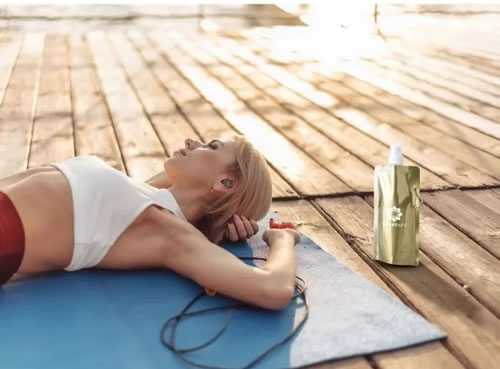 So, for instance, personalised caps protect those who wear them from the wind and the sun, avoiding headaches and sunburn. Many companies try to be close to their customers by giving them branded telescopic umbrellas, which they can carry with them at all times. First of all, however, when you are away from home for a long time, you have to hydrate yourself. While you are getting ready for a trip or excursion, the water bottle should be the first accessory to put in your bag.
A New Companion of Adventures: Take Your Personalised Sports Bottle with You at All Times
Personalised water bottles are a classic in the world of promotional products. Available in a thousand different versions, they can be used in the office, at university or during a trip. They are practical and easy to handle, but a particular model meets all the needs of a keen traveller: the personalised sports bottle.
A Lightweight Water Bottle
Designed for sporty people and for those who lead an active life, personalised sports bottles have a fundamental feature: they are lightweight. Thanks to the materials they are made of, even the largest models guarantee excellent portability. It is needless to say how this aspect is decisive for the success of a water bottle intended for trips and excursions. Weighing little, they will be a help to your customers, with all pros and no cons.
A Corporate Gift Which Is Easy to Carry Around
To make the personalised sports bottles even easier to carry around is their conformation. Many models are equipped with a hook. They can be attached, for instance, to a backpack or bag, so that you always have them at hand during your walk. A travel agency that has given custom sport backpacks could now distribute these water bottles, which customers can use together with the corporate gift they have already received. A great way to show consistency and attention to the public, but also to circulate your logo even more efficiently, thanks to two promotional products used together.
Choosing A Personalised Sports Bottle
While all personalised sports bottles are characterised by lightness and a comfortable and safe method of transport, on the other hand the models differ in colour, materials and structure. The choice will be determined by the visual effect you want to achieve and the feature you think is most practical.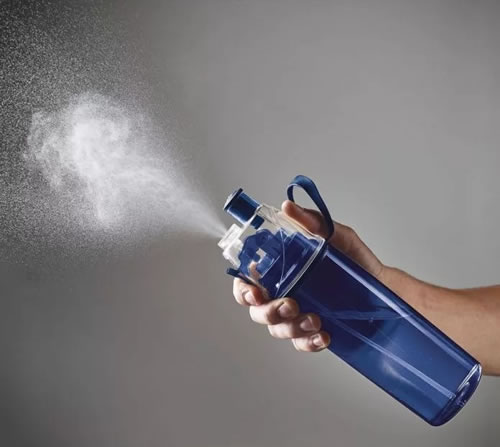 Materials
The selection of personalised sports bottles includes items made of different materials. These affect the aesthetic performance, while leaving the weight more or less unchanged. In any case, personalised sports water bottles will be light and comfortable. In general, in this subcategory you will find:
The choice will communicate a lot. A Tritan bottle, for instance, can express closeness to the environment, as it is a 100% recyclable, eco-friendly material. It can be a way to spread awareness about the alternatives available to disposable plastic, too. Choosing a personalised water bottle is always a green option, because it can be used multiple times and instead of plastic bottles. With personalised eco-friendly water bottles, you will stress your commitment to the environment even more.
With a personalised aluminium water bottle, on the other hand, you will get a corporate gift that looks refined. Its metallic touch instils a sense of professionalism and seriousness. Besides, being stainless, it will last over time, promoting your brand in every path, beach or city where it will be used.
The Options: Cap and Hook
The choice is influenced by the single elements that make up the personalised sports bottles, too. Not all of them have the same structure and, as a consequence, they do not work in the same way. The main variables are the hook and the cap. In particular, for the first you will have at your disposal:
Personalised sports bottles with carabiner hook, tough and able to make the user feel safe.
Personalised sports bottles with shoulder strap or strap, resistant and with a more delicate design.
As for the spout, on the other hand, you can choose between:
Personalised sports bottles with flexible straw spout. In these models the spout is placed on the cap. You can take it out in a few moments and use it practically and quickly.
Personalised sports bottles with push-pull cap. This type is perfect for those who love comfort and want an immediate way to drink from their bottle.
Personalised sports bottles with screw closure. This option represents the classic mechanism to close the bottles.
Then there are folding sports bottles, an original and certainly useful gift. Your customers can store them in their bag once they are empty and they won't without take up much space.
Your Logo in Every Place? Using Personalised Sports Water Bottles on Holiday, In the Park and At the Gym
Cap, spout and hook – however variable – all contribute to making the personalised sports bottle a corporate gift to take anywhere. Thanks to a carabiner you can attach it safely to your backpack, with a strap you can hold it in your hand with extreme comfort. The push-pull cap and straw spout are the most loved by joggers and sporty people. A screw closure bottle could be the ideal solution for those who love more traditional items.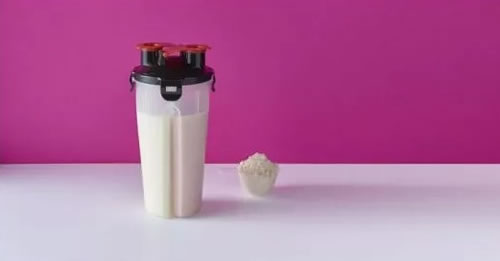 In any case, a personalised sports water bottle will always keep its two main qualities: lightness and ease of transport. Used on holiday, in the park or at the gym, it will expose your logo to a large number of people and an audience of various tastes. So, it will be perfect for promoting your brand, especially as it will prove useful and smart. Plus, it can be customised on the whole surface – depending on the models. This implies that the print will be clearly visible and that you will have the opportunity to add not only your logo and name, but a writing as well. It can be the company slogan as well as a motivational phrase, an option that is suitable for both your team and a group of athletes.
Printing or engraving the right words can play a very important role on the impression that your promotional product will make on those who look at it. Making the most of this opportunity could be the right way to expand your business, bringing your logo and name everywhere with your personalised sports bottles.
Did you like this content? Click here to download it.
The success in giving personalised sports bottles does not only lie in choosing the right type, but also in devising a particular design or message that most strikes the attention of those who receive the gift, and also accompanying it with your logo. Personalised sports bottles are a simple and easy to use objects and this is the added value of the promotion that you will be able to obtain through this kind of promotional item. On this page you will find more than one type of personalised sports bottles, so that you can choose the promotional item that best suits your brand or your communication with object, based on price, colour, size, shape.
Where can I found all the information on personalised sports bottles?
Information about sports bottles such as quantities availability in stock, printing variables, prices, exact sizes of the items are visible on the relevant page dedicated to the product. It is possible to create customized estimates and graphic drafts in total autonomy by clicking on the two red buttons clearly visible on the page. If you need more information about folding water bottles, we are always available via chat, email, phone.
How can I see my logo on personalised sports bottles before the order?
Personalised sports bottles, promotional light water bottles or promotional folding water bottles are perfect to be personalized but...how can I see my sports bottles with my logo before ordering on HiGift? It's very simple, just follow these steps. You are now in the personalised sports bottles category, choose your item and, once inside the product sheet, click on try your logo. In this tab you can try your own writing on the personalized item or directly upload your logo and test your promotional article. You can even eliminate the colored background of your logo. Don't worry, your graphic proof is not the official proof that will go into production! That will be provided by us after the order, at the latest within 24 hours.
How can I calculate an estimate for personalised sports bottles?
Do you know that on HiGift it is quick and easy to obtain an ad hoc quote? If you are in the personalised sports bottles category and you are therefore interested in this type of personalized items, just choose from the preview images the article that best suits your promotion. At this point, enter the product sheet and click on the appropriate red button. A pop-up will open and you just need to follow all the instructions given there. You need to know how many promotional sports bottles you want, your favorite color, if you want them customized and how many colors your logo has. In a few clicks you will have your quote and you can download it or save it in your account. If, on the other hand, you are interested in purchasing multiple types of sports bottles, light water bottles o folding water bottles and want to have an overall estimate of several promotional items, just go to the cart. There too you will find the possibility to download your quote.
Can I obtain some discounts with the purchase of personalised sports bottles?
On HiGift there are several ways to buy cheap sports bottles. The first and most obvious: if you buy sports bottles, light water bottles or folding water bottles iin huge number, the price per item will be lower. If you buy the same items in smaller quantities, you will have a higher price each. This detail is clearly visible in the price table on each product sheet: it is often enough to add a minimum quantity of sports bottles to get a better price. Also, if you subscribe to our newsletter you will be updated on the promotions we release every month. That's right, you got it right: you can find promotions on personalised sports bottles, that is the articles you are looking for! If you become our customer you will also be able to access the HiGift Circle loyalty program which will allow you to have exclusive benefits by climbing the statuses. That is, more sports bottles, light water bottles or folding water bottles you buy, the sooner you will be able to reach the threshold for your passage of status and obtain increasingly important benefits, discounts included.
Corporate Gifts have multiple benefits for businesses. They can be part of corporate merchandising, a promotional and advertising tool for customers, and also a gift for employees during holidays, anniversaries or corporate anniversaries. They are useful tools to leave a memory of the brand during events, fairs, promotions to potential customers. Promotional items customized with your logo, if chosen carefully with respect to the communication message you want to convey, undoubtedly create added value to your brand.
Personalised Sports bottles - FREQUENT QUESTIONS
The sports bottles are ideal for those who practice sports, to carry around to quench their thirst with water, powder supplements or juices. Often, sports bottles are made of plastic, PE, PS, but also tritan and recycled plastic, for those who love ecological solutions and recycled products. All this makes sports bottles a much sought after and appreciated promotional item, but sometimes also difficult to choose. Here are 3 tips for choosing the personalised sports bottles to customize:
Size: There are many capacities for 0.5L to 2L sports bottles. Evaluate your target well in order to make a consistent gift to use.
Closure: there are different models of bottles with different closures and openings. Spout closure, airtight closure, clip closure and also screw cap closure. They are all ideal for sportsmen.
Certifications: it is absolutely important to choose safe, certified products and to be aware of their derivation. When choosing the sports bottles to customize, consider that they are BPA and food safety that is, they can come into contact with food without restrictions. All promotional items available on HiGift are 100% certified. The European certifications are at your disposal that guarantee compliance with specific directives, proof of product conformity according to the laws and regulations on safety and the environment: buying safe products is everyone's choice and responsibility.
personalised sports bottles never go out of style. They adapt very well to many types of customizations, of course it depends on your logo and the final effect you want to create. In each product sheet of each bottle on our HiGift e-shop, you will find an explanation of which print you can make and what result it can give you. Below is a small overview of the most used personalization techniques to print on sports bottles, especially if they are made of plastic:
Digital UV: This printing technique involves direct printing on the surface of the product without the aid of any heat treatment, ensuring an instant, high-quality result. We can use this type of printing on metal, glass or plastic products. You can print without limitation of colors and therefore if you have complex logos with many shades this technique is perfect for you.
Circular screen printing: it is a type of screen printing used on all those products with a cylindrical or round surface. A screen printing machine is used that rotates the product parallel to the printing frame, producing continuous prints on the entire surface of the product. The difference between circular screen printing and circular engraving is the addition of color. The engraving is colorless, while the screen printing can print up to 4 clear colors.
Verifying every detail is important. It is therefore normal to buy Personalised Sports bottles without having touched them can block your purchase process. For this on HiGift it is possible to receive a sample before ordering the entire quantity of the Sports bottles. The procedure is very simple: just click on the red button calculate your quote and buy and enter 1 in the desired quantity. Then need to click on confirm order to proceed to purchase the sample without the desired print, after registering on our site or logging in if you are already a customer. In many cases it is also possible to customize the sample with your own logo, in order to be able to see the finished promotional product. Just choose the personalization on the calculator and that's it. To find out the cost of the neutral sample, go to the price summary that you see in the product sheets of Sports bottlesand you will find it highlighted. In case the timing does not allow you to wait for the receipt of the sample to place the order, write to our customer service, we will be happy to help you with information or photos of the selected product.
You can order your
personalised sports bottles
quickly by following these steps:
If you are not already our customer, sign in on HiGift or log into your account.
Choose the promotional item you prefer and, once you have entered the product sheet, click on the appropriate red button calculate your quote and buy.
Enter the quantity and possibly the color of sports bottles, choose the type printing and follow the steps indicated until you have the final quote.
Click on confirm order to proceed with the purchase.
When ordering, you can upload your logo, or do it later in your personal area within the relevant order. Our staff will proceed to make you a free print draft to show you the
personalised sports bottles with your logo
.
For more information click here
.
After your approval, we will proceed with production and you will receive Sports bottles in 15-17 days. If, on the other hand, you have purchased sports bottles without any customization, you will receive the goods in 3-4 days.
If you want to know more about delivery time, visit this page
. For more information on placing orders visit the section
how to order
. If you have doubts about payments, visit the section
payments