Branded Sport backpacks
Branded Sport backpacks: for those who love to keep fit.
Discover more details on
Custom Sports Backpacks: The Perfect Corporate Gift for Your Adventures
Immersing yourself in nature is regenerating. It restores your strength and brings you calm. However, many people, living in cities, have a hard time finding a green space where noise and hustle can be left out. Sometimes, they leave for the mountains or the hills during the weekend or the holidays to enjoy a moment of relaxation. It is the only way they have to connect with nature and disconnect from the commitments of their daily routine.
However, planning a trip, a hike or a bike ride, too, requires some effort. Having everything you need with you can be decisive in how you will enjoy your day. If you do not have the essential accessories at hand or if you carry uncomfortable objects, your day can take a turn for the worst. So, what was supposed to be a relaxing morning can easily become a moment of stress and discomfort.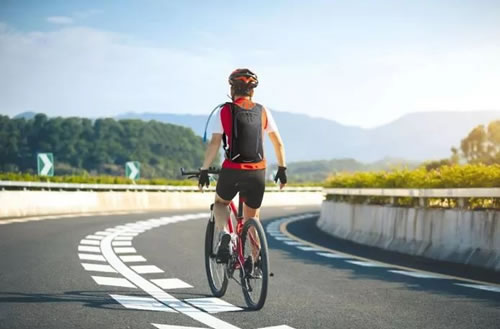 Quite the opposite, then, of what you hoped to achieve.
If you plan to give your customers or employees a corporate gift which they can use in their spare time, a product that makes it pleasant can be a winning idea. From common personalised water bottles to personalised caps, there are several items that can brighten up the days of your team or your audience. You will just need to find a comfortable and useful promotional product to create a gift with guaranteed success. Custom sports backpacks, for instance, are among the must-have accessories for travel and hikes. They are very comfortable for sportsmen, such as cyclists, as well. Besides being essential and ensuring maximum comfort while you are away from home, they are useful for a specific purpose. This makes them a special gift. By customising them with your logo and giving them to your customers, you will give your brand the chance to travel with them on every small or big adventure.
Personalised Backpacks and Custom Sports Backpacks: Usefulness and Promotional Impact in a Single Corporate Gift
Personalised backpacks have been a part of our lives since we were children. We immediately find a way to use them. We choose the rucksack to go to school or personalised kids backpacks to go to the kindergarten, to a friend's house, or to a dance or a music class. Some models are suitable for work, such as branded laptop backpacks or personalised anti-theft backpacks. These are perfect for those who are often on business trips and must carry valuable accessories in complete safety.
Sports backpacks, too, can become personalised travel accessories and can be used both in your free time and for work. For tourist guides in mountain areas, for instance, a sports backpack is a must for their hikes. If the agency personalises it with its logo, this corporate gift will certainly promote it to the whole group of hikers.
Not Only Useful, But Versatile Too: When to Use Custom Sports Backpacks
While they are perfect for your days out of town, custom sports backpacks are as versatile as the standard model. For this reason, they can be used in different contexts. This quality makes them perfect as corporate gifts even for customers and employees who do not like trips and excursions. The assortment includes sporty options, ideal for those who love hiking, as well as light and casual versions.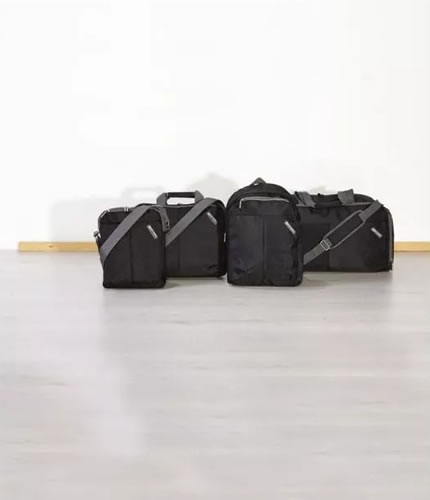 The latter could be the right choice if you do not know your target's habits well or if your target is very varied. Backpacks that are small and have a simple design will no doubt meet the tastes of all the recipients of your promotional product.
This way, even the less adventurous customer or employee can take advantage of your corporate gift. They can use it to go to work or to visit a new city. Besides, a custom backpack will always be a high-level travel accessory. In sports models great attention is paid to comfort, since they are designed for situations that are not usually easy, such as long walks along mountain trails. If you give them as corporate gifts to your customers or employees, these latter will be able to use them in various contexts and appreciate them for how they will make their moments of everyday life or leisure comfortable.
Print Your Logo on Custom Sports Backpacks: What Are the Advantages and How to Get the Best Result
To spread your brand, a promotional product will need your logo. Printed or embroidered, your company symbol will be in the eyes of your customers or those around them whenever the product is used. The advertising effect will be determined by three factors. First, the frequency with which your item will be used. Secondly, how beneficial it will prove to be. Last but not least, by the aesthetic rendering of your logo. This, in turn, is influenced by:
The clarity of the writing or image: a motto which is well readable and a subject that is easy to distinguish will convey your identity immediately.
The colour impact: it is important to choose the colour of both the object and the print. The contrast they will create will greatly affect the visibility of the logo. For this reason, if the image must have the same colours as the brand, you'd better choose the background colour based on the colour of the print to be applied. On the contrary, if the logo does not have to be of specific colours, you can select the shade you prefer for the background and then choose the best colour for the print;
The size of the print: it goes without saying that the larger the logo, the greater the distance from which it will be visible. At the promotional level, this results in a higher advertising impact, since it will reach and attract a larger number of people.
Considering these hints, sports backpacks have at least two great advantages. First, there are a lot of colours available. Thanks to this variety, you will have a wide margin of choice to make your logo stand out. Secondly, the huge size of the printing area will allow you to apply the image or writing you wish in a format that is clearly visible even at a distance.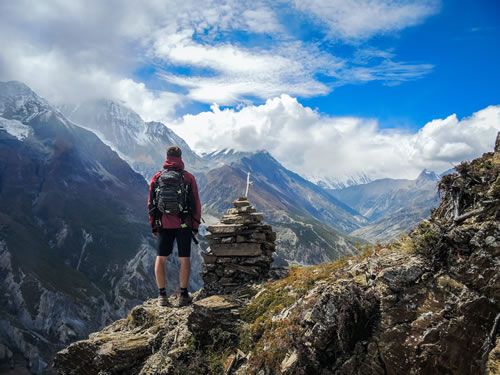 How to Turn Custom Sports Backpacks into the Perfect Promotional Product: From the Choice of the Model to Personalisation
If personalised rucksacks and backpacks have beneficial properties for sponsoring a brand on the one hand, on the other being able to make the most of them will be very important for the success of your promotional intent. It will be necessary to choose the model, i.e. functionality, colour and design, and the mode of customisation, i.e. size, colour and technique with which to create the logo.
The choice will depend on the recipient. For instance, a group of passionate hikers or cyclists will love a waterproof and professional backpack. Instead, if your target is heterogeneous – no matter whether it is your customers or your employees –, a simple model will be more appropriate. Then there are small extras that can be convenient for everyone, such as a headphone output.
As far as customisation is concerned, visibility is of the utmost importance. As well as custom picnic backpacks or promotional cooler backpacks, sporty versions too feature a large print surface. Taking advantage of it in the best way will be the key to carrying your logo around. Plus, you will be offering your customers or employees an accessory which is undoubtedly useful and top-quality.
Did you like this content? Click here to download it.
The success in giving branded sport backpacks does not only lie in choosing the right type, but also in devising a particular design or message that most strikes the attention of those who receive the gift, and also accompanying it with your logo. Branded sport backpacks are a simple and easy to use objects and this is the added value of the promotion that you will be able to obtain through this kind of promotional item. In our collection you will see a wide range of branded sport backpacks, available in different colours and prices. Choose from if what you prefer; each object can be customized with your logo or your slogan.
Where can I found all the information on branded sport backpacks?
All information about sport backpacks is reported in the product sheet of each items. Therefore, the quantities available in stock, the colours, the prices, the types of printing are always visible and updated in real time. To get a personalized quote or a pre-view of how the custom sacks with your logo could look, just click on the buttons available on the item page. For any further information do not hesitate to contact us!
How can I see my logo on branded sport backpacks before the order?
Branded sport backpacks, personalised trekking backpacks or custom sacks are perfect to be personalized but...how can I see my sport backpacks with my logo before ordering on HiGift? It's very simple, just follow these steps. You are now in the branded sport backpacks category, choose your item and, once inside the product sheet, click on try your logo. In this tab you can try your own writing on the personalized item or directly upload your logo and test your promotional article. You can even eliminate the colored background of your logo. Don't worry, your graphic proof is not the official proof that will go into production! That will be provided by us after the order, at the latest within 24 hours.
How can I calculate an estimate for branded sport backpacks?
On HiGift you can make, download and save all the estimates you need in your personal area! You are now on branded sport backpacks category, select your favorite customizable item and, once inside the product sheet, click on get your price and buy. Just enter the quantity, the color of sport backpacks, the type of customization you require based on the characteristics of your logo. In a few clicks you will be able to get your quote. At this point you can download it or save it in your personal area. If you want to revise the quote, just go back by clicking on the appropriate button. If you add various products such as sport backpacks, trekking backpacks or sacks to your cart, you will also be able to download or save the overall estimate of all your promotional items before checking out. In this way you can do all the tests you want with your favorite corporate gifts!
Can I obtain some discounts with the purchase of branded sport backpacks?
On HiGift there are several ways to buy cheap sport backpacks. The first and most obvious: if you buy sport backpacks, trekking backpacks or sacks iin huge number, the price per item will be lower. If you buy the same items in smaller quantities, you will have a higher price each. This detail is clearly visible in the price table on each product sheet: it is often enough to add a minimum quantity of sport backpacks to get a better price. Also, if you subscribe to our newsletter you will be updated on the promotions we release every month. That's right, you got it right: you can find promotions on branded sport backpacks, that is the articles you are looking for! If you become our customer you will also be able to access the HiGift Circle loyalty program which will allow you to have exclusive benefits by climbing the statuses. That is, more sport backpacks, trekking backpacks or sacks you buy, the sooner you will be able to reach the threshold for your passage of status and obtain increasingly important benefits, discounts included.
Branded Merchandise have multiple benefits for businesses. They can be part of corporate merchandising, a promotional and advertising tool for customers, and also a gift for employees during holidays, anniversaries or corporate anniversaries. They are useful tools to leave a memory of the brand during events, fairs, promotions to potential customers. Promotional items customized with your logo, if chosen carefully with respect to the communication message you want to convey, undoubtedly create added value to your brand.
Branded Sport backpacks - FREQUENT QUESTIONS
If you love long walks, choosing the right sport backpack that can accompany you on your outings it can help. Often, however, we ask ourselves how to choose the right backpack for each situation! Well, if your goal is to give or give yourself a sports backpack, we advise you to pay attention to these small tricks:
Lightness: a sports backpack must be comfortable and light to use. Do not choose heavy materials, it is not always synonymous with quality.
Few external pockets: you don't need a thousand pockets, you need a few to have the most important things close at hand, like a bottle of water. Everything else should be stowed away in the main pocket of the backpack.
Capacity: it depends on the use you have to do, if it's a walk choose a small backpack so you don't get tired. If it's a nice trekking route, choose the medium size 15-20L is enough.
Sports backpacks are also one of the most requested promotional items by gyms and by companies working in the field of nutrition and sport. If your mission and business purpose is wellness and health, the sports backpack is one of the gifts to give.
Choosing the right sports backpack to customize is very important, but the graphic result you want to achieve for our marketing campaign is equally important. For this reason, the logo, the font used, the colors chosen, the position of the logo and the printing technique chosen, are all elements to which to pay close attention. Below we explain the most used printing techniques to print on branded sports backpacks:
Screen printing: it is the most used method for the personalization of textile products. The ink is pressed directly on the surface of the backpack through a gauze and fixed at 170 ° C. This technology offers very high precision while respecting the original colors.
Transfer: it is a photographic quality print and therefore has no color limitations. In fact, the four-color process logos, with this printing technique, are vivid and durable. Furthermore, this printing technique adapts to many surfaces and materials and is therefore also excellent for waterproof fabrics.
Digital transfer: the digital transfer printing technique represents the modern alternative to traditional transfer printing. With the use of a special printer, the graphics are printed in photographic quality on a special transfer paper; this will then be applied and fixed on the product with the help of a heat press. The result will be a very defined and detailed print.
Verifying every detail is important. It is therefore normal to buy Branded Sport backpacks without having touched them can block your purchase process. For this on HiGift it is possible to receive a sample before ordering the entire quantity of the Sport backpacks. The procedure is very simple: just click on the red button calculate your quote and buy and enter 1 in the desired quantity. Then need to click on confirm order to proceed to purchase the sample without the desired print, after registering on our site or logging in if you are already a customer. In many cases it is also possible to customize the sample with your own logo, in order to be able to see the finished promotional product. Just choose the personalization on the calculator and that's it. To find out the cost of the neutral sample, go to the price summary that you see in the product sheets of Sport backpacksand you will find it highlighted. In case the timing does not allow you to wait for the receipt of the sample to place the order, write to our customer service, we will be happy to help you with information or photos of the selected product.
You can order your
branded sport backpacks
quickly by following these steps:
If you are not already our customer, sign in on HiGift or log into your account.
Choose the promotional item you prefer and, once you have entered the product sheet, click on the appropriate red button calculate your quote and buy.
Enter the quantity and possibly the color of sport backpacks, choose the type printing and follow the steps indicated until you have the final quote.
Click on confirm order to proceed with the purchase.
When ordering, you can upload your logo, or do it later in your personal area within the relevant order. Our staff will proceed to make you a free print draft to show you the
branded sport backpacks with your logo
.
For more information click here
.
After your approval, we will proceed with production and you will receive Sport backpacks in 15-17 days. If, on the other hand, you have purchased sport backpacks without any customization, you will receive the goods in 3-4 days.
If you want to know more about delivery time, visit this page
. For more information on placing orders visit the section
how to order
. If you have doubts about payments, visit the section
payments