Printed Anti-door backpacks
Printed Anti-door backpacks: safety first of all!
Discover more information on
Make Your Travels Safe: Personalise an Anti-Theft Backpack!
In a globalised world like ours, the people who travel are many. Some do it for work and some for pleasure. Moreover, trips last often only a few days. Some people take a weekend off to completely detach their minds from their routine. Workers, on the other hand, sometimes have to attend an event or a conference away. The reasons are different, but the result is always the same: stations and airports teem with people, each with their own suitcase. Duffel and travel bags are increasingly in demand. Not to mention backpacks. For this reason, customising them can be a winning marketing strategy.
Customise Our Anti-Theft Backpacks and Get a Travel Accessory of Incredible Quality
Creating personalised travel accessories brings many advantages with it. First of all, as we have mentioned, these corporate gifts respond to an ever-increasing need in the world of work and leisure. It follows that they will receive the approval of a large audience, both because they are useful and because they are a modern option.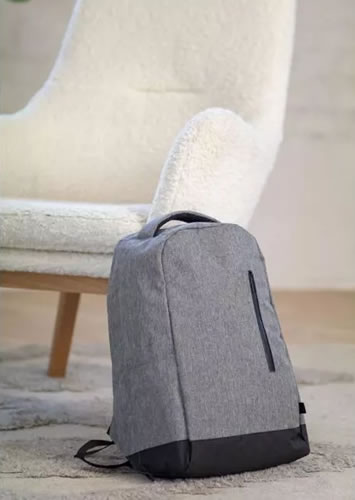 Some travel accessories provide a large print surface on which you can apply the company name and logo. Think, for instance,  of personalised travel bags. An impactful customisation is crucial to the success of the corporate gift and its promotional intent. Just like suitcases, anti-theft backpacks can be customised extensively, too. As a result, they will expose your logo to a very large audience.
Among the travel accessories, personalised backpacks are among the most versatile ones. They can be worn on a daily basis to go to school or work. However, they can become small suitcases for short trips as well. They are items of undisputed comfort, and they allow you to carry many objects balancing the weight on your shoulders. They are, for this reason, a healthy and favourable alternative in several respects. Personalised rucksacks, simple and comfortable as they are, will work for any type of situation. But if you need, there are more specific models as well, which have more functions. These include printed cooler backpacks and custom picnic backpacks. Both types are a great help when you want to spend a day outdoors, perhaps in the city park. For those who travel frequently, however, nothing is more suitable than a personalised anti-theft backpack.
Why Customise Anti-Theft Backpacks – The Small Trick That Makes Your Rucksacks Special
A useful corporate gift is very much likely to assist those who receive it during their days. If, however, it stands out from other accessories not only from an aesthetic point of view – thanks to your logo – but also for what it allows you to do, it will have a much better chance of impressing itself in the mind of those who use it. Customising an anti-theft backpack will then amaze your customers and employees because it has a little extra that will change the way they travel.
What The Eye Doesn't See... The Hand Doesn't Lay Over! The Secret of Personalised Anti-Theft Backpacks
Personalised rucksacks with anti-theft function have a hidden pocket, which is away from people's sight. It can be on the backrest or on the shoulder straps – to name two options. In any case, it will be located in a place where it will not be visible or easy to reach. Walking around the cities or the airport will be so much safer with this corporate gift. If you keep important documents or your mobile phone in this pocket, they will hardly be stolen. The personalised anti-theft backpack is then very useful for those who are often traveling for work and must carry everything they need in maximum safety.
Beyond Work: Why Personalised Anti-Theft Backpacks Are Also Popular During the Spare Time Too
If your employees are often on a business trip, customising anti-theft backpacks will offer them a promotional product with which to enjoy the highest of comfort during their journeys. Quality work equipment makes a difference in the way tasks are carried out and in how much the employee is willing to commit to the company. The same applies to accessories. As much as they may seem 'extra' objects – additional material which you can do without – they are essential to strengthen the relationship between brand and staff.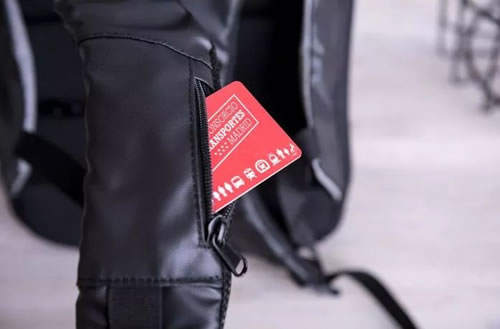 A team that feels considered, sees the fruits of its commitment, and notes the attention of the employer to create the ideal conditions to work is a team that will give its best for the company.
But promotional product are useful for customers as well. They help retain them and give them a reason to come back to your company. A result that everyone wants, and which is quite easy to achieve if you show quality and attention to detail with the right corporate gift. Personalised anti-theft backpacks are effective communication tools for the audience, too. They add extra functionality to usefulness, plus an elegant and smart design to the classic look of rucksacks. These accessories are studied in detail. They will accordingly show your excellent dedication to your customer. A personalised anti-theft backpack can be used whenever you need to carry items with you. It is not only a travel accessory, but also a backpack to use on a daily basis. We are then talking about a product that can be given to a very diversified audience.
Functional, Safe and Professional: The Three Qualities That Make a Personalised Anti-Theft Backpack a Corporate Gift of The Highest Quality
To sum up, we have said that a personalised anti-theft backpack can become a corporate gift for employees or a promotional product for your audience. It can also be a gift idea for a friend or a loved one, especially if they are fond of modern solutions or passionate travellers. Anti-theft backpacks provide unbeatable safety. Not only because they protect your most precious accessories. Their appearance, too, plays its part. It conveys professionalism. It will take just a glance to perceive the high quality of these corporate gifts and appreciate them. Using them will then highlight their functionality and efficiency.
Dual Function, Dual Security: Travel at Maximum Comfort with A Custom Multi-Function Anti-Theft Backpack
For those who are always looking for the best and are attracted to two-in-one corporate gifts, there are multifunction anti-theft backpacks. These models are able to satisfy even the most demanding requests.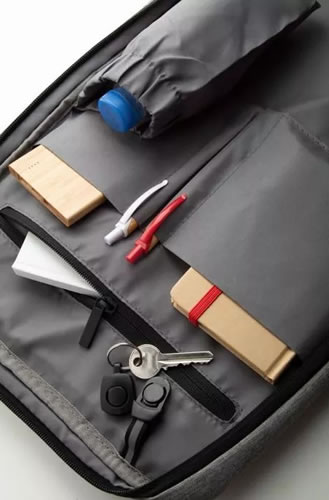 Plus, they ensure maximum comfort when you are spending time away from home. We find, for instance, anti-theft backpacks which have a USB socket to connect electronic devices and power banks. A dual function of this type is very important, because it ensures you the possibility of charging tablets and mobile phones while you are walking. The world today requires us to always be connected. These backpacks make it possible. So, by giving them away, you will show not only that you always aspire to the highest quality. You will also prove that you are open to new solutions that can improve everyday life, responding to the latest needs of our society.
Another option is to opt for a branded laptop backpack with anti-theft function. This model offers a double corporate gift, which protects valuable items and the laptop at the same time. It is no doubt a major work accessory for those who travel on behalf of the company. However, it is now very widespread even among those who set out for a trip for personal reasons. On the train and on the plane, having a laptop backpack will make a difference. By storing your computer inside of it, you will not need to fear that it will be damaged by other accessories or external shocks. Even more if the backpack has the anti-theft function to keep your most important items safe.
Would you rather personalise a simple anti-theft backpack, but are not sure because you would like something more particular? The solution is very simple. You will just need to add one of our printed travel products and apply your logo on it. In this way, you will give customers or your team a double promotional product with double utility. For instance, a team of travellers will be well impressed by a personalised travel document wallet. For an audience whose habits you do not qui know, however, it may be more appropriate to choose personalised card holders. This corporate gift is always useful. Your customer can store their cards in them and then put them in the secret pocket of their backpack.
Did you like this content? Click here to download it.
Printed anti-door backpacks with your printed logo are a thought that lasts over time, a memory that every person who interacts with your company carries with them, a promotional item that, using it, will unknowingly advertise your brand. Printed anti-door backpacks are among the most popular customizable promotional items on the market, maybe because they are easy to use and indispensable in everyday life. If you imagine them with your communication message imprinted, it is sure to be a hit. In our stock you will find both printed anti-door backpacks cheaper to use as personalized gifts, and premium gifts personalised work backpacks that will allow you to exalt yourself from the competition thanks to their unique design and their quality.
Where can I found all the information on printed anti-door backpacks?
Information about anti-door backpacks such as quantities availability in stock, printing variables, prices, exact sizes of the items are visible on the relevant page dedicated to the product. It is possible to create customized estimates and graphic drafts in total autonomy by clicking on the two red buttons clearly visible on the page. If you need more information about travel backpacks, we are always available via chat, email, phone.
How can I see my logo on printed anti-door backpacks before the order?
When you buy personalized items such as anti-door backpacks, work backpacks or travel backpacks with your logo, it is normal that you ask yourself in advance how the final result will be. With HiGift you will be able to have a vision of how your promotional items with a logo will be created, and this before purchasing. Go to the product sheet of the item you have chosen in anti-door backpacks and click on the red button try your logo. You can save your graphic draft in your personal area or download it and you will realize printed anti-door backpacks you are purchasing. Please note that this will only be your graphic proof and that the professional print proof will be provided by us in the 24 hours following your order.
How can I calculate an estimate for printed anti-door backpacks?
Do you know that on HiGift it is quick and easy to obtain an ad hoc quote? If you are in the printed anti-door backpacks category and you are therefore interested in this type of personalized items, just choose from the preview images the article that best suits your promotion. At this point, enter the product sheet and click on the appropriate red button. A pop-up will open and you just need to follow all the instructions given there. You need to know how many personalised anti-door backpacks you want, your favorite color, if you want them customized and how many colors your logo has. In a few clicks you will have your quote and you can download it or save it in your account. If, on the other hand, you are interested in purchasing multiple types of anti-door backpacks, work backpacks o travel backpacks and want to have an overall estimate of several promotional items, just go to the cart. There too you will find the possibility to download your quote.
Can I obtain some discounts with the purchase of printed anti-door backpacks?
If you are looking for personalized cheap anti-door backpacks , here you are in the right place. In fact, on HiGift you can find different ways to save on your corporate gifts such as anti-door backpacks, work backpacks or travel backpacks. Also if you buy a small quantity of anti-door backpacks, you can save on the cost each, which decreases as quantities increase. Furthermore, by registering on our site you will participate in the HiGift Circle loyalty program which will allow you to obtain increasingly exclusive benefits as you climb your status. How to get to be a Platinum customer? Just buy your corporate gifts from us, so, once you have reached a certain spending threshold, you can scale from Bronze to Silver up to Gold and finally Platinum to get, among other advantages, an important discount on the purchase of all the promotional items present on the site. Finally, if you want to stay updated on discounts and promotions that can include anti-door backpacks, work backpacks o travel backpacks, subscribe to our newsletter, you will receive it monthly and will always contain news on discounts and benefits for you.
Promotional Items have multiple benefits for businesses. They can be part of corporate merchandising, a promotional and advertising tool for customers, and also a gift for employees during holidays, anniversaries or corporate anniversaries. They are useful tools to leave a memory of the brand during events, fairs, promotions to potential customers. Promotional items customized with your logo, if chosen carefully with respect to the communication message you want to convey, undoubtedly create added value to your brand.
Printed Anti-door backpacks - FREQUENT QUESTIONS
The anti-door backpacks are backpacks designed to prevent theft, breakage and impact of their contents. Usually the hinges are hidden or have an invisible closure system and therefore more difficult to open by those unfamiliar with the object. These backpacks are perfect for those who have to carry expensive electronic equipment, such as photographers and for pro's who travel with PCs, tablets and corporate phones. The printed anti-door backpacks are usually also resistant to cuts and blows, this logically to minimize the risk of being handled by strangers or damaged. Often those who need an anti-door backpacks want to protect what they are carrying and wonder what are the best parameters to choose with knowledge of the facts:
Quality: if you are undecided about the material of your backpack, we recommend that you choose an oxford fabric, resistant to water and tears.
Blocking system for RFID: In this way the scanner or pos will not be able to read your credit cards. A greater security system to think about.
Secret pockets and several compartments: The more hidden compartments and secret pockets you have, the harder it will be to access the contents of your backpack.
The final result of your personalized anti-door backpack is very important. On the other hand, it is precisely the aesthetic aspect, which often influences, in the choice of the use of a gift or not, by our customers. Your corporate gift must not only be useful, but also beautiful. For this reason, the graphics, the position of the logo and the possible printing technique are all elements to which we must pay close attention. Below we briefly explain the printing techniques that are often used to print on anti-door backpacks:
Transfer: it is a photographic quality print and therefore has no color limitations. In fact, the four-color process logos, with this printing technique, are vivid and durable. Furthermore, this printing technique adapts to many surfaces and materials and is therefore also excellent for waterproof fabrics.
Digital transfer: the digital transfer printing technique represents the modern alternative to traditional transfer printing. With the use of a special printer, the graphics are printed in photographic quality on a special transfer paper; this will then be applied and fixed on the product with the help of a heat press. The result will be a very defined and detailed print.
Verifying every detail is important. It is therefore normal to buy Printed Anti-door backpacks without having touched them can block your purchase process. For this on HiGift it is possible to receive a sample before ordering the entire quantity of the Anti-door backpacks. The procedure is very simple: just click on the red button calculate your quote and buy and enter 1 in the desired quantity. Then need to click on confirm order to proceed to purchase the sample without the desired print, after registering on our site or logging in if you are already a customer. In many cases it is also possible to customize the sample with your own logo, in order to be able to see the finished promotional product. Just choose the personalization on the calculator and that's it. To find out the cost of the neutral sample, go to the price summary that you see in the product sheets of Anti-door backpacksand you will find it highlighted. In case the timing does not allow you to wait for the receipt of the sample to place the order, write to our customer service, we will be happy to help you with information or photos of the selected product.
You can order your
printed anti-door backpacks
quickly by following these steps:
If you are not already our customer, sign in on HiGift or log into your account.
Choose the promotional item you prefer and, once you have entered the product sheet, click on the appropriate red button calculate your quote and buy.
Enter the quantity and possibly the color of anti-door backpacks, choose the type printing and follow the steps indicated until you have the final quote.
Click on confirm order to proceed with the purchase.
When ordering, you can upload your logo, or do it later in your personal area within the relevant order. Our staff will proceed to make you a free print draft to show you the
printed anti-door backpacks with your logo
.
For more information click here
.
After your approval, we will proceed with production and you will receive Anti-door backpacks in 15-17 days. If, on the other hand, you have purchased anti-door backpacks without any customization, you will receive the goods in 3-4 days.
If you want to know more about delivery time, visit this page
. For more information on placing orders visit the section
how to order
. If you have doubts about payments, visit the section
payments