Personalised Keyrings
Personalised Keyrings: always timeless promotional item!
Discover more details on
Keyrings are one of the objects that has accompanied us since our early age.
As children, we envied our mother or father because they had large bunches of keys that could open doors of the house, office, and car. There, as in other small things, our desire to grow up was enclosed.
Then, as soon as we could, we applied keyrings on our backpacks and cases. There were those with puppets and those with our initials, but all that mattered was that they were bulky and clearly visible. They were a concrete help to open hinges containing our thousands of pens, notebooks, and snacks, too.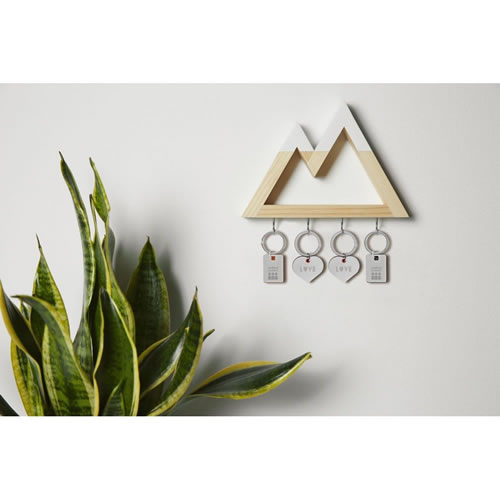 One of the objects that attracts children the most are stress ball keyrings: they're soft, colourful and big enough not to go unnoticed. As well as the soft toy keyrings, which are cute and collectible.
As we grew up, the keyring has naturally become a useful and necessary tool so as not to lose our house keys.
It's customary for women not to find the keys in their bag or backpack, since the size of everyday shopping bag is not usually small. On the other hand, men tend to leave them in the car or on the desk. In short, keyrings are essential in our daily life as they improve our routine.
The trend in recent years is to have personalised objects with our name, to differentiate ourselves and make what we wear unique. Brands always try to respond to the requests and desires of their customers. For this reason, it's normal that they insist on offering unique items and give personalised corporate gifts during their promotions or events as a souvenir of the company and of that particular moment.
Personalised keyrings are among the most useful promotional products. So, if you want your gift to be used and shown over and over again, this is definitely the article to choose to print your name or logo, or to unleash your creativity. 
There are many types of customisable keyrings, each with a peculiar feature that makes it more suitable for a print or an engraving. Here are the most popular ones. 
Promotional plastic key rings are among the cheapest, and they fit to be distributed in large quantities, given their low cost.
There are different types, even multifunctional ones. There are those with the trolley token as well as those equipped with a torch or a bottle opener. They are light and can be found in many different forms.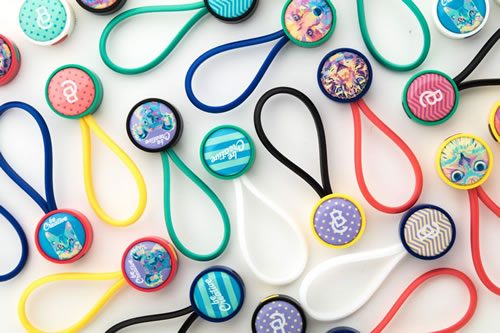 The most used printing technique for these keyrings is pad printing, which allows a sharp print even for very small writing. 
Personalised metal keyrings are ideal for companies that need to make corporate gifts of a certain prestige. It's possible to engrave the brand on them and thus guarantee a long life to the print. This, combined with the fact that they are indestructible, make it one of the most successful promotional products.
Metal keyrings are perfect for one-to-one gifts and special occasions such as Valentine's Day, too. Many of the models that you can find on HiGift come with a gift box, which is customisable as well.
For those looking for an eco-friendly product, personalised wooden keyrings are ideal. If coated with metal, they gain in importance and have a certain weight, otherwise they are very light.
In this case, too, they become more beautiful and valuable over time if personalised with engraving. 
Remaining within the respect for the environment and 'no to plastic', promotional cork keyrings are perhaps a newer option than the wooden version. They are very light and beautiful if customised in pad printing, although they can be engraved, too.
Leather as well as faux leather are used in gifts such as wallets, object holders, belts and keyrings of a certain value. They are usually well received as Christmas gifts, as a promotional product to give to gala dinners or as personal gifts.
HiGift's personalised leather keyrings meet these needs and can be found in different versions.
Who does not care about pictures with friends or family? The answer is obvious. Whether for birthdays, anniversaries, weddings or themed parties, photo keyrings meet this need and are perfect for those who want to take their favourite moment with them or give it as a gift.
Personalised bottle opener keyrings are among the most popular multifunctional items. Suitable for those who work in bars, pubs, discos, and clubs of various kinds, they perform the double function that's useful for their activity. In general, they are best suited for promotions to a male target.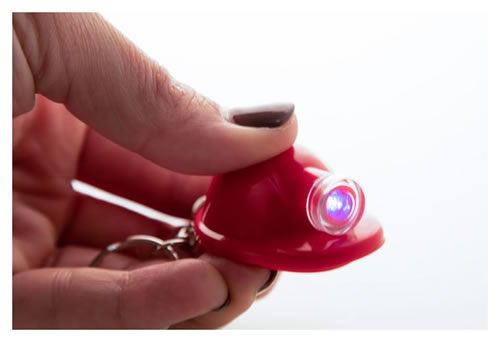 How useful it is to have a light that illuminates the lock of the door when you come home at night! That is why keyrings with a LED light or personalised keyring with torches are the best solution for real estate agencies which want to give a corporate gift away to their customers! 
The above-mentioned personalised stress ball keyrings are not just a toy for children. On the contrary, they are perfect for adults as well, especially in times of stress during long working days. They're suitable for those who love and use lightweight and colourful keyrings. 
Ideal as a summer gift, personalised floating keyrings are the perfect match for those who own a bathing establishment and want to customise the keys to the cabins to give to customers. However, they are a good idea for those who organise parties on the beach and want to give away something useful and suitable for the season, too.
They are made of a lightweight, floating material called EVA. The shapes available on HiGift do evoke sea and summer!
On HiGift you can find all types of keyrings, which you can choose according to your needs and customise as you like!
Did you like this content? Click here to download it.
Personalised keyrings with your printed logo are a thought that lasts over time, a memory that every person who interacts with your company carries with them, a promotional item that, using it, will unknowingly advertise your brand. Personalised keyrings are among the most popular corporate gifts; they help to give visibility, personality and uniqueness to your brand. A useful, classic gift that is renewed to keep up with the times! In our collection you will see a wide range of personalised keyrings, available in different colours and prices. Choose from if what you prefer; each object can be customized with your logo or your slogan.
Where can I found all the information on personalised keyrings?
All information about keyrings is reported in the product sheet of each items. Therefore, the quantities available in stock, the colours, the prices, the types of printing are always visible and updated in real time. To get a personalized quote or a pre-view of how the promotional advertising key chains with your logo could look, just click on the buttons available on the item page. For any further information do not hesitate to contact us!
How can I see my logo on personalised keyrings before the order?
Personalised keyrings, promotional advertising key chains or custom photo keyrings are perfect to be personalized but...how can I see my keyrings with my logo before ordering on HiGift? It's very simple, just follow these steps. You are now in the personalised keyrings category, choose your item and, once inside the product sheet, click on try your logo. In this tab you can try your own writing on the personalized item or directly upload your logo and test your promotional article. You can even eliminate the colored background of your logo. Don't worry, your graphic proof is not the official proof that will go into production! That will be provided by us after the order, at the latest within 24 hours.
How can I calculate an estimate for personalised keyrings?
On HiGift you can make, download and save all the estimates you need in your personal area! You are now on personalised keyrings category, select your favorite customizable item and, once inside the product sheet, click on get your price and buy. Just enter the quantity, the color of keyrings, the type of customization you require based on the characteristics of your logo. In a few clicks you will be able to get your quote. At this point you can download it or save it in your personal area. If you want to revise the quote, just go back by clicking on the appropriate button. If you add various products such as keyrings, advertising key chains or photo keyrings to your cart, you will also be able to download or save the overall estimate of all your promotional items before checking out. In this way you can do all the tests you want with your favorite corporate gifts!
Can I obtain some discounts with the purchase of personalised keyrings?
On HiGift there are several ways to buy cheap keyrings. The first and most obvious: if you buy keyrings, advertising key chains or photo keyrings iin huge number, the price per item will be lower. If you buy the same items in smaller quantities, you will have a higher price each. This detail is clearly visible in the price table on each product sheet: it is often enough to add a minimum quantity of keyrings to get a better price. Also, if you subscribe to our newsletter you will be updated on the promotions we release every month. That's right, you got it right: you can find promotions on personalised keyrings, that is the articles you are looking for! If you become our customer you will also be able to access the HiGift Circle loyalty program which will allow you to have exclusive benefits by climbing the statuses. That is, more keyrings, advertising key chains or photo keyrings you buy, the sooner you will be able to reach the threshold for your passage of status and obtain increasingly important benefits, discounts included.
Promotional Items have multiple benefits for businesses. They can be part of corporate merchandising, a promotional and advertising tool for customers, and also a gift for employees during holidays, anniversaries or corporate anniversaries. They are useful tools to leave a memory of the brand during events, fairs, promotions to potential customers. Promotional items customized with your logo, if chosen carefully with respect to the communication message you want to convey, undoubtedly create added value to your brand.
Personalised Keyrings - FREQUENT QUESTIONS
Corporate gifts are a fundamental step in promoting and sponsoring your brand.
Who wouldn't want a company known by their logo?
The goal of each brand is to become top of mind for its customers and stakeholders.
And what better way to promote your identity than customize useful and nice items?
Keychains are a classic gift for any company. The equivalent of a black garment is always perfect for any occasion.
In addition to being an appreciated gift, useful and practicle, the keyring is a flagship item for some activities:
- Dealerships, mechanics, real estate.
Keyrings are a truly flexible items for many reasons:
- For the mixed materials that can be used.
Like leathers, plastics, woodens, aluminums, Foam-tuff, terracotta and many other mixed fabrics; - For the possibility to be combined with other items.
Like trolley coin keyrings, bottle opener keyrings and flashlight keyrings.
HiGift offers a wide range of keyrings which varies in shapes and colors.
In our website it's possible to customize every item with your logo and your favorite messages.
We advise you to always choose your corporate items in line with your core business and your marketing communication, considering the multiple possibilities of customization: from classic models to the most extravagant ones.
in fact, choosing corporate promotional items is not only a good advertising move but it helps to boost your brand awareness.
For example, if you are a company interested in climatic problems, we recommend you to consider the wooden and bamboo designs.
Keychains are a flexible items to be branded:
- Small and large;
- Different materials can be shaped: Metal, wood, plastic;
In the specific section of our site you will find many ideas to better personalize your corporate gifts.
Verifying every detail is important. It is therefore normal to buy Personalised Keyrings without having touched them can block your purchase process. For this on HiGift it is possible to receive a sample before ordering the entire quantity of the Keyrings. The procedure is very simple: just click on the red button calculate your quote and buy and enter 1 in the desired quantity. Then need to click on confirm order to proceed to purchase the sample without the desired print, after registering on our site or logging in if you are already a customer. In many cases it is also possible to customize the sample with your own logo, in order to be able to see the finished promotional product. Just choose the personalization on the calculator and that's it. To find out the cost of the neutral sample, go to the price summary that you see in the product sheets of Keyringsand you will find it highlighted. In case the timing does not allow you to wait for the receipt of the sample to place the order, write to our customer service, we will be happy to help you with information or photos of the selected product.
You can order your
personalised keyrings
quickly by following these steps:
If you are not already our customer, sign in on HiGift or log into your account.
Choose the promotional item you prefer and, once you have entered the product sheet, click on the appropriate red button calculate your quote and buy.
Enter the quantity and possibly the color of keyrings, choose the type printing and follow the steps indicated until you have the final quote.
Click on confirm order to proceed with the purchase.
When ordering, you can upload your logo, or do it later in your personal area within the relevant order. Our staff will proceed to make you a free print draft to show you the
personalised keyrings with your logo
.
For more information click here
.
After your approval, we will proceed with production and you will receive Keyrings in 15-17 days. If, on the other hand, you have purchased keyrings without any customization, you will receive the goods in 3-4 days.
If you want to know more about delivery time, visit this page
. For more information on placing orders visit the section
how to order
. If you have doubts about payments, visit the section
payments