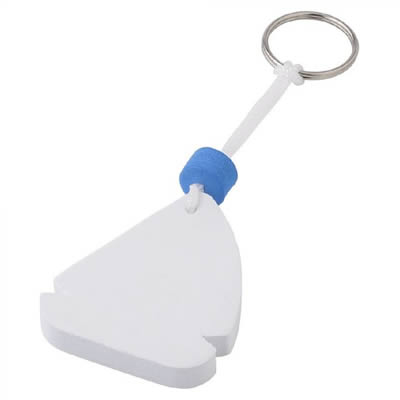 Personalised Floating keyrings
Personalised Floating keyrings: light and suitable for Summer, try on your logo!
Read more information on
The success in giving personalised floating keyrings does not only lie in choosing the right type, but also in devising a particular design or message that most strikes the attention of those who receive the gift, and also accompanying it with your logo. Personalised floating keyrings are among the most popular customizable promotional items on the market, maybe because they are easy to use and indispensable in everyday life. If you imagine them with your communication message imprinted, it is sure to be a hit. On this page you will find more than one type of personalised floating keyrings, so that you can choose the promotional item that best suits your brand or your communication with object, based on price, colour, size, shape.
Where can I found all the information on personalised floating keyrings?
Information about floating keyrings such as quantities availability in stock, printing variables, prices, exact sizes of the items are visible on the relevant page dedicated to the product. It is possible to create customized estimates and graphic drafts in total autonomy by clicking on the two red buttons clearly visible on the page. If you need more information about light key chains, we are always available via chat, email, phone.
How can I see my logo on personalised floating keyrings before the order?
When you buy personalized items such as floating keyrings, light key chains or beach floating keyrings with your logo, it is normal that you ask yourself in advance how the final result will be. With HiGift you will be able to have a vision of how your promotional items with a logo will be created, and this before purchasing. Go to the product sheet of the item you have chosen in floating keyrings and click on the red button try your logo. You can save your graphic draft in your personal area or download it and you will realize personalised floating keyrings you are purchasing. Please note that this will only be your graphic proof and that the professional print proof will be provided by us in the 24 hours following your order.
How can I calculate an estimate for personalised floating keyrings?
On HiGift you can make, download and save all the estimates you need in your personal area! You are now on personalised floating keyrings category, select your favorite customizable item and, once inside the product sheet, click on get your price and buy. Just enter the quantity, the color of floating keyrings, the type of customization you require based on the characteristics of your logo. In a few clicks you will be able to get your quote. At this point you can download it or save it in your personal area. If you want to revise the quote, just go back by clicking on the appropriate button. If you add various products such as floating keyrings, light key chains or beach floating keyrings to your cart, you will also be able to download or save the overall estimate of all your promotional items before checking out. In this way you can do all the tests you want with your favorite corporate gifts!
Can I obtain some discounts with the purchase of personalised floating keyrings?
If you are looking for personalized cheap floating keyrings , here you are in the right place. In fact, on HiGift you can find different ways to save on your corporate gifts such as floating keyrings, light key chains or beach floating keyrings. Also if you buy a small quantity of floating keyrings, you can save on the cost each, which decreases as quantities increase. Furthermore, by registering on our site you will participate in the HiGift Circle loyalty program which will allow you to obtain increasingly exclusive benefits as you climb your status. How to get to be a Platinum customer? Just buy your corporate gifts from us, so, once you have reached a certain spending threshold, you can scale from Bronze to Silver up to Gold and finally Platinum to get, among other advantages, an important discount on the purchase of all the promotional items present on the site. Finally, if you want to stay updated on discounts and promotions that can include floating keyrings, light key chains o beach floating keyrings, subscribe to our newsletter, you will receive it monthly and will always contain news on discounts and benefits for you.
Corporate Gifts have multiple benefits for businesses. They can be part of corporate merchandising, a promotional and advertising tool for customers, and also a gift for employees during holidays, anniversaries or corporate anniversaries. They are useful tools to leave a memory of the brand during events, fairs, promotions to potential customers. Promotional items customized with your logo, if chosen carefully with respect to the communication message you want to convey, undoubtedly create added value to your brand.
Personalised Floating keyrings - FREQUENT QUESTIONS
floating keychains are an excellent gift for all those who frequent aquatic environments: such as the nautical sector, fishing lovers, the navy, companies related to navigation such as schools for nautical licenses or shipping companies. The personalised floating keyrings as the name implies, are the keyrings that if they fall into the water float and therefore the risk of the keys being lost decreases drastically. The floating keyrings are made such by the use of a material that, when in contact with water, manages not to absorb the liquid while remaining dry, such as PU, EVA or even PVC. And if you prefer to opt for ecological materials then choose your floating cork keyrings, a green material and at the same time composed of gaseous matter which makes it suitable to float. In addition to being cheap and useful, the floating keychains are very suitable as promotional items for summer to give as a gift if you are a beauty spa, a swimming pool or even a B&B in a seaside resort. It doesn't take much to be remembered for the rest of the year.
The personalised floating keyrings offer a lot of space for personalization, both on the front and on the back you can print on almost the entire surface. If your logo has clear colors without shading, we recommend that you opt for screen printing or pad printing, both suitable for simple logos and both inexpensive. let's see together what they consist of and which printing process they use:
Pad printing: also called pad printing, precisely because it uses a pad to transfer a film of indelible ink from an engraved steel or photopolymer plate onto the product surface. Usually the pad is made of silicone, a soft material that can be adapted to almost all surfaces. As mentioned, its adaptability characteristics make it ideal for printing rigid or semi-rigid products of small dimensions, but also soft ones.
Screen printing: Screen printing is the method for personalizing flat surface textiles, plastic and paper products. This printing technique is really suitable for many types of products. The ink is pressed directly onto the surface of the product through a gauze and fixed at 170 ° C. This technology offers very high precision while respecting the original colors.
Verifying every detail is important. It is therefore normal to buy Personalised Floating keyrings without having touched them can block your purchase process. For this on HiGift it is possible to receive a sample before ordering the entire quantity of the Floating keyrings. The procedure is very simple: just click on the red button calculate your quote and buy and enter 1 in the desired quantity. Then need to click on confirm order to proceed to purchase the sample without the desired print, after registering on our site or logging in if you are already a customer. In many cases it is also possible to customize the sample with your own logo, in order to be able to see the finished promotional product. Just choose the personalization on the calculator and that's it. To find out the cost of the neutral sample, go to the price summary that you see in the product sheets of Floating keyringsand you will find it highlighted. In case the timing does not allow you to wait for the receipt of the sample to place the order, write to our customer service, we will be happy to help you with information or photos of the selected product.
You can order your
personalised floating keyrings
quickly by following these steps:
If you are not already our customer, sign in on HiGift or log into your account.
Choose the promotional item you prefer and, once you have entered the product sheet, click on the appropriate red button calculate your quote and buy.
Enter the quantity and possibly the color of floating keyrings, choose the type printing and follow the steps indicated until you have the final quote.
Click on confirm order to proceed with the purchase.
When ordering, you can upload your logo, or do it later in your personal area within the relevant order. Our staff will proceed to make you a free print draft to show you the
personalised floating keyrings with your logo
.
For more information click here
.
After your approval, we will proceed with production and you will receive Floating keyrings in 15-17 days. If, on the other hand, you have purchased floating keyrings without any customization, you will receive the goods in 3-4 days.
If you want to know more about delivery time, visit this page
. For more information on placing orders visit the section
how to order
. If you have doubts about payments, visit the section
payments