Personalised Leather keyrings
Personalised Leather keyrings: a classic touch to your promotion.
Read more details on
Looking For Common but Elegant Corporate Gifts? Go for Personalised Leather Keyrings
Are you planning your ad campaign and would like to give away simple yet stylish promotional products? With personalised leather keyrings you can get exactly what you are looking for. Plus, you will not be spending too much and will only need a few simple clicks. Giving away leather keyrings with your logo and name will prove to be a great move for your business – no doubt about that!
These corporate gifts combine an undisputed usefulness with a particular and elegant look. The fact that they are often enriched with metal details plays a part in their appearance, too.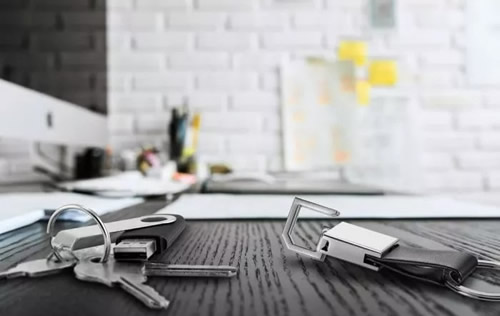 The aesthetic performance will show the quality of the services and products of your company. With a gift like this, you will intrigue customers and encourage them to try out your offers.
Personalised Leather Keyrings: The Advertising Effect of a Useful and Refined Corporate Gift
Personalised leather keyrings have at least two features that are essential for the success of a promotional product. They can be used by anyone and in any context. Plus, if customised properly, they can become classy products. This means that they will be able to arouse the curiosity and admiration of most people.
Valuing Usefulness: Why A Functional Corporate Gift Is a Successful Promotional Product
One of the key requirements of an effective promotional product is that it should be useful. It is no coincidence that it is a quality shared by all the most popular corporate gifts. Think of personalised pens or branded water bottles. Keyrings are no exception, as they are used every day and by everyone. They are necessary for adults. They always need one to keep the keys of the house, the car or the office drawer at hand. But they are popular among children, too. Especially personalised stress ball keyrings prove to be wonderful accessories for their backpacks and pencil cases.
The usefulness of personalised keyrings leads all companies to employ them sooner or later as promotional products. They are perfect for the start of a business, as they will surely find public approval and advertise your name in the best way. Even for established companies, however, these objects are among the most incisive in terms of promotion. By giving away personalised bottle opener keyrings or personalised keyring torches, the company will offer customers an accessory which is doubly useful. In this way, it will increase the chances of making an excellent impression on those who receive them.
Personalised Keyrings: Special Models for Any Type of Activity
If personalised plastic keyrings are the passe-partout for every kind of audience, there are models that perfectly match a certain type of business or clientele. Personalised wooden keyrings, for instance, are ideal for an eco-friendly business policy or event. The same applies to personalised cork keyrings. These, besides being a green choice, are particularly original as they are made of an unusual material. Personalised leather keyrings, thanks to their exquisite elegance, are the first choice for car dealerships and for customers with refined tastes.
The particularity of these models, however, is not limiting. Quite the opposite. Each company or store can think of personalised keyrings made of leather, wood or cork to give a particular tone to their advertising campaign. This must be thought out in every detail, starting from the message you want to get across and the image you want to convey. Based on these considerations, you will plan the campaign, including the creation and distribution of the most appropriate personalised corporate gifts.
Since they will certainly be used, personalised leather keyrings can be taken by anyone as promotional products or corporate gifts. What they bring to the advertising is a touch of class and style.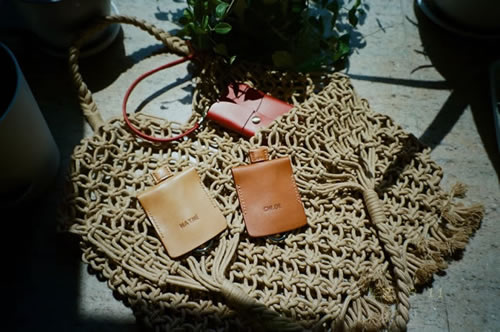 In this way, they will show to the audience that your company is committed to offering quality services or products. If the recipient is the team, they will be proof of the greatest care for the work of your employees.
Personalised Leather Keyrings: A Chic Corporate Gift for All Occasions
The aesthetic rendering of personalised leather or imitation leather keyrings is of the highest level. The keyword, as we have already seen, is elegance. Engraving the company logo on the surface will give life to a refined corporate gift. As a result, this will amaze and arouse wonder. In order to be remembered and used, a promotional product must stand out from all others. It must be able to impress those who receive it for its uniqueness, as well as for its functionality. By creating a link with the customer, the corporate gift will serve as a bond. That is, it will establish a relationship between customer and company that will last over time.
Elegance is one of the hallmarks of personalised leather keyrings. However, it is not the only benefit these corporate gifts bring to those who use them. Their ability to meet the tastes of a wide spectrum of audiences ensures a valuable return in terms of advertising. Like personalised metal keyrings, leather keychains too are used by men and women alike. Moreover, despite not being particularly suitable for children, personalised leather keyrings are common even among teenagers and young adults. So, even though they look serious, these promotional products attract a wide range of audiences by age and gender.
As a result, they can be given away to a significantly varied clientele. Not only that, but those who receive the leather or imitation leather keyrings can lend them to friends or family as well. This simple step ensures your logo is as visible and widespread as possible. In this way, it allows your brand to be known by people with different interests. This is a cheap and very effective way to expand your circle of customers.
Personalised Leather Keyrings as Corporate Gifts for Employees
Every employee has an important value for the company. Recognising it will increase their self-esteem and make them feel that their commitment is appreciated. Last but not least, it is a way to encourage them to keep doing their best for the business. All this without the slightest pressure, but rather with significant support. This is what corporate gifts are for. They strengthen the relationship between the employer and the team. In the case of personalised leather keyrings, you can be sure that your employees will appreciate both the gesture and the corporate gift itself.
They will immediately attach their keys to it – perhaps those of the office – and will start using it when they go to work or in other contexts. It is not uncommon for them to put it on the table when they search for some items in their bag or pocket. It is precisely on this occasion that your personalised leather keyring falls under the eyes of friends and relatives sitting next to your employee. And in doing so, it exposes the logo and name which are engraved on it.  At this point, the charm of the promotional product comes into play. It will arouse the curiosity of some, prompting them to ask a few questions about the object and, finally, about your company.
Seeing the attention you devote to your employees will put you in the best light in the eyes of everyone. Plus, the excellent quality of the product will entice them to turn to you in case of need. They may even come to you just out of curiosity.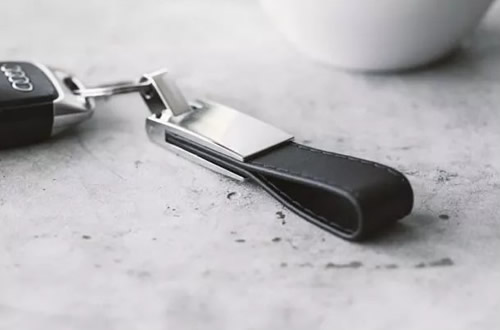 Personalised leather keyrings have the power to intrigue and inspire confidence. It is worth to take advantage of these effects when the goal is to foster the growth of your business.
Personalised Leather Keyrings as Promotional Products for Customers
The audience is not easy to seduce. This is especially true nowadays, due to the high competition there is on the market. Every business is constantly trying to retain and keep customers and to acquire new ones. Again, giving away corporate gifts with the name or logo of the brand is of great help. It is a winning strategy for several reasons. Making a gift is in itself a gesture that pleases the recipient. But creating an exclusive one will make customers feel special. It will say to them that they are important to the company. In this way, it will establish a link between buyer and seller. Most of all, a corporate gift lasts over time. For this reason, it can help the recipient to remember the name of your brand even after a long while.
Personalised leather keyrings perform exactly this function when you give them to your audience. These small accessories can make a difference on different occasions. For instance, when the customers buy a product or make use of one of your services. The same goes for an event in which your company takes part. Their size is another plus in this case. Customers can take them away without any difficulty, because they are not bulky. This detail may seem irrelevant, but it is not. It will give your customers the impression that your company thinks of every detail in each of its choices. What makes a brand more reliable?
Did you like this content? Click here to download it. 
The success in giving personalised leather keyrings does not only lie in choosing the right type, but also in devising a particular design or message that most strikes the attention of those who receive the gift, and also accompanying it with your logo. Personalised leather keyrings are among the most popular corporate gifts; they help to give visibility, personality and uniqueness to your brand. A useful, classic gift that is renewed to keep up with the times! On this page you will find more than one type of personalised leather keyrings, so that you can choose the promotional item that best suits your brand or your communication with object, based on price, colour, size, shape.
Where can I found all the information on personalised leather keyrings?
Information about leather keyrings such as quantities availability in stock, printing variables, prices, exact sizes of the items are visible on the relevant page dedicated to the product. It is possible to create customized estimates and graphic drafts in total autonomy by clicking on the two red buttons clearly visible on the page. If you need more information about elegant keyrings, we are always available via chat, email, phone.
How can I see my logo on personalised leather keyrings before the order?
Personalised leather keyrings, promotional pu leather keychains or personalised elegant keyrings are perfect to be personalized but...how can I see my leather keyrings with my logo before ordering on HiGift? It's very simple, just follow these steps. You are now in the personalised leather keyrings category, choose your item and, once inside the product sheet, click on try your logo. In this tab you can try your own writing on the personalized item or directly upload your logo and test your promotional article. You can even eliminate the colored background of your logo. Don't worry, your graphic proof is not the official proof that will go into production! That will be provided by us after the order, at the latest within 24 hours.
How can I calculate an estimate for personalised leather keyrings?
On HiGift you can make, download and save all the estimates you need in your personal area! You are now on personalised leather keyrings category, select your favorite customizable item and, once inside the product sheet, click on get your price and buy. Just enter the quantity, the color of leather keyrings, the type of customization you require based on the characteristics of your logo. In a few clicks you will be able to get your quote. At this point you can download it or save it in your personal area. If you want to revise the quote, just go back by clicking on the appropriate button. If you add various products such as leather keyrings, pu leather keychains or elegant keyrings to your cart, you will also be able to download or save the overall estimate of all your promotional items before checking out. In this way you can do all the tests you want with your favorite corporate gifts!
Can I obtain some discounts with the purchase of personalised leather keyrings?
On HiGift there are several ways to buy cheap leather keyrings. The first and most obvious: if you buy leather keyrings, pu leather keychains or elegant keyrings iin huge number, the price per item will be lower. If you buy the same items in smaller quantities, you will have a higher price each. This detail is clearly visible in the price table on each product sheet: it is often enough to add a minimum quantity of leather keyrings to get a better price. Also, if you subscribe to our newsletter you will be updated on the promotions we release every month. That's right, you got it right: you can find promotions on personalised leather keyrings, that is the articles you are looking for! If you become our customer you will also be able to access the HiGift Circle loyalty program which will allow you to have exclusive benefits by climbing the statuses. That is, more leather keyrings, pu leather keychains or elegant keyrings you buy, the sooner you will be able to reach the threshold for your passage of status and obtain increasingly important benefits, discounts included.
Corporate Gifts have multiple benefits for businesses. They can be part of corporate merchandising, a promotional and advertising tool for customers, and also a gift for employees during holidays, anniversaries or corporate anniversaries. They are useful tools to leave a memory of the brand during events, fairs, promotions to potential customers. Promotional items customized with your logo, if chosen carefully with respect to the communication message you want to convey, undoubtedly create added value to your brand.
Personalised Leather keyrings - FREQUENT QUESTIONS
When you decide to make a promotional item, think first of all whether it will be useful or not to the recipient. If the answer is yes, you are already halfway there. Choosing the promotional items that represent us does not have to be an act of extreme genius, creativity is all in choosing a simple item, useful and above all that is used. If we give away items that are useless or difficult to use, the result will be obvious: they will not be used. If we give away items that are not used, we have failed the main objective that is set the promotional items, that is, to circulate your logo and promote your business. From this point of view, personalized key rings with logo become an evergreen not to be underestimated. Because? simple. Because none of us don't have a keychain in our pocket, purse, home or office. It is a constancy. It is practically the object that we look for most during the day and we often ask and we ask ourselves: have you seen my keychain? I can't find my keychain. It was right here. If your goal is to be in your customers' pockets and therefore be constantly remembered, consider carefully the personalised leather keyrings to personalize with your logo. They are elegant, simple and communicate particular attention and are always in trend. The leather keyrings are a classic, but will always remain very popular both as a corporate gifts, for merchandising, and as a gift to give away at fairs, events and in recurrences.
There are many ways to print on personalised leather keyrings. It all depends on the final effect you want to achieve, on the maximum size you want to imprint on and the characteristics of our logo, slogan and graphics. One of the most sought after prints on leather keychains and semi-leather gifts in the generic line is hot stamping, let's see what it consists of:
Hot stamping consists in reproducing designs through a hot press on leather or imitation leather products. This technique also allows the application of a metallic color in the mold, giving color to the personalization of the product.
If, on the other hand, you prefer to have vivid and lasting colors, opt for screen printing: is a printing technique that produces reliable and long-lasting results. In this technique the ink is pressed directly onto the surface of the product through a gauze and fixed at 170 ° C. This technology offers very high precision while respecting the original colors. This method can be applied on smooth surfaces, obtaining a high definition image even in various colors. In addition to
screen printing
and
hot stamping
, the leather key rings can also be printed with
pad printing
and with
engraving
.
Verifying every detail is important. It is therefore normal to buy Personalised Leather keyrings without having touched them can block your purchase process. For this on HiGift it is possible to receive a sample before ordering the entire quantity of the Leather keyrings. The procedure is very simple: just click on the red button calculate your quote and buy and enter 1 in the desired quantity. Then need to click on confirm order to proceed to purchase the sample without the desired print, after registering on our site or logging in if you are already a customer. In many cases it is also possible to customize the sample with your own logo, in order to be able to see the finished promotional product. Just choose the personalization on the calculator and that's it. To find out the cost of the neutral sample, go to the price summary that you see in the product sheets of Leather keyringsand you will find it highlighted. In case the timing does not allow you to wait for the receipt of the sample to place the order, write to our customer service, we will be happy to help you with information or photos of the selected product.
You can order your
personalised leather keyrings
quickly by following these steps:
If you are not already our customer, sign in on HiGift or log into your account.
Choose the promotional item you prefer and, once you have entered the product sheet, click on the appropriate red button calculate your quote and buy.
Enter the quantity and possibly the color of leather keyrings, choose the type printing and follow the steps indicated until you have the final quote.
Click on confirm order to proceed with the purchase.
When ordering, you can upload your logo, or do it later in your personal area within the relevant order. Our staff will proceed to make you a free print draft to show you the
personalised leather keyrings with your logo
.
For more information click here
.
After your approval, we will proceed with production and you will receive Leather keyrings in 15-17 days. If, on the other hand, you have purchased leather keyrings without any customization, you will receive the goods in 3-4 days.
If you want to know more about delivery time, visit this page
. For more information on placing orders visit the section
how to order
. If you have doubts about payments, visit the section
payments