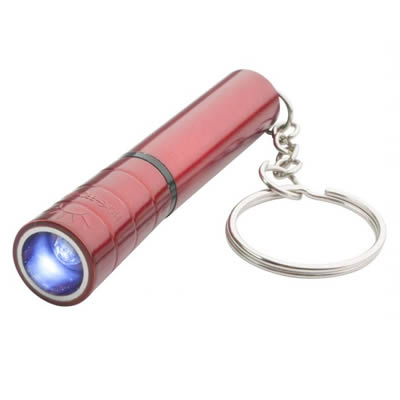 Personalised Keyring torches
Personalised Keyring torches: a light always at your fingertips.
Below more information on
The success in giving personalised keyring torches does not only lie in choosing the right type, but also in devising a particular design or message that most strikes the attention of those who receive the gift, and also accompanying it with your logo. Personalised keyring torches are a simple and easy to use objects and this is the added value of the promotion that you will be able to obtain through this kind of promotional item. On this page you will find more than one type of personalised keyring torches, so that you can choose the promotional item that best suits your brand or your communication with object, based on price, colour, size, shape.
Where can I found all the information on personalised keyring torches?
All information about keyring torches is reported in the product sheet of each items. Therefore, the quantities available in stock, the colours, the prices, the types of printing are always visible and updated in real time. To get a personalized quote or a pre-view of how the promotional flashlight keychains with your logo could look, just click on the buttons available on the item page. For any further information do not hesitate to contact us!
How can I see my logo on personalised keyring torches before the order?
When you buy personalized items such as keyring torches, flashlight keychains or keyrings with light with your logo, it is normal that you ask yourself in advance how the final result will be. With HiGift you will be able to have a vision of how your promotional items with a logo will be created, and this before purchasing. Go to the product sheet of the item you have chosen in keyring torches and click on the red button try your logo. You can save your graphic draft in your personal area or download it and you will realize personalised keyring torches you are purchasing. Please note that this will only be your graphic proof and that the professional print proof will be provided by us in the 24 hours following your order.
How can I calculate an estimate for personalised keyring torches?
Do you know that on HiGift it is quick and easy to obtain an ad hoc quote? If you are in the personalised keyring torches category and you are therefore interested in this type of personalized items, just choose from the preview images the article that best suits your promotion. At this point, enter the product sheet and click on the appropriate red button. A pop-up will open and you just need to follow all the instructions given there. You need to know how many promotional keyring torches you want, your favorite color, if you want them customized and how many colors your logo has. In a few clicks you will have your quote and you can download it or save it in your account. If, on the other hand, you are interested in purchasing multiple types of keyring torches, flashlight keychains o keyrings with light and want to have an overall estimate of several promotional items, just go to the cart. There too you will find the possibility to download your quote.
Can I obtain some discounts with the purchase of personalised keyring torches?
On HiGift there are several ways to buy cheap keyring torches. The first and most obvious: if you buy keyring torches, flashlight keychains or keyrings with light iin huge number, the price per item will be lower. If you buy the same items in smaller quantities, you will have a higher price each. This detail is clearly visible in the price table on each product sheet: it is often enough to add a minimum quantity of keyring torches to get a better price. Also, if you subscribe to our newsletter you will be updated on the promotions we release every month. That's right, you got it right: you can find promotions on personalised keyring torches, that is the articles you are looking for! If you become our customer you will also be able to access the HiGift Circle loyalty program which will allow you to have exclusive benefits by climbing the statuses. That is, more keyring torches, flashlight keychains or keyrings with light you buy, the sooner you will be able to reach the threshold for your passage of status and obtain increasingly important benefits, discounts included.
Promotional Products have multiple benefits for businesses. They can be part of corporate merchandising, a promotional and advertising tool for customers, and also a gift for employees during holidays, anniversaries or corporate anniversaries. They are useful tools to leave a memory of the brand during events, fairs, promotions to potential customers. Promotional items customized with your logo, if chosen carefully with respect to the communication message you want to convey, undoubtedly create added value to your brand.
Personalised Keyring torches - FREQUENT QUESTIONS
Keyrings are excellent promotional items for all those who love multifunctional objects, because they can incorporate many extra functions in the same object: Like the bottle opener keyrings, the anti-stress keychains but also the keychains with LEDs. The personalised keyring torches, in addition to being attached to the keys, can also act as a torch and therefore be used to illuminate paths and dark areas and can be used both on foot and by bike and therefore are an excellent gift for those who love to venture into nature. The key rings with led light can be of different shapes and sizes and this makes them flexible in customization and beautiful to be customized with the shape of your logo. The car-shaped key rings with flashlight included, for example, are one of the promotional items that car dealership and mechanics ask frequently. And if you are looking for an even more special item, take a look at the bottle opener keyring with LED light, an original gifts with triple use. Be reminded at exhibition and events in your sector.
personalised keyring torches are promotional items that are in great demand also for their easy customization. In each product sheet on our HiGift website, you will also find an explanation of each printing technique that we can use and the maximum printing area on which apply your graphics. The personalised keyring torches are more customizable through laser engraving and multicolor engraving:
Laser engraving: this technique uses a precision laser to engrave objects. Unlike mechanical procedures, the depth of the engraving made with precision laser can be measured in hundredths of millimeters. During the customization process, the surface of the product is burned with extreme precision by the passage of the laser beam, giving shape to the logo to be reproduced on the object; it is also possible to reproduce small logos with extreme precision and detail.
Multilaser engraving: multicolor engraving is a special laser engraving technology that can only be used on metal products; in this case, laser beams are used that oxidize the metal surface of the product, which reacts to the different wavelengths of the laser beams with a permanent multicolor effect. this technique is independent of the use of inks or other chemicals.
Verifying every detail is important. It is therefore normal to buy Personalised Keyring torches without having touched them can block your purchase process. For this on HiGift it is possible to receive a sample before ordering the entire quantity of the Keyring torches. The procedure is very simple: just click on the red button calculate your quote and buy and enter 1 in the desired quantity. Then need to click on confirm order to proceed to purchase the sample without the desired print, after registering on our site or logging in if you are already a customer. In many cases it is also possible to customize the sample with your own logo, in order to be able to see the finished promotional product. Just choose the personalization on the calculator and that's it. To find out the cost of the neutral sample, go to the price summary that you see in the product sheets of Keyring torchesand you will find it highlighted. In case the timing does not allow you to wait for the receipt of the sample to place the order, write to our customer service, we will be happy to help you with information or photos of the selected product.
You can order your
personalised keyring torches
quickly by following these steps:
If you are not already our customer, sign in on HiGift or log into your account.
Choose the promotional item you prefer and, once you have entered the product sheet, click on the appropriate red button calculate your quote and buy.
Enter the quantity and possibly the color of keyring torches, choose the type printing and follow the steps indicated until you have the final quote.
Click on confirm order to proceed with the purchase.
When ordering, you can upload your logo, or do it later in your personal area within the relevant order. Our staff will proceed to make you a free print draft to show you the
personalised keyring torches with your logo
.
For more information click here
.
After your approval, we will proceed with production and you will receive Keyring torches in 15-17 days. If, on the other hand, you have purchased keyring torches without any customization, you will receive the goods in 3-4 days.
If you want to know more about delivery time, visit this page
. For more information on placing orders visit the section
how to order
. If you have doubts about payments, visit the section
payments