Personalised Wooden keyrings
Personalised Wooden keyrings: the affordable, eco and useful promotional products!
Read more details on
Looking For a Green and Tasteful Corporate Gift? Try Our Personalised Wooden Keyrings!
Looking for the ideal promotional product or corporate gift often hides more pitfalls than you would expect. First of all, it has to respond to certain requirements. It has to be useful, practical, attractive and long-lasting. Plus, it must be original and representative of the business. It has to say something about who is giving it away. This is the only way to bring the audience closer to the company.
There are various strategies used to choose a corporate gift. You can focus on the look and start from the final aesthetic result that you want to achieve. You will then choose the best item for the customisation that you have in mind. Alternatively, you can give more importance to usefulness and opt for an accessory that customers will not be able to do without.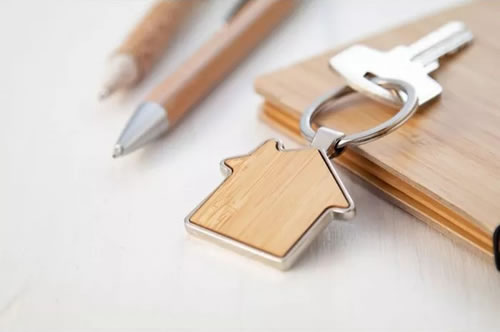 Another option is to leave room for imagination and create an original gift that attracts everyone's attention. Or you can go in the opposite direction and customise a classic promotional product that ensures greatest success.
There is, however, one last possibility which allows you to achieve all these goals. You start from one of the most classic corporate gifts and look for an alternative version. Personalised keyrings are perfect. Besides being one of the most coveted promotional products ever, there is a huge variety of them. Personalised keyring torches and personalised bottle opener keyrings are just two examples. Each of them performs an additional function to the typical – and very useful – one of the standard model. And what if you prefer simple corporate gifts? Even in this case, you can find what is right for you among these items. All you have to do is to choose the material. Among the options, you will have personalised wooden keyrings. They are natural and linear. Besides, they are very effective from the point of view both of communication and aesthetic performance.
Personalised Wooden Keyrings: The Value of The Most Elegant Natural Material
Wood is increasingly in vogue among the types of materials used in making corporate gifts. Just like all eco-friendly materials, which respond to the ever-increasing need to live with awareness. Personalised wooden keyrings are sustainable promotional products. They combine everyday usefulness with a greater goal, that of saving the planet.
Corporate gifts of this type have an extraordinary success. Besides being in line with new trends, they convey important values. They bring the public closer to a sustainable lifestyle. It is amazing how much a little accessory can affect our mindset. We see it with other items, too, such as promotional cork keyrings. It is a power worth exploiting, not least because it will put your company in excellent light. Especially because personalised wooden keyrings look flawless.
Green & Cool: How to Make Personalised Wooden Keyrings More Precious
One of the advantages of wood is its appearance. Used since the dawn of time to build houses and tools of all kinds, it has been gradually replaced with other materials. However, it has never lost his prestigious position. It is safe, resistant and natural. It brings us back to a homelike dimension, one which is cosy and warm. It is no coincidence that it is the most popular material for Christmas items. With personalised wooden keyrings, you can count on an aesthetic performance that makes the customer feel at home.
At the same time, they can become precious objects with an exquisite look. Just like personalised wooden pens and personalised wooden chopping boards. There is a trick to turning them into small jewels. It is simple and within everyone's reach. It is a detail that can be decisive in the way your corporate gift will be welcomed by those who receive it. It will give a fine and elegant vibe to your gift, making it chic while keeping it familiar. Are you ready for the secret? It is to create engraved wooden keyrings.
This technique will reproduce all the details of your logo and name with the greatest accuracy. As it is not suitable for colours, it will leave the tone of the corporate gift neutral. So, it will highlighting the natural colour of the wood. The final effect will be not only natural, but of great class, too.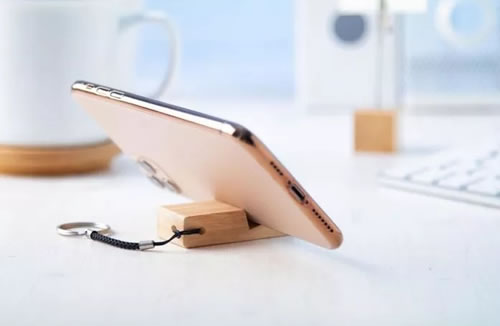 These two qualities do not make your wooden keyrings too highfalutin, but do not give up a touch of good taste and elegance either. The precision of the print and the excellent workmanship of the corporate gift will show exceptional quality. They will not fail to make a lasting and superlative advertising to your brand.
Personalised Wooden Keyrings: Special Models
As with all promotional products, there are different types, simple and particular. So, we find wooden keyrings that serve as mobile holders, too. These are at the same time technological and natural corporate gifts. The combination of two seemingly conflicting qualities has a good chance of turning out to be a winning weapon. Custom green gadgets allow us to live without giving up progress. They do so by keeping an eye on the environment at the same time. Perhaps this is the new frontier of technology – finding innovative solutions to respect nature. With a personalised wooden keyring of this type, you can play your part in spreading this new vision.
We then find wall models. They can shift your customers' attention to your logo every time they come back home. Kind of like personalised wall clocks. This wooden house keyring is fixed, so it cannot go with your audience everywhere. However, it is an original gift with a significant promotional impact. Although it is not in everyone's homes, it is very useful. Exactly this is the quality on which to leverage. Its unexpected comfort will gain wide consensus and raise surprise. Your customers will be encouraged to turn to you again, expecting to be amazed once more.
Finally, we have the creative wooden keychain. This is made of birch wood and is entirely customisable. This model is ideal for those who aspire to a creative result and to give the highest emphasis to imagination. Or for those who prefer colourful corporate gifts with the tones of the company or event at which they are given away. Some of the keyrings in this category are made of bamboo, a natural and fully green material. Bamboo is increasingly used in the world of promotional products, such as in the creation of branded bamboo pens. It is very similar to wood, not least as for the look.
Who And When? Gift Ideas for Personalised Wooden Keyrings
Considering the low cost, usefulness and look of personalised wooden keyrings, they are suitable for any sector. Personalised keyrings are among the most popular corporate gifts because they are versatile. Wooden versions are no less. However, in some cases they are particularly appropriate. For instance, they can be great personalised Christmas items, given the material they are made of. This makes them perfect for holiday giveaways, whether they are for customers or corporate gifts for employees.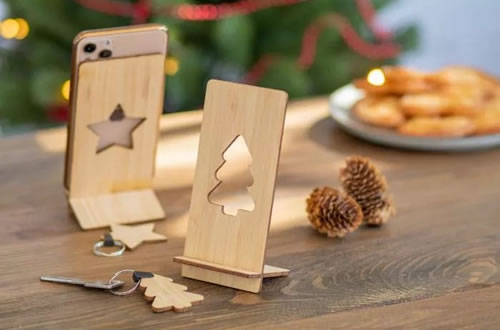 Aside from the period, personalised wooden keyrings are a must-have for some activities.
Personalised Wooden Keyrings: Find Out If Your Business Cannot Do Without These Corporate Gifts!
Are you wondering if you should customise wooden keyrings for your brand? As we said, these corporate gifts are good for any activity and are never a failure. They have all the features of a good promotional product. Plus, they are eco-friendly. But if you want to remove any doubt, there are at least two businesses that cannot do without these small, but exceptional personalised corporate gifts. In particular:
Hotels. They can use them to give room keys to guests. Creating engraved wooden keyrings always pays off. The result will be of great class and outstanding quality. Engraved wooden keyrings are the business card of the hotel. They will be with the customers throughout their stay.
The real estate agencies. They can give their customers a wooden house keyring with their logo. It is a perfect corporate gift to give when the sales contract is signed. With it, you will be close to the buyers even after the end of the negotiation.
Remember, however, that personalised wooden keyrings can become special promotional products for anyone. From companies to shops, from large to small businesses – everyone can imprint their logo on these small accessories. And, in any case, they will benefit from the great impact they will have on the public.
Did you like this content? Click here to download it.
Personalised wooden keyrings with your printed logo are a thought that lasts over time, a memory that every person who interacts with your company carries with them, a promotional item that, using it, will unknowingly advertise your brand. Personalised wooden keyrings are among the most popular customizable promotional items on the market, maybe because they are easy to use and indispensable in everyday life. If you imagine them with your communication message imprinted, it is sure to be a hit. On this page you will find more than one type of personalised wooden keyrings, so that you can choose the promotional item that best suits your brand or your communication with object, based on price, colour, size, shape.
Where can I found all the information on personalised wooden keyrings?
Information about wooden keyrings such as quantities availability in stock, printing variables, prices, exact sizes of the items are visible on the relevant page dedicated to the product. It is possible to create customized estimates and graphic drafts in total autonomy by clicking on the two red buttons clearly visible on the page. If you need more information about aluminium keyrings, we are always available via chat, email, phone.
How can I see my logo on personalised wooden keyrings before the order?
When you buy personalized items such as wooden keyrings, plastic keychains or aluminium keyrings with your logo, it is normal that you ask yourself in advance how the final result will be. With HiGift you will be able to have a vision of how your promotional items with a logo will be created, and this before purchasing. Go to the product sheet of the item you have chosen in wooden keyrings and click on the red button try your logo. You can save your graphic draft in your personal area or download it and you will realize personalised wooden keyrings you are purchasing. Please note that this will only be your graphic proof and that the professional print proof will be provided by us in the 24 hours following your order.
How can I calculate an estimate for personalised wooden keyrings?
On HiGift you can make, download and save all the estimates you need in your personal area! You are now on personalised wooden keyrings category, select your favorite customizable item and, once inside the product sheet, click on get your price and buy. Just enter the quantity, the color of wooden keyrings, the type of customization you require based on the characteristics of your logo. In a few clicks you will be able to get your quote. At this point you can download it or save it in your personal area. If you want to revise the quote, just go back by clicking on the appropriate button. If you add various products such as wooden keyrings, plastic keychains or aluminium keyrings to your cart, you will also be able to download or save the overall estimate of all your promotional items before checking out. In this way you can do all the tests you want with your favorite corporate gifts!
Can I obtain some discounts with the purchase of personalised wooden keyrings?
On HiGift there are several ways to buy cheap wooden keyrings. The first and most obvious: if you buy wooden keyrings, plastic keychains or aluminium keyrings iin huge number, the price per item will be lower. If you buy the same items in smaller quantities, you will have a higher price each. This detail is clearly visible in the price table on each product sheet: it is often enough to add a minimum quantity of wooden keyrings to get a better price. Also, if you subscribe to our newsletter you will be updated on the promotions we release every month. That's right, you got it right: you can find promotions on personalised wooden keyrings, that is the articles you are looking for! If you become our customer you will also be able to access the HiGift Circle loyalty program which will allow you to have exclusive benefits by climbing the statuses. That is, more wooden keyrings, plastic keychains or aluminium keyrings you buy, the sooner you will be able to reach the threshold for your passage of status and obtain increasingly important benefits, discounts included.
Branded Merchandise have multiple benefits for businesses. They can be part of corporate merchandising, a promotional and advertising tool for customers, and also a gift for employees during holidays, anniversaries or corporate anniversaries. They are useful tools to leave a memory of the brand during events, fairs, promotions to potential customers. Promotional items customized with your logo, if chosen carefully with respect to the communication message you want to convey, undoubtedly create added value to your brand.
Personalised Wooden keyrings - FREQUENT QUESTIONS
Corporate gifts are a fundamental step in promoting and sponsoring your brand.
Who wouldn't want a company known by their logo?
The goal of each brand is to become top of mind for its customers and stakeholders.
And what better way to promote your identity than customize useful and nice items?
Keychains are a classic gift for any company.
The equivalent of a black garment is always perfect for any occasion.
In addition to being an appreciated gift, useful and practicle, the keyring is a flagship item for some activities: dealerships, mechanics, real estate.
And if you are an eco-friendly company, you can choose your gifts in wooden and in eco sustainable material.
A truly flexible item for both material and creativity.
To visit the selected full section: click on keyrings.
HiGift offers a wide range of keyrings which varies in shapes and colors.
In our website it's possible to customize every item with your logo and your favorite messages.
We advise you to always choose your corporate items in line with your core business and your marketing communication, considering the multiple possibilities of customization: from classic models to the most extravagant ones.
in fact, choosing corporate promotional items is not only a good advertising move but it helps to boost your brand awareness.
Keychains are a flexible items to be branded:
- Small and large;
- Different materials can be shaped: Metal, wood, plastic;
In the specific section of our site you will find many ideas to better personalize your corporate gifts.
Verifying every detail is important. It is therefore normal to buy Personalised Wooden keyrings without having touched them can block your purchase process. For this on HiGift it is possible to receive a sample before ordering the entire quantity of the Wooden keyrings. The procedure is very simple: just click on the red button calculate your quote and buy and enter 1 in the desired quantity. Then need to click on confirm order to proceed to purchase the sample without the desired print, after registering on our site or logging in if you are already a customer. In many cases it is also possible to customize the sample with your own logo, in order to be able to see the finished promotional product. Just choose the personalization on the calculator and that's it. To find out the cost of the neutral sample, go to the price summary that you see in the product sheets of Wooden keyringsand you will find it highlighted. In case the timing does not allow you to wait for the receipt of the sample to place the order, write to our customer service, we will be happy to help you with information or photos of the selected product.
You can order your
personalised wooden keyrings
quickly by following these steps:
If you are not already our customer, sign in on HiGift or log into your account.
Choose the promotional item you prefer and, once you have entered the product sheet, click on the appropriate red button calculate your quote and buy.
Enter the quantity and possibly the color of wooden keyrings, choose the type printing and follow the steps indicated until you have the final quote.
Click on confirm order to proceed with the purchase.
When ordering, you can upload your logo, or do it later in your personal area within the relevant order. Our staff will proceed to make you a free print draft to show you the
personalised wooden keyrings with your logo
.
For more information click here
.
After your approval, we will proceed with production and you will receive Wooden keyrings in 15-17 days. If, on the other hand, you have purchased wooden keyrings without any customization, you will receive the goods in 3-4 days.
If you want to know more about delivery time, visit this page
. For more information on placing orders visit the section
how to order
. If you have doubts about payments, visit the section
payments