Personalised Chopping boards
Personalised Chopping boards: decorate your tables with trendy accessories!
Read more information on
Leave A Memory of Yourself with Personalised Chopping Boards
Personalised kitchen accessories are among the most popular promotional products and gifts. The reason is easy to guess. They are useful and recall our great passion for the world of food. It's no surprise that they are likely to find their own space in the kitchen of those who receive them. Their appearance is pleasing, too, especially if they are decorated in the right way. An elegant design and a harmonious customisation will make them special. They will win the heart of those who own them. Among the varied personalised kitchenware, chopping boards occupy a prominent position as corporate gifts and as presents.
Giving promotional products is an essential step to advertise your venue, products and services. Companies have always used them to spread their name, to make customers love their brand and to create a circle of trusted audience. This latter is in constant expansion thanks to new campaigns and new corporate gifts. Personalised chopping boards help restaurants, bars and all the activities that operate in the catering sector in this sense. There are different ways to use them, as well as many types to choose from and various techniques to customise them.
Restore With a Personalised Chopping Board – How to Take Your Business to The Next Level
Towns are teeming with restaurants, bars, wine bars and all kinds of dining activities. It is a constantly growing world and the competition is ruthless.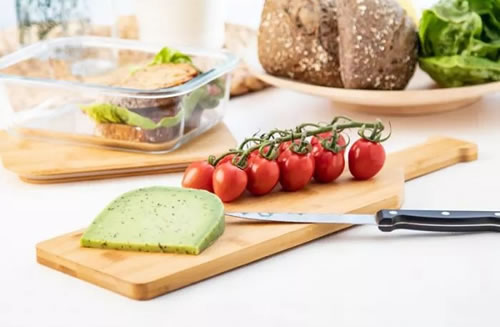 To stand out and be remembered by customers, you need to give your business an extra touch. It should be a sign of recognition that emphasises your identity and helps make you known. Kitchen accessories are excellent communication tools. Think of custom aprons. They identify the staff, convey the atmosphere of the restaurant to the customer and attract the public.
Although they cannot be worn, personalised chopping boards can perform the same functions. If used as serving plates, they can display your logo catching the eyes of customers. While they are laughing at your table, they will have the chance to look at your symbol closely. They will so be able to notice every feature of it and remember it once they leave the restaurant. Also, they will remark your care for details, an element that can distinguish your brand and make it worthy of trust in their eyes. From here the step is short to creating a circle of loyal customers. Reliability and seriousness are the first values that are appreciated. They can make a difference in the way your business is perceived by the public – even in the long term.
Personalised Chopping Boards: A Promotional Product for The Dining Room and The Kitchen
Custom cutting boards give customers the image of a serious restaurant. This is not only because they show meticulousness and precision, but also because they are important for hygiene. Those made of wood, in particular, are suitable to serve appetisers and rustic dishes – besides being very attractive. Safety is very important in the kitchen. Personalised chopping boards can be used by the team as work tools. Your employees will appreciate the attention you have put into equipping your team with useful and unique kitchen accessories.
Plus, working with a personalised chopping board with the restaurant logo will affect their sense of belonging. This will strengthen how they are attached to your business. Keep in mind that the kitchen brigade must work as a single person. Sharing something helps to fuel this cohesion. This can be achieved with any type of personalised kitchen utensil. From custom kitchen scales to personalised oven mitts, all these corporate gifts can give your kitchen a unique and exquisitely distinctive shade.
Display With Finesse: Using Personalised Chopping Boards to Decorate Your Venue
Very useful in the kitchen and on the tables of the dining room, the personalised chopping board can also take leave of its practical function and become an exhibition item. Thanks to its appearance – which you can customise in a thousand ways – this kitchen accessory can be hung on the wall of the dining area.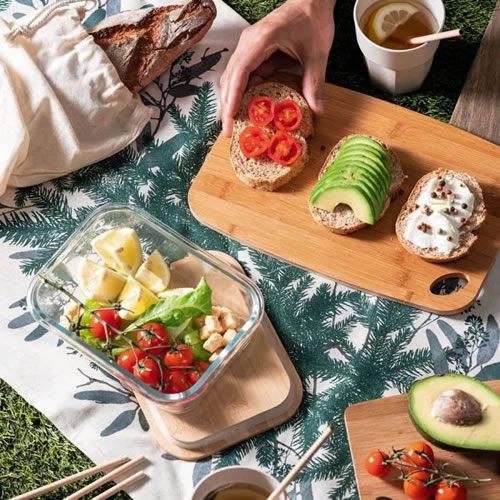 Otherwise, you can place it on the shelf of a piece of furniture. In this case, you should take care to put it in an upright position, so that it can be in plain view. But why only use it as a decoration?
The personalised chopping board is a very chic item, despite its undisputed utility. Inside the restaurant or bar room, it can give the atmosphere a touch of familiarity, as well as of class. When thinking about setting up your venue, you should always prefer objects that are related to the activity. This will create coherence and – even in this case – point out to customers your eye for detail. It goes without saying that custom chopping boards are perfect to decorate your dining room.
In this case, too, the chopping board with the engraved logo will help to impress your name in the memory of customers. Plus, in a positive light. It will make the environment comfortable – which is very important for those who want to enjoy a moment away from home. Besides, it will enhance your logo, too. So, you should not underestimate the possibility to use personalised chopping boards as decorative elements. It can be just what you need to refresh the atmosphere and best express your identity.
Personalised Chopping Boards as Wedding Favours
Custom cutting boards are not only useful for those who cook and for bars and restaurants to retain customers. They are, in fact, increasingly popular as wedding favours. They marry usefulness with elegance. They go well with the ceremony vibes – especially when it comes to personalised wooden chopping boards with engraving. This technique will give the writing or image a certain depth. The final effect will be much refined. Also, it won't affect the neutral colour of the wood. The result will be a personalised chopping board which is easy to match with any type of furniture.
Guests can choose whether to use it while preparing food or bring it to the table to serve appetisers during lunches and dinners. They have another option, too, which is to display it in their living room. As with catering activities, personalised chopping boards can become an original decoration in homes as well. Here, they will give a touch of warmth and can be noticed and appreciated by visitors. This leads us to another possible way of using personalised chopping boards. That is, as corporate gifts.
Personalised Chopping Boards as Corporate Gifts
As they are elegant and refined, custom chopping boards are top quality accessories and successful corporate gifts. You can give them away at a fair or event – perhaps with branded kitchen knives. Otherwise, they are perfect for a launch party. Whatever the circumstances, they can leave the audience with a positive memory of your activity. Customers will be well impressed by such a well-made corporate gift, as well as by the fact that they can use it at any time in their kitchen. Plus, their ability to catch the eye will make them able to spread your name even to those who visit your customers' homes.
Not to be underestimated is the variety of ways in which you can customise your chopping boards. You go from writing to images – so you can decide whether to apply your logo, slogan or both.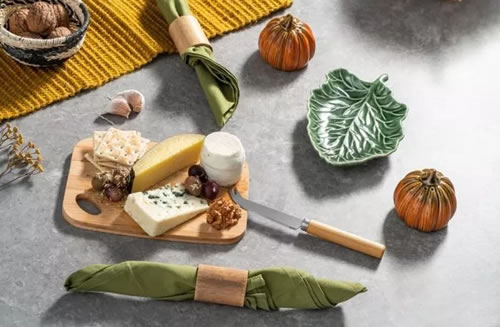 A pro to take into account if you want to make the most of your promotional campaign. The logo is a must and can be enough to highlight your brand. However, a slogan can stimulate curiosity and tell something more about your business, encouraging the observer to try it out. Finally, a catch phrase is more likely to remain imprinted in the minds of your customers.
Personalised Wooden Chopping Boards: Safe, Elegant and Eco-Friendly
Custom cutting boards are available in various materials. However, the most common is wood. The benefits of a wooden chopping board are many. It is elegant and at the same time familiar. Plus, it guarantees maximum hygiene. Also, when you are in front of wooden items, you can't help but think about the environment. Natural materials are the best allies against climate change and pollution. As well as personalised wooden pens and personalised wooden keyrings, cutting boards made from this material can help reduce the use of plastic.
If used as promotional products, they won't fail to communicate to your audience that you are committed to the environment and close to nature. While such a message is important for any company, it is crucial for a catering business. Especially with the growing focus on bio-nutrition and the effects of food on health, using personalised wooden chopping boards will tell your customers that you are aware of what you do and that you want to do it best. What better publicity for your venue?
Did you like this content? Click here to download it.
The success in giving personalised chopping boards does not only lie in choosing the right type, but also in devising a particular design or message that most strikes the attention of those who receive the gift, and also accompanying it with your logo. Personalised chopping boards are a simple and easy to use objects and this is the added value of the promotion that you will be able to obtain through this kind of promotional item. In our stock you will find both personalised chopping boards cheaper to use as personalized gifts, and premium gifts custom wooden cutting boards that will allow you to exalt yourself from the competition thanks to their unique design and their quality.
Where can I found all the information on personalised chopping boards?
Information about chopping boards such as quantities availability in stock, printing variables, prices, exact sizes of the items are visible on the relevant page dedicated to the product. It is possible to create customized estimates and graphic drafts in total autonomy by clicking on the two red buttons clearly visible on the page. If you need more information about wooden cutting boards, we are always available via chat, email, phone.
How can I see my logo on personalised chopping boards before the order?
When you buy personalized items such as chopping boards, wooden cutting boards or kitchen tools with your logo, it is normal that you ask yourself in advance how the final result will be. With HiGift you will be able to have a vision of how your promotional items with a logo will be created, and this before purchasing. Go to the product sheet of the item you have chosen in chopping boards and click on the red button try your logo. You can save your graphic draft in your personal area or download it and you will realize personalised chopping boards you are purchasing. Please note that this will only be your graphic proof and that the professional print proof will be provided by us in the 24 hours following your order.
How can I calculate an estimate for personalised chopping boards?
Do you know that on HiGift it is quick and easy to obtain an ad hoc quote? If you are in the personalised chopping boards category and you are therefore interested in this type of personalized items, just choose from the preview images the article that best suits your promotion. At this point, enter the product sheet and click on the appropriate red button. A pop-up will open and you just need to follow all the instructions given there. You need to know how many custom chopping boards you want, your favorite color, if you want them customized and how many colors your logo has. In a few clicks you will have your quote and you can download it or save it in your account. If, on the other hand, you are interested in purchasing multiple types of chopping boards, wooden cutting boards o kitchen tools and want to have an overall estimate of several promotional items, just go to the cart. There too you will find the possibility to download your quote.
Can I obtain some discounts with the purchase of personalised chopping boards?
On HiGift there are several ways to buy cheap chopping boards. The first and most obvious: if you buy chopping boards, wooden cutting boards or kitchen tools iin huge number, the price per item will be lower. If you buy the same items in smaller quantities, you will have a higher price each. This detail is clearly visible in the price table on each product sheet: it is often enough to add a minimum quantity of chopping boards to get a better price. Also, if you subscribe to our newsletter you will be updated on the promotions we release every month. That's right, you got it right: you can find promotions on personalised chopping boards, that is the articles you are looking for! If you become our customer you will also be able to access the HiGift Circle loyalty program which will allow you to have exclusive benefits by climbing the statuses. That is, more chopping boards, wooden cutting boards or kitchen tools you buy, the sooner you will be able to reach the threshold for your passage of status and obtain increasingly important benefits, discounts included.
Promotional Products have multiple benefits for businesses. They can be part of corporate merchandising, a promotional and advertising tool for customers, and also a gift for employees during holidays, anniversaries or corporate anniversaries. They are useful tools to leave a memory of the brand during events, fairs, promotions to potential customers. Promotional items customized with your logo, if chosen carefully with respect to the communication message you want to convey, undoubtedly create added value to your brand.
Personalised Chopping boards - FREQUENT QUESTIONS
Italian food has a long tradition:
- cheese platters, meat platters, salami platters and typical products are a must try in every Italian region and restaurant.
The cutting board, in fact, is not only a kitchen utensil for cutting fruit, vegetables or meat, but it's also used as a platters.
If in your restaurant you used to serve meet, salumi or cheese in a big platters, so this is an accessory cool to be customized.
Accessories customized does not have the only purpose of being a tribute to customers, they can be used inside the work place to be shown to the customers and increase brand positioning.
Obviously, cutting boards are also a very welcome gifts, won or honored with the purchase of products.
HiGift offers a wide range of kitchen accessories customizable that varies in shape and color.
The cutting boards, in addition to being customizable in their shape, are can be also customized in material and color:
- Cutting boards in plastic, steel, bamboo, walnut;
- Cutting Boards Oval, round, rectangular or trapezoidal ones.
Weight also affects the choice of cutting board over another. If you use cutting boards often as a table service, a light model is more recommended.
In the appropriate section of our website you will find many ideas and designs ready to be branded with your logo.
And if you are looking for a special model that you cannot find on our site?
No problem at all. Just contact us and We are delighted to let you know! .

Verifying every detail is important. It is therefore normal to buy Personalised Chopping boards without having touched them can block your purchase process. For this on HiGift it is possible to receive a sample before ordering the entire quantity of the Chopping boards. The procedure is very simple: just click on the red button calculate your quote and buy and enter 1 in the desired quantity. Then need to click on confirm order to proceed to purchase the sample without the desired print, after registering on our site or logging in if you are already a customer. In many cases it is also possible to customize the sample with your own logo, in order to be able to see the finished promotional product. Just choose the personalization on the calculator and that's it. To find out the cost of the neutral sample, go to the price summary that you see in the product sheets of Chopping boardsand you will find it highlighted. In case the timing does not allow you to wait for the receipt of the sample to place the order, write to our customer service, we will be happy to help you with information or photos of the selected product.
You can order your
personalised chopping boards
quickly by following these steps:
If you are not already our customer, sign in on HiGift or log into your account.
Choose the promotional item you prefer and, once you have entered the product sheet, click on the appropriate red button calculate your quote and buy.
Enter the quantity and possibly the color of chopping boards, choose the type printing and follow the steps indicated until you have the final quote.
Click on confirm order to proceed with the purchase.
When ordering, you can upload your logo, or do it later in your personal area within the relevant order. Our staff will proceed to make you a free print draft to show you the
personalised chopping boards with your logo
.
For more information click here
.
After your approval, we will proceed with production and you will receive Chopping boards in 15-17 days. If, on the other hand, you have purchased chopping boards without any customization, you will receive the goods in 3-4 days.
If you want to know more about delivery time, visit this page
. For more information on placing orders visit the section
how to order
. If you have doubts about payments, visit the section
payments