Custom Kitchen accessories
Custom Kitchen accessories: make your brand unique!
Read more details on
Personalised kitchen accessories: a wide selection for all tastes!
Thanks to their usefulness, personalised kitchen accessories are always appreciated as gifts. Although they're common, they always come in handy. This is true especially if they're high-quality products. They're great for a friend's birthday. However, they can be great promotional products for your business, too. Of course, they're particularly suitable for businesses in the catering industry. Making use of accessories that represent your activity is a fundamental step in the growth of your company. The attention to detail will distinguish your business from others and create a trusted clientele.
Custom branded aprons: the must-have for every restaurant
Custom branded aprons serve as a sign of recognition. People easily identify a staff wearing branded aprons. As a result, the public will immediately know who to turn to. This transparency will make the customer experience easier and leave them with a positive image of your activity.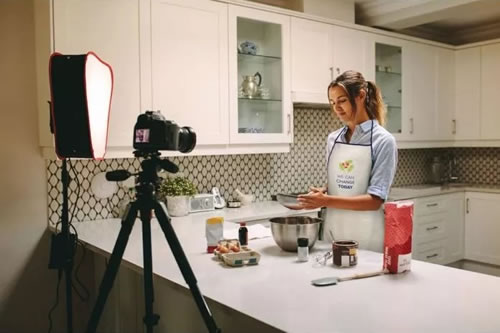 Moreover, custom branded aprons are important from a hygienic point of view. Wearing special clothing protects food from contamination. This is valid both in the kitchen and in the dining room. Besides having a practical function, custom branded aprons convey your attention to hygiene to the public. In this way, they encourage the formation of a sense of trust in your business. Your customers will know that they can expect maximum seriousness and efficiency from you. In other words, using custom branded aprons as a staff accessory is a choice that shows professionalism and reassures the public.
Custom branded aprons: the importance of personalisation
The use of custom branded aprons is important to recognise the staff and build trust with the customer. On the other hand, the application of your logo and name will play a crucial role in spreading your brand. Customising kitchen aprons is an essential move for your restaurant or pub. It's the only way for your personalised kitchen accessories to convey your identity to the audience. By printing or embroidering an image or writing that represents you, you can make your corporate gift and your staff unique and unmistakable. Customers will remember your team not only for their professionalism, but for the graphics on their custom branded aprons, too.
Giving away custom branded aprons as corporate gifts to customers: a way to advertise the brand
Besides being work tools that no catering activity can do without, custom branded aprons are excellent promotional products. Not surprisingly, they're in high demand. They're used in various areas, from catering to supermarkets to culinary events. You can distribute them in theme fairs or when a product is purchased. Moreover, you can give them to your employees. As this accessory is always useful, people will likely use it outside the company. As a result, it'll spread your logo.
To make the most of its potential, you should personalise it with care. An eye-catching logo can make a difference in the way your personalised kitchen accessories are perceived. The same goes for a compelling slogan or a nice sentence. That's why it's important to choose not only what to print, but also how. Depending on the models, customisation techniques include:
Digital printing. It's perfect to render high-definition colours and detailed images.
Embroidery. This technique doesn't allow you to reproduce fine details or shades of colour. However, it produces a very elegant and refined result.
Personalised chopping boards: create the perfect corporate gifts for your business!
Personalised chopping boards are very useful kitchen accessories. You can use them inside a restaurant or a bar as well as give them to customers as promotional products. In the first case, you can use them in the kitchen. So, you'll offer your staff a unique work experience thanks to a personalised accessory. Another option is to use them as a plate for some dishes, such as appetisers or cold cuts. Customers will appreciate this unusual choice and notice your attention to detail.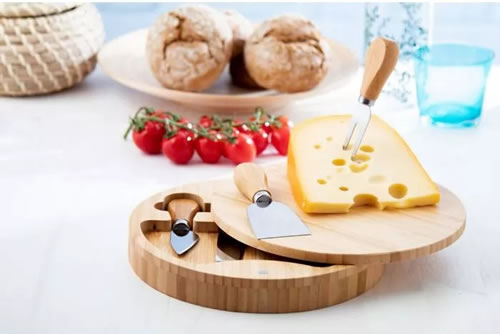 Personalised chopping boards are great corporate gifts because they're useful. Those who receive them as a gift will use them to prepare delicious dishes. Personalised chopping boards are a must-have in kitchens. Together with the right knives, they allow you to cut the ingredients flawlessly and create respectable dishes. For this reason, it's a great idea to give them as corporate gifts in combination with a set of branded kitchen knives. Cutting is key in the kitchen. It determines cooking, consistency, aesthetic result. Giving your customers the right accessories will help them improve the quality of their dishes. An enhancement they'll no doubt appreciate.
Personalised chopping boards: how to make them unique with your logo
Just like custom branded aprons, chopping boards need an eye-catching logo or writing. Only so will they promote your brand at their best. Your customers will use your personalised chopping boards often or they'll notice them in your restaurant. In both cases, it'll be thanks to the right personalisation that they'll attract the attention of your audience.
Personalised chopping boards can be made of different materials and shapes. The most common type is that of wood, which produces an effect that is both rustic and elegant. You can print your logo with engraving. This technique allows you to reproduce very fine details, although it isn't suitable for colours. The effect will be very sophisticated. By engraving your logo on personalised chopping boards, you'll give useful and aesthetically pleasing accessories to your customers.
Personalised kitchen accessories: from the kitchen to the table, all items to be used as promotional products or corporate gifts
Besides custom branded aprons and personalised chopping boards, there are many other kitchen accessories to use as promotional products. When you choose to sponsor your brand with these corporate gifts, you'll have a great advantage. Being useful items, they have a good chance of being appreciated. If your cooking accessory proves to be successful, you can count on great advertising thanks to the frequency with which it'll fall under the eyes of your customer. Your audience will associate your company with a quality product that helps them.
Classic kitchen accessories: from custom kitchen scales to branded kitchen knives
Let's start with the most classic articles, the ones that can't be missing in a kitchen. Here's a list of options:
Branded kitchen knives. They're essential to cut the ingredients and can be personalised by engraving your logo or slogan on them. As already mentioned, you can combine them with personalised chopping boards for an original corporate gift.
Custom kitchen scales. Though very common accessories, they're an original gift idea. They're very suitable as corporate gifts for employees or as work tools to be used in your bakery.
Personalised oven mitts and custom potholders. They're great promotional products for restaurants and pizzerias. A well-made print is all you need to build a connection with new customers and consolidate the link with loyal ones.
Custom citrus juicers. They're very common and perfect promotional products for trade fairs or when your customers buy a product. Their size makes them perfect corporate gifts.
Custom salt and pepper mills. Here, too, we're talking about fairly small kitchen accessories. Besides being essential for cooking and seasoning dishes, they beautify the table.
Custom cutlery. You can transform them into unique corporate gifts by engraving your name on them. You can give them as promotional products to customers or use them for your business. In both cases, they'll decorate the table by spreading your logo with a touch of style.
Sophisticated kitchen accessories: custom kitchen timers and personalised kitchen thermometers
There are accessories that, despite their usefulness, aren't so common. People often consider them unnecessary extras, but they can make a difference when cooking. By distributing these original corporate gifts, you'll amaze your audience and staff. They'll appreciate both your unexpected idea and the fact that these articles are indeed useful. Here are some ideas:
Custom kitchen timers. You can give them away with the purchase of an oven, a fridge or a barbecue. They're small, inexpensive and useful for anyone who gets cooking.
Personalised kitchen thermometers. These corporate gifts are rarer. In some cases, using one is the only way to get a perfect cooking. You can no longer do without custom kitchen timers and personalised kitchen thermometers once you've tried them!
Branded BBQ accessories. Very useful for outdoor barbecue lovers, they're perfect corporate gifts. You can give them away when customers purchase a barbecue or when they've reached a number of loyalty points. They're an original idea that'll surprise your audience for its accuracy.
Personalised kitchen utensils and cutlery. These are various types of tools suitable for different uses. Cooking enthusiasts often try particular techniques that require specific accessories. Giving one to your customers or employees will be a success.
Did you like this content? Click here to download it.
The success in giving custom kitchen accessories does not only lie in choosing the right type, but also in devising a particular design or message that most strikes the attention of those who receive the gift, and also accompanying it with your logo. Custom kitchen accessories are a simple and easy to use objects and this is the added value of the promotion that you will be able to obtain through this kind of promotional item. In our collection you will see a wide range of custom kitchen accessories, available in different colours and prices. Choose from if what you prefer; each object can be customized with your logo or your slogan.
Where can I found all the information on custom kitchen accessories?
Information about kitchen accessories such as quantities availability in stock, printing variables, prices, exact sizes of the items are visible on the relevant page dedicated to the product. It is possible to create customized estimates and graphic drafts in total autonomy by clicking on the two red buttons clearly visible on the page. If you need more information about kitchen utensils, we are always available via chat, email, phone.
How can I see my logo on custom kitchen accessories before the order?
Custom kitchen accessories, personalised cooking tools or promotional kitchen utensils are perfect to be personalized but...how can I see my kitchen accessories with my logo before ordering on HiGift? It's very simple, just follow these steps. You are now in the custom kitchen accessories category, choose your item and, once inside the product sheet, click on try your logo. In this tab you can try your own writing on the personalized item or directly upload your logo and test your promotional article. You can even eliminate the colored background of your logo. Don't worry, your graphic proof is not the official proof that will go into production! That will be provided by us after the order, at the latest within 24 hours.
How can I calculate an estimate for custom kitchen accessories?
Do you know that on HiGift it is quick and easy to obtain an ad hoc quote? If you are in the custom kitchen accessories category and you are therefore interested in this type of personalized items, just choose from the preview images the article that best suits your promotion. At this point, enter the product sheet and click on the appropriate red button. A pop-up will open and you just need to follow all the instructions given there. You need to know how many personalised kitchen accessories you want, your favorite color, if you want them customized and how many colors your logo has. In a few clicks you will have your quote and you can download it or save it in your account. If, on the other hand, you are interested in purchasing multiple types of kitchen accessories, cooking tools o kitchen utensils and want to have an overall estimate of several promotional items, just go to the cart. There too you will find the possibility to download your quote.
Can I obtain some discounts with the purchase of custom kitchen accessories?
If you are looking for personalized cheap kitchen accessories , here you are in the right place. In fact, on HiGift you can find different ways to save on your corporate gifts such as kitchen accessories, cooking tools or kitchen utensils. Also if you buy a small quantity of kitchen accessories, you can save on the cost each, which decreases as quantities increase. Furthermore, by registering on our site you will participate in the HiGift Circle loyalty program which will allow you to obtain increasingly exclusive benefits as you climb your status. How to get to be a Platinum customer? Just buy your corporate gifts from us, so, once you have reached a certain spending threshold, you can scale from Bronze to Silver up to Gold and finally Platinum to get, among other advantages, an important discount on the purchase of all the promotional items present on the site. Finally, if you want to stay updated on discounts and promotions that can include kitchen accessories, cooking tools o kitchen utensils, subscribe to our newsletter, you will receive it monthly and will always contain news on discounts and benefits for you.
Corporate Gifts have multiple benefits for businesses. They can be part of corporate merchandising, a promotional and advertising tool for customers, and also a gift for employees during holidays, anniversaries or corporate anniversaries. They are useful tools to leave a memory of the brand during events, fairs, promotions to potential customers. Promotional items customized with your logo, if chosen carefully with respect to the communication message you want to convey, undoubtedly create added value to your brand.
Custom Kitchen accessories - FREQUENT QUESTIONS
Promotional items are a fundamental step for promoting and sponsoring your brand.
Who wouldn't want a company known by the logo?
The goal of each brand, in fact, is to become top of mind for its target audience.
Customized kitchen accessories are indispensable because they communicate great professionalism and attention to details.
It is extremely important for a restaurant to have the logo on the apron, on the kitchen utensils, on the oven gloves, on the salt shaker and the pepper at the table, and on every accessory that meets the eyes of employees and customers.

HiGift offers a wide range of kitchen accessories customizable that varies in shape and color.
In our website it's possible to personalize every items with your logo and your favorite messages.
We advise you to always choose your personalized gadgets in line with your core business and your marketing communication, considering the multiple possibilities of customization: from classic models to the most extravagant ones.
in fact, choosing corporate promotional gadgets is not only a good advertising move but it helps to boost your brand awareness.
In the appropriate section of our website you will find many ideas to personalize your items as your prefer.
Verifying every detail is important. It is therefore normal to buy Custom Kitchen accessories without having touched them can block your purchase process. For this on HiGift it is possible to receive a sample before ordering the entire quantity of the Kitchen accessories. The procedure is very simple: just click on the red button calculate your quote and buy and enter 1 in the desired quantity. Then need to click on confirm order to proceed to purchase the sample without the desired print, after registering on our site or logging in if you are already a customer. In many cases it is also possible to customize the sample with your own logo, in order to be able to see the finished promotional product. Just choose the personalization on the calculator and that's it. To find out the cost of the neutral sample, go to the price summary that you see in the product sheets of Kitchen accessoriesand you will find it highlighted. In case the timing does not allow you to wait for the receipt of the sample to place the order, write to our customer service, we will be happy to help you with information or photos of the selected product.
You can order your
custom kitchen accessories
quickly by following these steps:
If you are not already our customer, sign in on HiGift or log into your account.
Choose the promotional item you prefer and, once you have entered the product sheet, click on the appropriate red button calculate your quote and buy.
Enter the quantity and possibly the color of kitchen accessories, choose the type printing and follow the steps indicated until you have the final quote.
Click on confirm order to proceed with the purchase.
When ordering, you can upload your logo, or do it later in your personal area within the relevant order. Our staff will proceed to make you a free print draft to show you the
custom kitchen accessories with your logo
.
For more information click here
.
After your approval, we will proceed with production and you will receive Kitchen accessories in 15-17 days. If, on the other hand, you have purchased kitchen accessories without any customization, you will receive the goods in 3-4 days.
If you want to know more about delivery time, visit this page
. For more information on placing orders visit the section
how to order
. If you have doubts about payments, visit the section
payments