Custom Bamboo pens
Custom Bamboo pens: make a green choice!
Read more details on
Start Your Green and Innovative Advertising with Custom Bamboo Pens!
People make use of eco-friendly items more and more often. As a result, the demand for eco solutions in the world of corporate gifts too is in constant growth. Promotional eco-friendly products are progressively more popular at events or as a gift when a product is purchased. In fact, there are eco-friendly versions of almost all the most sought-after corporate gifts. Think about pens, notebooks and keyrings – to name a few. Even the field of technology has approached this trend. Promotional eco-friendly power banks or personalised wooden USB sticks are just two examples. With their rural look, they give a charming retro touch to items which are not natural at all.
Giving away promotional eco-friendly products offers several benefits. Among these, it: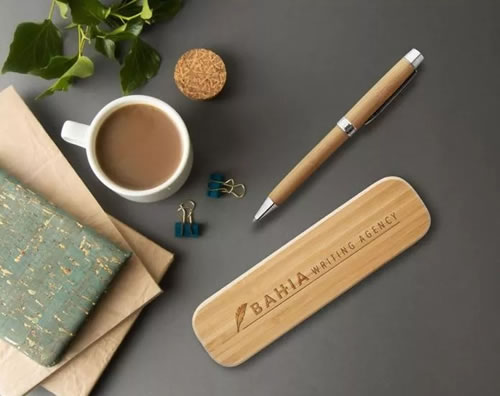 Helps the environment by using less polluting materials and production techniques.
Promotes your brand as eco-friendly.
Allows you to benefit from the high popularity of green objects.
Takes advantage of the promotional effect of standard corporate gifts.
It is easy to understand why the number of brands that resort to promotional eco-friendly products for their advertising campaigns is growing. Moreover, this trend shows no sign of decreasing in the coming years. On the contrary, the defence of the environment is a major topic and suggests a growing curve. With these premises, it is possible to assert that promotional eco-friendly products are not only a modern corporate gift, but one of the future as well.
Branded Bamboo Pens: The Benefits of Choosing the Green Version of a Common Corporate Gift
Promotional eco-friendly products perform outstandingly in terms of advertising, especially when it comes to quality. They get your brand across as a defender of the environment and as attentive to modern issues. In this way, they make it look more reliable and serious. To make the most of your advertising campaign, however, you need to focus on quantity as well. That is to say, on how often your corporate gifts are used. In order to become part of the life of the recipient, a promotional product must have an essential quality. It should be useful.
If an object comes in handy in different situations of daily life or even many times within a single day, it has a good chance of imprinting the logo in the customer's mind. It will leave a positive memory of the company as well. Not surprisingly, at the top of the list of the most coveted corporate gifts we find items of daily use, such as personalised keyrings. Most of them show a notable versatility too, as in the case of personalised water bottles. Among the promotional products that cannot be missing in the advertising history of a brand, we then find the most classic corporate gift. We are talking about personalised pens.
Think of how often you take a pen in your hands during the day. You will soon understand how much these small writing tools can affect a promotional campaign. Especially if you follow the trend of the moment and choose an eco-friendly version. You could go for personalised wooden pens or custom bamboo pens, for instance. The latter, in particular, have several qualities that can prove to be winning with your audience.
Why Bamboo? What Makes Branded Bamboo Pens so Special
In the selection of promotional eco-friendly products, we come across green materials. These can be roughly divided into three categories:
Natural materials, such as wood, cotton and paper. Think about how popular printed paper bags They replace plastic bags and can be used by shops, supermarkets and by any brand as a package for small and nice gifts.
Low-polluting materials, such as glass. You can find it in personalised glass bottles.
Recycled, recyclable or biodegradable materials. Some types of plastic belong to this group, such as ABS and PET.
Bamboo belongs to the first category and can be used like wood. Interestingly, it shares its natural and elegant look, too. Compared to wood, however, it differs for its origin.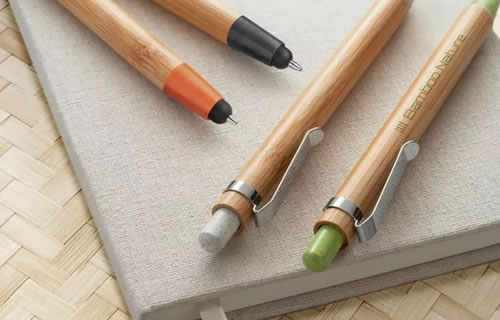 It is exotic, and it has got into Western production only in recent times. So, in a sense, the use of bamboo in the creation of corporate gifts and objects comes across as innovative. This aspect can arouse the curiosity of many.
For this reason, using custom bamboo pens as an advertising tool can be beneficial also because they look like a novelty in the eyes of those who receive them. This quality is certainly appreciated and can work to the advantage of your promotional products. As they are special, they will be more likely to be used.
Choosing Custom Bamboo Pens for Your Company: A Short and Simple Guide
Although it is a peculiar writing accessory, the promotional bamboo pen is available in different versions. These differ from each other in terms of appearance and functionality. To achieve the highest success, a corporate gift must reflect the style and core business of the brand that gives it away. Its creation begins with the choice of the basic model, which must be consistent with the desired result.
The components of the custom bamboo pen can be made of metal or coloured plastic. If they are black, they will look elegant and create an amazing contrast with the bamboo of the body. Among the models available you will find promotional touch screen pens as well. Of course, they are perfect for shops or brands active in the high-tech sector. However, this is not the only field where they can prove to be appropriate. We have already seen that promotional eco-friendly gadgets enjoy great popularity in the world of corporate gifts. As a consequence, they will be a strong success for any type of brand. Technology has by now become a part of our lives and is still sneaking in at a galloping pace. This trend makes high-tech accessories useful to everyone and excellent as gifts.
You should choose the model based on the final appearance you want to give to your corporate gift. In this way you can create elegant branded bamboo pens for serious and highly professional contexts. Another option is to craft custom bamboo pens with a playful character, to win the heart of your audience with a sparkling idea.
Promotional Bamboo Pens: Elegant Corporate Gifts for Your Advertising Campaign
If you aim at a refined result, you can choose custom bamboo pens with metal or neutral colour finishes. The effect will be very stylish. As a result, it will convey the image of a serious company which focuses on quality. Touch screen pens, too, look professional. They can be used in various contexts and often at work. In any case, regardless of the model selected, customisation will define the final character of your corporate gift.
Besides digital print, engraving can be applied to many custom bamboo pens as well. This technique gives depth to the writing, creating a sophisticated and refined effect.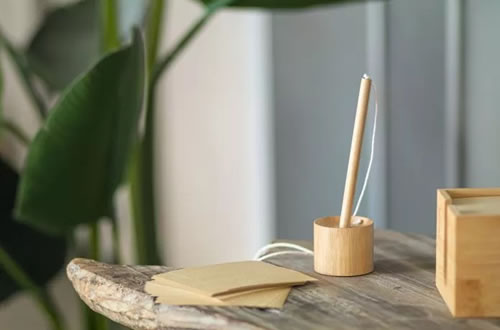 Plus, it does not allow you to reproduce any type of shade. The result will highlight the natural colour of the bamboo and enhance the material. It is not a chance that this technique is often used in the creation of promotional metal pens. These are the most coveted corporate gifts for professional contexts or private studios, as they are extremely delicate.
Commitment to the Environment Meets Playfulness: How to Turn Your Custom Bamboo Pens into Nice Corporate Gifts
Digital printing allows you to apply different colours on your personalised pens. This is a great chance to turn this small eco-friendly product into a playful and fun accessory. It is an easy and smart way to defend the environment and be cheerful at the same time. This idea is brilliant if you present your brand as friendly and want to convey positive feelings. It can also be a way to get closer to your audience and establish a more intimate relationship with your customers.
Fun and colourful prints, whether they are images or writings, are always perfect for a young audience or for children. A brand that works with kids, a toy store or a school can strengthen the bond with their audience with custom bamboo pens. Moreover, they can convey to the adults of tomorrow the importance of respecting the environment from an early age.
In conclusion, personalised pens never betray the expectations of those who adopt them as promotional products. Plus, the bamboo versions can enrich the image of the brand because they are eco-friendly and highly customisable. Thanks to these qualities, branded bamboo pens can embrace more than one kind of audience. You just have to choose the right model and go on with the personalisation. You will make gifts that are at once green, special and innovative. No doubt they will appeal to anyone!
Did you like this content? Click here to download it.
Custom bamboo pens with your printed logo are a thought that lasts over time, a memory that every person who interacts with your company carries with them, a promotional item that, using it, will unknowingly advertise your brand. Custom bamboo pens are a simple and easy to use objects and this is the added value of the promotion that you will be able to obtain through this kind of promotional item. In our collection you will see a wide range of custom bamboo pens, available in different colours and prices. Choose from if what you prefer; each object can be customized with your logo or your slogan.
Where can I found all the information on custom bamboo pens?
Information about bamboo pens such as quantities availability in stock, printing variables, prices, exact sizes of the items are visible on the relevant page dedicated to the product. It is possible to create customized estimates and graphic drafts in total autonomy by clicking on the two red buttons clearly visible on the page. If you need more information about wooden pens, we are always available via chat, email, phone.
How can I see my logo on custom bamboo pens before the order?
Custom bamboo pens, promotional wooden pens or promotional eco pens are perfect to be personalized but...how can I see my bamboo pens with my logo before ordering on HiGift? It's very simple, just follow these steps. You are now in the custom bamboo pens category, choose your item and, once inside the product sheet, click on try your logo. In this tab you can try your own writing on the personalized item or directly upload your logo and test your promotional article. You can even eliminate the colored background of your logo. Don't worry, your graphic proof is not the official proof that will go into production! That will be provided by us after the order, at the latest within 24 hours.
How can I calculate an estimate for custom bamboo pens?
On HiGift you can make, download and save all the estimates you need in your personal area! You are now on custom bamboo pens category, select your favorite customizable item and, once inside the product sheet, click on get your price and buy. Just enter the quantity, the color of bamboo pens, the type of customization you require based on the characteristics of your logo. In a few clicks you will be able to get your quote. At this point you can download it or save it in your personal area. If you want to revise the quote, just go back by clicking on the appropriate button. If you add various products such as bamboo pens, wooden pens or eco pens to your cart, you will also be able to download or save the overall estimate of all your promotional items before checking out. In this way you can do all the tests you want with your favorite corporate gifts!
Can I obtain some discounts with the purchase of custom bamboo pens?
On HiGift there are several ways to buy cheap bamboo pens. The first and most obvious: if you buy bamboo pens, wooden pens or eco pens iin huge number, the price per item will be lower. If you buy the same items in smaller quantities, you will have a higher price each. This detail is clearly visible in the price table on each product sheet: it is often enough to add a minimum quantity of bamboo pens to get a better price. Also, if you subscribe to our newsletter you will be updated on the promotions we release every month. That's right, you got it right: you can find promotions on custom bamboo pens, that is the articles you are looking for! If you become our customer you will also be able to access the HiGift Circle loyalty program which will allow you to have exclusive benefits by climbing the statuses. That is, more bamboo pens, wooden pens or eco pens you buy, the sooner you will be able to reach the threshold for your passage of status and obtain increasingly important benefits, discounts included.
Promotional Items have multiple benefits for businesses. They can be part of corporate merchandising, a promotional and advertising tool for customers, and also a gift for employees during holidays, anniversaries or corporate anniversaries. They are useful tools to leave a memory of the brand during events, fairs, promotions to potential customers. Promotional items customized with your logo, if chosen carefully with respect to the communication message you want to convey, undoubtedly create added value to your brand.
Custom Bamboo pens - FREQUENT QUESTIONS
The custom pens have always been an evergreen in world of promotional. In recent years, however, personalized ecological pens have become much more popular, among which, the most popular are the bamboo pens. Bamboo or bamboos are of different species of plants, most of them grow in asia, with shrubby habit, very vigorous and with varying height from a few centimeters up to 40 meters. Furthermore, bamboo is a very resistant material, which produces more oxygen than any other type of wood. All these features makes the choice of a simple products, like the bamboo pens customized with your logo, a highly communicative message, to be given in exhibitions or corporate events. Below we give you 4 reasons to choose custom bamboo pens:
ecofriendly and cheap: it is often thought that eco-friendly corporate gifts are necessarily expensive. Nothing more false. Cheap but sustainable promotional items can be created. Bamboo pens are an example of this reasoning, they are in fact simple and cheap gifts, but of a high sustainable value.
versatile product: bamboo pens are very versatile because bamboo is a very resistant material, but easy to work with and it follows that it has structural versatility and therefore easy to combine with other materials such as steel, recycled plastic and metal.
unique product: bamboo is a natural material and as such its processing will never always be the same. In short, no pen will be exactly the same as the other, neither in color grading nor in print.
The bamboo pens are an evergreen corporate gifts, which usually those who choose want to communicate a particular interest in ecological and elegant corporate gifts. If this is your intention, then we recommend that you print your logo in a refined, elegant way and in the same way accentuate the eco-friendly material through your graphics to emphasize your eco-friendly message. Through the use of laser engraving you could precisely have this natural effect, but equally original: this technique uses a precision laser to engrave objects. Unlike mechanical procedures, the depth of the engraving made with a precision laser can be measured in hundredths of a millimeter. During the customization process, the surface of the product is burned with extreme precision by the passage of the laser beam, giving shape to the logo to be reproduced on the object; it is also possible to reproduce small logos with extreme precision and detail. This type of printing also highlights the material of the personalized pen and being the natural material, the effect will be unique on each pen. Laser engraving is also the most accurate and durable method of printing. In addition to being used on wood, it can also be applied to metal, leather / PU and glass, resulting in a refined and elegant finish.
Verifying every detail is important. It is therefore normal to buy Custom Bamboo pens without having touched them can block your purchase process. For this on HiGift it is possible to receive a sample before ordering the entire quantity of the Bamboo pens. The procedure is very simple: just click on the red button calculate your quote and buy and enter 1 in the desired quantity. Then need to click on confirm order to proceed to purchase the sample without the desired print, after registering on our site or logging in if you are already a customer. In many cases it is also possible to customize the sample with your own logo, in order to be able to see the finished promotional product. Just choose the personalization on the calculator and that's it. To find out the cost of the neutral sample, go to the price summary that you see in the product sheets of Bamboo pensand you will find it highlighted. In case the timing does not allow you to wait for the receipt of the sample to place the order, write to our customer service, we will be happy to help you with information or photos of the selected product.
You can order your
custom bamboo pens
quickly by following these steps:
If you are not already our customer, sign in on HiGift or log into your account.
Choose the promotional item you prefer and, once you have entered the product sheet, click on the appropriate red button calculate your quote and buy.
Enter the quantity and possibly the color of bamboo pens, choose the type printing and follow the steps indicated until you have the final quote.
Click on confirm order to proceed with the purchase.
When ordering, you can upload your logo, or do it later in your personal area within the relevant order. Our staff will proceed to make you a free print draft to show you the
custom bamboo pens with your logo
.
For more information click here
.
After your approval, we will proceed with production and you will receive Bamboo pens in 15-17 days. If, on the other hand, you have purchased bamboo pens without any customization, you will receive the goods in 3-4 days.
If you want to know more about delivery time, visit this page
. For more information on placing orders visit the section
how to order
. If you have doubts about payments, visit the section
payments