Promotional Touch screen pens
Promotional Touch screen pens: classic corporate gifts with a tech touch!
Read more information on
Promotional Touch Screen Pens: The 'Classic' Accessory for Tablets and Laptops
The world is constantly developing. Progress is unstoppable and challenges everyone to keep up with new inventions. Smartphones and electronic devices have become part of our lives. They do not seem to be about to disappear in the near future. On the contrary, there are more and more devices that carry us into another dimension – all with a simple touch of the hand.
To cope with the pressing technology, we need to come up with accessories that allow us to make the most of the potential of the new tools. Or, alternatively, modernise those which already exist. In the world of promotional products, the corporate gifts that can adapt to the advance of time are the ones to resist.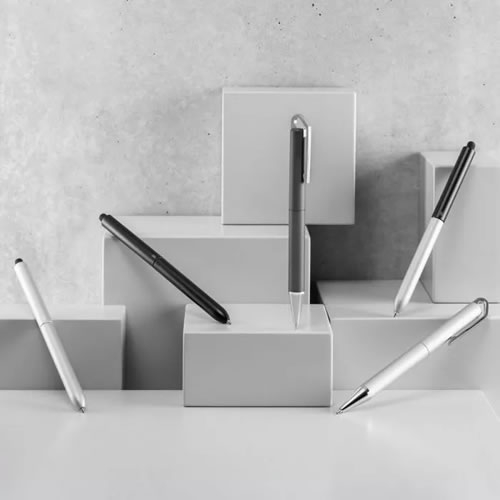 Especially when they add a modern function to their own, they become objects of undisputed smartness. And, without surprise, of unparalleled success. This is what happens with printed touch screen pens.
The Classic Meets the Modern: The Multidimensionality of Promotional Touch Screen Pens
A company that is just starting with its first promotion, a company already established, a studio of freelancers or a brand celebrating an anniversary. Whatever the reason that drives a reality to make use of a corporate gift, personalised pens will always be the first to be considered and often chosen. But what is the reason for such success? Probably the promotional strength of personalised pens lies in the fact that they combine all the main features of a corporate gift. They are practical because they are small and handy. Useful, because everyone needs to write during their days. Fascinating, because they can be customised in many ways, both elegant and playful. Finally, they last over time, spreading the logo for a long while.
Personalised pens, along with personalised keyrings or personalised caps, are among the most classic promotional products. Every company uses them at least once. Even more incredible, they managed to resist the rise of all the devices that have partially replaced the sheets of paper. They did it as cleverly as possible, adapting to new needs and combining two features into one item. Or rather, extending their range well beyond notebooks and notepads. The touch screen stylus now includes tablets and smartphones among its partners of use.
A Tip for The Paper, A Tip for The Screen: A Winning Two in One
Promotional touch screen pens are equipped with two tools to write. The classic pen writes on paper and the stylus on touch screens. They have two tips: one is that of a ballpoint pen, the other is a touch stylus. The effectiveness of corporate gifts that combine two accessories in one is renowned. We see it, for instance, in personalised keyring torches. These models are equipped with a flashlight that adds a completely new function to that of the original promotional product. Printed touch screen pens, besides allowing us to write on multiple surfaces, help us interact with electronic devices. They are often used on touch screens instead of hands. This habit has several advantages:
It does not stain the screen. In this way, it always shows the device as attentively taken care of;
It is hygienic, because it avoids direct contact of the screen with the fingers of different people. For this reason, printed touch screen pens are very common in hotel receptions or in offices which are open to the public. In other words, in all places where several people have to interact with the same screen;
For some, touch pens are more comfortable and accurate.
No More Blank Sheets with Your Printed Touch Screen Pens
Imagine a student arriving in the classroom just before the class begins. He sits in a hurry, sticks his hand in his bag to take his notebook… and finds out that he has forgotten it at home. There is a moment of panic. What is he taking notes with now? Sure, there is a classmate he can ask for a piece of paper from. But what are his chances of getting it home safely, without losing it? Then, a flash of genius. He rummages through his bag a little longer until his hands close around what he is looking for. He pulls out a tablet and a touch pen, ready to follow the lesson.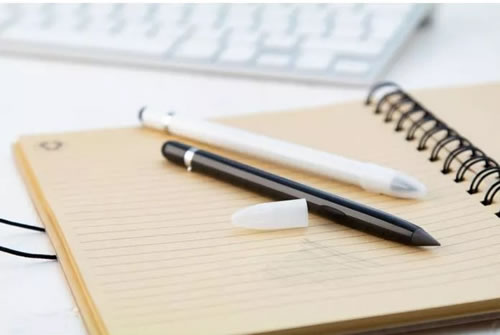 Of course he will remember that pen very well. Imagine, now, that it is one of your promotional touch screen pens. Beside the corporate gift, that boy will never forget your name.
Anyone can find themselves in a similar situation and be 'saved' by your writing tool. Besides, a stylus pen can be used to sign documents. Sometimes it becomes a real work accessory, as in restaurants and pubs. Here, the use of tablets or handhelds to take orders is increasingly frequent. Having a touch screen pen can make it easier and faster. Not to mention that it will give customers the impression of a brand that is attentive to novelty and professional.
A Corporate Gift Just for Techies? Printed Touch Screen Pens "Touch" Everyone's Strings
Personalized corporate gifts are used to promote a business. Besides spreading your logo and your name, they get messages across. They communicate who you are, what you offer, how you could be useful to your customers and what the inspiration for your business is. The printing is not the only thing that influences communication. The corporate gift you choose, too, reveals a lot about your identity. Picking one that is in line with the company's core business can be a strategy. Printed touch screen pens can be great promotional products for an electronics store or any activity that works in the world of technology.
However, the use of touch pens is not limited to the high-tech sector. As classic pens are useful every day and technological devices with touch screens have spread a lot, they are perfect for any type of business. They are both personalised gadgets and promotional writing instruments. Both categories are very popular because they respond to two important needs of society. On one hand, that of keeping up with technological progress. On the other, that of communicating by writing. Everyone needs one or the other in their daily life. For this reason, promotional touch screen pens are suitable for everyone and can be distributed by any company.
Printed Touch Screen Pens: A Short Guide to Your Choice
When you are choosing the promotional touch screen pens that will sponsor your business, you will have several options available. From the mechanisms to the materials of which they are made, these corporate gifts are never obvious. By selecting them carefully, you will be able to amaze your customers not only for the dual functionality of your item. You will also strike their attention for the way you stylus pens look and the message they will communicate.
Among the possibilities, you will have promotional metal pens, which will give your corporate gift a sophisticated nuance. Their design is elegant, and the metal makes them look professional.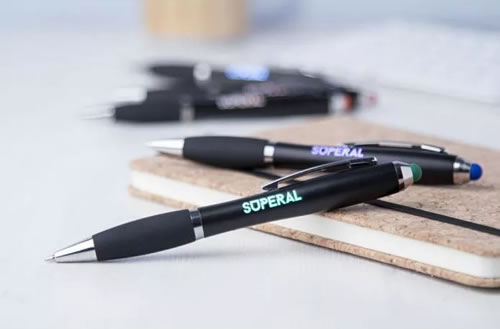 It is only a small detail, but it conveys the image of a company that is always searching for the highest quality. Aluminium pens are very similar. Personalised plastic pens with touch stylus, on the other hand, are perfect if you wish an easy-going gift and an excellent workmanship at the same time.
Eco-friendly materials have a very strong impact on communication. They involve the company and the customer in the respect for the environment. Besides, they look elegant and natural. So, giving away branded bamboo pens with touch stylus can get a very important message through. It will prove that we can follow technological progress and safeguard our planet all at once.
Beside the materials, the mechanisms, too, differ depending on the model. You will find printed touch screen pens with twist-action and stylus pens for touch screens which are retractable. Both possibilities are practical and quick. The choice will then depend only on your personal taste. Another factor to take into account is the final aesthetic performance. Based on the idea you have in mind, you will be able to create the perfect promotional touch pens for your company. And you can start by choosing the colour of the base of your corporate gift.
Printing touch screen pens will act in different ways. Thanks to its dual utility, this promotional product will satisfy your customers or employees. Plus, it will make a great advertisement for your logo. It will be used to write in any situation or to interact with touch screen devices. Moreover, it will last long, since it can be used with tablets and smartphones even after the ink runs out. Finally, it has a great impact in terms of communication because it is a modern and quality choice.
What are you waiting for? Buy our printed touch screen pens and put your signature on all paper and digital sheets!
Did you like this content? Click here to download it.
The success in giving promotional touch screen pens does not only lie in choosing the right type, but also in devising a particular design or message that most strikes the attention of those who receive the gift, and also accompanying it with your logo. Promotional touch screen pens are among the most popular corporate gifts; they help to give visibility, personality and uniqueness to your brand. A useful, classic gift that is renewed to keep up with the times! In our stock you will find both promotional touch screen pens cheaper to use as personalized gifts, and premium gifts custom metal pens that will allow you to exalt yourself from the competition thanks to their unique design and their quality.
Where can I found all the information on promotional touch screen pens?
Information about touch screen pens such as quantities availability in stock, printing variables, prices, exact sizes of the items are visible on the relevant page dedicated to the product. It is possible to create customized estimates and graphic drafts in total autonomy by clicking on the two red buttons clearly visible on the page. If you need more information about ecotouch pens, we are always available via chat, email, phone.
How can I see my logo on promotional touch screen pens before the order?
Promotional touch screen pens, personalised ecotouch pens or custom metal pens are perfect to be personalized but...how can I see my touch screen pens with my logo before ordering on HiGift? It's very simple, just follow these steps. You are now in the promotional touch screen pens category, choose your item and, once inside the product sheet, click on try your logo. In this tab you can try your own writing on the personalized item or directly upload your logo and test your promotional article. You can even eliminate the colored background of your logo. Don't worry, your graphic proof is not the official proof that will go into production! That will be provided by us after the order, at the latest within 24 hours.
How can I calculate an estimate for promotional touch screen pens?
Do you know that on HiGift it is quick and easy to obtain an ad hoc quote? If you are in the promotional touch screen pens category and you are therefore interested in this type of personalized items, just choose from the preview images the article that best suits your promotion. At this point, enter the product sheet and click on the appropriate red button. A pop-up will open and you just need to follow all the instructions given there. You need to know how many personalised touch screen pens you want, your favorite color, if you want them customized and how many colors your logo has. In a few clicks you will have your quote and you can download it or save it in your account. If, on the other hand, you are interested in purchasing multiple types of touch screen pens, ecotouch pens o metal pens and want to have an overall estimate of several promotional items, just go to the cart. There too you will find the possibility to download your quote.
Can I obtain some discounts with the purchase of promotional touch screen pens?
On HiGift there are several ways to buy cheap touch screen pens. The first and most obvious: if you buy touch screen pens, ecotouch pens or metal pens iin huge number, the price per item will be lower. If you buy the same items in smaller quantities, you will have a higher price each. This detail is clearly visible in the price table on each product sheet: it is often enough to add a minimum quantity of touch screen pens to get a better price. Also, if you subscribe to our newsletter you will be updated on the promotions we release every month. That's right, you got it right: you can find promotions on promotional touch screen pens, that is the articles you are looking for! If you become our customer you will also be able to access the HiGift Circle loyalty program which will allow you to have exclusive benefits by climbing the statuses. That is, more touch screen pens, ecotouch pens or metal pens you buy, the sooner you will be able to reach the threshold for your passage of status and obtain increasingly important benefits, discounts included.
Promotional Items have multiple benefits for businesses. They can be part of corporate merchandising, a promotional and advertising tool for customers, and also a gift for employees during holidays, anniversaries or corporate anniversaries. They are useful tools to leave a memory of the brand during events, fairs, promotions to potential customers. Promotional items customized with your logo, if chosen carefully with respect to the communication message you want to convey, undoubtedly create added value to your brand.
Promotional Touch screen pens - FREQUENT QUESTIONS
Writing has a long history, which not only fascinates but also adds culture. Joseph Conrad, the famous English writer, said: Only one half of the book is written, the other half must be taken care of by the reader.
Nothing more true. Regardless of the technology and digitization of writing, pens remain a must have in your bag, your pocket, on the desk of your office. To take a note quickly, to write on while you are on the phone, for company briefs or simply to fill out the shopping list.
Corporate pens are must have promotional items. your customer will always associate your business with quality and class when they use their customised pen.
This corporate gift is always appreciate because it's useful and executive gadget, which can be low cost but also high quality. Personalized pens can be a real distinctive corporate items precisely for the flexibility of the object they are: metal pens, eco-friendly pens , wooden pens, multi-colored pens, plastic pens and for those who do not want to give up the digital touch, even touch screen pens. In short, the pen has always been a timeless passe-partout to communicate your brand.
Boost your brand awareness.
If you got a focus, visit and shop our dedicated section: Pens
HiGift offers a wide range of corporate pens to be customized according to the shape, material and color required.
There are many different kind of pens: for example stylus pens are very appreciated by digital lovers and by those who use tablet a lot; the Eco-pens are produced with sustainable and/or recycled material. Something special to save and protect our planet.
We advise you to choose the company gifts, always taking care of your core business and your line marketing strategy, considering the different possibilities of customization: from the classic types to more fun and blithe models.
In addition to being customizable in its shape, all custom printed stylus are also customizable in material and color.
In our dedicated section of our web site you will find many ideas of custom pens
And If you are looking for a much sought-after that you cannot find on our website..
No problem at all.
Let's Contact us and we will find the items you searching for.

Verifying every detail is important. It is therefore normal to buy Promotional Touch screen pens without having touched them can block your purchase process. For this on HiGift it is possible to receive a sample before ordering the entire quantity of the Touch screen pens. The procedure is very simple: just click on the red button calculate your quote and buy and enter 1 in the desired quantity. Then need to click on confirm order to proceed to purchase the sample without the desired print, after registering on our site or logging in if you are already a customer. In many cases it is also possible to customize the sample with your own logo, in order to be able to see the finished promotional product. Just choose the personalization on the calculator and that's it. To find out the cost of the neutral sample, go to the price summary that you see in the product sheets of Touch screen pensand you will find it highlighted. In case the timing does not allow you to wait for the receipt of the sample to place the order, write to our customer service, we will be happy to help you with information or photos of the selected product.
You can order your
promotional touch screen pens
quickly by following these steps:
If you are not already our customer, sign in on HiGift or log into your account.
Choose the promotional item you prefer and, once you have entered the product sheet, click on the appropriate red button calculate your quote and buy.
Enter the quantity and possibly the color of touch screen pens, choose the type printing and follow the steps indicated until you have the final quote.
Click on confirm order to proceed with the purchase.
When ordering, you can upload your logo, or do it later in your personal area within the relevant order. Our staff will proceed to make you a free print draft to show you the
promotional touch screen pens with your logo
.
For more information click here
.
After your approval, we will proceed with production and you will receive Touch screen pens in 15-17 days. If, on the other hand, you have purchased touch screen pens without any customization, you will receive the goods in 3-4 days.
If you want to know more about delivery time, visit this page
. For more information on placing orders visit the section
how to order
. If you have doubts about payments, visit the section
payments