Promotional Christmas products
Promotional Christmas products: for your special gifts!
Below more information on
Personalised Christmas products for an unparalleled Christmas!
Christmas is coming. The cities light up and the houses get warmer. The Christmas atmosphere is in the air, and everyone thinks about the holiday to come. Everyone, including those who run a business. They're looking for corporate gifts for their employees or customers. For this occasion, HiGift presents you with a huge collection of promotional products and personalized corporate gifts.
A gift for employees: promotional Christmas products to make holidays extraordinary
Christmas is the right time to give away corporate gifts to your employees. It's a way to thank them for their work and wish them a happy holiday. A sign of care that will help strengthen their sense of belonging to the company. Giving team members a positive experience is very important. Only in this way will they be willing to take part in the success of the brand in an active way.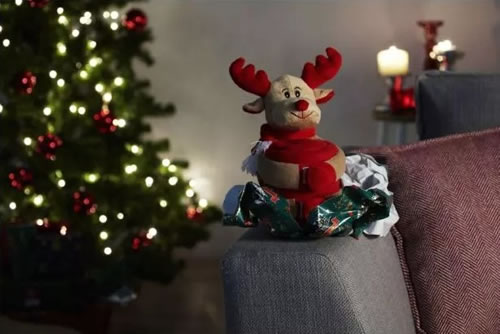 Promotional Christmas products are a powerful means of communication. Those who receive them will feel that their efforts are acknowledged. They'll feel part of a reality because their contribution has been appreciated. By giving away Christmas accessories with your logo, you'll communicate to employees that their work is relevant. As a result, they'll feel important and will be encouraged to give their best.
Promotional Christmas products are perfect for a corporate dinner party. But you can offer them during the last days before the holidays, too. You don't need a special event. What matters is that they reach those they're meant for along with your message of gratitude. Promotional Christmas products will make the holiday of your team special. They'll convey your interest in their well-being and make them feel considered.
Your promotional Christmas products won't only be appreciated, but also used. This is especially true for the most useful ones, such as custom mugs or personalised water bottles. They'll fall under the eyes of other people and will advertise your brand very well.
Promotional Christmas products for your company's customers? Give away joyful corporate gifts now!
Customers will be very happy to receive free promotional Christmas products. Whether it's for their purchases or at a fair in the holiday season, it's a special thought. They'll appreciate it even more if the item is useful. If they can use it shortly after getting it, they won't forget it. They'll have the chance to immediately prove its usefulness, too. For instance, a custom chopping board can find its place on the table for the Christmas lunch or dinner. Everyone will notice it. Your customer may then talk about the experience at your company, which will still be vivid. All this will give you great publicity!
How to find the right promotional Christmas products: choose an item and personalise it with your logo!
Giving out promotional Christmas products is a great idea. But how do you choose the right ones?
We've already mentioned the first factor to consider: usefulness. An accessory that isn't useful may soon be left aside. In order to be effective, a corporate gift shall be used immediately. That's why it's good to consider seasonality as well. A promotional summer product would be out of place. However useful, it would be stored. In all likelihood, it would remain in the drawer even in good weather. Winter corporate gifts such as personalised blankets are then the best alternative.
The next step is to customise your accessory. To render the Christmas atmosphere at best, your corporate gifts must have proper decorations. On the other hand, you need your logo and your name to promote your brand. On HiGift you can find a selection of Christmas-themed items. You'll just need to add your signature to create your own promotional Christmas products!
Giving away corporate gifts to customers is a treat that will leave its mark. Your audience will feel valued and important. Even in this case, promotional Christmas products are gifts of appreciation. They're a way to say 'thank you for choosing us'. If you customise a useful item with your logo, your customers will remember you in a positive way. Most likely, they'll turn to you for future purchases and speak well of you to friends and family. Maybe just during the Christmas lunch!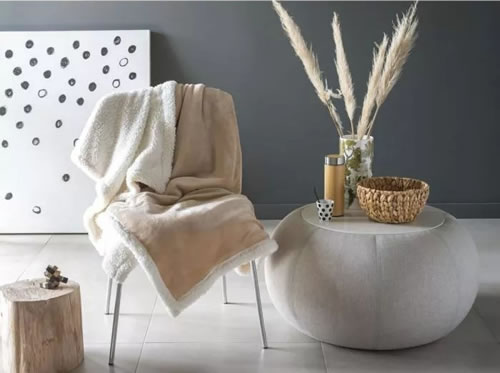 Snowy Christmas? Choose promotional Christmas products to warm up your days!
Winter is the season we spend most at home, perhaps under a blanket sipping a hot chocolate. That's why custom mugs and blankets are perfect as promotional Christmas products. They warm us in the afternoons. Sometimes we add personalised candles to make the atmosphere cosy and welcoming.
Custom mugs and personalised blankets: the most common gifts are brilliant corporate gifts as well
Custom mugs and blankets are among the most common gifts during the Christmas season. Not surprisingly, they can become great promotional products if customised with your logo. Let's find out how and why:
Custom mugs are always useful.  At breakfast for some milk, in the afternoon to sip some tea or hot chocolate. They're special promotional Christmas products because they're very useful throughout the year, not only in Winter. They're customisable with various types of printing, which will highlight your logo.
As an essential accessory when winter comes, personalised blankets can be an original gift for customers and employees. Although they aren't among the most common corporate gifts, they can effectively sponsor your brand. The large print area will give your logo great visibility. You can either print or embroider it.
Recreate the Christmas atmosphere: personalised candles
The right atmosphere can sometimes make a difference. Especially at Christmas, when magic is a key word. The houses are filled with accessories to create a welcoming and familiar environment. There are all kinds of items, from ornaments to decorated objects.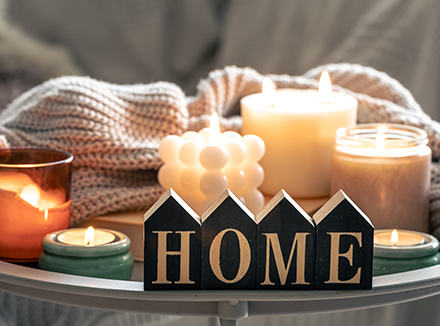 No promotional Christmas product, however, can reproduce the right atmosphere like personalised candles.
These home accessories are increasingly in vogue. They give life to an intimate environment. They warm you up and calm you. Personalised scented candles can be used for aromatherapy. You can offer them to your customers or employees. They'll so have promotional Christmas products to keep at home and light to scent the room. The result will be a cosy home!
Promotional Christmas products for the table: a custom chopping board for a family lunch and dinner
Christmas is the time when you meet up with all your relatives. Lunch and dinner are special occasions. Your guests will appreciate some items that reproduce the magic of Christmas on the table. That's why our collection couldn't miss custom chopping boards.
If placed on the table to arrange appetizers and cold cuts, they'll give a touch of class to the mise en place. They'll make it unique and elegant, especially if you choose the right model. A custom chopping board made of wood, for instance, will perfectly mirror the Christmas theme. By engraving your logo, you'll make it simple but refined. A successful custom chopping board will attract the attention of your guests. Dinner or lunch are the best occasions for small talks. Your name may pop up in the conversation!
Not only for customers: how to use a custom chopping board for lunch or dinner in your restaurant
A custom chopping board is a great promotional Christmas product for a restaurant, too. Several families choose to celebrate with a lunch or dinner in a good venue. Characterising the moment is very important. A custom chopping board can help, especially if it's Christmas-themed. Serving dishes on such special accessories will amaze your guests. As a result, they'll keep a beautiful memory of the moment.
Personalised pencils: promotional Christmas products for kids
In family gatherings there are always some children who're eager to play. However, adults are often engaged in their speeches and don't find the time to accommodate their needs. That's why accessories for kids are a great gift idea for the holidays. Children can have fun even if their parents don't participate.
So, giving personalised pencils to customers and employees is a great choice. They're not so frequent as promotional Christmas products, yet they're very useful. Whoever receives them will appreciate them. You can engrave your logo on the pencils or print it on the packaging. In both cases, it'll advertise your brand to the whole family in a great way.
Promotional Christmas products that last after the holidays? With personalised water bottles, success is guaranteed!
Would you like to give away promotional Christmas products that stay in time? Then, personalised water bottles are the best choice. Practical to use, they're suitable for any situation. Your customers can always take them with them for a sip of water or tea during the day. Some may have a trip planned and use your printed water bottle for a weekend on the snow.
Giving away personalised water bottles communicates a lot. It shows that you're attentive to the audience and team and sensitive to the environmental issue. These messages will be conveyed even after the holidays. Creating promotional Christmas products that last will give your company long-term publicity. For this reason, personalised water bottles are a great gift idea for your Christmas.
Did you like this content? Click here to download it. 
Promotional christmas products with your printed logo are a thought that lasts over time, a memory that every person who interacts with your company carries with them, a promotional item that, using it, will unknowingly advertise your brand. Promotional christmas products are among the most popular customizable promotional items on the market, maybe because they are easy to use and indispensable in everyday life. If you imagine them with your communication message imprinted, it is sure to be a hit. In our collection you will see a wide range of promotional christmas products, available in different colours and prices. Choose from if what you prefer; each object can be customized with your logo or your slogan.
Where can I found all the information on promotional christmas products?
All information about christmas products is reported in the product sheet of each items. Therefore, the quantities available in stock, the colours, the prices, the types of printing are always visible and updated in real time. To get a personalized quote or a pre-view of how the personalised christmas items with your logo could look, just click on the buttons available on the item page. For any further information do not hesitate to contact us!
How can I see my logo on promotional christmas products before the order?
Promotional christmas products, personalised christmas items or promotional corporate gifts are perfect to be personalized but...how can I see my christmas products with my logo before ordering on HiGift? It's very simple, just follow these steps. You are now in the promotional christmas products category, choose your item and, once inside the product sheet, click on try your logo. In this tab you can try your own writing on the personalized item or directly upload your logo and test your promotional article. You can even eliminate the colored background of your logo. Don't worry, your graphic proof is not the official proof that will go into production! That will be provided by us after the order, at the latest within 24 hours.
How can I calculate an estimate for promotional christmas products?
Do you know that on HiGift it is quick and easy to obtain an ad hoc quote? If you are in the promotional christmas products category and you are therefore interested in this type of personalized items, just choose from the preview images the article that best suits your promotion. At this point, enter the product sheet and click on the appropriate red button. A pop-up will open and you just need to follow all the instructions given there. You need to know how many personalised christmas products you want, your favorite color, if you want them customized and how many colors your logo has. In a few clicks you will have your quote and you can download it or save it in your account. If, on the other hand, you are interested in purchasing multiple types of christmas products, christmas items o corporate gifts and want to have an overall estimate of several promotional items, just go to the cart. There too you will find the possibility to download your quote.
Can I obtain some discounts with the purchase of promotional christmas products?
If you are looking for personalized cheap christmas products , here you are in the right place. In fact, on HiGift you can find different ways to save on your corporate gifts such as christmas products, christmas items or corporate gifts. Also if you buy a small quantity of christmas products, you can save on the cost each, which decreases as quantities increase. Furthermore, by registering on our site you will participate in the HiGift Circle loyalty program which will allow you to obtain increasingly exclusive benefits as you climb your status. How to get to be a Platinum customer? Just buy your corporate gifts from us, so, once you have reached a certain spending threshold, you can scale from Bronze to Silver up to Gold and finally Platinum to get, among other advantages, an important discount on the purchase of all the promotional items present on the site. Finally, if you want to stay updated on discounts and promotions that can include christmas products, christmas items o corporate gifts, subscribe to our newsletter, you will receive it monthly and will always contain news on discounts and benefits for you.
Promotional Products have multiple benefits for businesses. They can be part of corporate merchandising, a promotional and advertising tool for customers, and also a gift for employees during holidays, anniversaries or corporate anniversaries. They are useful tools to leave a memory of the brand during events, fairs, promotions to potential customers. Promotional items customized with your logo, if chosen carefully with respect to the communication message you want to convey, undoubtedly create added value to your brand.
Promotional Christmas products - FREQUENT QUESTIONS
Christmas is one of the most anticipated and rejoiced holidays in the world.
It is also one of the times when we appreciate and expect some homage from our
family, friends and why not even from our company or our favorite brand!
The tradition of exchanging gifts, in fact, dates back to ancient Rome. For example, it is certain that in the countries of Northern Europe it was tradition to exchange gifts on the day of the Winter Solstice, as a form of greeting for the start of the winter season.
The personalized Christmas items embrace the homageous spirit of Christmas itself and give a marketing boost and visibility to your logo. With a few steps you can offer unforgettable gifts to suppliers, customers and employees showing empathy and attention. You can opt for different gifts based on your multiple targets, but you can also decide to standardize the gift for everyone.
It is not important to have a huge budget, Christmas promotional items are of great heterogeneity, just choose the right ones for you.
The truth is, that the question is why not should you buy and giveaway custom promotional items for Christmas!
There are practically no reasons to not do it.
A promotional item is forever and if it is linked to a deeply felt holiday, like Christmas, even better.
It means that it will be carried around every Christmas and therefore your brand can only thanks for that.
The Christmas items, customized with your logo, can be cheap but very powerful as communication and visibility tools.
Remember that promotional gifts make you feel gratified especially when they are made with criteria and structured marketing thoughts.
Verifying every detail is important. It is therefore normal to buy Promotional Christmas products without having touched them can block your purchase process. For this on HiGift it is possible to receive a sample before ordering the entire quantity of the Christmas products. The procedure is very simple: just click on the red button calculate your quote and buy and enter 1 in the desired quantity. Then need to click on confirm order to proceed to purchase the sample without the desired print, after registering on our site or logging in if you are already a customer. In many cases it is also possible to customize the sample with your own logo, in order to be able to see the finished promotional product. Just choose the personalization on the calculator and that's it. To find out the cost of the neutral sample, go to the price summary that you see in the product sheets of Christmas productsand you will find it highlighted. In case the timing does not allow you to wait for the receipt of the sample to place the order, write to our customer service, we will be happy to help you with information or photos of the selected product.
You can order your
promotional christmas products
quickly by following these steps:
If you are not already our customer, sign in on HiGift or log into your account.
Choose the promotional item you prefer and, once you have entered the product sheet, click on the appropriate red button calculate your quote and buy.
Enter the quantity and possibly the color of christmas products, choose the type printing and follow the steps indicated until you have the final quote.
Click on confirm order to proceed with the purchase.
When ordering, you can upload your logo, or do it later in your personal area within the relevant order. Our staff will proceed to make you a free print draft to show you the
promotional christmas products with your logo
.
For more information click here
.
After your approval, we will proceed with production and you will receive Christmas products in 15-17 days. If, on the other hand, you have purchased christmas products without any customization, you will receive the goods in 3-4 days.
If you want to know more about delivery time, visit this page
. For more information on placing orders visit the section
how to order
. If you have doubts about payments, visit the section
payments