Personalised Pencils
Personalised Pencils: affordable, colorful and fluorescent!
Discover more information on
Sponsor your company with a splash of colour! Choose personalised pencils for a cheerful and lively corporate gift
Writing accessories are among the most popular. Think of personalised pens. They're promotional products that no company can do without. In fact, we're talking about an activity that everyone carries out throughout the day. There are those who take notes, those who write down important information, those who fill out documents.
We learn to write from an early age. It's a way to express ourselves and communicate with others in a way that lasts. Even before that, however, we learn something else. Before we go to school, we take pencils in our hands and give vent to the artist in us. We draw lines, we fill in spaces. Simply put, we draw.
Why are personalised pencils useful?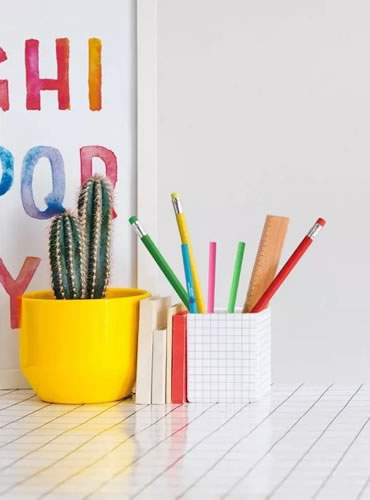 Personalised pencils are great corporate gifts for companies that want to convey joy. They immediately bring us back to when we were children. Giving them as promotional products is a winning idea because, besides raising positive feelings and evoking good memories, they're very useful, too.
The effects of drawing on the mind: personalised coloured pencils for drawing and colouring
Drawing isn't a superficial activity. On the contrary, studies have shown that it's beneficial for several reasons. The first and most obvious one is that it stimulates creativity. It develops practical skills as well. Especially when we make up the image, the effort we make to transfer it from our mind onto the paper is notable. However, there are many other benefits to using pencils. For instance, drawing has been shown to lower the level of stress and help express one's emotions. In short, it's a real cure-all for our psychological health.
Colouring is an equally advantageous activity. As we fill in the white spaces, we improve the coordination between the eye and the hand and stimulate concentration. We also produce a positive effect on our creativity and our mood. Whether it's simple customized pencils or personalised coloured pencils, you'll give customers or employees corporate gifts with which to take care of themselves.
Beyond drawing: the perfect personalised pencils for writing on books and taking notes
Besides giving vent to our artistic side, customized pencils are useful for writing, too. We can take notes on the books, so as not to ruin them by using pens. They're ideal when you want to write down something that will then have to be rubbed out. They'll leave the blank page as new. Personalised coloured pencils can be used for writing as well. They'll highlight the text with their colour. It may be a good idea to use them for a greeting card, perhaps choosing the birthday boy's or girl's favourite colour.
Customized pencils: corporate gifts for everyone
Personalised pencils are promotional products that can be used by everyone. For this reason, they adapt to any age and are a great corporate gift for any target.
Perfect corporate gifts for kids: personalised pencils
Customized pencils are among the most popular promotional products for companies that work with children. Drawing and colouring are activities carried out especially by kids. For this reason, giving personalised pencils to families is always a success. With these corporate gifts, you'll offer them not only the chance to have fun. As we've seen, they allow kids to do so with an eye to their well-being. If you're running a toy store or a children's summer centre, personalised pencils with your logo will advertise your business very well. They'll show a strong care and attention for kids. Both they and their families will notice and appreciate it.
The same applies to all companies. If you give them as corporate gifts when an item is purchased, personalised pencils can promote your brand thanks to their usefulness. They can be used by customers who receive them or by their children, if they have any. To create corporate gifts that are complete, you can give them away together with personalised pencil cases. This way, your company will have more publicity. This will happen not only thanks to a double promotional product. The fact that your gift is well thought-out will play a role as well. With personalised pencil cases, your customers will always be able to keep their pencils in order and avoid losing them.
Corporate gifts for students: underlining with your personalised pencils will help them study better!
There are various ways to study. Everyone has its own. Many find it useful to underline or highlight the most important parts. This is why personalised pencils and promotional highlighter pens are perfect accessories for students. By distributing them to this target audience, you'll help them studying with unique corporate gifts. Personalised pencils can also be used to take notes on books, especially in their simple version.
As students often hold them in their hands to underline or write, they can promote your brand very effectively. Not only that. If they prove to be excellent quality and have an attractive design, your customers will be able to talk about them to their friends.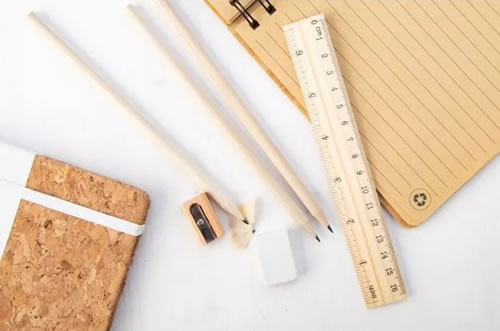 Or, these latter may notice them during a study group. So, giving customized pencils as corporate gifts to students may be the strategy you were looking for.
Corporate gifts for everyone: even adults can use your personalised pencils
Thanks to the possibility to use them for drawing, colouring and writing, customized pencils are very versatile corporate gifts. They're suitable for any age. It won't be surprising, then, that they're excellent promotional products even for an adult audience. They're in great demand among graphic studios and architects offices, medical practices and supermarkets.
Probably adults use customized pencils mostly for writing. Nonetheless, we mustn't fall into the error of believing that colouring and drawing are activities unsuitable for adults. The effects we've seen before affect both children and their parents.
Personalised pencils are a great idea for a corporate gift to give to your employees, too. Your team members can use them to jot down information at work or at home. Distributing personalised coloured pencils can be just as effective. It's not excluded that your collaborators have a hobby of drawing or children who are ready to give vent to their creativity.
Personalised pencils: how to create successful corporate gifts
Even though your customized pencils will be successful for their usefulness, it's critical to take care of the print. Only in this way will you get corporate gifts with a high promotional impact. Adding your logo is essential, because it's the first element that the public will notice and link to you. For this reason, the print must be clearly visible.
Depending on the model selected, you can choose from various printing techniques, including:
Engraving. It gives a precise and refined result, thanks to the depth it gives to the print. However, it isn't suitable for colours. It can be ideal for a corporate gift to give to your team.
UV led printing. Through a digital process, it reproduces colours and details in a very clear way. The final print is more resistant to environmental factors. It's ideal for colourful and cheerful promotional products, perfect for children and students.
Pad printing. It's another digital technique. It allows you to print up to four colours. It ensures a high-definition detail rendering even for complex images. Perfect for creating cute corporate gifts with pictures that aren't too colourful.
With some models, you'll be able to customise the package as well.
How to combine personalised pencils to create perfect full corporate gifts
One of the advantages of customized pencils is that they're cheap. For this reason, they're the perfect choice when you have to order promotional products in large quantities. Besides, it also allows you to combine them with other accessories.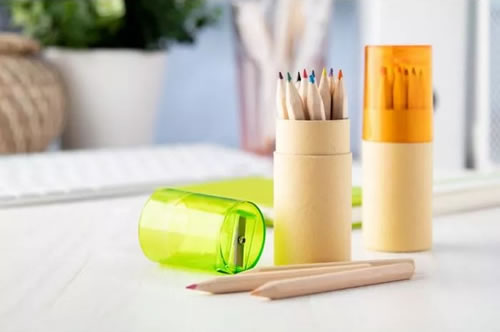 The result will be a complete corporate gift with a strong advertising impact. We've already mentioned the possibility of distributing them together with personalised pencil cases. Here are a couple more ideas:
Promotional pencil sharpeners
Promotional pencil sharpeners are an essential accessory when using pencils. Often, however, you never have them at hand when you need them. Also, they're very small, so they easily get lost, especially by kids. That's why giving one along with your personalised pencils will be a much-appreciated gesture. Printing your logo on both your customized pencils and your promotional pencil sharpeners will have a double advertising effect.
One of the great advantages of using customized pencils is the that you can rub out mistakes. For this reason, offering them in combination with personalised erasers is an original idea with guaranteed success. Always having these corporate gifts at hand will make a difference both when writing and when drawing. Personalised erasers can be made original with your logo or an image.
Did you like this content? Click here to download it.
The success in giving personalised pencils does not only lie in choosing the right type, but also in devising a particular design or message that most strikes the attention of those who receive the gift, and also accompanying it with your logo. Personalised pencils are among the most popular customizable promotional items on the market, maybe because they are easy to use and indispensable in everyday life. If you imagine them with your communication message imprinted, it is sure to be a hit. On this page you will find more than one type of personalised pencils, so that you can choose the promotional item that best suits your brand or your communication with object, based on price, colour, size, shape.
Where can I found all the information on personalised pencils?
All information about pencils is reported in the product sheet of each items. Therefore, the quantities available in stock, the colours, the prices, the types of printing are always visible and updated in real time. To get a personalized quote or a pre-view of how the custom printed pencils with your logo could look, just click on the buttons available on the item page. For any further information do not hesitate to contact us!
How can I see my logo on personalised pencils before the order?
When you buy personalized items such as pencils, printed pencils or mini pencils with your logo, it is normal that you ask yourself in advance how the final result will be. With HiGift you will be able to have a vision of how your promotional items with a logo will be created, and this before purchasing. Go to the product sheet of the item you have chosen in pencils and click on the red button try your logo. You can save your graphic draft in your personal area or download it and you will realize personalised pencils you are purchasing. Please note that this will only be your graphic proof and that the professional print proof will be provided by us in the 24 hours following your order.
How can I calculate an estimate for personalised pencils?
On HiGift you can make, download and save all the estimates you need in your personal area! You are now on personalised pencils category, select your favorite customizable item and, once inside the product sheet, click on get your price and buy. Just enter the quantity, the color of pencils, the type of customization you require based on the characteristics of your logo. In a few clicks you will be able to get your quote. At this point you can download it or save it in your personal area. If you want to revise the quote, just go back by clicking on the appropriate button. If you add various products such as pencils, printed pencils or mini pencils to your cart, you will also be able to download or save the overall estimate of all your promotional items before checking out. In this way you can do all the tests you want with your favorite corporate gifts!
Can I obtain some discounts with the purchase of personalised pencils?
If you are looking for personalized cheap pencils , here you are in the right place. In fact, on HiGift you can find different ways to save on your corporate gifts such as pencils, printed pencils or mini pencils. Also if you buy a small quantity of pencils, you can save on the cost each, which decreases as quantities increase. Furthermore, by registering on our site you will participate in the HiGift Circle loyalty program which will allow you to obtain increasingly exclusive benefits as you climb your status. How to get to be a Platinum customer? Just buy your corporate gifts from us, so, once you have reached a certain spending threshold, you can scale from Bronze to Silver up to Gold and finally Platinum to get, among other advantages, an important discount on the purchase of all the promotional items present on the site. Finally, if you want to stay updated on discounts and promotions that can include pencils, printed pencils o mini pencils, subscribe to our newsletter, you will receive it monthly and will always contain news on discounts and benefits for you.
Corporate Gifts have multiple benefits for businesses. They can be part of corporate merchandising, a promotional and advertising tool for customers, and also a gift for employees during holidays, anniversaries or corporate anniversaries. They are useful tools to leave a memory of the brand during events, fairs, promotions to potential customers. Promotional items customized with your logo, if chosen carefully with respect to the communication message you want to convey, undoubtedly create added value to your brand.
Personalised Pencils - FREQUENT QUESTIONS
Corporate gifts are a fundamental step in promoting and sponsoring your brand.
Who wouldn't want a company known by their logo?
The goal of each brand, in fact, is to become top of mind for its sector.
And which way is better than promoting your identity through useful and nice items?
Custom pencils are a perfect promotional item for companies that work in the fields of art, training, graphics, entertainment, and all places that host children.
Pencils and lead pencils are useful and inexpensive gadget that makes those who love to underline and color their sheets happy. On our web site you can choose between: Lead pencils, colored pencils, mechanical pencils and pencil sets.
Custom pens and personalized pencils are truly a passe-partout. From dynamic companies to ecological companies they can use this kind of corporate gifts.
If you want to take a look also at the personalized pens, visit the complete section of pens on our website.
HiGift offers a wide range of promotional pencils to be customized according to the shape, material and color required.
Practical and useful for youngsters at school and for who prefers to use pencils instead of pens.
We advise you to choose the company gifts, always taking care of your core business and your line marketing strategy, considering the different possibilities of customization: from the classic types to more fun and blithe models.
In addition to being customizable in its shape, all custom printed accessories are also customizable in material and color.
In our dedicated section of our web site you will find many ideas of custom pens, pencils and pencil sets.
And If you are looking for a much sought-after that you cannot find on our website..
No problem at all.
Let's Contact us and we will find the items you searching for.

Verifying every detail is important. It is therefore normal to buy Personalised Pencils without having touched them can block your purchase process. For this on HiGift it is possible to receive a sample before ordering the entire quantity of the Pencils. The procedure is very simple: just click on the red button calculate your quote and buy and enter 1 in the desired quantity. Then need to click on confirm order to proceed to purchase the sample without the desired print, after registering on our site or logging in if you are already a customer. In many cases it is also possible to customize the sample with your own logo, in order to be able to see the finished promotional product. Just choose the personalization on the calculator and that's it. To find out the cost of the neutral sample, go to the price summary that you see in the product sheets of Pencilsand you will find it highlighted. In case the timing does not allow you to wait for the receipt of the sample to place the order, write to our customer service, we will be happy to help you with information or photos of the selected product.
You can order your
personalised pencils
quickly by following these steps:
If you are not already our customer, sign in on HiGift or log into your account.
Choose the promotional item you prefer and, once you have entered the product sheet, click on the appropriate red button calculate your quote and buy.
Enter the quantity and possibly the color of pencils, choose the type printing and follow the steps indicated until you have the final quote.
Click on confirm order to proceed with the purchase.
When ordering, you can upload your logo, or do it later in your personal area within the relevant order. Our staff will proceed to make you a free print draft to show you the
personalised pencils with your logo
.
For more information click here
.
After your approval, we will proceed with production and you will receive Pencils in 15-17 days. If, on the other hand, you have purchased pencils without any customization, you will receive the goods in 3-4 days.
If you want to know more about delivery time, visit this page
. For more information on placing orders visit the section
how to order
. If you have doubts about payments, visit the section
payments