Custom Mugs, Cups & Glasses
Custom Mugs, Cups & Glasses: the essential products for your business!
Read more information on
Perfect personalized corporate gifts for all
When do you use custom mugs?
Everyone has their habits: some have breakfast at home with milk and biscuits, some go to the café to enjoy a cup of cappuccino. There are those who prefer a simple coffee break or some tea to sip while they work. In the afternoon, some drink water, while others have a glass of juice, tea or espresso to enhance concentration. Whatever the habits of your customers or employees, everyone will benefit from cups.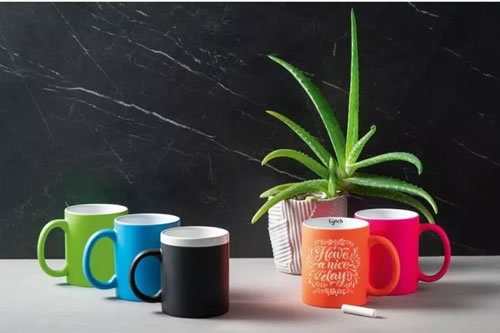 They are essential accessories in everyday life. Perhaps this is why they are so successful as personalized corporate gifts. They are timeless in the world of marketing, a safe choice that never disappoints. Customising them is the ideal move to promote your brand outside the company and retain the employees who are part of it. They strengthen cohesion within the team.
Who can use custom mugs, cups and glasses as personalized corporate gifts?
As these kitchen accessories can be customised for private use, anyone can personalise them. You can add a graphic or your name to them. The success of personalised products is not a coincidence nor surprising. An object that speaks of you and represents you is always welcome. You identify with it, and it gives a touch of colour to the routine.
Having breakfast with a custom mug with your favourite character, quote or a stimulating phrase can start the day in the best way.
An original, but frequent way to use cups is as pen holders. Whether it is the office or the desk at home, these articles are perfect for decorating an environment.
Customising a cup or a glass is accessible to everyone. In the business world, however, it becomes an essential method to communicate with the audience.
Custom mugs and personalised glasses for restaurants, pubs, bars
Those who work in the catering industry cannot do without them. Using customized cups during the service and distributing them to customers at events or fairs are very profitable marketing strategies. An eye-catching logo and slogan can make a difference in how the public perceives your business.
Restaurants, pubs, breweries and bars will gain an additional advantage compared to other market sectors. As they are catering products, cups, mugs and glasses will advertise the brand in a consistent manner. If the customer sees continuity between what you are, your work and your personalized corporate gifts, he will consider you more credible.
Custom mugs, customized cups and personalised glasses for companies
Companies could include these personalized corporate gifts in the employee welcome kit or give them away as promotional products at fairs or events. Your team can use them at work or at home, while your customers will enjoy a drink during the day or offer it to guests. In this case, the name of the company will fall under the eyes of people who do not know you and may be interested in you.
For these reasons, custom mugs, customized cups and glasses are perfect as personalized corporate gifts to promote your brand. They are successful because they are useful and, since people use them often, they attract new potential customers.
What are the types of cups to choose from?
Our assortment includes mugs, thermal mugs, coffee cups and glasses. You can select the type that best meets your needs and the model you want to customise. Here is an introductory guide.
Custom mugs
In this subcategory, you will find several types of custom mugs, including:
porcelain mugs for breakfast.
thermal mugs for travelling.
glass cups to enjoy a sip of tea with friends.
metal mugs, which you can use as pen holders on your desks.
Models differ in material, shape, colour, and size. In particular, it is the material that determines the printing techniques you can apply on your custom mugs.
Ceramic cups
It is the most common type, the most classic model. Men have been using ceramics to craft everyday objects since ancient times. For cups, you can also use porcelain, which is a derivative of ceramics but more resistant.
In both cases, the aesthetic performance is excellent. The materials give the items a slightly vintage look, but they adapt to any type of furniture and style. There are classic white as well as colourful types.
As for printing techniques, you can choose ceramic or digital printing, depending on the models.
Personalised metal mugs
Personalised metal mugs are more unusual. Our selection includes steel cups, made with stainless steel. This means that they will not suffer any damage and will always keep an impeccable appearance. The same applies to their functionality.
The personalised thermal mug
The peculiarity of this model is that it can maintain the temperature of drinks. As they are effective with both hot and cold beverages, they are useful in winter and summer alike. As a consequence, a personalised thermal mug is an excellent corporate gift, which you can give away in any season.
To best perform their function, they are made of insulating materials such as glass, stainless steel and metal. They have caps, too, which makes it easier to carry them around.
The personalised thermal mug has had a surge in purchase in recent years thanks to growing awareness of the environmental theme. This has encouraged consumers to prefer reusable items to disposable ones. For this reason, they are perfect promotional products. They are ideal for sipping tea or coffee during working hours while maintaining the drink temperature.
You can customise them with digital printing and engraving. Some models are suitable for the digital printed insert as well.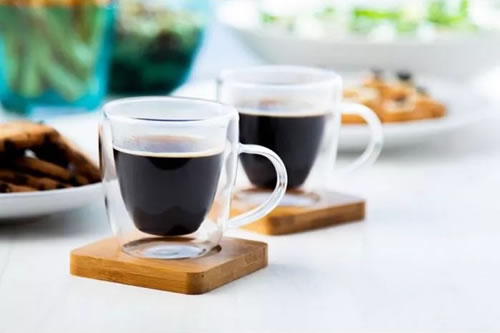 The personalised espresso cup
A personalised espresso cup is the ideal corporate gift if you want a break that speaks about you. Rimbaud once said: 'Divine coffee, whose taste remains in your mouth all day long.' However, you need the right cup to enjoy it to the fullest.
Personalised espresso cups are a must-have for bars, bakeries and restaurants, where many customers seek a moment of relaxation with a hot espresso.
They are great personalized corporate gifts for companies that manufacture or market coffee machines. They are perfect for those that produce cups as well. Distributing these personalised promotional products to the public will raise awareness of the brand and build customer loyalty.
Among the materials available are glass and ceramics. You can also find personalised espresso porcelain cups. As for personalisation, you can choose ceramic and digital printing.
Personalised glasses
There are several ways to turn personalised glasses into corporate gifts. You can distribute them or use them at an event. You can also give them in a set with loyalty points at a supermarket. They are essential for bars, breweries and pubs that want to attract the attention of the customer with a representative promotional product.
At HiGift you can choose custom glass cups and personalised glasses made of metal, plastic, stainless steel and paper. Each material will have a different communicative impact, but they will all witness care for the environment. Plastic products, too, are reusable and valid allies against waste and pollution.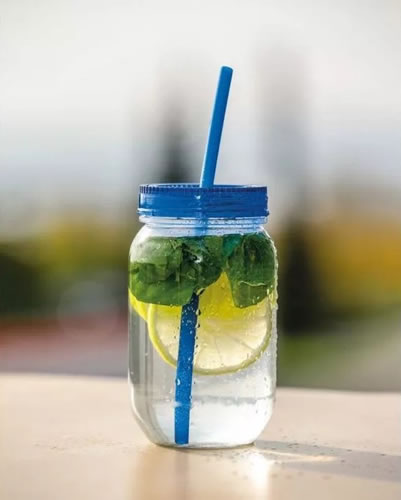 Some glasses have a stopper, too, which makes them comfortable to carry around, perfect from a hygienic point of view and an original idea. You can complete them with personalised coasters to protect the surfaces in your house or office.
They can be personalised with engraving, digital and ceramic printing.
Printing techniques to get perfect custom mugs, customized cups and personalised glasses
Personalization is crucial for the cup or glass to be successful as a marketing tool. Printing your logo is the only way to turn them into personalized corporate gifts suitable to promote your brand. However, how you customize them matters as well.
Choosing the right colours and print as well as an eye-catching image and slogan will make all the difference. Only then will your personalized corporate gifts be used and intrigue new people.
The position is important, too. It will determine the visual impact of the print. The surface of mugs, cups and glasses offers a wider area and will ensure maximum visibility to the graphics. However, a small inscription inside of the cup or along the handle can be original.
Ceramic printing
For ceramic products, you can select ceramic printing. A label with your logo or slogan will be applied directly to the surface, which will then be subjected to high temperatures in an oven. It can be used for metal products using special paints as well.
Digital Printing
Digital printing includes various techniques. In general, however, they all render details and – where possible – colours in high definition. It is suitable for smaller runs because you will have no price reduction if you order more products.
Screen printing
Screen printing accurately reproduces the details, too. It is suitable for simple images, such as logos and writing, while complex ones are to be avoided. It is perfect for larger runs as the price can be reduced with the increase of the quantity ordered.
Engraving
Laser engraving cannot reproduce colours, but it ensures a permanent and high-contrast result. It gives the graphic depth and texture. It is ideal for those who want an original and sophisticated effect.
Circular printing
This type of printing can be performed on the curved surface opposite the handle. It is ideal for those who want the logo or slogan to be clearly visible throughout the available area. The main advantage is, of course, the great exposure of the print. This will make the logo or slogan more easily noticed.
The types of circular printing available are engraving, screen printing and UV led printing.
Did you like this content? Click here to download it. 
The success in giving custom mugs, cups & glasses does not only lie in choosing the right type, but also in devising a particular design or message that most strikes the attention of those who receive the gift, and also accompanying it with your logo. Custom mugs, cups & glasses are among the most popular corporate gifts; they help to give visibility, personality and uniqueness to your brand. A useful, classic gift that is renewed to keep up with the times! In our stock you will find both custom mugs, cups & glasses cheaper to use as personalized gifts, and premium gifts promotional travel mugs that will allow you to exalt yourself from the competition thanks to their unique design and their quality.
Where can I found all the information on custom mugs, cups & glasses?
Information about mugs, cups & glasses such as quantities availability in stock, printing variables, prices, exact sizes of the items are visible on the relevant page dedicated to the product. It is possible to create customized estimates and graphic drafts in total autonomy by clicking on the two red buttons clearly visible on the page. If you need more information about travel mugs, we are always available via chat, email, phone.
How can I see my logo on custom mugs, cups & glasses before the order?
Custom mugs, cups & glasses, personalised espresso cups or promotional travel mugs are perfect to be personalized but...how can I see my mugs, cups & glasses with my logo before ordering on HiGift? It's very simple, just follow these steps. You are now in the custom mugs, cups & glasses category, choose your item and, once inside the product sheet, click on try your logo. In this tab you can try your own writing on the personalized item or directly upload your logo and test your promotional article. You can even eliminate the colored background of your logo. Don't worry, your graphic proof is not the official proof that will go into production! That will be provided by us after the order, at the latest within 24 hours.
How can I calculate an estimate for custom mugs, cups & glasses?
Do you know that on HiGift it is quick and easy to obtain an ad hoc quote? If you are in the custom mugs, cups & glasses category and you are therefore interested in this type of personalized items, just choose from the preview images the article that best suits your promotion. At this point, enter the product sheet and click on the appropriate red button. A pop-up will open and you just need to follow all the instructions given there. You need to know how many personalised mugs, cups & glasses you want, your favorite color, if you want them customized and how many colors your logo has. In a few clicks you will have your quote and you can download it or save it in your account. If, on the other hand, you are interested in purchasing multiple types of mugs, cups & glasses, espresso cups o travel mugs and want to have an overall estimate of several promotional items, just go to the cart. There too you will find the possibility to download your quote.
Can I obtain some discounts with the purchase of custom mugs, cups & glasses?
On HiGift there are several ways to buy cheap mugs, cups & glasses. The first and most obvious: if you buy mugs, cups & glasses, espresso cups or travel mugs iin huge number, the price per item will be lower. If you buy the same items in smaller quantities, you will have a higher price each. This detail is clearly visible in the price table on each product sheet: it is often enough to add a minimum quantity of mugs, cups & glasses to get a better price. Also, if you subscribe to our newsletter you will be updated on the promotions we release every month. That's right, you got it right: you can find promotions on custom mugs, cups & glasses, that is the articles you are looking for! If you become our customer you will also be able to access the HiGift Circle loyalty program which will allow you to have exclusive benefits by climbing the statuses. That is, more mugs, cups & glasses, espresso cups or travel mugs you buy, the sooner you will be able to reach the threshold for your passage of status and obtain increasingly important benefits, discounts included.
Promotional Items have multiple benefits for businesses. They can be part of corporate merchandising, a promotional and advertising tool for customers, and also a gift for employees during holidays, anniversaries or corporate anniversaries. They are useful tools to leave a memory of the brand during events, fairs, promotions to potential customers. Promotional items customized with your logo, if chosen carefully with respect to the communication message you want to convey, undoubtedly create added value to your brand.
Custom Mugs, Cups & Glasses - FREQUENT QUESTIONS
Promotional items are a fundamental step for promoting and sponsoring your brand.
Who wouldn't want a company known by the logo?
Let's remember that starbucks created a second line of trade for his business based exactly on branded cups, mugs and glasses.
The goal of each brand, in fact, is to become top of mind for its target audience.
The personalized cups and glasses are an excellent ally of your image and above all of your logo.
If you are a bar shop, a pastry shop, a drink or coffee dispenser, this gadget is your flagship.
The mugs and cups with the logo are highly appreciated by your customers and carry your brand around even without you moving.

HiGift offers a wide range of cups, mugs and glasses to be customized according to the shape, material and color required.
Custom mugs and glasses can be chosen in:
When choosing glasses, be careful:
- In the shape: coffee cups are different from chocolate or tea cups.
- Color: light colors to stand out the logo, or maybe you prefer a more creative choice.
- To the material: the materials used are porcelain, ceramic, glass, etc.
In the dedicated section of our website you will find many ideas and designs ready to be branded with your logo.
And if you are looking for a special design that you cannot find on our website?
No worries at all. Just contact us and We are delighted to let you know! .

Verifying every detail is important. It is therefore normal to buy Custom Mugs, Cups & Glasses without having touched them can block your purchase process. For this on HiGift it is possible to receive a sample before ordering the entire quantity of the Mugs, Cups & Glasses. The procedure is very simple: just click on the red button calculate your quote and buy and enter 1 in the desired quantity. Then need to click on confirm order to proceed to purchase the sample without the desired print, after registering on our site or logging in if you are already a customer. In many cases it is also possible to customize the sample with your own logo, in order to be able to see the finished promotional product. Just choose the personalization on the calculator and that's it. To find out the cost of the neutral sample, go to the price summary that you see in the product sheets of Mugs, Cups & Glassesand you will find it highlighted. In case the timing does not allow you to wait for the receipt of the sample to place the order, write to our customer service, we will be happy to help you with information or photos of the selected product.
You can order your
custom mugs, cups & glasses
quickly by following these steps:
If you are not already our customer, sign in on HiGift or log into your account.
Choose the promotional item you prefer and, once you have entered the product sheet, click on the appropriate red button calculate your quote and buy.
Enter the quantity and possibly the color of mugs, cups & glasses, choose the type printing and follow the steps indicated until you have the final quote.
Click on confirm order to proceed with the purchase.
When ordering, you can upload your logo, or do it later in your personal area within the relevant order. Our staff will proceed to make you a free print draft to show you the
custom mugs, cups & glasses with your logo
.
For more information click here
.
After your approval, we will proceed with production and you will receive Mugs, Cups & Glasses in 15-17 days. If, on the other hand, you have purchased mugs, cups & glasses without any customization, you will receive the goods in 3-4 days.
If you want to know more about delivery time, visit this page
. For more information on placing orders visit the section
how to order
. If you have doubts about payments, visit the section
payments