Personalised Glass mugs
Personalised Glass mugs: the most stylish!
Read more information on
Personalised Glass Mugs: How to Communicate that You Care About the Customer and the Environment with these Eco-friendly and Fine Corporate Gifts
Custom mugs, cups and glasses are reliable promotional products for any brand. Useful and versatile, their strength lies in suiting multiple contexts. We use them in the office – so that employees may enjoy a pleasant coffee break. But in our houses too, when we read a book or entertain a cheerful chat with our guests. Part of their potential lies in the fact that those who receive them can offer your personalised cups to other people. Surely a perfect way to make your name fall under the gaze of many and sponsor your business!
Customising mugs and glasses is the key to turn these objects into attractive and unique corporate gifts. It makes them talk about your reality as well. Being able to seize the attention is what it takes to make your mugs the highlights of a relaxing moment. It is also the detail that will push your customers or employees to offer them to guests. If your custom mug is intriguing, they will not want to miss the chance to make a good impression.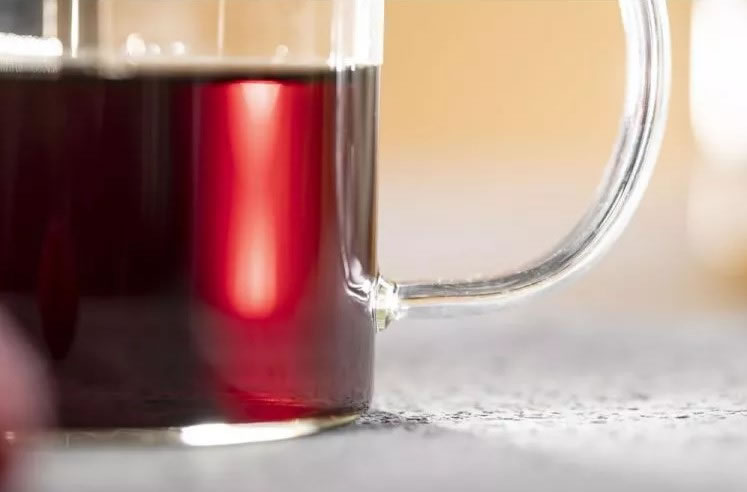 Before printing your logo, however, there is another step: the choice of the product.
There are endless models of personalised mugs. They feature different sizes and designs, as well as various options in terms of material and customisation possibilities. Anyway, all versions are suitable as gifts for a loved one and as promotional products. This is especially true if you choose elegant types, such as personalised glass mugs.
Communicate with Personalised Glass Mugs: Elegance, Eco-Friendly Position and Care for the Customer
Among the reasons why personalised glass coffee mugs and cups are so successful, their communicative impact stands out. They represent a treat for those who receive them. Besides, they offer a considerable printing surface. Thanks to this, any company will be able to express its core business. With these personalised corporate gifts, you can convey that you care for the well-being of your customers. Glass mugs will show you as a reality which is refined and attentive to the needs of our planet.
The Aesthetic Performance of Personalised Glass Mugs: A Fine Look to Highlight Your Logo
An object made of glass is generally transparent. This means that personalised glass mugs look neutral and can adapt to any type of print. Every colour will look fine on these promotional products, and they will likely appeal to everyone. The result will be a refined and stylish accessory.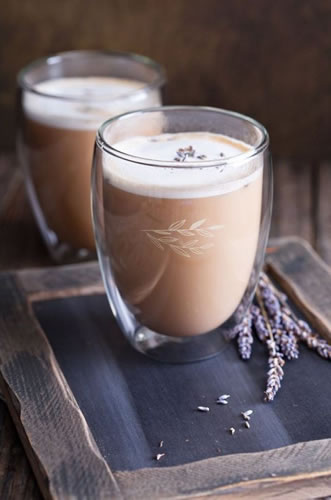 Of course, personalised glass mugs are less common than the classic ceramic models. This detail makes them out-of-the-ordinary promotional products. They are designed to amaze.
As for the logo, this will be highlighted whatever printing technique you decide to apply. It will catch the eye of anyone who has the chance to take a glimpse at your personalised glass coffee mugs or cups. The background may be transparent or opaque, but the final effect will not change. With your logo print, your personalised mugs will return the image of a careful company. They will present it as attentive to detail and to satisfy the tastes and needs of its customers.
Sustainable Corporate Gifts: Personalised Glass Mugs and Material Properties
If you choose to customise glass mugs, you will offer your target an eco-friendly item. This material is not by chance in several promotional eco-friendly products. Not only, but it is one of the most sought after in each field. It brings several advantages with it. It can be used several times and is safe both for the environment and for health. This feature makes it the best option for food accessories, as we can see with personalised lunch boxes and personalised jars.
Of course, we need to mention personalised glass bottles. These corporate gifts show that glass is an excellent substitute for plastic. It replaces disposable bottles and limits their use. By doing so, it avoids contamination of soil, water and air. With this set of qualities, personalised glass mugs pop out as an all-green choice.
Another relevant aspect is the strength of the material. Often, custom glass mugs can go in the dishwasher and in the microwave – but we recommend that you check the product sheet of each item! Those who receive them as a gift will find them irresistibly comfortable. Plus, they will benefit from one last hallmark of glass, namely the capacity to preserve the taste and properties of food and drinks. What better way to offer your customers quality personalised corporate gifts?
Choosing the Products: A Short Guide to Find the Best Personalised Glass Mugs for You
Glass is used to make cups of various types. From mugs to personalised cups, from handle cups to cups with cork and bamboo parts – the variety is truly remarkable. You can choose to create personalised espresso cups made of glass if you want to enrich the coffee break with a refined taste.
Alternatively, you can take a look at our special models. They present little extras that add functionalities to the product. Customers will find them surprisingly useful. Think of straw glasses, which are perfect when you want to enjoy a refreshing drink in summer. Or imagine clients and employees drinking from your wonderful personalised thermal mugs with the logo of your company. Such promotional products will amaze for their ability to maintain the temperature of the drink.
How to Use Personalised Glass Mugs to Promote Your Brand?
Thanks to the properties and the aesthetic performance of the material, personalised glass mugs are real gems. They are ideal gifts for a relative or a friend and successful corporate gifts for the team or clientele. You can offer them at the launch of a product or as a freebie to customers who buy an object or try a service, they will showcase your logo each time they are used.
Due to the exceptional safety of glass, these mugs are outstanding promotional products. Not least because they will express the company's efforts to offering products of high quality and safe for the customer's health. Plus, personalised glass mugs and cups belong to the category of custom eco-friendly kitchen products.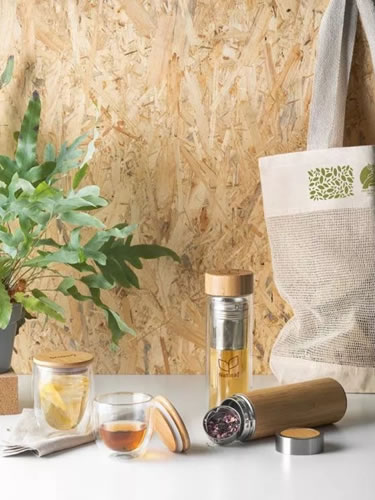 As such, they will indicate your commitment to reducing your environmental impact as well. With your logo printed on the surface, your custom glass mugs will be able to achieve your promotional goal. Part of their success is due to the huge variety of printing techniques and the large area available.
You can choose between pad, screen, transfer and ceramic printing as well as other methods. Selecting the option that appeals to you the most, you will ensure the best aesthetic rendering for your advertising intent. Try and reproduce a multi-colour image with one of the digital printing techniques for a wow result. If you prefer a classic effect, you can apply your logo and get a design that is never out of fashion. You can make it high contrasting and precise in the smallest details. Do not forget that, in this category, you have the opportunity to create personalised mugs for sublimation as well. They are perfect if you aim for the highest degree of accuracy. Finally, cork or bamboo components can generally be engraved. This customisation option gives your corporate gifts an even more refined look.
In conclusion, custom glass cups or personalised glass coffee mugs are elegant, but at the same time simple and not pretentious at all. For this reason, they are suitable for any target, whether it is your team or your clientele. In any space they will convey a strong positive image of the company, presenting it as attentive to the well-being of both the recipient and the planet. Thanks to their qualities, the various versions of personalised glass mugs may be the promotional products for your future marketing campaigns. Take a look at the catalogue to find your brand's next highlight!
Did you like this content? Click here to download it.
Personalised glass mugs with your printed logo are a thought that lasts over time, a memory that every person who interacts with your company carries with them, a promotional item that, using it, will unknowingly advertise your brand. Personalised glass mugs are among the most popular corporate gifts; they help to give visibility, personality and uniqueness to your brand. A useful, classic gift that is renewed to keep up with the times! In our collection you will see a wide range of personalised glass mugs, available in different colours and prices. Choose from if what you prefer; each object can be customized with your logo or your slogan.
Where can I found all the information on personalised glass mugs?
All information about glass mugs is reported in the product sheet of each items. Therefore, the quantities available in stock, the colours, the prices, the types of printing are always visible and updated in real time. To get a personalized quote or a pre-view of how the promotional mugs with your logo could look, just click on the buttons available on the item page. For any further information do not hesitate to contact us!
How can I see my logo on personalised glass mugs before the order?
Personalised glass mugs, promotional mugs or custom elegant mugs are perfect to be personalized but...how can I see my glass mugs with my logo before ordering on HiGift? It's very simple, just follow these steps. You are now in the personalised glass mugs category, choose your item and, once inside the product sheet, click on try your logo. In this tab you can try your own writing on the personalized item or directly upload your logo and test your promotional article. You can even eliminate the colored background of your logo. Don't worry, your graphic proof is not the official proof that will go into production! That will be provided by us after the order, at the latest within 24 hours.
How can I calculate an estimate for personalised glass mugs?
On HiGift you can make, download and save all the estimates you need in your personal area! You are now on personalised glass mugs category, select your favorite customizable item and, once inside the product sheet, click on get your price and buy. Just enter the quantity, the color of glass mugs, the type of customization you require based on the characteristics of your logo. In a few clicks you will be able to get your quote. At this point you can download it or save it in your personal area. If you want to revise the quote, just go back by clicking on the appropriate button. If you add various products such as glass mugs, mugs or elegant mugs to your cart, you will also be able to download or save the overall estimate of all your promotional items before checking out. In this way you can do all the tests you want with your favorite corporate gifts!
Can I obtain some discounts with the purchase of personalised glass mugs?
On HiGift there are several ways to buy cheap glass mugs. The first and most obvious: if you buy glass mugs, mugs or elegant mugs iin huge number, the price per item will be lower. If you buy the same items in smaller quantities, you will have a higher price each. This detail is clearly visible in the price table on each product sheet: it is often enough to add a minimum quantity of glass mugs to get a better price. Also, if you subscribe to our newsletter you will be updated on the promotions we release every month. That's right, you got it right: you can find promotions on personalised glass mugs, that is the articles you are looking for! If you become our customer you will also be able to access the HiGift Circle loyalty program which will allow you to have exclusive benefits by climbing the statuses. That is, more glass mugs, mugs or elegant mugs you buy, the sooner you will be able to reach the threshold for your passage of status and obtain increasingly important benefits, discounts included.
Corporate Gifts have multiple benefits for businesses. They can be part of corporate merchandising, a promotional and advertising tool for customers, and also a gift for employees during holidays, anniversaries or corporate anniversaries. They are useful tools to leave a memory of the brand during events, fairs, promotions to potential customers. Promotional items customized with your logo, if chosen carefully with respect to the communication message you want to convey, undoubtedly create added value to your brand.
Personalised Glass mugs - FREQUENT QUESTIONS
Verifying every detail is important. It is therefore normal to buy personalised glass mugs without having touched them can block your purchase process. For this on HiGift it is possible to receive a sample before ordering the entire quantity of the glass mugs. The procedure is very simple: just click on the red button calculate your quote and buy and enter 1 in the desired quantity. Then need to click on confirm order to proceed to purchase the sample without the desired print, after registering on our site or logging in if you are already a customer. In many cases it is also possible to customize the sample with your own logo, in order to be able to see the finished promotional product. Just choose the personalization on the calculator and that's it. To find out the cost of the neutral sample, go to the price summary that you see in the product sheets of glass mugsand you will find it highlighted. In case the timing does not allow you to wait for the receipt of the sample to place the order, write to our customer service, we will be happy to help you with information or photos of the selected product.
You can order your
personalised glass mugs
quickly by following these steps:
If you are not already our customer, sign in on HiGift or log into your account.
Choose the promotional item you prefer and, once you have entered the product sheet, click on the appropriate red button calculate your quote and buy.
Enter the quantity and possibly the color of glass mugs, choose the type printing and follow the steps indicated until you have the final quote.
Click on confirm order to proceed with the purchase.
When ordering, you can upload your logo, or do it later in your personal area within the relevant order. Our staff will proceed to make you a free print draft to show you the
personalised glass mugs with your logo
.
For more information click here
.
After your approval, we will proceed with production and you will receive glass mugs in 15-17 days. If, on the other hand, you have purchased glass mugs without any customization, you will receive the goods in 3-4 days.
If you want to know more about delivery time, visit this page
. For more information on placing orders visit the section
how to order
. If you have doubts about payments, visit the section
payments