Printed Magnets & Fridge magnets
Printed Magnets & Fridge magnets: cheap, colorful and very appreciated!
Read more information on
How to make the most of personalised fridge magnets?
We all know them. Personalised fridge magnets welcome us in our kitchen or in that of our friends. If we look at them carefully, they tell us a lot about who we are. They even tell part of our history. They may look like unimportant, given their small size. However, nothing could be further from the truth. They can acquire a special meaning for everyone. This is especially true if you customise them.
It goes without saying that personalised fridge magnets are very valuable communication tools. They can become original gifts or thoughts to convey your affection. Nonetheless, they're also very effective promotional products and, not surprisingly, are in great demand by companies.
Ways to use personalised magnets
Since they're magnetic bodies, personalised magnets can attach to any surface made of ferromagnetic substances, as they attract this type of material. For this reason, you can affix them to any type of furniture and object that has these features. However, the most common way to use them is to stick them onto the refrigerator door.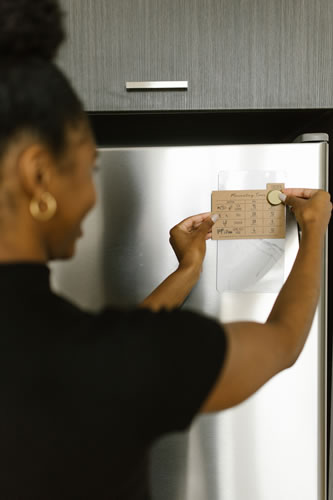 Here, they aren't just ornamental objects, which give a touch of sparkle to the kitchen. Instead, they can take on a particular meaning, especially if they're linked to specific moments in one's life. Some people collect them during trips, others give them to friends and relatives. Some buy them on a unique occasion to keep the memory alive. All in all, these small accessories have a great communicative power.
Personalised magnets and their power to tell a story
You'll surely have in mind the image of a fridge upholstered in magnets. Maybe it belongs to that friend of yours who's so fond of travelling that he always carries a memory of the journey with him. Many create a collection of magnets, buying one as a souvenir in every place they visit. In this way, fridge magnets form travel maps. They tell the story of where we've been and evoke memories every time our gaze rests on them.
Then there are people who ask their friends to bring them a magnet when they go on a trip. In this case, the magnet is almost a reminder of future destinations. It reminds those who receive it of where to go next time. In all cases, personalised fridge magnets have a great power in themselves. They tell a story, sealing the moments we've lived and those we still want to enjoy.
Personalised fridge magnets and the power of images
Many people give importance to these small objects. But what's the reason for such a huge success?
Why are personalised fridge magnets able to attract the attention of most people and arouse positive feelings? The fact that you can add an image to them plays a role in it for sure. Drawings and pictures are among the most evocative elements for the human eye. They're an immediate means of communication, sometimes even more than words. Plus, they can evoke sensations with a single glance. For this reason, personalisation is the secret to the success of magnets.
Their surface, though smaller than that of items such as personalised water bottles and custom mugs, can be entirely decorated with an image. As a result, personalised fridge magnets become miniature portraits which you can apply on the right surface to keep them always in view.
How to customise magnets: green light to writing but keep it short!
The image itself has great communicative power. It acts, however, on an unconscious level. Words are still the most direct means of passing on a message. In the case of personalised fridge magnets, matching a writing to the photo or drawing can create an original and complete gift. However, you have to pay attention to the size.
The small print area doesn't allow you to reproduce long sentences, but it doesn't set limits when it comes to short writing or simple names. The name of the friend or company, or a motto made of a few words will make your personalised fridge magnets unique and representative corporate gifts.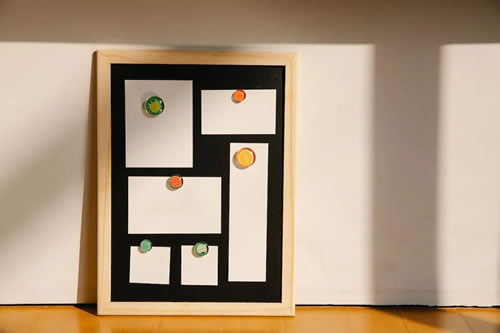 Since the writing will be added to the image, the best approach is to look for a phrase that's in line with the background. The words, in practice, must emphasize the underlying figure, make it clearer and more incisive. They'll have to be reinforcements. Making a consistent corporate gift is critical to achieving this effect and the best way to add value to your personalised fridge magnets.
Using personalised magnets as promotional products: all the pros and some tips on how to best personalise them
Personalised fridge magnets are very common as corporate gifts. Although they aren't really useful, they're very successful among the public thanks to several features. Let's take a look at them:
Personalised fridge magnets are small and practical. They can be conveniently placed on the refrigerator or on other furniture and objects. The main advantage they offer is that they aren't bulky, unlike other custom kitchen accessories such as aprons and cutting boards. They're the ideal promotional product if you want to make sure it won't be left in a drawer. 
Personalised fridge magnets can't be replaced. Although all corporate gifts are unique, personalised magnets will hardly be set aside for a similar item. Unlike more useful accessories, such as branded thermos, they won't compete with other magnets. Their strength lies in communication rather than utility. So, they'll only need to be exposed to perform their promotional function. The fun thing is that what looks like a flaw turns into an advantage. 
Personalised fridge magnets are cheap. Besides being suitable for promotions which involve a large number of people, they're great ideas to add to other corporate gifts. Giving them together with personalised lunch boxes, for example, will provide customers with a useful accessory and a decorative item at once. As a consequence, it'll increase the advertising effect. 
Personalised fridge magnets have a great communicative force. As already mentioned, personalised magnets can convey a lot, both emotions and messages. They'll only have to attract the eyes of those who are in the kitchen to promote your brand. 
Some personalised fridge magnets are useful, too. This is the case with magnets with a small notepad, which is generally used to write the shopping list. These magnets are very special gift ideas, which combine uniqueness and practicality. Also, they aren't too common in homes.
How to create the perfect personalised fridge magnets to promote your business
Customising magnets isn't hard. All you need is an image and a targeted writing to attract attention and boost their communicative force. This, however, doesn't mean that you shouldn't personalise them with care. On the contrary, choosing the right background and matching the right sentence to it will determine the impact they'll have on your audience.
To use personalised fridge magnets as promotional products, you'll need to enter your logo and name. These elements can't be missing because they'll identify your brand in the eyes of customers.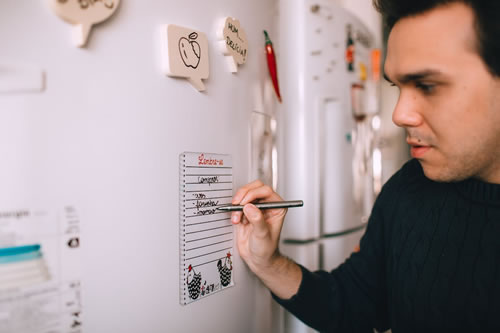 You can choose different options to customise your magnets, but it's essential to keep the logo and the name clearly visible. The best solution is a background colour that highlights them. In this case, too, finding a chromatic choice in line with the company's palette creates coherence and harmony. The result will be very pleasant to the eye.
The possibilities to customise your magnets don't end there. If you want an original result, you can choose an image. However, in this case the choice is more complex. It'll have to be simple, show the colours of the logo and serve two purposes. On the one hand, it should attract the customer's eyes. On the other, it should highlight your logo and name. The idea of adding an image can be particularly suitable for a travel agency, which can choose the photo of a holiday destination. The same goes for a summer centre, which can evoke the thought of a day at the beach in the imagination of the person who's looking.
Personalised fridge magnets: a perfect gift for friends and family
Besides being great promotional products, personalised fridge magnets are very successful as gifts to friends and family. Choosing an image and a phrase that communicates your affection will arouse amazement in those who receive them. They'll appreciate both the gift and the gesture. Even just the name will be enough to create a unique and effective object.
When you create a gift for a loved one, imagination has no limits. A phrase of greeting is perfect for a formal context, while a short dedication will show how much you care about them. The result will be a personal object, which evokes the strength of your friendship every time it is looked at. Simply put, personalised magnets are a perfect gift idea to surprise, convey your affection and leave a symbol of the relationship that binds you both.
Did you like this content? Click here to download it.
The success in giving printed magnets & fridge magnets does not only lie in choosing the right type, but also in devising a particular design or message that most strikes the attention of those who receive the gift, and also accompanying it with your logo. Printed magnets & fridge magnets are among the most popular customizable promotional items on the market, maybe because they are easy to use and indispensable in everyday life. If you imagine them with your communication message imprinted, it is sure to be a hit. In our collection you will see a wide range of printed magnets & fridge magnets, available in different colours and prices. Choose from if what you prefer; each object can be customized with your logo or your slogan.
Where can I found all the information on printed magnets & fridge magnets?
Information about magnets & fridge magnets such as quantities availability in stock, printing variables, prices, exact sizes of the items are visible on the relevant page dedicated to the product. It is possible to create customized estimates and graphic drafts in total autonomy by clicking on the two red buttons clearly visible on the page. If you need more information about fridge magnets, we are always available via chat, email, phone.
How can I see my logo on printed magnets & fridge magnets before the order?
Printed magnets & fridge magnets, personalised fridge magnets or promotional pin magnets are perfect to be personalized but...how can I see my magnets & fridge magnets with my logo before ordering on HiGift? It's very simple, just follow these steps. You are now in the printed magnets & fridge magnets category, choose your item and, once inside the product sheet, click on try your logo. In this tab you can try your own writing on the personalized item or directly upload your logo and test your promotional article. You can even eliminate the colored background of your logo. Don't worry, your graphic proof is not the official proof that will go into production! That will be provided by us after the order, at the latest within 24 hours.
How can I calculate an estimate for printed magnets & fridge magnets?
On HiGift you can make, download and save all the estimates you need in your personal area! You are now on printed magnets & fridge magnets category, select your favorite customizable item and, once inside the product sheet, click on get your price and buy. Just enter the quantity, the color of magnets & fridge magnets, the type of customization you require based on the characteristics of your logo. In a few clicks you will be able to get your quote. At this point you can download it or save it in your personal area. If you want to revise the quote, just go back by clicking on the appropriate button. If you add various products such as magnets & fridge magnets, fridge magnets or pin magnets to your cart, you will also be able to download or save the overall estimate of all your promotional items before checking out. In this way you can do all the tests you want with your favorite corporate gifts!
Can I obtain some discounts with the purchase of printed magnets & fridge magnets?
On HiGift there are several ways to buy cheap magnets & fridge magnets. The first and most obvious: if you buy magnets & fridge magnets, fridge magnets or pin magnets iin huge number, the price per item will be lower. If you buy the same items in smaller quantities, you will have a higher price each. This detail is clearly visible in the price table on each product sheet: it is often enough to add a minimum quantity of magnets & fridge magnets to get a better price. Also, if you subscribe to our newsletter you will be updated on the promotions we release every month. That's right, you got it right: you can find promotions on printed magnets & fridge magnets, that is the articles you are looking for! If you become our customer you will also be able to access the HiGift Circle loyalty program which will allow you to have exclusive benefits by climbing the statuses. That is, more magnets & fridge magnets, fridge magnets or pin magnets you buy, the sooner you will be able to reach the threshold for your passage of status and obtain increasingly important benefits, discounts included.
Promotional Products have multiple benefits for businesses. They can be part of corporate merchandising, a promotional and advertising tool for customers, and also a gift for employees during holidays, anniversaries or corporate anniversaries. They are useful tools to leave a memory of the brand during events, fairs, promotions to potential customers. Promotional items customized with your logo, if chosen carefully with respect to the communication message you want to convey, undoubtedly create added value to your brand.
Printed Magnets & Fridge magnets - FREQUENT QUESTIONS
Promotional items are a fundamental step for promoting and sponsoring your brand.
Who wouldn't want a company known by the logo?
Magnets or fridge magnets are a simple and inexpensive gadgets.
An accessory able to represent your pizza or your main course or the name of your restaurant can become a fridge magnet for your customers.
If you are a restaurant or a pizzeria who make delivery service, you can choose magnets to be gifted to remember you customers your phone number and your logo.
A small touch of class and professionalism that will make the difference in terms of marketing.

HiGift offers a wide range of custom magnets that varies in shape and color.
In our website it's possible to personalize every items with your logo and your favorite messages.
We advise you to always choose your personalized gadgets in line with your core business and your marketing communication, considering the multiple possibilities of customization: from classic models to the most extravagant ones.
in fact, choosing corporate promotional gadgets is not only a good advertising move but it helps to boost your brand awareness.
Visit the full section of our website to find many designs of fridge magnets.

Verifying every detail is important. It is therefore normal to buy Printed Magnets & Fridge magnets without having touched them can block your purchase process. For this on HiGift it is possible to receive a sample before ordering the entire quantity of the Magnets & Fridge magnets. The procedure is very simple: just click on the red button calculate your quote and buy and enter 1 in the desired quantity. Then need to click on confirm order to proceed to purchase the sample without the desired print, after registering on our site or logging in if you are already a customer. In many cases it is also possible to customize the sample with your own logo, in order to be able to see the finished promotional product. Just choose the personalization on the calculator and that's it. To find out the cost of the neutral sample, go to the price summary that you see in the product sheets of Magnets & Fridge magnetsand you will find it highlighted. In case the timing does not allow you to wait for the receipt of the sample to place the order, write to our customer service, we will be happy to help you with information or photos of the selected product.
You can order your
printed magnets & fridge magnets
quickly by following these steps:
If you are not already our customer, sign in on HiGift or log into your account.
Choose the promotional item you prefer and, once you have entered the product sheet, click on the appropriate red button calculate your quote and buy.
Enter the quantity and possibly the color of magnets & fridge magnets, choose the type printing and follow the steps indicated until you have the final quote.
Click on confirm order to proceed with the purchase.
When ordering, you can upload your logo, or do it later in your personal area within the relevant order. Our staff will proceed to make you a free print draft to show you the
printed magnets & fridge magnets with your logo
.
For more information click here
.
After your approval, we will proceed with production and you will receive Magnets & Fridge magnets in 15-17 days. If, on the other hand, you have purchased magnets & fridge magnets without any customization, you will receive the goods in 3-4 days.
If you want to know more about delivery time, visit this page
. For more information on placing orders visit the section
how to order
. If you have doubts about payments, visit the section
payments