Promotional Luggage tags
Promotional Luggage tags: useful for all travelers!
Discover more details on
Boundless Advertising? Try Our Personalised Luggage Tags and Labels!
There are several promotional products with which a company can make the work of its employees and collaborators easier. Some are useful for usual office work – such as personalised notebooks and custom pens – while others can be useful in different contexts. Personalised luggage tags and custom bag labels are an example of it. They make your team's travels easier and safer.
Custom luggage tags with logo are useful gift ideas for anyone who loves to travel. However, the benefits of giving away personalised luggage labels do not end there. We are talking about corporate gifts which have an unbeatable promotional effect.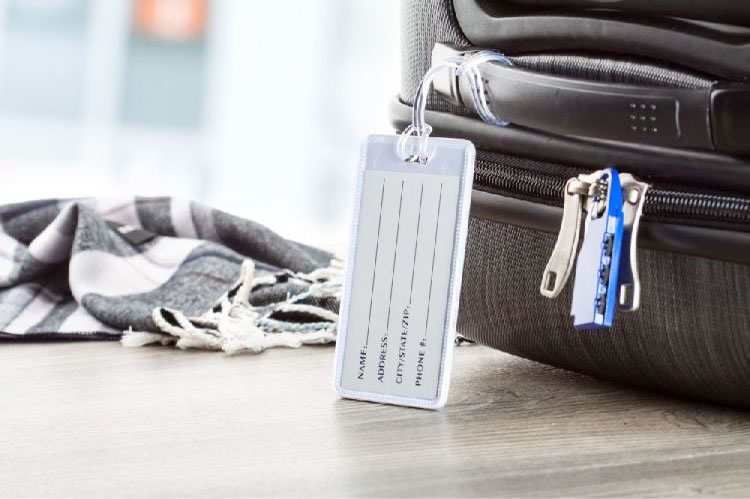 They will make your logo travel far and wide, beyond the borders of your city and even your country. In short, making personalised luggage tags or labels is an excellent strategy to spread your name and make your employees' business trips pleasant and smooth.
Printed Luggage Tags and Labels as Excellent Corporate Gifts: Useful on the Go, Effective for Promotion
How many times do you leave for a trip and, just before getting off, do you anxiously think about the possibility of not finding your luggage? If this has already happened to you, you must have thought about creating a personalised suitcase tag or a personalised bag tag. If your company's employees are often on business trips, making personalised luggage belts, tags and labels will give birth to undoubtedly welcome corporate gifts. Still, there are several ways in which a suitcase tag with a name and logo can prove to be an excellent ally for brands.
Never Again Without Your Personalised Luggage Tags! Find Out Why No Traveller Can Do Without Bag Labels
Printed luggage labels are used to recognise your luggage at a glance when travelling. Very useful during longer journeys, these personalised tags become necessary when you are visiting new cities for work. Your company's employees will need everything they carry in their bag to complete their commitments. So, losing their suitcase would represent a big trouble. However, if a personalised suitcase tag is attached to their luggage, the chances of it ending up in the hands of a stranger will be very low. The owner's name, address and telephone number will be enough to ensure your employees' baggage maximum safety.
All our personalised luggage tags can be used during train or car journeys as well. This means that, given to the whole team, your custom luggage tags with logo can promote your company everywhere, even during your employees' holidays. As with personalised backpacks, these travel accessories are incredibly versatile. Anyone can use them in work and leisure contexts. Even during simple outings, your personalised bag tag with logo can come in handy. Besides suitcases, labels are perfect to be attached to a simple backpack as well. If this is left somewhere on the road, anyone who finds it will be able to track down the owner with a simple phone call.
As with many corporate gifts, this versatility makes personalised luggage labels and custom bag tags the perfect promotional gifts to offer customers. Anyone who has just bought a product or tried a service at your business will be happy to receive these original and very useful travel promotional items. Custom luggage tags with logo are an excellent opportunity to build customer loyalty.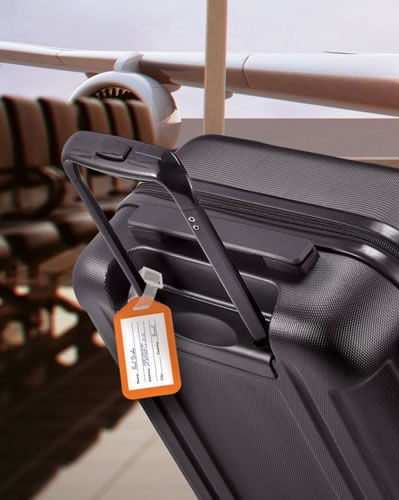 They can be attached to hand luggage, suitcases, backpack for excursions and the sports bag you use to go to the gym. As your printed luggage tags can be used on outings as well as sports and leisure trips, they will make it safe for anyone to set off on an adventure!
High-Impact Promotional Corporate Gifts: Bring Your Logo to Hotels, Conventions and Fairs by Creating Your Own Personalised Luggage Tags
Along with backpacks, custom bags and personalised fans, our personalised luggage labels too are great promotional products and corporate gifts that can help you increase the brand's popularity. Each personalised bag tag with your company logo can circulate in multiple cities, countries and contexts. We start from the airport or station, where original and captivating custom luggage tags with logo can attract the attention of other travellers. Then we move on to hotels, conventions, fairs, conferences and festivals. Here, attendees and guests can give visibility to your logo by carrying a trolley, backpack, or duffel bag with a personalised suitcase tag on it.
In work, business and commercial contexts, custom luggage tags with logo will reach more people potentially interested in your brand. Those who work in the business will be intrigued by your personalised luggage labels because they will immediately notice how useful they are in business trips. In any field, printed luggage tags will present your company as professional because it will prove to be attentive to the needs and comfort of its team.
Personalised luggage labels and custom bag tags have an exceptional promotional effect when used during leisure trips. In any location, they will expose the logo and name of the brand to potential customers of different kinds. Giving away custom luggage tags with logo can then turn out to be an incredible opportunity for companies and stores that aspire to expand their market by achieving national and international popularity.
Personalised Luggage Labels, Custom Bag Tags and Printed Suitcase Tags: A Wide Choice to Promote Your Business All Over the World!
You can purchase personalised luggage tags in various materials and different sizes. In this way, you will find plastic luggage tags – which are available in multiple colours. But you may also choose to print personalised suitcase tags made of aluminium or metal. The latter are outstandingly elegant and will give your brand a professional image. However, personalised luggage labels in plastic can be useful to recognise your baggage or bag even faster and with greater ease. Besides, by choosing the distinctive colour of your company, you can create even greater consistency between your promotional gifts and the brand.
Once you have created your custom luggage tags with logo, each employee or customer will be able to change their personalised bag tag by writing their name, address and phone number. These data are essential to allow anyone to trace the owner of the baggage in the event that it is lost or exchanged with another.
Finally, personalised luggage labels along with custom bag tags with logo can be purchases in large quantities as they are cheap promotional gifts.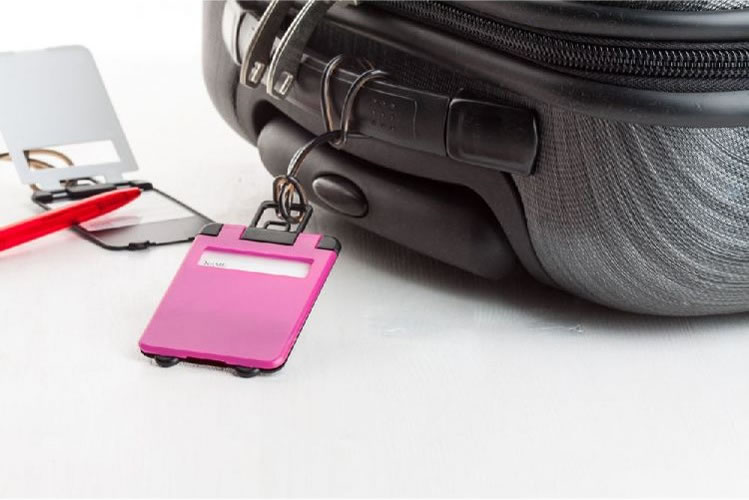 Moreover, this feature also allows stores and companies to combine other corporate gifts with the personalised luggage tags they have chosen. Here are some promotional products that go perfectly with a personalised bag tag:
In conclusion, personalised luggage tags and custom bag tags are excellent promotional gifts. They can be used on the road, but also for trips out of town. They prove to be useful for anyone participating in congresses and conventions. With their versatility, they are able to sponsor the brand discreetly and effectively, amazing for their usefulness and circulating the logo beyond every border. Print your personalised luggage tags and offer corporate gifts that are always useful to customers, employees and collaborators!
Did you like this content? Click here to download it.
The success in giving promotional luggage tags does not only lie in choosing the right type, but also in devising a particular design or message that most strikes the attention of those who receive the gift, and also accompanying it with your logo. Promotional luggage tags are a simple and easy to use objects and this is the added value of the promotion that you will be able to obtain through this kind of promotional item. In our stock you will find both promotional luggage tags cheaper to use as personalized gifts, and premium gifts custom suitcase tags that will allow you to exalt yourself from the competition thanks to their unique design and their quality.
Where can I found all the information on promotional luggage tags?
All information about luggage tags is reported in the product sheet of each items. Therefore, the quantities available in stock, the colours, the prices, the types of printing are always visible and updated in real time. To get a personalized quote or a pre-view of how the custom suitcase tags with your logo could look, just click on the buttons available on the item page. For any further information do not hesitate to contact us!
How can I see my logo on promotional luggage tags before the order?
Promotional luggage tags, personalised luggage labels or custom suitcase tags are perfect to be personalized but...how can I see my luggage tags with my logo before ordering on HiGift? It's very simple, just follow these steps. You are now in the promotional luggage tags category, choose your item and, once inside the product sheet, click on try your logo. In this tab you can try your own writing on the personalized item or directly upload your logo and test your promotional article. You can even eliminate the colored background of your logo. Don't worry, your graphic proof is not the official proof that will go into production! That will be provided by us after the order, at the latest within 24 hours.
How can I calculate an estimate for promotional luggage tags?
Do you know that on HiGift it is quick and easy to obtain an ad hoc quote? If you are in the promotional luggage tags category and you are therefore interested in this type of personalized items, just choose from the preview images the article that best suits your promotion. At this point, enter the product sheet and click on the appropriate red button. A pop-up will open and you just need to follow all the instructions given there. You need to know how many personalised luggage tags you want, your favorite color, if you want them customized and how many colors your logo has. In a few clicks you will have your quote and you can download it or save it in your account. If, on the other hand, you are interested in purchasing multiple types of luggage tags, luggage labels o suitcase tags and want to have an overall estimate of several promotional items, just go to the cart. There too you will find the possibility to download your quote.
Can I obtain some discounts with the purchase of promotional luggage tags?
If you are looking for personalized cheap luggage tags , here you are in the right place. In fact, on HiGift you can find different ways to save on your corporate gifts such as luggage tags, luggage labels or suitcase tags. Also if you buy a small quantity of luggage tags, you can save on the cost each, which decreases as quantities increase. Furthermore, by registering on our site you will participate in the HiGift Circle loyalty program which will allow you to obtain increasingly exclusive benefits as you climb your status. How to get to be a Platinum customer? Just buy your corporate gifts from us, so, once you have reached a certain spending threshold, you can scale from Bronze to Silver up to Gold and finally Platinum to get, among other advantages, an important discount on the purchase of all the promotional items present on the site. Finally, if you want to stay updated on discounts and promotions that can include luggage tags, luggage labels o suitcase tags, subscribe to our newsletter, you will receive it monthly and will always contain news on discounts and benefits for you.
Branded Merchandise have multiple benefits for businesses. They can be part of corporate merchandising, a promotional and advertising tool for customers, and also a gift for employees during holidays, anniversaries or corporate anniversaries. They are useful tools to leave a memory of the brand during events, fairs, promotions to potential customers. Promotional items customized with your logo, if chosen carefully with respect to the communication message you want to convey, undoubtedly create added value to your brand.
Promotional Luggage tags - FREQUENT QUESTIONS
Nowadays, many people travel not only for pleasure but also for work. And when traveling is for work there are one thousand things to bring along.
Passport holder, document holder for vouchers and reservations, labels for suitcases and trolleys, , usb and adapters, travel pillows, transparent bags for shower kits, and other billion of accessories that are now essential on the road.
Travel accessories are a very requested promotional items.
One important travel accessories is label for the suitcase. It make more easy to find your trolley and to not waste time.
A very useful item, that your employees and customers can bring with them in their vacations and holidays.
They will remember you and your logo will have many possibilities to travel kilometers and be seen everywhere by stakeholders.

HiGift offers a wide range of luggage tags customizable that varies in shape and color.
In our website it's possible to personalize every items with your logo and your favorite messages.
They can be chosen in different colors, but also in different sizes and materials.
We advise you to always choose your personalized gifts in line with your core business and your marketing communication, considering the multiple possibilities of customization: from classic models to the most extravagant ones.
in fact, choosing corporate promotional item is not only a good advertising move but it helps to boost your brand awareness.
In the appropriate section of our website you will find many ideas to personalize your items as your prefer.
Verifying every detail is important. It is therefore normal to buy Promotional Luggage tags without having touched them can block your purchase process. For this on HiGift it is possible to receive a sample before ordering the entire quantity of the Luggage tags. The procedure is very simple: just click on the red button calculate your quote and buy and enter 1 in the desired quantity. Then need to click on confirm order to proceed to purchase the sample without the desired print, after registering on our site or logging in if you are already a customer. In many cases it is also possible to customize the sample with your own logo, in order to be able to see the finished promotional product. Just choose the personalization on the calculator and that's it. To find out the cost of the neutral sample, go to the price summary that you see in the product sheets of Luggage tagsand you will find it highlighted. In case the timing does not allow you to wait for the receipt of the sample to place the order, write to our customer service, we will be happy to help you with information or photos of the selected product.
You can order your
promotional luggage tags
quickly by following these steps:
If you are not already our customer, sign in on HiGift or log into your account.
Choose the promotional item you prefer and, once you have entered the product sheet, click on the appropriate red button calculate your quote and buy.
Enter the quantity and possibly the color of luggage tags, choose the type printing and follow the steps indicated until you have the final quote.
Click on confirm order to proceed with the purchase.
When ordering, you can upload your logo, or do it later in your personal area within the relevant order. Our staff will proceed to make you a free print draft to show you the
promotional luggage tags with your logo
.
For more information click here
.
After your approval, we will proceed with production and you will receive Luggage tags in 15-17 days. If, on the other hand, you have purchased luggage tags without any customization, you will receive the goods in 3-4 days.
If you want to know more about delivery time, visit this page
. For more information on placing orders visit the section
how to order
. If you have doubts about payments, visit the section
payments