Personalised Notebooks
Personalised Notebooks: the most requested and used!
Read more information on
Personalised notebooks: the timeless corporate gifts
By now, we tend to use electronic devices to mark notes and appointments. Still, we haven't abandoned the use of pen and paper. Old habits aren't all gone.
Some memorise information better when they write. Some find it uncomfortable to take notes on the phone and prefer a small notebook. Keeping all ideas inside a small screen is with no doubt useful, because you always have them at hand. Technology might be convenient, but sometimes contact with the physical world still wins over digital.
Personalised notebooks for companies: why choose them as corporate gifts
It's unquestionable that personalised notebooks are useful. This makes them great promotional products. People are more likely to use an accessory that's helpful in everyday life. As a consequence, this will have a better chance of sponsoring your brand. It won't be surprising that personalised notebooks are among the most popular and appreciated corporate gifts. Even so, there are other reasons for their success.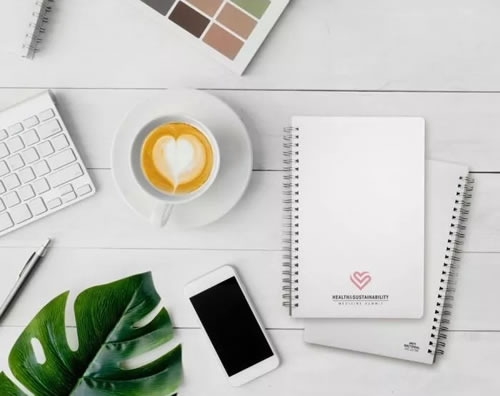 These items meet the needs of a very large audience. From the oldest to the youngest, from workers to students: anyone can take advantage of a personalised notebook. You can use it to write down any kind of information. The most creative ones will draw sketches. At the end of the day, these corporate gifts enter everyone's life with extreme ease.
Notebooks are great for personalisation. Their cover, simple and spacious, ensures maximum visibility to the company logo. It'll be much easier for the customer who receives one to remember you. At the same time, the printing will attract new people, who could turn to your company in the future.
Choosing the right notebook: a guide to the models available
Sponsoring your company with a personalised notebook is a winning move. It advertises your brand in an excellent way. Those who use it will appreciate its practicality. They'll associate your company with a tool that helps them, too. If customers are satisfied with your corporate gift, they'll look at your brand in a positive light.
Once you've chosen which accessory you want to give, you'll have a wide selection of models where to find the one that's right for you. Like all promotional products, personalised notebooks have great communicative power. Not only do they spread your logo or name, but they help convey a message, too.
At HiGift we offer personalised notebooks of various kinds. Here you find a brief guide with some ideas on how to use them.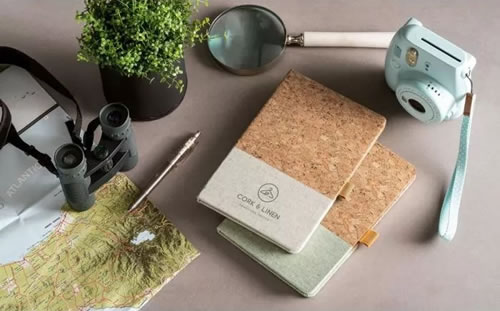 Eco notebooks
Personalised eco notebooks are made with sustainable materials, such as paper, cork and bamboo. They generally look rustic and particular due to the colour of the natural substances that compose them. However, some pieces have a modern and colourful design.
Giving away personalised eco notebooks to convey your interest in the environmental issue
With these corporate gifts, you'll distribute eco-friendly products that help reduce the impact on the environment. In particular, you'll achieve five goals by giving away personalised eco notebooks :
You'll offer the public a green item, which they can use instead of disposable ones.
You'll encourage people to use sustainable accessories. If customers are satisfied with the product received, they'll use others which are similar. In this way, even those who don't usually go for eco-friendly options may prefer products of this type for their future purchases.
You'll sensitise your audience by showing how these objects are practical.
You'll be very successful among those who're dedicated to the cause.
You'll convey your interest in our planet and show your willingness to actively participate in reducing waste and pollution.
Spreading awareness of the environmental issue is very important. Everyone can play their part to it. Distributing personalised eco notebooks may be your contribution.
Spiral Notebooks
Personalised spiral notebooks stand out for their unique design and practicality. They're the most classic types and can be found in every office. Good for taking notes, they have great effect as promotional products.
Personalised spiral notebooks: an evergreen corporate gift for your company
The main feature of this type of notebook is the side spiral that joins the pages. Compared to those whose sheets are glued to each other on the long side, they can be flipped through more easily. The pages and the cover can be rotated 360°. In this way, you have a single block to write on. This makes them perfect to write while standing or on a small surface.
It's no coincidence that students and journalists love them. You could give away personalised spiral notebooks with your logo at a fair or event that involves these groups of people. Moreover, you can use them both as promotional products for customers and as corporate gifts for employees. Their versatility makes them suitable for any context.
Elastic Band Notebooks
If you prefer a refined accessory, personalised notebooks with an elastic band can be perfect for you. Simple and elegant, they're very useful, because the rubber band holds sheets and cover together. In this way, they don't get damaged when they're stored in bags or backpacks.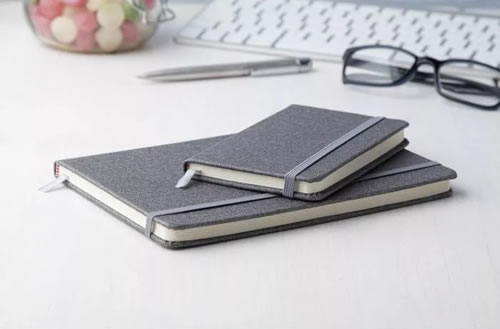 Personalised notebooks with elastic band: pay attention to the visibility of the writing
Personalised elastic band notebooks are perfect for any age and context. Practical to be carried around, they're ideal for those who bring theirs with them during the day. These, too, are excellent office accessories.
When customizing these corporate gifts, you should keep in mind that the elastic band hides a part of the cover. This doesn't mean that you can't apply the logo over the entire surface. However, you may need to pay attention to the writing. There's a risk that the name of the company isn't clearly visible because it's partially concealed by the elastic band. If that's the case, it won't perform its promotional function at its best.
Notebooks with pens
Pens are essential to use notebooks. However, being small, people are likely to lose or forget them. This is one reason why notebooks featuring a writing tool are always appreciated. They're an original idea, too.
Personalised notebooks with pens: double exclusive corporate gifts
Personalised notebooks with pens are all you need to take notes. You just have to open the notebook and take out the pen and you're ready to write. You're not going to waste time rummaging through the bag to find a pen or pencil.
Employees or customers who receive personalised notebooks with pens will have an exclusive two in one. Besides, people who don't know about you will notice two important aspects:
That you care for your team to be comfortable.
That you engaged to offer the public a smart corporate gift.
All this helps to advertise your brand. This, as a consequence, will raise the interest of new potential customers.
Besides, personalised notebooks with pens allow you to print the company logo or name on the pen, too. With such corporate gifts, you'll have two accessories that are always useful and welcomed. All in all, you'll benefit from a double promotional effect.
Did you like this content? Click here to download it. 
The success in giving personalised notebooks does not only lie in choosing the right type, but also in devising a particular design or message that most strikes the attention of those who receive the gift, and also accompanying it with your logo. Personalised notebooks are among the most popular corporate gifts; they help to give visibility, personality and uniqueness to your brand. A useful, classic gift that is renewed to keep up with the times! In our stock you will find both personalised notebooks cheaper to use as personalized gifts, and premium gifts promotional block notes that will allow you to exalt yourself from the competition thanks to their unique design and their quality.
Where can I found all the information on personalised notebooks?
Information about notebooks such as quantities availability in stock, printing variables, prices, exact sizes of the items are visible on the relevant page dedicated to the product. It is possible to create customized estimates and graphic drafts in total autonomy by clicking on the two red buttons clearly visible on the page. If you need more information about notepads, we are always available via chat, email, phone.
How can I see my logo on personalised notebooks before the order?
When you buy personalized items such as notebooks, notepads or block notes with your logo, it is normal that you ask yourself in advance how the final result will be. With HiGift you will be able to have a vision of how your promotional items with a logo will be created, and this before purchasing. Go to the product sheet of the item you have chosen in notebooks and click on the red button try your logo. You can save your graphic draft in your personal area or download it and you will realize personalised notebooks you are purchasing. Please note that this will only be your graphic proof and that the professional print proof will be provided by us in the 24 hours following your order.
How can I calculate an estimate for personalised notebooks?
Do you know that on HiGift it is quick and easy to obtain an ad hoc quote? If you are in the personalised notebooks category and you are therefore interested in this type of personalized items, just choose from the preview images the article that best suits your promotion. At this point, enter the product sheet and click on the appropriate red button. A pop-up will open and you just need to follow all the instructions given there. You need to know how many promotional notebooks you want, your favorite color, if you want them customized and how many colors your logo has. In a few clicks you will have your quote and you can download it or save it in your account. If, on the other hand, you are interested in purchasing multiple types of notebooks, notepads o block notes and want to have an overall estimate of several promotional items, just go to the cart. There too you will find the possibility to download your quote.
Can I obtain some discounts with the purchase of personalised notebooks?
If you are looking for personalized cheap notebooks , here you are in the right place. In fact, on HiGift you can find different ways to save on your corporate gifts such as notebooks, notepads or block notes. Also if you buy a small quantity of notebooks, you can save on the cost each, which decreases as quantities increase. Furthermore, by registering on our site you will participate in the HiGift Circle loyalty program which will allow you to obtain increasingly exclusive benefits as you climb your status. How to get to be a Platinum customer? Just buy your corporate gifts from us, so, once you have reached a certain spending threshold, you can scale from Bronze to Silver up to Gold and finally Platinum to get, among other advantages, an important discount on the purchase of all the promotional items present on the site. Finally, if you want to stay updated on discounts and promotions that can include notebooks, notepads o block notes, subscribe to our newsletter, you will receive it monthly and will always contain news on discounts and benefits for you.
Promotional Items have multiple benefits for businesses. They can be part of corporate merchandising, a promotional and advertising tool for customers, and also a gift for employees during holidays, anniversaries or corporate anniversaries. They are useful tools to leave a memory of the brand during events, fairs, promotions to potential customers. Promotional items customized with your logo, if chosen carefully with respect to the communication message you want to convey, undoubtedly create added value to your brand.
Personalised Notebooks - FREQUENT QUESTIONS
Personalized notebooks are an indispensable work tool in any office.
Wherever you need to take notes, a notebook is exactly what you need to brainstorming for meeting and conference calls.
Having a block note on hand is always useful. Simple, colorful and very popular, the notebook is a very simple item capable to switch on your offline marketing.
Custom notebooks cannot be missing in your employee welcome kit or in the inauguration kits for training courses, coaching, events and fairs. Choosing the right promotional business gadgets correctly is not only a right promotional move but it helps to strengthen the identity and mission of your business. For example, if you are a company interested in climatic problems, we recommend you to consider the recycled paper notebook and customize them with bamboo or wood coating.
Choose useful promotional corporate gifts will give you consistency and make your customers and employees understand how professional and attentive you are.

HiGift offers a large range of customized block and notebook models that vary in shape, material and color.
In fact, personalized notebooks lend themselves to a great variety of personalization: they can be chosen in different formats (A4, A5, A6 and A7 pocket), they can be customized in different versions of scratches (5mm, 4mm, 1R, 10mm) or without lines at all. They can be chosen in different colors, but also in different types of paper: from recycled paper, to economic paper, to thick or colored paper.
We advise you to always choose the company gifts in line with your core business and your marketing communication, considering the various possibilities of customization: from classic to more fun designs.
In the specific section of our site you will find many ideas to customize your corporate gifts.
And if you are looking for a special design that you cannot find on our site?
No problem at all. Contact us and we will find you the right one.
Verifying every detail is important. It is therefore normal to buy Personalised Notebooks without having touched them can block your purchase process. For this on HiGift it is possible to receive a sample before ordering the entire quantity of the Notebooks. The procedure is very simple: just click on the red button calculate your quote and buy and enter 1 in the desired quantity. Then need to click on confirm order to proceed to purchase the sample without the desired print, after registering on our site or logging in if you are already a customer. In many cases it is also possible to customize the sample with your own logo, in order to be able to see the finished promotional product. Just choose the personalization on the calculator and that's it. To find out the cost of the neutral sample, go to the price summary that you see in the product sheets of Notebooksand you will find it highlighted. In case the timing does not allow you to wait for the receipt of the sample to place the order, write to our customer service, we will be happy to help you with information or photos of the selected product.
You can order your
personalised notebooks
quickly by following these steps:
If you are not already our customer, sign in on HiGift or log into your account.
Choose the promotional item you prefer and, once you have entered the product sheet, click on the appropriate red button calculate your quote and buy.
Enter the quantity and possibly the color of notebooks, choose the type printing and follow the steps indicated until you have the final quote.
Click on confirm order to proceed with the purchase.
When ordering, you can upload your logo, or do it later in your personal area within the relevant order. Our staff will proceed to make you a free print draft to show you the
personalised notebooks with your logo
.
For more information click here
.
After your approval, we will proceed with production and you will receive Notebooks in 15-17 days. If, on the other hand, you have purchased notebooks without any customization, you will receive the goods in 3-4 days.
If you want to know more about delivery time, visit this page
. For more information on placing orders visit the section
how to order
. If you have doubts about payments, visit the section
payments