Personalised Eco notebooks
Personalised Eco notebooks: writing has never been so green!
Discover more details on
Personalised Eco Notebooks: Convenience, Practicality and Taste – All in an All-Natural Corporate Gift!
Entrusting your personalised eco notebooks with the promotion of your brand can give a turn to your marketing strategy. These corporate gifts are small, handy, useful and look natural. They convey a lot about your philosophy, highlighting that you are attentive to your audience – or team – and to the world that surrounds us. Showing that you are abreast with the times and active on the social level – beside the commercial one – gives the image of a company that is close to everyday life. In other words, of a brand that you can trust and that is constantly by your side.
The great plus of personalised eco notebooks is that they do not force you to renounce anything. On the contrary, you have everything to gain from choosing them as promotional products.
Choosing Eco-Friendly Products: Look Back to Go Forward
The trend of giving away promotional eco-friendly products is constantly increasing. The reason for this lies in the growing interest in the environment that we all have.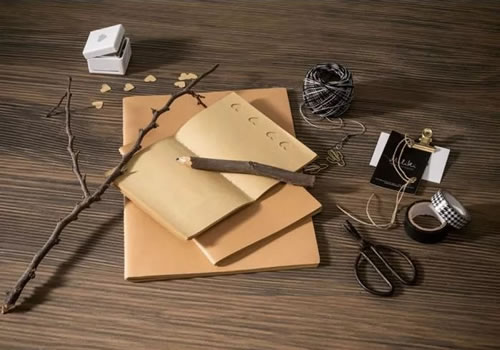 Climate change and the consequences of pollution have pushed us towards green choices that we had long since abandoned. The items that were created with this new eco mind have surprised us all. Sustainable options are not just a fallback. On the contrary, they are highly performing and have an unmistakable appearance. Personalised eco notebooks are no exception.
They are great because they allow us to keep on carrying out a daily activity – that of writing – without feeling guilty about the use of paper. They can be made of recycled paper or natural materials that replace plastic covers. In both cases, custom eco notebooks help us protect the environment while not giving up our needs. This is true in the workplace, but not only. Many people use personalised notepads at home to write down notes, appointments or to give vent to their creativity. They will all find a new and safe ally in these eco-friendly items.
Giving them to your team or customers is important for your company as well as for the environment. On the one hand, you will enjoy great publicity thanks to an item that spreads the image of a responsible and scrupulous brand. On the other, you will contribute to increasing the awareness about the green options available and how valuable they are. All with the help of a small promotional product such as the custom eco notebook. Choosing these items for your brand is a smart way to go forward and get in touch with nature again, all at once.
Investing in Custom Eco Notebooks: the Choice Every Company Should Make
Like other promotional eco-friendly products, notebooks are rapidly climbing the ranking of the most popular corporate gifts. They still are innovative and cutting-edge, though. Plus, they always amaze those who receive them. For this reason, giving them away as a gift will fuel the idea of a company that is open to new solutions and conscious of the choices it makes.
The positive messages that personalised eco notebooks convey are not their only pro. Another benefit of these promotional products is the value for money. They are not expensive.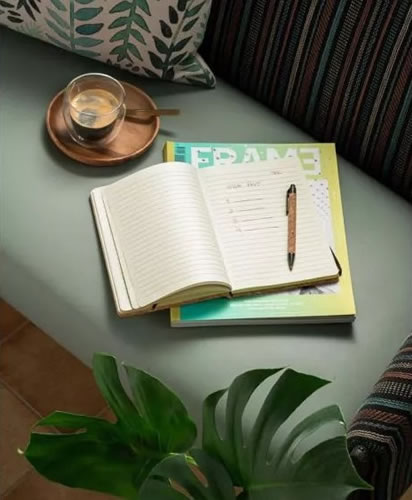 The price will change depending on the material and whether or not there are extra accessories. You can choose between standard notepads and custom spiral notebooks. Not to forget the writing set, that is the personalised notebook with pen. With this kit you will offer a complete and wholly eco-friendly corporate gift.
Prices are never too high. On the contrary, they are affordable for any need. Promoting a brand with personalised eco notebooks has then more than one pro. On the one hand, they are a useful item for your audience. They are functional and invite greater care for the planet. On the other, they allow you to advertise on a large scale. That is because these promotional products are inexpensive, yet practical and innovative. Finally, the unique and peculiar look of custom eco notebooks will attract the attention of new potential customers. So, they will spread the name of the company in an effective way.
Why Do Custom Eco Notebooks Catch the Eye?
The way corporate gifts look is decisive in their success. Personalised eco notebooks follow the same rule. Yet these products have one peculiarity. They combine appeal and practicality, all in a very manageable item.
A Natural and Elegant Design that Speaks of the Environment
You can recognise personalised eco notebooks at a glance. Their colour is slightly woody and recalls nature. This is the reason why eco notebooks have a very high communicative impact. It will take just one look to understand how much the company is committed to the environmental cause. In the same way, people will need just as little to feel encouraged to make a small contribution to it.
Part of the strength of these items lies in their unique design. This combines naturalness and elegance. No unsustainable product can achieve the same result. They are simple objects, but have a very special charm, which attracts the eyes of anyone. People will only need to use them to appreciate their strengths. As a result, they will never forget such special notebooks. Even more, everyone will line up for similar accessories.
An Option that Has Nothing to Envy about Other Notebooks and Is Good for Everyone
Charming and useful, custom eco notebooks have all the trumps to be promotional products of great success. The fact that they are made of natural materials does not compromise their effectiveness at all. On the contrary, their rustic look emphasizes it, making those who use them feel like writers of other times. This effect will pay off the most if you give your custom eco notebooks to specific audiences. Think of a group of emerging writers or a team of artists or architects.
Personalised eco notebooks are perfect for students as well. Young people today are the most attentive to current issues and the readiest to accept new options. By giving them a cork or bamboo notebook with your logo, you can count on an incisive and lasting advertising. By trying your eco notebook, they will find that this has nothing to envy from the other models. Indeed, its uniqueness will probably be a source of enthusiasm and turn it into an object of desire.
The Types of Personalised Eco Notebooks: Different Materials but Always a Unique Result!
Custom eco notebooks are available in different shapes and sizes. Most of all, however, it is the material that marks them the most. On our website, you will find, among others:
Personalised eco notebooks in bamboo: they look natural but elegant.
Personalised eco notebooks in cork: their appearance is a little more rustic but have a touch of naturalness.
Custom eco notebooks in recycled paper and cardboard: these are the perfect idea for an all-round green gift.
You would like to go for an eco-friendly product, but do not wish to give up the classic design? If this is your idea, we have what is right for you. On our catalogue you can find colourful eco notebooks as well.
If the notepads have the same colour as the material they are made of, they can become a truly unique corporate gift. If you do not want to give up a touch of colour, you can go for personalised elastic band notebooks. The colourful band will create a nice contrast with the cover of the notebook. The result will be a promotional product which is highly refined.
Personalised notebooks are timeless as corporate gifts. When they meet the desire to preserve the environment, they can have an incredible effect on the audience and on the team. Their strengths are endless, and you will have many benefits by giving them away. Not least the awareness that you are helping to save our planet.
 Did you like this content? Click here to download it.
The success in giving personalised eco notebooks does not only lie in choosing the right type, but also in devising a particular design or message that most strikes the attention of those who receive the gift, and also accompanying it with your logo. Personalised eco notebooks are a simple and easy to use objects and this is the added value of the promotion that you will be able to obtain through this kind of promotional item. In our collection you will see a wide range of personalised eco notebooks, available in different colours and prices. Choose from if what you prefer; each object can be customized with your logo or your slogan.
Where can I found all the information on personalised eco notebooks?
Information about eco notebooks such as quantities availability in stock, printing variables, prices, exact sizes of the items are visible on the relevant page dedicated to the product. It is possible to create customized estimates and graphic drafts in total autonomy by clicking on the two red buttons clearly visible on the page. If you need more information about recycled paper notebooks, we are always available via chat, email, phone.
How can I see my logo on personalised eco notebooks before the order?
Personalised eco notebooks, custom recycled paper notebooks or printed cork notebooks are perfect to be personalized but...how can I see my eco notebooks with my logo before ordering on HiGift? It's very simple, just follow these steps. You are now in the personalised eco notebooks category, choose your item and, once inside the product sheet, click on try your logo. In this tab you can try your own writing on the personalized item or directly upload your logo and test your promotional article. You can even eliminate the colored background of your logo. Don't worry, your graphic proof is not the official proof that will go into production! That will be provided by us after the order, at the latest within 24 hours.
How can I calculate an estimate for personalised eco notebooks?
Do you know that on HiGift it is quick and easy to obtain an ad hoc quote? If you are in the personalised eco notebooks category and you are therefore interested in this type of personalized items, just choose from the preview images the article that best suits your promotion. At this point, enter the product sheet and click on the appropriate red button. A pop-up will open and you just need to follow all the instructions given there. You need to know how many custom eco notebooks you want, your favorite color, if you want them customized and how many colors your logo has. In a few clicks you will have your quote and you can download it or save it in your account. If, on the other hand, you are interested in purchasing multiple types of eco notebooks, recycled paper notebooks o cork notebooks and want to have an overall estimate of several promotional items, just go to the cart. There too you will find the possibility to download your quote.
Can I obtain some discounts with the purchase of personalised eco notebooks?
On HiGift there are several ways to buy cheap eco notebooks. The first and most obvious: if you buy eco notebooks, recycled paper notebooks or cork notebooks iin huge number, the price per item will be lower. If you buy the same items in smaller quantities, you will have a higher price each. This detail is clearly visible in the price table on each product sheet: it is often enough to add a minimum quantity of eco notebooks to get a better price. Also, if you subscribe to our newsletter you will be updated on the promotions we release every month. That's right, you got it right: you can find promotions on personalised eco notebooks, that is the articles you are looking for! If you become our customer you will also be able to access the HiGift Circle loyalty program which will allow you to have exclusive benefits by climbing the statuses. That is, more eco notebooks, recycled paper notebooks or cork notebooks you buy, the sooner you will be able to reach the threshold for your passage of status and obtain increasingly important benefits, discounts included.
Branded Merchandise have multiple benefits for businesses. They can be part of corporate merchandising, a promotional and advertising tool for customers, and also a gift for employees during holidays, anniversaries or corporate anniversaries. They are useful tools to leave a memory of the brand during events, fairs, promotions to potential customers. Promotional items customized with your logo, if chosen carefully with respect to the communication message you want to convey, undoubtedly create added value to your brand.
Personalised Eco notebooks - FREQUENT QUESTIONS
Writing with awareness of which tool we are using to write is a great feeling. We all know that those who love to take notes during lessons or during meetings say that paper will never die. Because the feeling of writing on paper is very satisfying. This is why choosing eco notepads, notepads and notepads is an excellent awareness action and support for the environment around us. Personalised eco notepads are of many types. In fact, there are notepads with cork cover, notepads in PLA, notepads with recycled paper, RPET notepads, notepads with plant paper and many more. The latter, in particular, have become very popular for all publishing houses that work with children and teach them sustainability through everyday objects. In fact, the strong message behind all eco notepads is that after our use, they can be recycled or disposed of without negatively impacting our planet. Eco-friendly notepads are a great promotional message for your business. Remember that when a customer receives a gift from you, he associates the characteristics of the product with your identity company and therefore if you give away eco notepads you will communicate that you are a company that cares about raising awareness of climate change, and that you are also a company with a classic touch because prefers paper to the use of tablets or electronic planners.
Personalised eco notepads are beautiful even neutral, we do not hide it that a notepad for taking notes made with a recycled cover, in wood or in cork is really beautiful as it is. If we add our logo too, it becomes a great business card. Good communication that reaches many users and comes back with positive opinions about you. But we often get asked, how can they personalize my eco-friendly notebooks and notepads, so that they are wow? If you love the natural effect, we recommend that you engrave your logo. Yes, you heard correctly even the covers of notepads can be engraved with the laser, obviously it depends on the material:
This technique uses a precision laser to engrave objects. Unlike mechanical procedures, the depth of the engraving made with a precision laser can be measured in hundredths of a millimeter. During the customization process, the surface of the product is burned with extreme precision by the passage of the laser beam, giving shape to the logo to be reproduced on the object; it is also possible to reproduce small logos with extreme precision and detail.
If, on the other hand, you want to communicate a colorful graphic, perhaps using the contrast between your colors and the natural color of the material, we recommend the digital transfer:
Transfer printing is ideal for all those objects that cannot be screen printed due to their size or shape. With this technique, the logo is printed on a special paper and then transferred and fixed on the product with a high temperature press. The transfer prints have very vivid, precise colors, resistant to washing and wear.
Verifying every detail is important. It is therefore normal to buy Personalised Eco notebooks without having touched them can block your purchase process. For this on HiGift it is possible to receive a sample before ordering the entire quantity of the Eco notebooks. The procedure is very simple: just click on the red button calculate your quote and buy and enter 1 in the desired quantity. Then need to click on confirm order to proceed to purchase the sample without the desired print, after registering on our site or logging in if you are already a customer. In many cases it is also possible to customize the sample with your own logo, in order to be able to see the finished promotional product. Just choose the personalization on the calculator and that's it. To find out the cost of the neutral sample, go to the price summary that you see in the product sheets of Eco notebooksand you will find it highlighted. In case the timing does not allow you to wait for the receipt of the sample to place the order, write to our customer service, we will be happy to help you with information or photos of the selected product.
You can order your
personalised eco notebooks
quickly by following these steps:
If you are not already our customer, sign in on HiGift or log into your account.
Choose the promotional item you prefer and, once you have entered the product sheet, click on the appropriate red button calculate your quote and buy.
Enter the quantity and possibly the color of eco notebooks, choose the type printing and follow the steps indicated until you have the final quote.
Click on confirm order to proceed with the purchase.
When ordering, you can upload your logo, or do it later in your personal area within the relevant order. Our staff will proceed to make you a free print draft to show you the
personalised eco notebooks with your logo
.
For more information click here
.
After your approval, we will proceed with production and you will receive Eco notebooks in 15-17 days. If, on the other hand, you have purchased eco notebooks without any customization, you will receive the goods in 3-4 days.
If you want to know more about delivery time, visit this page
. For more information on placing orders visit the section
how to order
. If you have doubts about payments, visit the section
payments