Promotional Jute bags
Promotional Jute bags: original and super resistant!
Below more details on
Personalised Jute Bags: Eco-Friendly and Resistant Corporate Gifts to Give a Natural Touch to Your Promotion!
We are always looking for ways to reduce the use of disposable bags, because the excessive consumption of plastic has caused enormous damage to the environment for decades. It is time to remedy and seek increasingly sustainable solutions. Only in this way can we combine comfort with the preservation of the planet on which we live. There are many promotional eco-friendly products that companies can use to contribute to this important mission and, at the same time, sponsor their brand. Personalised jute bags are a great example.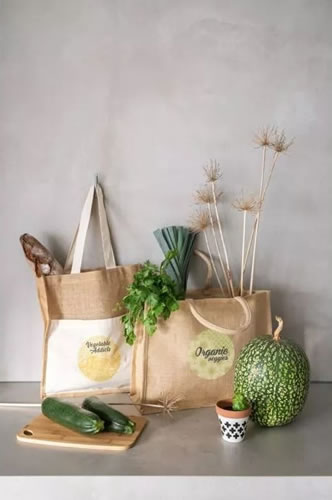 Like all types of printed tote bags, they limit the consumption of plastic. Of this reason, they are a sustainable choice from the outset. Besides, they are very impactful as promotional products because they are practical. Who already uses them never has enough of them. Who still does not have one at home can only be fascinated by them. Especially if they are models of notable charm, as in the case of personalised canvas tote bags.
Printed Jute Bags as Promotional Products: The Useful, Sustainable and Charming Tote Bags!
Personalised jute shopping bags are both green and attractive. Also, we should not forget their incredible versatility. You can use them to go shopping or during your days at the beach. In short, these types of bags have a very high potential in terms of use and display of the logo. A digital or screen print will transform each lettering and image applied on your personalised jute bags into elements of great appeal.
These techniques can give maximum prominence to your logo. A sharp contrast will catch every gaze in an instant, while a sober customisation will make your printed jute bags look refined. The choice depends on the effect you want to achieve and the character of the company. Creating promotional products which are consistent with the brand image is essential for the success of the advertising campaign. It presents you as reliable and attentive to detail.
It is worth noting that the bags made of jute look charming and original even without being customised. They are surprisingly durable and able to hold any object as well. The remarkable versatility as well as the aesthetic rendering of these models is to be attributed to the material in which they are made.
A Material with a Thousand Potentialities: Jute and Its Extraordinary Properties
Jute is not only a 100% natural fibre, but one of the most widely used in the industry as well. Just like printed cotton bags, models made with this material are the best for those who want to go for a sustainable lifestyle. A company that distributes them will show that it cares about the environmental cause and is committed to offering its customers the best solution for the planet. Also, this material is entirely biodegradable and recyclable.
In general, jute is very similar to hemp. This latter too is increasingly used in the manufacture of products. We see it for instance in the case of custom hemp tote bags. As those made of jute, these models are perfect if you want to create an original and sustainable corporate gift. Moreover, being fully natural, jute is safe for health. This together with its typical high breathability make jute bags the best option for food products – along with printed paper bags. However, personalised jute bags can be used for way more purposes than just as shopping bags. Thanks to the different properties of the material, these corporate gifts are passe-partout for every occasion.
Among others, the jute stands out for its resistance, which makes these bags perfect for holding any type of object. From an aesthetic point of view, the rendering is by all means original. The main feature is that its fibres are rough. The basic colour can range from white to beige and it results in a rustic appearance. At the same time, however, it is quite easy to match, no matter the outfit. For this reason, personalised jute bags are very popular on the beach. The combination of resistance and looks make them outstanding items for a relaxing day.
Printed Jute Bags: How to Get Promotional Products with All the Trimmings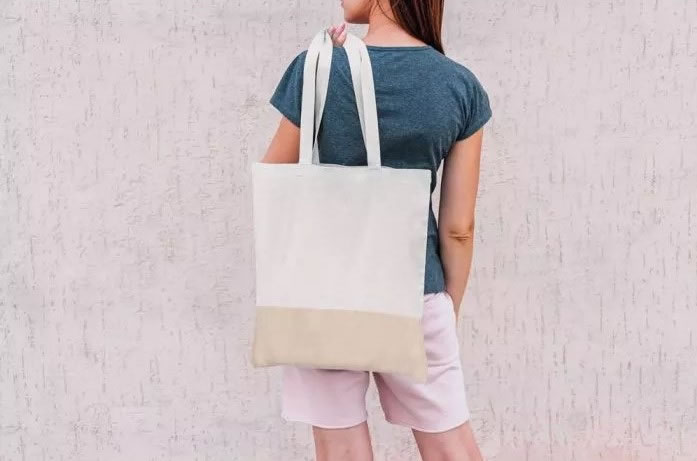 Overall, jute bags have enormous potential as corporate gifts. As we have said, they are versatile because of the many ways in which they can be employed and for how they look. They offer a large printing surface as well. You can create jute bags with your logo only, which is essential to leave your mark. Besides that, however, you can apply a slogan as well. Adding a sentence or a phrase is a way to communicate the core business of the company in a more incisive way. However, it can also be a strategy to make the corporate gifts consistent with the event at which they will be distributed.
Before customisation, you have to choose the model. The design determines how your personalised jute bags will be used. Apart from it, you will have an advantage that all printed tote bags share. They can be easily matched with other promotional products. This way you can offer multiple accessories in one go. The result will be to ensure your company maximum visibility. This is mainly due to two reasons. On the one hand, you will stand out for such an original idea. On the other, your logo will be frequently exposed to the eyes of the public.
First Steps in the Creation of Your Personalised Jute Bags: Choosing the Model, the Shape and the Size
Summarising, printing jute bags with your logo will give birth to an original corporate gift. However, choosing the right model is essential, as it will allow you to offer the recipient the best gift. Although they all have an unparalleled look, each type of personalised jute bags has a specific shape and size. In particular, on our website you will find:
Long personalised jute shopping bags, which are ideal for carrying bottles or for the groceries;
Large printed jute bags. These models are the most suitable to go to the beach. The shape lends itself to containing towels, water bottles, books. In short, everything you need for a relaxing day at the seaside. For this reason, they are the number-one personalised beach bags;
Different models with a side pocket, suitable to hold all the accessories you want to keep at hand, such as mobile phone and sunglasses. If your personalised jute bags are used as beach bags, this little extra will prove to be extremely useful. It helps to keep delicate objects away from towels, protecting them from any residues of sand.
Your choice must take into account the handles as well. They differ in length and thickness. You may go for personalised jute shopping bags with short, sturdy handles if you think they will be carried by hand.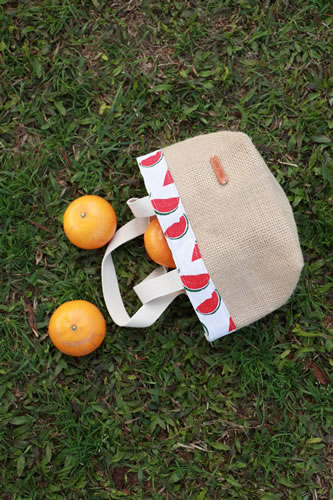 If, on the other hand, you prefer shoulder strap models, you will find handles wide enough to be resistant and comfortable to carry.
Create a Complete Gift with Personalised Jute Bags: How to Pair Them for a Special Treat
There are several ways to place branded jute bags within an advertising campaign. Besides being exceptional promotional products in themselves, they can be given away together with other corporate gifts to create a unique item. For instance, you can emphasise your environmentalist policy by distributing them with personalised water bottles. Another idea is to insert printed eco-friendly notebooks, which your customers or employees can use at any time.
You can come up with a kit for the beach as well. All you have to do is to stick printed beach items into your branded jute bags. The most classic example is that of personalised beach towels. Still, this is not the only option. You can offer a stylish accessory to complete the outfit as well, such as a pair of custom sunglasses. Whatever the extra object, this is a very smart marketing move. Most of all, because each of these products can be used on its own as well. So, you will have two advantages. On the one hand, such a complete gift will present you as meticulous, attentive to the needs of your customers and willing to look for the best offer for them. On the other, your logo will be widely displayed, both when your corporate gifts are used together and alone.
In conclusion, printed jute bags with your logo will be original and winning promotional products. Those who receive them will find incredibly useful and versatile items in them, as well as accessories with a distinct style. Your brand may distribute them at an event, give them to customers as freebies, or offer them to employees as corporate gifts. Besides, by crafting personalised jute bags with writing, you will make the most of the printing area. If you add other accessories inside of it, you can create complete corporate gifts. Whichever way you decide to use them, branded jute bags will best sponsor your company, not least thanks to their uniqueness.
Did you like this content? Click here to download it. 
Promotional jute bags with your printed logo are a thought that lasts over time, a memory that every person who interacts with your company carries with them, a promotional item that, using it, will unknowingly advertise your brand. Promotional jute bags are among the most popular customizable promotional items on the market, maybe because they are easy to use and indispensable in everyday life. If you imagine them with your communication message imprinted, it is sure to be a hit. In our collection you will see a wide range of promotional jute bags, available in different colours and prices. Choose from if what you prefer; each object can be customized with your logo or your slogan.
Where can I found all the information on promotional jute bags?
Information about jute bags such as quantities availability in stock, printing variables, prices, exact sizes of the items are visible on the relevant page dedicated to the product. It is possible to create customized estimates and graphic drafts in total autonomy by clicking on the two red buttons clearly visible on the page. If you need more information about resistant tote bags, we are always available via chat, email, phone.
How can I see my logo on promotional jute bags before the order?
When you buy personalized items such as jute bags, resistant tote bags or natural shopper bags with your logo, it is normal that you ask yourself in advance how the final result will be. With HiGift you will be able to have a vision of how your promotional items with a logo will be created, and this before purchasing. Go to the product sheet of the item you have chosen in jute bags and click on the red button try your logo. You can save your graphic draft in your personal area or download it and you will realize promotional jute bags you are purchasing. Please note that this will only be your graphic proof and that the professional print proof will be provided by us in the 24 hours following your order.
How can I calculate an estimate for promotional jute bags?
Do you know that on HiGift it is quick and easy to obtain an ad hoc quote? If you are in the promotional jute bags category and you are therefore interested in this type of personalized items, just choose from the preview images the article that best suits your promotion. At this point, enter the product sheet and click on the appropriate red button. A pop-up will open and you just need to follow all the instructions given there. You need to know how many personalised jute bags you want, your favorite color, if you want them customized and how many colors your logo has. In a few clicks you will have your quote and you can download it or save it in your account. If, on the other hand, you are interested in purchasing multiple types of jute bags, resistant tote bags o natural shopper bags and want to have an overall estimate of several promotional items, just go to the cart. There too you will find the possibility to download your quote.
Can I obtain some discounts with the purchase of promotional jute bags?
If you are looking for personalized cheap jute bags , here you are in the right place. In fact, on HiGift you can find different ways to save on your corporate gifts such as jute bags, resistant tote bags or natural shopper bags. Also if you buy a small quantity of jute bags, you can save on the cost each, which decreases as quantities increase. Furthermore, by registering on our site you will participate in the HiGift Circle loyalty program which will allow you to obtain increasingly exclusive benefits as you climb your status. How to get to be a Platinum customer? Just buy your corporate gifts from us, so, once you have reached a certain spending threshold, you can scale from Bronze to Silver up to Gold and finally Platinum to get, among other advantages, an important discount on the purchase of all the promotional items present on the site. Finally, if you want to stay updated on discounts and promotions that can include jute bags, resistant tote bags o natural shopper bags, subscribe to our newsletter, you will receive it monthly and will always contain news on discounts and benefits for you.
Corporate Gifts have multiple benefits for businesses. They can be part of corporate merchandising, a promotional and advertising tool for customers, and also a gift for employees during holidays, anniversaries or corporate anniversaries. They are useful tools to leave a memory of the brand during events, fairs, promotions to potential customers. Promotional items customized with your logo, if chosen carefully with respect to the communication message you want to convey, undoubtedly create added value to your brand.
Promotional Jute bags - FREQUENT QUESTIONS
Jute bags are very popular in recent times, this is because jute or jute is considered an sustainable material. In fact, jute is a vegetable tissue obtained from the macerated bark of some plants, such as Corchorus, grown in eastern countries such as India, Bangladesh, Nepal, China and even Uzbekistan. In addition to being eco-friendly, jute has many other characteristics, such as biodegradability, which makes it an excellent alternative to plastic. If these were not enough reasons to choose personalized jute shoppers, we list 3 other reasons why you should evaluate the purchase:
Antistatic and insulating properties: it may seem trivial, but it is not at all. If you give away promotional jute bags know that they are excellent summer promotional item because they will protect any object they contain from thermal conductivity and therefore also from heat, heat and sun.
High perceived value: Jute bags, given their rigidity and thickness, as well as the possibility of mixing them with bamboo and cotton handles, communicate a high material value. Associate them with your brand not can only help you communicate great messages.
Flexibility: jute bags and shoppers are flexible promotional items because they adapt to different weights, capacities and styles.
The jute bags are very beautiful even without customization, but with your graphics they will look even more beautiful and of course advertisable. Making an eye-catching graphic print is the only way to see your gift being used by your customers. We strongly advise you to analyze your logo before deciding which personalization technique is best for you. Jute shoppers are usually customized through transfer and screen printing. Here, below we explain, briefly, what they are:
Screen printing: one of the oldest and most popular techniques in the world of personalized promotional items. It consists in transferring the color through the use of a stretched and tied fabric within a wooden frame. Then, the color is spread through a kind of spatula called recla. This technology offers very high precision while respecting the original colors.
Transfer: it is ideal for all those objects that cannot be screen printed due to their size or shape. With this technique, the logo is printed on a special paper and then transferred and fixed on the product with a high temperature press.
Verifying every detail is important. It is therefore normal to buy Promotional Jute bags without having touched them can block your purchase process. For this on HiGift it is possible to receive a sample before ordering the entire quantity of the Jute bags. The procedure is very simple: just click on the red button calculate your quote and buy and enter 1 in the desired quantity. Then need to click on confirm order to proceed to purchase the sample without the desired print, after registering on our site or logging in if you are already a customer. In many cases it is also possible to customize the sample with your own logo, in order to be able to see the finished promotional product. Just choose the personalization on the calculator and that's it. To find out the cost of the neutral sample, go to the price summary that you see in the product sheets of Jute bagsand you will find it highlighted. In case the timing does not allow you to wait for the receipt of the sample to place the order, write to our customer service, we will be happy to help you with information or photos of the selected product.
You can order your
promotional jute bags
quickly by following these steps:
If you are not already our customer, sign in on HiGift or log into your account.
Choose the promotional item you prefer and, once you have entered the product sheet, click on the appropriate red button calculate your quote and buy.
Enter the quantity and possibly the color of jute bags, choose the type printing and follow the steps indicated until you have the final quote.
Click on confirm order to proceed with the purchase.
When ordering, you can upload your logo, or do it later in your personal area within the relevant order. Our staff will proceed to make you a free print draft to show you the
promotional jute bags with your logo
.
For more information click here
.
After your approval, we will proceed with production and you will receive Jute bags in 15-17 days. If, on the other hand, you have purchased jute bags without any customization, you will receive the goods in 3-4 days.
If you want to know more about delivery time, visit this page
. For more information on placing orders visit the section
how to order
. If you have doubts about payments, visit the section
payments