Custom Cotton bags
Custom Cotton bags: comfortable, funny and ecological!
Below more details on
Give your brand a 100% green face with printed cotton bags!
What happens when you combine an item designed to replace plastic with the eco material par excellence?
Companies still entrust one of their most important tasks to printed cotton bags. That is, to promote the brand. To have achieved this popularity, they must certainly have been very effective in hitting the goal. Not only that. They keep on doing so taking no step back from other promotional products. What is their secret?
Printed cotton bags and the public: an item in high demand
Personalised tote bags are the perfect ally for any company, store or brand. Everyone needs a bag in which to store their accessories. For this reason, customers and employees will be happy to receive one as a gift. Nowadays, we are constantly looking for green alternatives that help us in the fight to save the planet.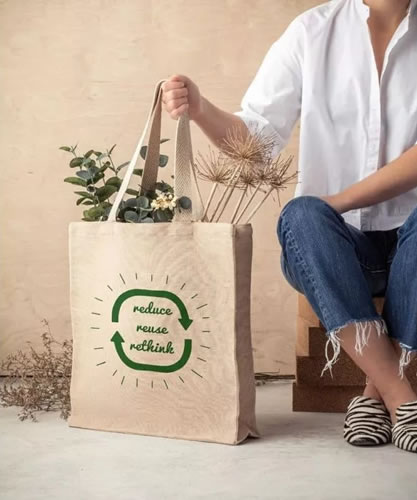 This only contributes to making the personalised shopping bag the item that everyone wants.
Moreover, it is very unlikely to lose popularity in the coming years. This makes it a perfect promotional product, because it will keep up with the times even after a long period. Last but not least, as it won't go out of fashion, it will be used and appreciated by those who wear it and by those around them. The tendency to use a custom shopping bag is constantly growing. You may prefer the classic ones made of cotton or rather go for promotional eco-friendly tote bags – which are made with recycled materials. Someone may have an interest in custom polyester bags. In any case, it is likely that they will advertise your brand not only in a durable way, but with an increasing effect as well. This is due to the fact that your corporate gift will respond to the growing interest of the audience.
Printed cotton tote bags: twice eco-friendly, twice a success!
The custom shopping bag is the symbol of the fight against climate change. It's a practical way of tackling plastic pollution and educating consumers to a different ethic than the disposable use. So, branded paper bags and tote bags convey a very strong message. While this is valid for every type of shopping bag, it is certainly true for printed cotton tote bags.
To answer the question at the beginning, creating an eco-friendly item with a natural material gives life to a doubly sustainable product. By choosing a printed cotton tote bag, you will emphasise how much you care about the environmental cause and show that you are ready to commit to remedy. Having your mind focused on your work but looking at the outside world in the meantime is of utter importance for a brand. It is decisive in the way the audience perceives it, because consumers will get attached to you only if you touch them emotionally. What better way than to contribute to an issue that affects everyone and to invite consumers to be a part of it?
Why are they so popular? Simple corporate gifts with a thousand resources
The reasons why a company or store may choose a printed cotton bag are several. There are other bags made with natural fibres, such as custom hemp tote bags and personalised jute shopping bags. These models are more refined, suitable for a company that wants to amaze and show innovation. Printed cotton bags, in general, are characterised by a widespread material, a simple appearance and an excellent value for money.
Cotton: a guarantee of quality
The material is of the highest importance when you are choosing your promotional products. It determines their qualities and appearance, affecting the printing techniques that can be applied as well. Cotton is a guarantee. Natural fibre par excellence, it has been used since ancient times to craft clothing, towels, hats and other accessories.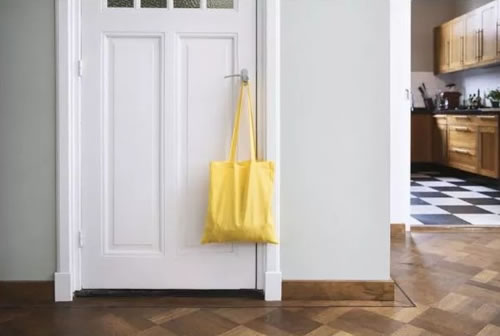 Its gentle touch on the skin makes it one of the most coveted materials. Cotton gives security, because it is lightweight and ensures quality. Plus, it's hypoallergenic – which makes it perfect for kids as well. Winning the hearts of children means earning their parents' trust. A printed cotton bag in their hands can advertise your company in a brilliant way.
Cotton bags: simple corporate gifts waiting for your customisation
Cotton – besides being a safe and always appreciated choice – gives the shopping bag a simple and soft appearance. Printed cotton bags are perfect for any type of target, because their delicacy makes them suitable for any situation and a great match for the most varied looks. The design is more basic than, for instance, that of personalised canvas tote bags. However, you should not see it as a limit at all. On the contrary, it offers endless possibilities of customisation. You can choose a linear and clean print, which will be in line with the background, or to embroider it, so as to make it more elegant. But you can also venture a more detailed graphic and bright colours, which will stand out against the white background of the tote bags. Some printed cotton bags are colourful. They combine the lightness of the material with the expressive force of the colour.
Simply put, the world of printed cotton bags is waiting to be explored. Although they are simple and very common, these models can be customised in any way to achieve the effect you wish. For this reason, each company can choose these personalised tote bags. They will always have a more than positive feedback.
Give Away Printed Cotton Bags: Some Tips on How To Make The Most Of Them
You have chosen your printed cotton bags, but when is it best to give them away? There are many options. Printed cotton tote bags are always useful and can be given both alone and together with other corporate gifts – a quality not to be underestimated.
Shopping Bags for Purchases: When to Give Away Printed Cotton Bags to Your Customers
Stores are perhaps the number-one fans of personalised tote bags when it comes to promotional products. Giving customers your branded shopping bags when they purchase a product is a winning strategy from every point of view. They have one more quality than those that make the tote bag a high-level promotional product. They are used immediately. So, the customer will be able to ascertain its effectiveness as soon as received. Printed cotton bags lend themselves very well to this type of use both for their simple look and for their excellent value for money.
Another perfect context to give printed cotton tote bags is at fairs. A brand can distribute them in addition to the products sold, or as a corporate gift to offer to visitors. The latter can use them during the event or store them in the bag.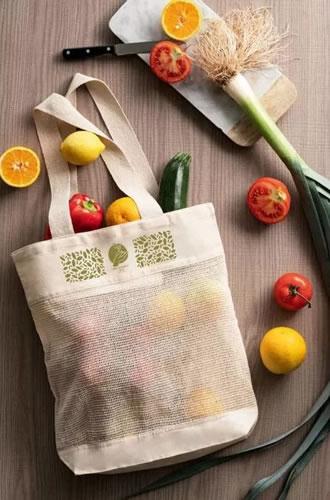 In this case, it can be a good idea to focus on a special model, one which has an extra touch to it. It's the ideal opportunity to give free personalised folding shopping bags, which can become very small. As they do not take up much space, customers will certainly appreciate these corporate gifts for their comfort.
Printed Cotton Bags and Other Promotional Products: Ideas for All-Green Corporate Gifts
An original idea for fairs and events is to craft complete gift packages. Printed cotton bags are very helpful in this case. Thanks to their capacity and low cost, they can be combined with other promotional products to create a unique corporate gift. Cotton tote bags can contain any type of accessory. However, by choosing promotional eco-friendly products, you will give an image of coherence and convey your green initiative with even greater force.
For instance, you can put in your printed cotton tote bags:
The idea of a complete gift is perfect for your employees, too. Completing the corporate gift with a printed cotton tote bag will make it easy to carry, as well as offering two promotional products in one move.
Did you like this content? Click here to download it.
Custom cotton bags with your printed logo are a thought that lasts over time, a memory that every person who interacts with your company carries with them, a promotional item that, using it, will unknowingly advertise your brand. Custom cotton bags are among the most popular customizable promotional items on the market, maybe because they are easy to use and indispensable in everyday life. If you imagine them with your communication message imprinted, it is sure to be a hit. On this page you will find more than one type of custom cotton bags, so that you can choose the promotional item that best suits your brand or your communication with object, based on price, colour, size, shape.
Where can I found all the information on custom cotton bags?
All information about cotton bags is reported in the product sheet of each items. Therefore, the quantities available in stock, the colours, the prices, the types of printing are always visible and updated in real time. To get a personalized quote or a pre-view of how the printed natural material shoppers with your logo could look, just click on the buttons available on the item page. For any further information do not hesitate to contact us!
How can I see my logo on custom cotton bags before the order?
When you buy personalized items such as cotton bags, natural material shoppers or eco tote bags with your logo, it is normal that you ask yourself in advance how the final result will be. With HiGift you will be able to have a vision of how your promotional items with a logo will be created, and this before purchasing. Go to the product sheet of the item you have chosen in cotton bags and click on the red button try your logo. You can save your graphic draft in your personal area or download it and you will realize custom cotton bags you are purchasing. Please note that this will only be your graphic proof and that the professional print proof will be provided by us in the 24 hours following your order.
How can I calculate an estimate for custom cotton bags?
On HiGift you can make, download and save all the estimates you need in your personal area! You are now on custom cotton bags category, select your favorite customizable item and, once inside the product sheet, click on get your price and buy. Just enter the quantity, the color of cotton bags, the type of customization you require based on the characteristics of your logo. In a few clicks you will be able to get your quote. At this point you can download it or save it in your personal area. If you want to revise the quote, just go back by clicking on the appropriate button. If you add various products such as cotton bags, natural material shoppers or eco tote bags to your cart, you will also be able to download or save the overall estimate of all your promotional items before checking out. In this way you can do all the tests you want with your favorite corporate gifts!
Can I obtain some discounts with the purchase of custom cotton bags?
If you are looking for personalized cheap cotton bags , here you are in the right place. In fact, on HiGift you can find different ways to save on your corporate gifts such as cotton bags, natural material shoppers or eco tote bags. Also if you buy a small quantity of cotton bags, you can save on the cost each, which decreases as quantities increase. Furthermore, by registering on our site you will participate in the HiGift Circle loyalty program which will allow you to obtain increasingly exclusive benefits as you climb your status. How to get to be a Platinum customer? Just buy your corporate gifts from us, so, once you have reached a certain spending threshold, you can scale from Bronze to Silver up to Gold and finally Platinum to get, among other advantages, an important discount on the purchase of all the promotional items present on the site. Finally, if you want to stay updated on discounts and promotions that can include cotton bags, natural material shoppers o eco tote bags, subscribe to our newsletter, you will receive it monthly and will always contain news on discounts and benefits for you.
Branded Merchandise have multiple benefits for businesses. They can be part of corporate merchandising, a promotional and advertising tool for customers, and also a gift for employees during holidays, anniversaries or corporate anniversaries. They are useful tools to leave a memory of the brand during events, fairs, promotions to potential customers. Promotional items customized with your logo, if chosen carefully with respect to the communication message you want to convey, undoubtedly create added value to your brand.
Custom Cotton bags - FREQUENT QUESTIONS
Custom bags are a promotional items widely used by shops, bookstores, companies work in the field of wellness, also by associations, non-profit companies and institutional bodies.
People who received custom shopping bags appreciate and carry them because they are useful and saving for the environment.
Personalized shopping bags have had an incredible expansion in recent years, thanks to many non-profit organizations that wanted to promote them as alternatives to harmful plastic bags.
Shopper bags can become a real cult for those who decide to use them consistently and branded with their own image:
- Economic;
- Eco-firendly;
- Foldable and therefore take up little space and above all creative.

HiGift offers a wide range of personalized shopping bags that vary in shape, material and color.
They can be chosen in different colors, in different sizes and materials:
- In jute and in sustainable fabrics;
- In cotton bags, foldable shoppers, tote and eco-friendly bags.
We advise you to always choose the company gadget in line with your core business and your marketing communication, considering the various possibilities for customization: from the classic designs to the most fancy ones.
In fact, choosing corporate promotional items is not only a good way to make advertising, it helps to boost your brand awareness.

Verifying every detail is important. It is therefore normal to buy Custom Cotton bags without having touched them can block your purchase process. For this on HiGift it is possible to receive a sample before ordering the entire quantity of the Cotton bags. The procedure is very simple: just click on the red button calculate your quote and buy and enter 1 in the desired quantity. Then need to click on confirm order to proceed to purchase the sample without the desired print, after registering on our site or logging in if you are already a customer. In many cases it is also possible to customize the sample with your own logo, in order to be able to see the finished promotional product. Just choose the personalization on the calculator and that's it. To find out the cost of the neutral sample, go to the price summary that you see in the product sheets of Cotton bagsand you will find it highlighted. In case the timing does not allow you to wait for the receipt of the sample to place the order, write to our customer service, we will be happy to help you with information or photos of the selected product.
You can order your
custom cotton bags
quickly by following these steps:
If you are not already our customer, sign in on HiGift or log into your account.
Choose the promotional item you prefer and, once you have entered the product sheet, click on the appropriate red button calculate your quote and buy.
Enter the quantity and possibly the color of cotton bags, choose the type printing and follow the steps indicated until you have the final quote.
Click on confirm order to proceed with the purchase.
When ordering, you can upload your logo, or do it later in your personal area within the relevant order. Our staff will proceed to make you a free print draft to show you the
custom cotton bags with your logo
.
For more information click here
.
After your approval, we will proceed with production and you will receive Cotton bags in 15-17 days. If, on the other hand, you have purchased cotton bags without any customization, you will receive the goods in 3-4 days.
If you want to know more about delivery time, visit this page
. For more information on placing orders visit the section
how to order
. If you have doubts about payments, visit the section
payments