Promotional Foldable shopper bags
Promotional Foldable shopper bags: for a comfortable and waste spending!
Discover more details on
Personalised Folding Shopping Bags: The Always-at-Hand Corporate Gifts for a Green Lifestyle!
The eco-friendly attitude is in constant growth in every sector of the market. From the fashion to the high-tech world, brands have been looking for more sustainable pathways. In all this, the world of corporate gifts and promotional products has not been twiddling its thumbs. On the contrary, there are several green offers available. Take for instance personalised wooden pens or custom eco gadgets. No matter the field, these accessories are hitting higher numbers in terms of demand.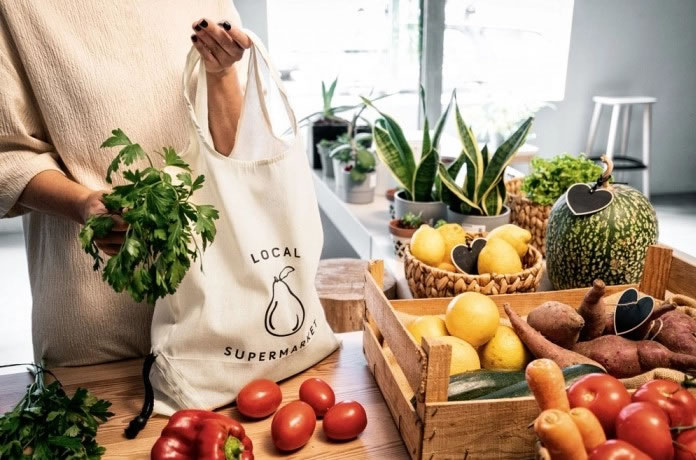 Some corporate gifts are eco-friendly at the outset. That is to say, in their standard version. That is the case with personalised shopping bags, which have soon slipped in our homes to replace disposable plastic bags. A similar example is that of personalised water bottles. They can be used instead of single-use bottles. In both cases, these objects not only offer concrete help in reducing pollution and environmental impact. Beside that, they are often even more comfortable than disposable versions.
Practicality is one of the aspects you should take into account when you think of promotional products to offer to your customers or of corporate gifts for your employees. If an item is remarkably easy to use, it is likely to become the favourite one of those who receive it. This quality is particularly accentuated in the case of personalised fold-away shopping bags.
A Bag Always at Your Fingertips: Personalised Folding Shopping Bags and How Convenient They Are
Custom foldable reusable bags are unparalleled space savers. With your logo, your name or a phrase representative of the brand, you can secure a place in the bag – and in the lives – of the lucky recipient of your corporate gifts. Accessories with this type of functionality always arouse curiosity. And this for very good reasons. They are so advantageous that they become necessary once you get used to them. This is the case with some types of personalised sports bottles. These special models can be folded and stored comfortably in a pocket or inside the backpack.
Promotional foldable shopper bags use the same mechanism. Thanks to it, they can be placed in the bag taking up a negligible space. With the help of an elastic band or a button, you will be able to reduce their size until they become tiny. Needless to say, these bags are perfect to be carried everywhere and on any occasion. They are the ideal accessory when you decide to go to the grocery store on your way back from work, from an event or from a friend's place.
The Benefits of Small Corporate Gifts: From Pens to Keyrings, They Are the Most Comfortable Solutions Ever!
Small accessories are a sure hit when it comes to comfort. Not taking up much space, they can always be taken with you. It is no coincidence that smallness is one of the qualities which many of the most loved promotional products share. We find it in branded pens and custom keyrings and, for high-tech-lovers, in personalised USB sticks.
Small-sized corporate gifts, besides fitting in any pocket or corner of the bag, are easy to handle and lightweight. For this reason, not only do they not take up much space, but they also do not affect the weight to be carried.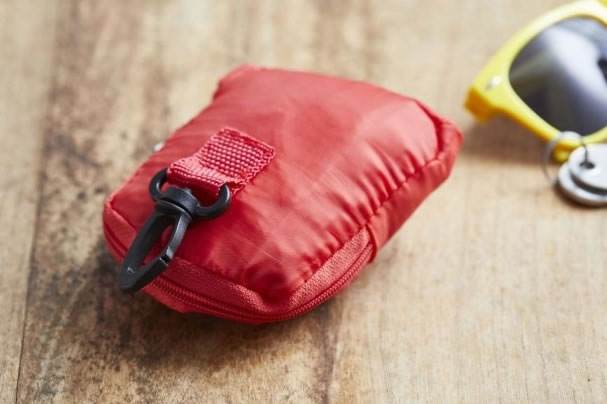 Your customer will hardly choose not to take your personalised fold-up shopping bag because it is heavy and not quite functional. On the contrary, they will probably always keep it in their bag or car to use it when they have the chance for it.
Reduce Waste with Personalised Folding Shopping Bags: Comfort Goes Green!
Foldability is no doubt a great comfort for those who use your promotional folding shopping bags. Beside that, however, it also makes them doubly eco-friendly corporate gifts. Tote bags are in themselves a symbol of the fight against plastic consumption. You only have to take one before leaving the house to shop in a sustainable way. Sometimes, however, we can forget to put this precious accessory in our bag. This can happen more frequently than we would expect, since we are often in a hurry and caught up in our thoughts. So what is with our groceries?
In most cases, we ask for a disposable bag at the check-out. But how uncomfortable it is to carry all that weight home! And how we would like our printed tote bag there with us. It would make everything easier. Personalised folding shopping bags are outstandingly beneficial precisely because they can always be left in the bag. They will never bother you there. So, even if your customers have not thought of stopping at the grocery store, they will have your promotional folding shopper bags at their hands. They will then be able to use them if they need. And, in doing so, they will spread your logo in any supermarket. Plus, they will do it in an all-round green way.
Personalised Folding Shopping Bags as Promotional Products: Convenient and Sustainable to Inspire Confidence
Functionality and sustainability are two key words to describe promotional folding shopper bags. These qualities are highly appreciated in the world of corporate gifts. The reason for this is that they show the company's care at once for the customer and for the environment. As a result, they both guarantee a meaningful advertising impact, because they present the brand as reliable and serious.
Another factor has an influence on the promotional effect of personalised folding shopping bags, and indeed increases it. We are talking about the aesthetic rendering. Available in various materials and designs, promotional folding shopping bags can be of various colours or look neutral and sober. In any case, they feature a large printing area. On this, you can apply your logo, your name and – if you wish – other decorative and representative elements of the company. A sentence can be incisive and best convey the core business and philosophy of the brand. An image can be the right choice to arouse positive feelings and attract the look of the most curious eyes.
Personalised Fold-Away Shopping Bags: Choosing the Model and Customising It
The first step to take when you want to turn folding shopper bags into successful personalised corporate gifts and promotional products consists in the choice of the model. As for the material, in our catalogue you will find: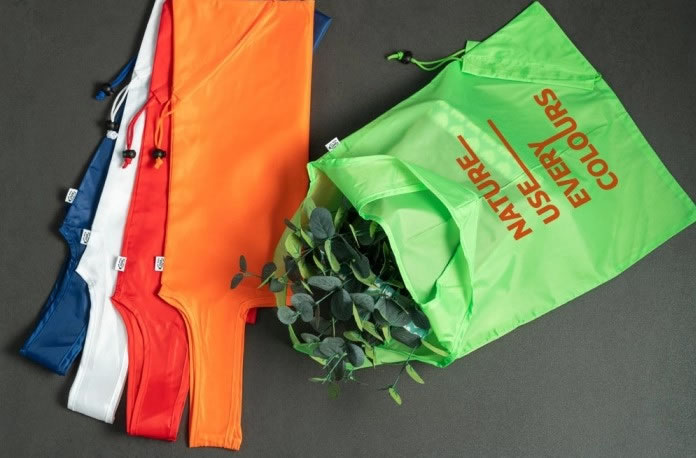 Some personalised folding shopping bags take on cute and fun shapes once they are closed. These are perfect promotional products to arouse joy and establish a close relationship with the customers. A brand that gives away funny corporate gifts will seem easier to approach and certainly not boring. On the other hand, a company that targets an audience of professionals or with refined tastes will have to focus on a more sober effect. Only so will it be able to meet the approval of its clients.
Arousing positive feelings is one of the secrets to getting the most out of your corporate gifts and, in general, of your company image. If they associate your logo with a feeling of peace or joy, customers will be encouraged to come back to you. Knowing your target and creating ad hoc promotional products is then of utter importance. Promotional folding shopper bags can be turned into handy or classy corporate gifts. The end result depends on the model you choose and the print you intend to make. The recipients will not be able to help but notice their practicality. Besides, if customised so as to meet their tastes, they will certainly use your personalised folding shopping bags to make their purchases at any time of the day.
Did you like this content? Click here to download it.
The success in giving promotional foldable shopper bags does not only lie in choosing the right type, but also in devising a particular design or message that most strikes the attention of those who receive the gift, and also accompanying it with your logo. Promotional foldable shopper bags are among the most popular corporate gifts; they help to give visibility, personality and uniqueness to your brand. A useful, classic gift that is renewed to keep up with the times! On this page you will find more than one type of promotional foldable shopper bags, so that you can choose the promotional item that best suits your brand or your communication with object, based on price, colour, size, shape.
Where can I found all the information on promotional foldable shopper bags?
Information about foldable shopper bags such as quantities availability in stock, printing variables, prices, exact sizes of the items are visible on the relevant page dedicated to the product. It is possible to create customized estimates and graphic drafts in total autonomy by clicking on the two red buttons clearly visible on the page. If you need more information about pocket shopping bags, we are always available via chat, email, phone.
How can I see my logo on promotional foldable shopper bags before the order?
When you buy personalized items such as foldable shopper bags, polyester shoppers or pocket shopping bags with your logo, it is normal that you ask yourself in advance how the final result will be. With HiGift you will be able to have a vision of how your promotional items with a logo will be created, and this before purchasing. Go to the product sheet of the item you have chosen in foldable shopper bags and click on the red button try your logo. You can save your graphic draft in your personal area or download it and you will realize promotional foldable shopper bags you are purchasing. Please note that this will only be your graphic proof and that the professional print proof will be provided by us in the 24 hours following your order.
How can I calculate an estimate for promotional foldable shopper bags?
On HiGift you can make, download and save all the estimates you need in your personal area! You are now on promotional foldable shopper bags category, select your favorite customizable item and, once inside the product sheet, click on get your price and buy. Just enter the quantity, the color of foldable shopper bags, the type of customization you require based on the characteristics of your logo. In a few clicks you will be able to get your quote. At this point you can download it or save it in your personal area. If you want to revise the quote, just go back by clicking on the appropriate button. If you add various products such as foldable shopper bags, polyester shoppers or pocket shopping bags to your cart, you will also be able to download or save the overall estimate of all your promotional items before checking out. In this way you can do all the tests you want with your favorite corporate gifts!
Can I obtain some discounts with the purchase of promotional foldable shopper bags?
If you are looking for personalized cheap foldable shopper bags , here you are in the right place. In fact, on HiGift you can find different ways to save on your corporate gifts such as foldable shopper bags, polyester shoppers or pocket shopping bags. Also if you buy a small quantity of foldable shopper bags, you can save on the cost each, which decreases as quantities increase. Furthermore, by registering on our site you will participate in the HiGift Circle loyalty program which will allow you to obtain increasingly exclusive benefits as you climb your status. How to get to be a Platinum customer? Just buy your corporate gifts from us, so, once you have reached a certain spending threshold, you can scale from Bronze to Silver up to Gold and finally Platinum to get, among other advantages, an important discount on the purchase of all the promotional items present on the site. Finally, if you want to stay updated on discounts and promotions that can include foldable shopper bags, polyester shoppers o pocket shopping bags, subscribe to our newsletter, you will receive it monthly and will always contain news on discounts and benefits for you.
Corporate Gifts have multiple benefits for businesses. They can be part of corporate merchandising, a promotional and advertising tool for customers, and also a gift for employees during holidays, anniversaries or corporate anniversaries. They are useful tools to leave a memory of the brand during events, fairs, promotions to potential customers. Promotional items customized with your logo, if chosen carefully with respect to the communication message you want to convey, undoubtedly create added value to your brand.
Promotional Foldable shopper bags - FREQUENT QUESTIONS
Custom bags are a promotional items widely used by shops, bookstores, companies work in the field of wellness, also by associations, non-profit companies and institutional bodies.
People who received custom shopping bags appreciate and carry them because they are useful and saving for the environment.
Personalized shopping bags have had an incredible expansion in recent years, thanks to many non-profit organizations that wanted to promote them as alternatives to harmful plastic bags.
Shopper bags can become a real cult for those who decide to use them consistently and branded with their own image:
- Economic;
- Eco-firendly;
- Foldable and therefore take up little space and above all creative.

HiGift offers a wide range of personalized shopping bags that vary in shape, material and color.
They can be chosen in different colors, in different sizes and materials:
- In jute and in sustainable fabrics;
- In cotton bags, foldable shoppers, tote and eco-friendly bags.
We advise you to always choose the corporate gist in line with your core business and your marketing communication, considering the various possibilities for customization: from the classic designs to the most fancy ones.
In fact, choosing corporate promotional items is not only a good way to make advertising, it helps to boost your brand awareness.
Verifying every detail is important. It is therefore normal to buy Promotional Foldable shopper bags without having touched them can block your purchase process. For this on HiGift it is possible to receive a sample before ordering the entire quantity of the Foldable shopper bags. The procedure is very simple: just click on the red button calculate your quote and buy and enter 1 in the desired quantity. Then need to click on confirm order to proceed to purchase the sample without the desired print, after registering on our site or logging in if you are already a customer. In many cases it is also possible to customize the sample with your own logo, in order to be able to see the finished promotional product. Just choose the personalization on the calculator and that's it. To find out the cost of the neutral sample, go to the price summary that you see in the product sheets of Foldable shopper bagsand you will find it highlighted. In case the timing does not allow you to wait for the receipt of the sample to place the order, write to our customer service, we will be happy to help you with information or photos of the selected product.
You can order your
promotional foldable shopper bags
quickly by following these steps:
If you are not already our customer, sign in on HiGift or log into your account.
Choose the promotional item you prefer and, once you have entered the product sheet, click on the appropriate red button calculate your quote and buy.
Enter the quantity and possibly the color of foldable shopper bags, choose the type printing and follow the steps indicated until you have the final quote.
Click on confirm order to proceed with the purchase.
When ordering, you can upload your logo, or do it later in your personal area within the relevant order. Our staff will proceed to make you a free print draft to show you the
promotional foldable shopper bags with your logo
.
For more information click here
.
After your approval, we will proceed with production and you will receive Foldable shopper bags in 15-17 days. If, on the other hand, you have purchased foldable shopper bags without any customization, you will receive the goods in 3-4 days.
If you want to know more about delivery time, visit this page
. For more information on placing orders visit the section
how to order
. If you have doubts about payments, visit the section
payments