Custom Pens without ink
Custom Pens without ink: the pens that last forever!
Below more information on
Stop Bleeding (Red) Ink! Find Out Our Custom Inkless Pens to Sponsor Your Brand
Pens are always there. In homes, on office desks, sometimes even in bags and jacket pockets – they are basically everywhere. The reason is very intuitive: having one always at hand is a certainty in many situations. Since they were invented, ballpoint pens have spread more and more.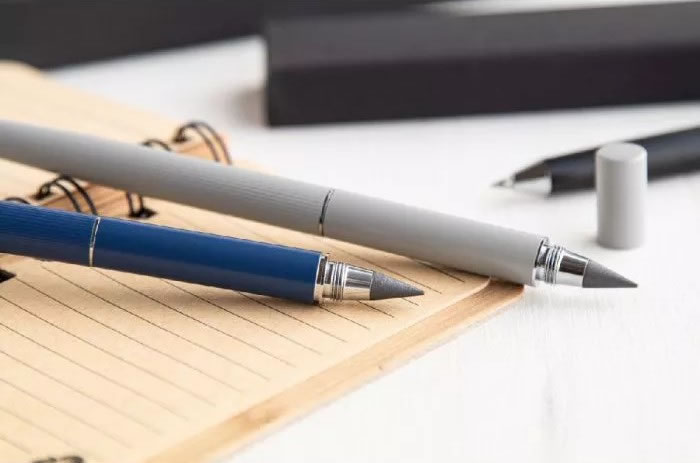 They became objects of common use, but people have not stopped welcoming them. For this reason, personalised pens are never missing in the history of a company's marketing, regardless of the sector in which it operates.
Innovation and research, however, never stop and always try to find alternative ways to make everyday life easier and more comfortable. In addition, in recent years the goal of many scientists has been to invent more sustainable consumption methods, in light of the critical condition of our planet. The world of corporate gifts follows suit, incorporating the newest accessories that can make the difference both in terms of environmental protection and publicity. This is the case with custom inkless pens, a recent invention that can prove to be a great promotional idea for many businesses.
A Brief History of the Pen: From Goose Feather to Ballpoint Pens
Until not too long ago, the pen used to write was nothing more than the goose feather. This had to be suitably treated and then dipped in ink before being laid on paper. This method was used from ancient times until the nineteenth century. Still today, it exerts a typically retro charm. Anyhow, ink has kept on being part of the writing arsenal for a long while. We still needed it when, towards the end of the 1800s, modern ballpoint pens were invented. The stroke of genius was to insert the ink inside of them, so that the writing process was made much smoother as a consequence.
It would then seem that ink is necessary to leave our messages on a piece of paper. But is that really true? In fact, as early as the Middle Ages there were alternative methods of writing that did not include ink. People would use styluses with a silver tip, which could leave a mark on the paper without being dipped in the ink. The newest custom inkless pens simply re-use the same system.
Inkless Pens: What Are the Benefits?
Where did the intention to find ways of writing that did not include the use of ink come from? In other words, what are the benefits of using custom inkless pens?
The first point in favour of this innovative type of pen is that it lasts incredibly long. As it cannot run out of ink or graphite, it can be used forever. This is a remarkable convenience. Indeed, it is a guarantee. Inkless pens will always perform their function at their best and allow those who use them to always have a writing accessory ready to use at hand. Not surprisingly, they are also known as endless pens. If used as corporate gifts, custom inkless pens will not only amaze the recipient, but promote your brand for a very long period of time too. This translates into an exceptional advertising impact, both in terms of quality and quantity.
If you choose to customise endless pens, you will have another advantage as well. That is, you will promote your company as sustainable. As they do not need ink to write, they are promotional eco-friendly writing utensils in all respects.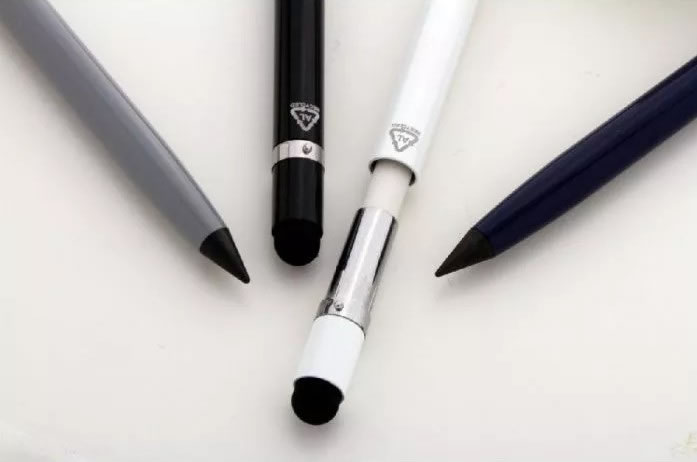 As a result, they will give your brand a green touch. Besides being crucial for the survival of our planet, embracing a sustainable attitude resonates a lot with the public, especially with younger generations. And it is precisely this part of the audience that will particularly appreciate your custom inkless pens, as they are innovative corporate gifts with an attractive appearance.
Inkless Pen: How Does It Work?
Overall, giving up ink seems an idea with several positive aspects. But how can we do without it? As we have anticipated, there has been an alternative for several centuries. Despite its use has gradually gone extinct, nowadays it has taken on a new life thanks to the custom inkless pens. Inspired by ancient models, scientists have created a metal alloy that, just like silver, can leave its mark on paper once it comes into contact with it.
The underlying mechanism is very simple. Passing over the paper, the metal alloy tip activates an oxidation reaction, which colours the paper a darker tint. The spots where the pen has touched the paper will be highlighted and clearly visible. The result is that any message or drawing will be well readable and defined. Overall, the final effect closely resembles the stroke of a regular pencil.
Personalised Inkless Pens as a Brand Sponsor: Tips on How to Choose and Give Them Away
To sum up, custom inkless pens are an innovative and eco-friendly solution, boasting a long history and impressive durability. With your logo engraved, they will be able to put your work reality in a new and certainly positive light. It is an original gift that can be a pleasant surprise for many, especially those who are fond of the world of writing and keep an eye on the latest trends.
Custom Inkless Pen Models: Small Extras and Chic Looks for High-End Promotional Products
A look at the subcategory of personalised inkless pens shows different choices in both model and customisation. As far as the design is concerned, you will find endless pens in the shape of a pencil or of a classic ballpoint pen. Some models stand out for the presence of small extras, others differ for the material of which they are made. So, for instance: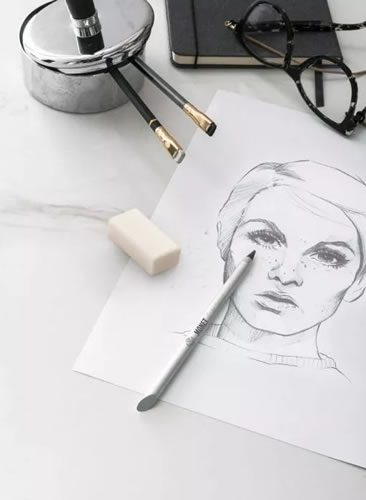 You can choose custom bamboo pens without ink, to emphasise the eco-friendly character of your corporate gifts;
You will notice models made of recycled or sustainable materials, with which you will give all-round printed eco-friendly pens;
If your target is passionate about technology or you own a high-tech company, you can offer promotional touch screen pens;
You will find branded metal pens, perfect for presenting your company as refined and elegant.
You will see branded inkless pens with a cap to protect the tip. As a result, they will be even more durable corporate gifts.
Custom Inkless Pens as Promotional Products: Ideas on How to Distribute Them
Thanks to the versatility and low price typical of personalised pens, it can be a winning idea to create corporate gifts or promotional products by combining multiple items. You can distribute your inkless pens inside custom pen cases. In this case, pay attention to apply a similar print on both items. This is a precious move to suggest a certain consistency and attention to detail. The same is true if you decide to offer endless pens inside personalised pencil cases. You can also add other writing accessories. You may go for branded pencils or personalised wooden pens. You could choose the extra items depending on whether the inkless pen looks more like a pen or pencil.
Finally, the endless pens can be paired with personalised eco notebooks as well. With this combination, you will emphasise your attention to the environmental issue and offer your customers or your team a complete corporate gift ready to use.
In conclusion, there are several ways in which custom inkless pens can become part of your advertising campaign. In any case, they will promote your company in the best way. Useful, durable, elegant and innovative, they are suitable for any type of company. That is, both for those who take their first steps in the market and for those who are looking for new ideas to reach a wide audience. Finally, thanks to the different models available, you can choose the one that best suits your marketing goal. Besides, combining it with other promotional products, you can get the most out of your advertising campaign.
Did you like this content? Click here to download it.
Custom pens without ink with your printed logo are a thought that lasts over time, a memory that every person who interacts with your company carries with them, a promotional item that, using it, will unknowingly advertise your brand. Custom pens without ink are a simple and easy to use objects and this is the added value of the promotion that you will be able to obtain through this kind of promotional item. In our stock you will find both custom pens without ink cheaper to use as personalized gifts, and premium gifts promotional eco-friendly pens that will allow you to exalt yourself from the competition thanks to their unique design and their quality.
Where can I found all the information on custom pens without ink?
Information about pens without ink such as quantities availability in stock, printing variables, prices, exact sizes of the items are visible on the relevant page dedicated to the product. It is possible to create customized estimates and graphic drafts in total autonomy by clicking on the two red buttons clearly visible on the page. If you need more information about sustainable pens, we are always available via chat, email, phone.
How can I see my logo on custom pens without ink before the order?
Custom pens without ink, promotional eco-friendly pens or personalised sustainable pens are perfect to be personalized but...how can I see my pens without ink with my logo before ordering on HiGift? It's very simple, just follow these steps. You are now in the custom pens without ink category, choose your item and, once inside the product sheet, click on try your logo. In this tab you can try your own writing on the personalized item or directly upload your logo and test your promotional article. You can even eliminate the colored background of your logo. Don't worry, your graphic proof is not the official proof that will go into production! That will be provided by us after the order, at the latest within 24 hours.
How can I calculate an estimate for custom pens without ink?
Do you know that on HiGift it is quick and easy to obtain an ad hoc quote? If you are in the custom pens without ink category and you are therefore interested in this type of personalized items, just choose from the preview images the article that best suits your promotion. At this point, enter the product sheet and click on the appropriate red button. A pop-up will open and you just need to follow all the instructions given there. You need to know how many promotional pens without ink you want, your favorite color, if you want them customized and how many colors your logo has. In a few clicks you will have your quote and you can download it or save it in your account. If, on the other hand, you are interested in purchasing multiple types of pens without ink, eco-friendly pens o sustainable pens and want to have an overall estimate of several promotional items, just go to the cart. There too you will find the possibility to download your quote.
Can I obtain some discounts with the purchase of custom pens without ink?
On HiGift there are several ways to buy cheap pens without ink. The first and most obvious: if you buy pens without ink, eco-friendly pens or sustainable pens iin huge number, the price per item will be lower. If you buy the same items in smaller quantities, you will have a higher price each. This detail is clearly visible in the price table on each product sheet: it is often enough to add a minimum quantity of pens without ink to get a better price. Also, if you subscribe to our newsletter you will be updated on the promotions we release every month. That's right, you got it right: you can find promotions on custom pens without ink, that is the articles you are looking for! If you become our customer you will also be able to access the HiGift Circle loyalty program which will allow you to have exclusive benefits by climbing the statuses. That is, more pens without ink, eco-friendly pens or sustainable pens you buy, the sooner you will be able to reach the threshold for your passage of status and obtain increasingly important benefits, discounts included.
Branded Merchandise have multiple benefits for businesses. They can be part of corporate merchandising, a promotional and advertising tool for customers, and also a gift for employees during holidays, anniversaries or corporate anniversaries. They are useful tools to leave a memory of the brand during events, fairs, promotions to potential customers. Promotional items customized with your logo, if chosen carefully with respect to the communication message you want to convey, undoubtedly create added value to your brand.
Custom Pens without ink - FREQUENT QUESTIONS
Verifying every detail is important. It is therefore normal to buy custom pens without ink without having touched them can block your purchase process. For this on HiGift it is possible to receive a sample before ordering the entire quantity of the pens without ink. The procedure is very simple: just click on the red button calculate your quote and buy and enter 1 in the desired quantity. Then need to click on confirm order to proceed to purchase the sample without the desired print, after registering on our site or logging in if you are already a customer. In many cases it is also possible to customize the sample with your own logo, in order to be able to see the finished promotional product. Just choose the personalization on the calculator and that's it. To find out the cost of the neutral sample, go to the price summary that you see in the product sheets of pens without inkand you will find it highlighted. In case the timing does not allow you to wait for the receipt of the sample to place the order, write to our customer service, we will be happy to help you with information or photos of the selected product.
You can order your
custom pens without ink
quickly by following these steps:
If you are not already our customer, sign in on HiGift or log into your account.
Choose the promotional item you prefer and, once you have entered the product sheet, click on the appropriate red button calculate your quote and buy.
Enter the quantity and possibly the color of pens without ink, choose the type printing and follow the steps indicated until you have the final quote.
Click on confirm order to proceed with the purchase.
When ordering, you can upload your logo, or do it later in your personal area within the relevant order. Our staff will proceed to make you a free print draft to show you the
custom pens without ink with your logo
.
For more information click here
.
After your approval, we will proceed with production and you will receive pens without ink in 15-17 days. If, on the other hand, you have purchased pens without ink without any customization, you will receive the goods in 3-4 days.
If you want to know more about delivery time, visit this page
. For more information on placing orders visit the section
how to order
. If you have doubts about payments, visit the section
payments