Custom High-visibility clothing
Custom High-visibility clothing: customize it with the logo of your activity.
Below more information on
Ensure Your Team Maximum Safety with Our Custom Hi-Vis Workwear
Looking for corporate gifts to make your employees feel safe at work? Nothing will make your team feel as protected as high-visibility pants and vests. Our custom hi-vis clothing aims to ensure maximum safety for the wearer during work. For this reason, this workwear is a great way to strengthen your relationship with the team.
There are several garments when it comes to personalised workwear, which are specific to sectors and activities. For instance, we find custom medical clothing, which is specifically designed to ensure the highest degree of hygiene.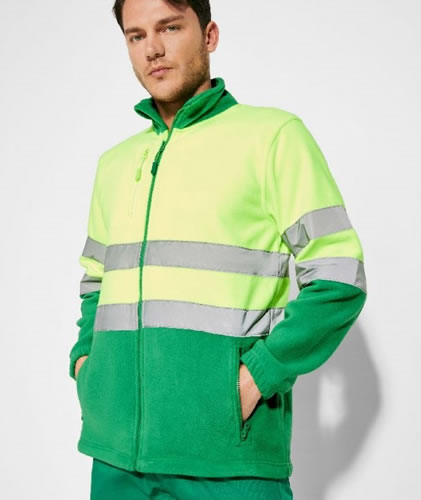 The custom high-visibility clothing you see on our website aims to make the wearer clearly visible and easy to distinguish – as the name itself suggests. This type of workwear is perfect for different work contexts. Sometimes, it is even necessary if you want to guarantee the team maximum safety at work.
Custom Hi-Vis Clothing: Necessary or Optional?
Personalised hi-vis jackets and custom safety vests – as well as custom hi-vis shirts and trousers – are characterised by materials that, besides being exceptionally comfortable, reflect light. Their reflective property is their main feature as well as what makes any custom hi-vis clothing essential to ensure safety at work.
You might think that wearing safety vests or jackets, whether they are personalised or not, is an extra. For instance, when you work during the day, custom high-visibility clothing may seem an optional. Yet, on the road, on construction sites, at airports and in several other work contexts, wearing personalised hi-vis workwear is a statutory obligation. Which, of course, is not by chance. Ensuring visibility is necessary when the lighting is poor. Similarly, it is essential on the road, where driving speed can compromise the driver's readiness to recognise who is in front of them. In these contexts, the need for custom safety vests or personalised hi-vis jackets, shirts or trousers is evident.
These pieces of personalised clothing feature reflective bands on the fabric. The latter is usually available in various colours, although orange and yellow are the most popular – right because of their visibility. Thanks to the contrast and the typical bright character of these colours, together with the retro-reflective nature of the bands, personalised hi-vis vests as well as custom hi-vis shirts or trousers are the first elements drivers see. Motorists, cyclists and lorry drivers cannot fail to notice them. Even in car parks, custom safety vests and personalised hi-vis jackets make workers clearly visible, so as to avoid accidents. Besides, thanks to this personalised hi-vis workwear, drivers can immediately distinguish who gives the directions to follow.
Make Your Own Custom Hi-Vis Clothing: How to Make a Virtue Out of Necessity
Personalised hi-vis workwear is very specific and, as we have shown, essential for the safety of the team. Any company or association that manages construction sites must adopt these pieces of clothing, so as to ensure that the working conditions of their employees are adequate and not risky. In reality, however, custom hi-vis shirts and trousers are useful in other contexts, too. We have mentioned parking lots, where the staff must be clearly recognisable even at a distance. However, the same is true in airports or crowded places as well. For instance, security personnel very often wear custom high-visibility clothing during concerts, events and outdoor festivals so that the audience can recognise them at a glance. This is also a way to improve the experience of the participants, who will immediately spot who to turn to even in the crowd.
Any personalised hi-vis workwear item has incredible benefits for your employees, but also outside the company. First of all, custom hi-vis shirts, trousers and personalised hi-vis vests reinforce team spirit.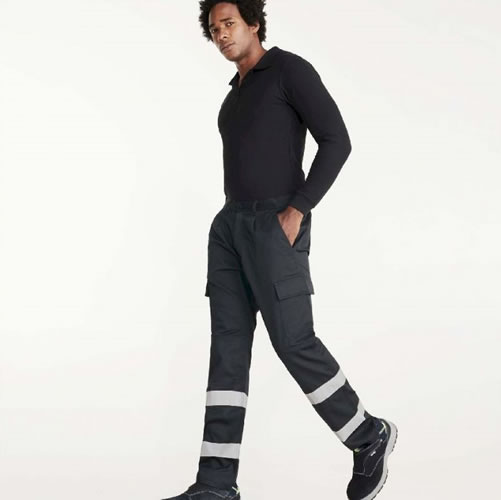 Secondly, they consolidate the bond between the individual employee and the company, as the latter will show the utmost care and attention to the safety of its employees. Finally, printing and distributing custom safety clothing to your team is a way to turn a necessary item into a corporate gift with possible advertising effects. Some trousers, jackets and vests allow you to apply a print. It can be the logo or the name of your brand, but also a slogan to motivate employees in their activity. We can then say that our personalised hi-vis workwear represents an opportunity to put the brand in positive light in the eye of both workers and customers.
The Effect of Corporate Gifts on Employees: How to Leverage Every Personalised Hi-Vis Workwear to Consolidate Your Team
Like all corporate gifts designed for the team, custom safety vests with logo, together with printed high-visibility shirts and personalised hi-vis jackets, are the perfect chance to thank every single employee for their work and encourage them to trust the brand they work for. The strength of our custom high-visibility clothing lies in the fact that it serves to protect workers from any dangers and risks. This shows the company's absolute interest in the well-being of its team. Without considering that anyone who feels calm and safe in the workplace will complete their tasks with greater efficiency and serenity. Plus, the worker will notice the brand's commitment to making the work activity easier. As a consequence, any employee will be more likely to trust the solutions your company chooses.
Moreover, personalised hi-vis workwear items can be used in different contexts as corporate gifts and promotional products. They can be given away to newcomers in a welcome kit, along with other items useful for work. Branded smartwatches or personalised water bottles are perfect ideas to combine with your custom high-visibility clothing. These products are both necessary – especially if you work outdoors, as in the case of construction sites and airport runways. This way, your employees will immediately have everything they need to perform their tasks at their best.
If you want to renew your employees' uniform – you may have changed your logo or want to give a different image to your company – custom safety vests with logo and personalised hi-vis jackets can be given as prizes to your team when they are done with a project or when the new year begins. Giving a new face to the brand is a way to communicate to your audience and team your constant desire to improve. A new brand image will then be able to intrigue customers, especially because your custom high-visibility clothing will be exposed to the eyes of passers-by and will capture their attention in the blink of an eye. To complete the uniform, you can consider integrating your corporate gifts with personalised caps or custom pins, too. Another compelling option is that of personalised lanyards. These promotional products are ideal for security personnel as well as for anyone working in locations with limited access areas.
Which Custom Hi-Vis Clothing to Choose? Find Out Our Assortment of Custom Safety Vests, Shirts, Trousers and Personalised Hi-Vis Jackets
The subcategory 'custom hi-vis clothing' includes different types of personalised workwear. Also, it has a considerable variety in colour, design, fabric and customisation possibilities. For many pieces of clothing you can choose the colour you prefer from different options.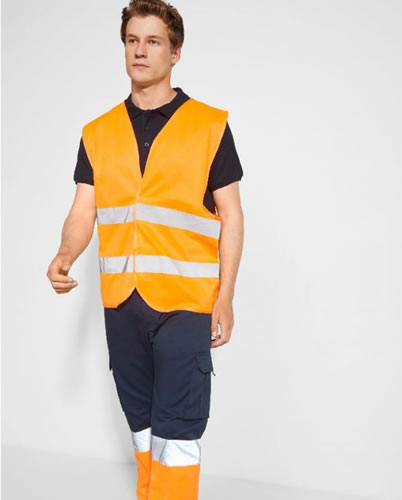 So, you may go for fluorescent orange to enhance visibility or green to increase the contrast with the reflective bands. Some allow you to apply your logo or company name. Sometimes the space is enough to add an advertising message or a slogan, so as to make your workwear even more personalised. The available techniques will produce different effects, each of which will be able to meet your expectations.
As for the models, you can choose between:
Custom hi-vis shirts. They are generally made of technical fabric to guarantee maximum freedom of movement too;
Personalised safety trousers. You should choose this piece of clothing if your employees must always be visible throughout their activity;
Personalised hi-vis jackets. These garments are comfortable to wear and take off at all times. They are particularly suitable for colder months, but also for anyone working at night;
Custom safety vests. This piece of workwear stands out as the most versatile of all. It is very useful on the road and feels incredibly comfortable.
In conclusion, choosing custom hi-vis clothing is a necessity, but represents an opportunity to promote your brand as attentive to the needs of your team as well. Personalised hi-vis workwear also helps you strengthen the team spirit and present the company as reliable. The result is strong brand visibility, high team productivity, and improved corporate reputation.
Did you like this content? Click here to download it.
Custom high-visibility clothing with your printed logo are a thought that lasts over time, a memory that every person who interacts with your company carries with them, a promotional item that, using it, will unknowingly advertise your brand. Custom high-visibility clothing are among the most popular corporate gifts; they help to give visibility, personality and uniqueness to your brand. A useful, classic gift that is renewed to keep up with the times! In our collection you will see a wide range of custom high-visibility clothing, available in different colours and prices. Choose from if what you prefer; each object can be customized with your logo or your slogan.
Where can I found all the information on custom high-visibility clothing?
All information about high-visibility clothing is reported in the product sheet of each items. Therefore, the quantities available in stock, the colours, the prices, the types of printing are always visible and updated in real time. To get a personalized quote or a pre-view of how the custom safety uniforms with your logo could look, just click on the buttons available on the item page. For any further information do not hesitate to contact us!
How can I see my logo on custom high-visibility clothing before the order?
Custom high-visibility clothing, personalised hi vis vests or custom safety uniforms are perfect to be personalized but...how can I see my high-visibility clothing with my logo before ordering on HiGift? It's very simple, just follow these steps. You are now in the custom high-visibility clothing category, choose your item and, once inside the product sheet, click on try your logo. In this tab you can try your own writing on the personalized item or directly upload your logo and test your promotional article. You can even eliminate the colored background of your logo. Don't worry, your graphic proof is not the official proof that will go into production! That will be provided by us after the order, at the latest within 24 hours.
How can I calculate an estimate for custom high-visibility clothing?
On HiGift you can make, download and save all the estimates you need in your personal area! You are now on custom high-visibility clothing category, select your favorite customizable item and, once inside the product sheet, click on get your price and buy. Just enter the quantity, the color of high-visibility clothing, the type of customization you require based on the characteristics of your logo. In a few clicks you will be able to get your quote. At this point you can download it or save it in your personal area. If you want to revise the quote, just go back by clicking on the appropriate button. If you add various products such as high-visibility clothing, hi vis vests or safety uniforms to your cart, you will also be able to download or save the overall estimate of all your promotional items before checking out. In this way you can do all the tests you want with your favorite corporate gifts!
Can I obtain some discounts with the purchase of custom high-visibility clothing?
On HiGift there are several ways to buy cheap high-visibility clothing. The first and most obvious: if you buy high-visibility clothing, hi vis vests or safety uniforms iin huge number, the price per item will be lower. If you buy the same items in smaller quantities, you will have a higher price each. This detail is clearly visible in the price table on each product sheet: it is often enough to add a minimum quantity of high-visibility clothing to get a better price. Also, if you subscribe to our newsletter you will be updated on the promotions we release every month. That's right, you got it right: you can find promotions on custom high-visibility clothing, that is the articles you are looking for! If you become our customer you will also be able to access the HiGift Circle loyalty program which will allow you to have exclusive benefits by climbing the statuses. That is, more high-visibility clothing, hi vis vests or safety uniforms you buy, the sooner you will be able to reach the threshold for your passage of status and obtain increasingly important benefits, discounts included.
Corporate Gifts have multiple benefits for businesses. They can be part of corporate merchandising, a promotional and advertising tool for customers, and also a gift for employees during holidays, anniversaries or corporate anniversaries. They are useful tools to leave a memory of the brand during events, fairs, promotions to potential customers. Promotional items customized with your logo, if chosen carefully with respect to the communication message you want to convey, undoubtedly create added value to your brand.
Custom High-visibility clothing - FREQUENT QUESTIONS
Verifying every detail is important. It is therefore normal to buy custom high-visibility clothing without having touched them can block your purchase process. For this on HiGift it is possible to receive a sample before ordering the entire quantity of the high-visibility clothing. The procedure is very simple: just click on the red button calculate your quote and buy and enter 1 in the desired quantity. Then need to click on confirm order to proceed to purchase the sample without the desired print, after registering on our site or logging in if you are already a customer. In many cases it is also possible to customize the sample with your own logo, in order to be able to see the finished promotional product. Just choose the personalization on the calculator and that's it. To find out the cost of the neutral sample, go to the price summary that you see in the product sheets of high-visibility clothingand you will find it highlighted. In case the timing does not allow you to wait for the receipt of the sample to place the order, write to our customer service, we will be happy to help you with information or photos of the selected product.
You can order your
custom high-visibility clothing
quickly by following these steps:
If you are not already our customer, sign in on HiGift or log into your account.
Choose the promotional item you prefer and, once you have entered the product sheet, click on the appropriate red button calculate your quote and buy.
Enter the quantity and possibly the color of high-visibility clothing, choose the type printing and follow the steps indicated until you have the final quote.
Click on confirm order to proceed with the purchase.
When ordering, you can upload your logo, or do it later in your personal area within the relevant order. Our staff will proceed to make you a free print draft to show you the
custom high-visibility clothing with your logo
.
For more information click here
.
After your approval, we will proceed with production and you will receive high-visibility clothing in 15-17 days. If, on the other hand, you have purchased high-visibility clothing without any customization, you will receive the goods in 3-4 days.
If you want to know more about delivery time, visit this page
. For more information on placing orders visit the section
how to order
. If you have doubts about payments, visit the section
payments