Custom Lanyards with telescopic pass holder
Custom Lanyards with telescopic pass holder: customize them with your logo!
Discover more details on
Reach the Stars with Personalised Lanyards with Telescopic Badge Holder
Any company makes us of personalised lanyards at some point. These custom badge holders are necessary when taking part to events, fairs and congresses. In general, these promotional products are essential whenever you need to be easy to recognise. You need them to stand out from possible competitors as well. Personalised lanyards with card holders serve exactly this purpose. That is, they help visitors identify the corporate staff at fairs. During a congress, it is the organiser group they make well visible. By doing so, they smooth the customers' experience and leave a positive memory of the brand.
There are many versions of custom lanyards. Thanks to such variety, each brand can find the corporate gifts that best suit its needs. For instance, we have personalised lanyards with phone holder. Custom lanyards with safety buckle are another option as well. Both models have a little extra which makes the work more comfortable.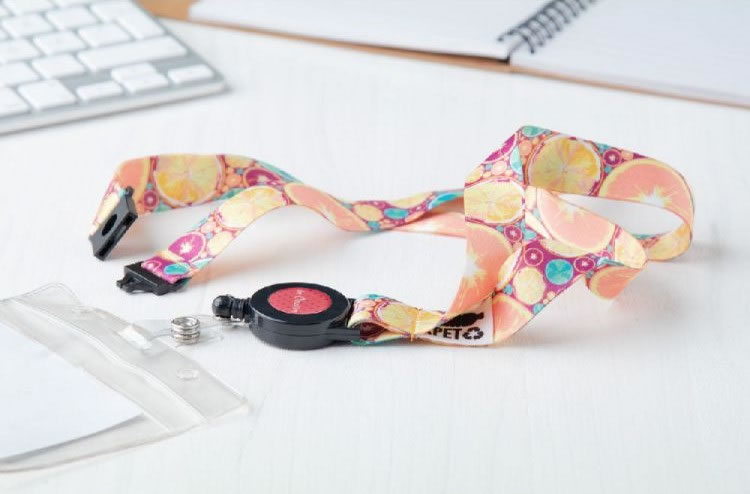 If you want to spread an eco-friendly image and hold the environmental issue in the highest consideration, you can go for eco-friendly custom lanyards. Still, the variety does not end there. And, among the models available, we find personalised lanyards with telescopic badge holder. They may be the corporate gifts your brand needs for a stellar promotion.
Why Choose Custom Lanyards with Telescopic Badge holder
Among the various types of custom lanyards, printed lanyards with telescopic badge holder are striking for their usefulness. This is especially true when you have to show your badge or pass. Personalised lanyards with telescopic badge holder feature a pull-out and extendable string. To this, a clip or snap hook is generally attached. Here, you can stick your pass or badge and get it closer to any tool for electronic control. All this with no need to remove your lanyards. Pulling the string will be enough.
Interestingly, the term "telescopic" has a specific meaning in the technical field. It indicates that the object can be extended. This happens through a sliding mechanism. We see it in the case of telescopic umbrellas. We all have at least one in our home, car or bag. Printed folding umbrellas are not by chance among the most requested promotional products in winter. They take up little space once closed – as much as they fit into our bag. However, once they are opened, they efficiently shelter from the rain. This is the reason why they are appreciated and successful as corporate gifts. The case of custom lanyards with telescopic badge holder is pretty similar. They come in handy particularly during fairs and congresses – but not only.
Custom Lanyards with Telescopic Badge holder: Who to Give Them to?
Personalised lanyards with telescopic badge holder are perfect – as all types of custom lanyards – for any event the corporate staff takes part in. In general, personalised badge holders are ideal for the team. Visitors and customers will easily recognise any member who wears them. Printed lanyards are then outstanding in multiple situations. At fairs and congresses on one hand, and for ordinary business on the other. Especially an office or company which works with the public needs them to convey maximum closeness to its customers.
Nonetheless, at least on another occasion are custom lanyards with telescopic badge holder particularly useful. That is, in whatever context a pass to access specific areas is required. For this reason, personalised lanyards with telescopic badge holder are quite common in mountain areas. Touristic guides will find them very comfortable. They will have their card always at hand. Plus, it will be ready to be shown or checked whenever needed. All this – it is worth remembering – without having to take off their printed lanyards.
Visitors too can benefit from such corporate gifts notably. Hikers may smoothly access lift facilities and enjoy a wonderful landscape. It will take only a little gesture for skiers to extend their ski pass and enter ski areas. In short, if your tourist agency wants to give its customers useful accessories for their experience, personalised lanyards with telescopic badge holder are a first-class choice. All you need is to apply your logo. There you have your successful promotional products!
How to Exploit Custom Lanyards with Telescopic Badge Holder for Your Promotion
Besides being very useful on many occasions, printed lanyards ensure a great promotional impact. Personalised lanyards with telescopic badge holder are no exception. On the one hand, this is due to the fact that you can customise the whole product area in many cases. In this way, any brand may repeat its logo over and over along the lanyard. Plus, writings can be added as well. The corporate motto or a motivational slogan are two examples. You can also print a sentence related to the event at which your personalised lanyards with telescopic badge holder will be given away.
Any company will highly gain in visibility. Reproduced several times, your logo will be able to spread the brand name largely. On the other hand, printing a message will give a more detailed insight into the character and core business of the company.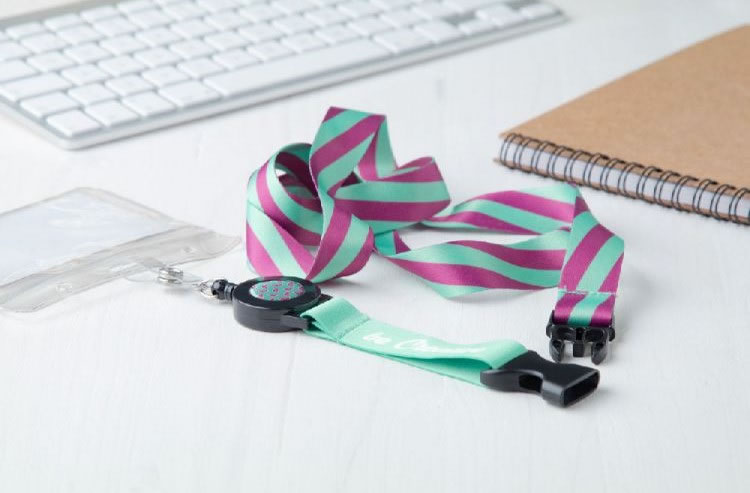 100% customisable lanyards offer an unlimited possibility in terms of print. Thanks to this, you can give your custom badge holders your own corporate personality.
Custom Lanyards with Telescopic Badge Holder: Type and Customisation Options
The subcategory of personalised lanyards with telescopic badge holder includes single badge holders as well as custom lanyards with telescopic badge holder. The former can be attached to printed lanyards. The latter are ready to be customised. Depending on which model has been selected, the techniques which can be applied vary as well. In particular:
Telescopic badge holders can be generally customised through pad printing or epoxy resin adhesive. The former is a digital technique which produces a detailed result. Applying the latter, you will get a slight relief effect. This can give your promotional products an extra gear in terms of visibility, care for detail and originality;
Personalised lanyards with telescopic badge holder allow a double customisation. That is, on the lanyards as well as on the badge holder. The latter can be printed as described before. As for the former, we generally talk about personalised lanyards which can be made through sublimation. This technique is highly precise and has a strong visual impact. Especially for coloured prints is it quite impressive. It is often used to create printed T-shirts by applying a logo, writings or images. Last but not least: double customisation means double promotional effect. This aspect is by no means to be underestimated when choosing your custom lanyards for an event or for your customers!
So, consider your tastes, the character and promotional necessity of your company and select the model you prefer. No doubt you will find the personalised lanyards with telescopic badge holder which are right for you. Moreover, do not forget that they are extremely cheap promotional products. This means that printed lanyards may be purchased in large quantities and personalised in fully creative ways. Low price and meaningful promotional impact are two main features of the most effective corporate gifts. We cannot but think of promotional plastic pens or printed plastic keyrings. Telescopic badge holders, too, are made in this material in most cases. As a result, they prove to be highly customisable, as well as suitable for everyone.
Being functional and largely customisable, custom lanyards with telescopic badge holder are top-quality promotional products and corporate gifts. Whoever wears them will be impressed by how useful they can be. Employees will appreciate them because they will help them in carrying out their activity. Customers will love them because they will be able to go wherever they want easily and fast. Not to mention that, as long as they are worn, your personalised lanyards with telescopic badge holder will spread your logo, name and whatever message you have printed on them!
Did you like this content? Click here to download it.
Custom lanyards with your printed logo are a thought that lasts over time, a memory that every person who interacts with your company carries with them, a promotional item that, using it, will unknowingly advertise your brand. Custom lanyards are among the most popular customizable promotional items on the market, maybe because they are easy to use and indispensable in everyday life. If you imagine them with your communication message imprinted, it is sure to be a hit. On this page you will find more than one type of custom lanyards, so that you can choose the promotional item that best suits your brand or your communication with object, based on price, colour, size, shape.
Where can I found all the information on custom lanyards?
Information about lanyards such as quantities availability in stock, printing variables, prices, exact sizes of the items are visible on the relevant page dedicated to the product. It is possible to create customized estimates and graphic drafts in total autonomy by clicking on the two red buttons clearly visible on the page. If you need more information about neck lanyards, we are always available via chat, email, phone.
How can I see my logo on custom lanyards before the order?
When you buy personalized items such as lanyards, neck lanyards or badge lanyards with your logo, it is normal that you ask yourself in advance how the final result will be. With HiGift you will be able to have a vision of how your promotional items with a logo will be created, and this before purchasing. Go to the product sheet of the item you have chosen in lanyards and click on the red button try your logo. You can save your graphic draft in your personal area or download it and you will realize custom lanyards you are purchasing. Please note that this will only be your graphic proof and that the professional print proof will be provided by us in the 24 hours following your order.
How can I calculate an estimate for custom lanyards?
Do you know that on HiGift it is quick and easy to obtain an ad hoc quote? If you are in the custom lanyards with telescopic pass holder category and you are therefore interested in this type of personalized items, just choose from the preview images the article that best suits your promotion. At this point, enter the product sheet and click on the appropriate red button. A pop-up will open and you just need to follow all the instructions given there. You need to know how many promotional lanyards you want, your favorite color, if you want them customized and how many colors your logo has. In a few clicks you will have your quote and you can download it or save it in your account. If, on the other hand, you are interested in purchasing multiple types of lanyards, neck lanyards o badge lanyards and want to have an overall estimate of several promotional items, just go to the cart. There too you will find the possibility to download your quote.
Can I obtain some discounts with the purchase of custom lanyards?
On HiGift there are several ways to buy cheap lanyards. The first and most obvious: if you buy lanyards, neck lanyards or badge lanyards iin huge number, the price per item will be lower. If you buy the same items in smaller quantities, you will have a higher price each. This detail is clearly visible in the price table on each product sheet: it is often enough to add a minimum quantity of lanyards to get a better price. Also, if you subscribe to our newsletter you will be updated on the promotions we release every month. That's right, you got it right: you can find promotions on custom lanyards, that is the articles you are looking for! If you become our customer you will also be able to access the HiGift Circle loyalty program which will allow you to have exclusive benefits by climbing the statuses. That is, more lanyards, neck lanyards or badge lanyards you buy, the sooner you will be able to reach the threshold for your passage of status and obtain increasingly important benefits, discounts included.
Promotional Items have multiple benefits for businesses. They can be part of corporate merchandising, a promotional and advertising tool for customers, and also a gift for employees during holidays, anniversaries or corporate anniversaries. They are useful tools to leave a memory of the brand during events, fairs, promotions to potential customers. Promotional items customized with your logo, if chosen carefully with respect to the communication message you want to convey, undoubtedly create added value to your brand.
Custom Lanyards with telescopic pass holder - FREQUENT QUESTIONS
Verifying every detail is important. It is therefore normal to buy custom lanyards without having touched them can block your purchase process. For this on HiGift it is possible to receive a sample before ordering the entire quantity of the lanyards. The procedure is very simple: just click on the red button calculate your quote and buy and enter 1 in the desired quantity. Then need to click on confirm order to proceed to purchase the sample without the desired print, after registering on our site or logging in if you are already a customer. In many cases it is also possible to customize the sample with your own logo, in order to be able to see the finished promotional product. Just choose the personalization on the calculator and that's it. To find out the cost of the neutral sample, go to the price summary that you see in the product sheets of lanyardsand you will find it highlighted. In case the timing does not allow you to wait for the receipt of the sample to place the order, write to our customer service, we will be happy to help you with information or photos of the selected product.
You can order your
custom lanyards
quickly by following these steps:
If you are not already our customer, sign in on HiGift or log into your account.
Choose the promotional item you prefer and, once you have entered the product sheet, click on the appropriate red button calculate your quote and buy.
Enter the quantity and possibly the color of lanyards, choose the type printing and follow the steps indicated until you have the final quote.
Click on confirm order to proceed with the purchase.
When ordering, you can upload your logo, or do it later in your personal area within the relevant order. Our staff will proceed to make you a free print draft to show you the
custom lanyards with your logo
.
For more information click here
.
After your approval, we will proceed with production and you will receive lanyards in 15-17 days. If, on the other hand, you have purchased lanyards without any customization, you will receive the goods in 3-4 days.
If you want to know more about delivery time, visit this page
. For more information on placing orders visit the section
how to order
. If you have doubts about payments, visit the section
payments