Custom Lanyards with security buckle
Custom Lanyards with security buckle: to be unhooked at every need.
Read more information on
Just A Simple Click to Promote Your Company! Find Out Our Personalised Lanyards with Safety Buckle
If you are organising a convention or preparing to attend a fair, you will definitely have to make personalised badges or promotional badge holders for each member of your staff. In the latter case, you can get the most out of your presence at the event by printing some personalised lanyards. These corporate gifts will amazingly spread your logo, besides making your employees easy to recognise.
Given their usefulness as promotional office supplies, printed lanyards are available in various versions, so as to meet all tastes and needs. Each model has distinctive elements, as in the case of custom lanyards plus telescopic badge holder. By choosing one of the special versions, you can offer your team exceptional corporate gifts. These will not only prove to be essential for their activity but will make it as comfortable as possible as well.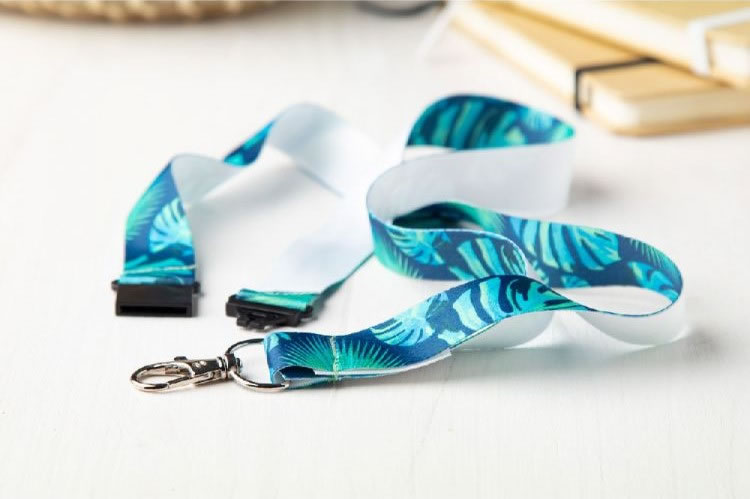 So, depending on the needs you want to meet, you can find the best personalised lanyards for your event or daily activity. Several companies that work in contact with the public need to establish a clear and open communication with the customer. Promotional products help a lot in this, and custom badge holders are the first choice. If you care a lot about practicality, personalised lanyards with safety buckle may be the best corporate gifts for you.
Personalised Lanyards with Safety Buckle: Promotional Products with Unparalleled Comfort
Among the various custom badge lanyards, some models have a safety buckle with which to close or open them extremely practically. These are undoubtedly the most comfortable ones to wear. A simple click will be enough to secure the ends behind the neck and show up wearing your own personalised lanyard. Similarly, it will be sufficient to detach the buckle to remove the lanyard if necessary.
This means that every member of your team will be able to take it off when they need it in no time. Your staff will surely appreciate such practicality. Everyone will see in your personalised lanyards with safety buckle your commitment to make the work activity as linear as possible. Moreover, personalised lanyards that come with a safety buckle are high-impact promotional products. Simply worn during the day in the office, at the congress entrance or at the exhibition stand, they will show any visitor your logo, name and any print you have imprinted on their customisable surface.
Move Fast and Fluidly: Make Your Team Work More Practical Thanks to Custom Lanyards with Safety Buckle
During breaks as well as when your shift is over, being able to remove your custom lanyards thanks to a simple and fast move can be a real relief. Nowadays we are all in a frenzy and the small comforts that allow us to move faster are very welcome. Personalised lanyards that have a safety buckle can save us time. They will soon become the most loved corporate gifts by your employees.
Moreover, printed lanyards with safety buckle prove to be a great ally in crowded places. Imagine a convention or fair that lasts all day and that provides for your employees to work in shifts. Whoever is on break can remove their custom lanyard without sticking out thanks to the safety buckle. These small details do not only characterise your corporate gifts as comfortable. In addition to that, they will show your company as meticulous and ready to offer the best not only to its customers, but to its employees as well.
This is really important. Creating a strong bond with your team members of course has positive repercussions on their work. For instance, every employee will naturally be more motivated and willing to commit to achieving business goals.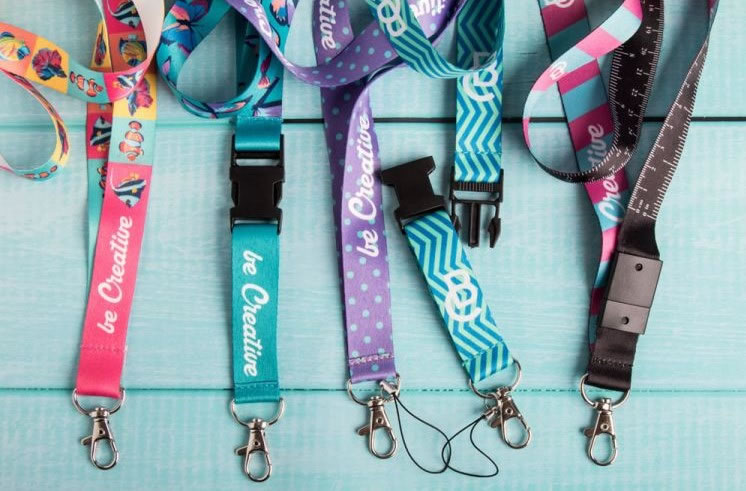 Besides that, however, customers too seem to be more enticed to rely on brands that guarantee workers a smooth work activity and which try to meet their needs. For this reason, using practical corporate gifts such as custom lanyards plus safety buckle can help present your business as attentive to the needs of your employees and attract more customers as a consequence.
Guaranteed Advertising Effect: Printed Lanyards with Safety Buckle as Promotional Products
Wearing custom lanyards plus safety buckle does not only mean benefiting from these corporate gifts, which are designed to facilitate work. On the contrary, each employee wearing your custom lanyards will act as a brand sponsor. Thanks to the logo printed on the surface of your promotional products, you can spread the corporate image to a large audience.
Any customer who takes advantage of the services offered by your business can notice your name imprinted on your custom lanyards with safety buckle throughout the negotiation. This means that creating a print that attracts attention and manages to impress yourself in the customer's memory is very important. To this end, you should choose colours, shapes and fonts that reflect your company's identity. In this way your personalised lanyards that have a safety buckle will leave a memory of your brand to customers and visitors.
Things do not change for fairs, congresses and festivals, where personalised lanyards are cannot-do-without corporate gifts. In these contexts, visitors will probably linger on your printed lanyards that come with a safety buckle during breaks or while they move from one stand to another. Even when they are attending a conference can they glimpse at your promotional products and notice your logo. In any case, here too customisation plays a crucial role in how effective your printed lanyards are from the advertising perspective. This means that your prints will have to convey the image of your brand at first glance.
Not Just Simple Custom Lanyards with Safety Buckle: The Models with Different Extras
We have said that customisation is key when it comes to the promotional effect of printed lanyards with safety buckle or clasp. Choosing the model, on the other hand, affects the relationship that your promotional products will be able to create with whoever uses them. In particular, in our catalogue there are personalised lanyards characterised by other extras besides the buckle. Obviously, the more details your promotional products and corporate gifts have, the greater the comfort you will offer to your team.
Among the various options, you can choose:
Custom lanyards plus detachable clip. These promotional products have a double functionality. Your employees will be able to unhook the end of the lanyard and use it as a keyring or badge holder by itself. The advertising impact will be twofold, because your team members will have lanyards along with personalised keyrings;
Printed lanyards with double snap hook. These corporate gifts are ideal for those who have to carry two items always with them – for instance, a badge or a key holder. Besides, since these custom lanyards come with a safety buckle as well, they can turn into two keyrings or two badge holders when detached. Even in this case, the two resulting parts can be used separately and work as promotional products each;
Personalised lanyards with phone holder. Such corporate gifts are perhaps the most versatile models, as they are not only useful for the team, but perfect as promotional products for customers as well. Anyone will find it convenient to use them, both during work and in their free time.
On our site you will also find eco-friendly custom lanyards that can be closed thanks to the safety buckle. This is without a shadow of doubt an excellent way to combine the environmentalist spirit of your company with the usefulness of these corporate gifts. Whether you have selected eco-friendly models, custom lanyards with a thousand extras or simpler options, personalised lanyards with safety buckle prove to be incredibly effective when used as promotional products and corporate gifts. Their practicality will impress employees, while the customisation applied will intrigue both customers and visitors.
Did you like this content? Click here to download it.
Custom lanyards with your printed logo are a thought that lasts over time, a memory that every person who interacts with your company carries with them, a promotional item that, using it, will unknowingly advertise your brand. Custom lanyards are among the most popular corporate gifts; they help to give visibility, personality and uniqueness to your brand. A useful, classic gift that is renewed to keep up with the times! On this page you will find more than one type of custom lanyards, so that you can choose the promotional item that best suits your brand or your communication with object, based on price, colour, size, shape.
Where can I found all the information on custom lanyards?
Information about lanyards such as quantities availability in stock, printing variables, prices, exact sizes of the items are visible on the relevant page dedicated to the product. It is possible to create customized estimates and graphic drafts in total autonomy by clicking on the two red buttons clearly visible on the page. If you need more information about neck straps, we are always available via chat, email, phone.
How can I see my logo on custom lanyards before the order?
When you buy personalized items such as lanyards, badge holder lanyards or neck straps with your logo, it is normal that you ask yourself in advance how the final result will be. With HiGift you will be able to have a vision of how your promotional items with a logo will be created, and this before purchasing. Go to the product sheet of the item you have chosen in lanyards and click on the red button try your logo. You can save your graphic draft in your personal area or download it and you will realize custom lanyards you are purchasing. Please note that this will only be your graphic proof and that the professional print proof will be provided by us in the 24 hours following your order.
How can I calculate an estimate for custom lanyards?
On HiGift you can make, download and save all the estimates you need in your personal area! You are now on custom lanyards with security buckle category, select your favorite customizable item and, once inside the product sheet, click on get your price and buy. Just enter the quantity, the color of lanyards, the type of customization you require based on the characteristics of your logo. In a few clicks you will be able to get your quote. At this point you can download it or save it in your personal area. If you want to revise the quote, just go back by clicking on the appropriate button. If you add various products such as lanyards, badge holder lanyards or neck straps to your cart, you will also be able to download or save the overall estimate of all your promotional items before checking out. In this way you can do all the tests you want with your favorite corporate gifts!
Can I obtain some discounts with the purchase of custom lanyards?
If you are looking for personalized cheap lanyards , here you are in the right place. In fact, on HiGift you can find different ways to save on your corporate gifts such as lanyards, badge holder lanyards or neck straps. Also if you buy a small quantity of lanyards, you can save on the cost each, which decreases as quantities increase. Furthermore, by registering on our site you will participate in the HiGift Circle loyalty program which will allow you to obtain increasingly exclusive benefits as you climb your status. How to get to be a Platinum customer? Just buy your corporate gifts from us, so, once you have reached a certain spending threshold, you can scale from Bronze to Silver up to Gold and finally Platinum to get, among other advantages, an important discount on the purchase of all the promotional items present on the site. Finally, if you want to stay updated on discounts and promotions that can include lanyards, badge holder lanyards o neck straps, subscribe to our newsletter, you will receive it monthly and will always contain news on discounts and benefits for you.
Branded Merchandise have multiple benefits for businesses. They can be part of corporate merchandising, a promotional and advertising tool for customers, and also a gift for employees during holidays, anniversaries or corporate anniversaries. They are useful tools to leave a memory of the brand during events, fairs, promotions to potential customers. Promotional items customized with your logo, if chosen carefully with respect to the communication message you want to convey, undoubtedly create added value to your brand.
Custom Lanyards with security buckle - FREQUENT QUESTIONS
Verifying every detail is important. It is therefore normal to buy custom lanyards without having touched them can block your purchase process. For this on HiGift it is possible to receive a sample before ordering the entire quantity of the lanyards. The procedure is very simple: just click on the red button calculate your quote and buy and enter 1 in the desired quantity. Then need to click on confirm order to proceed to purchase the sample without the desired print, after registering on our site or logging in if you are already a customer. In many cases it is also possible to customize the sample with your own logo, in order to be able to see the finished promotional product. Just choose the personalization on the calculator and that's it. To find out the cost of the neutral sample, go to the price summary that you see in the product sheets of lanyardsand you will find it highlighted. In case the timing does not allow you to wait for the receipt of the sample to place the order, write to our customer service, we will be happy to help you with information or photos of the selected product.
You can order your
custom lanyards
quickly by following these steps:
If you are not already our customer, sign in on HiGift or log into your account.
Choose the promotional item you prefer and, once you have entered the product sheet, click on the appropriate red button calculate your quote and buy.
Enter the quantity and possibly the color of lanyards, choose the type printing and follow the steps indicated until you have the final quote.
Click on confirm order to proceed with the purchase.
When ordering, you can upload your logo, or do it later in your personal area within the relevant order. Our staff will proceed to make you a free print draft to show you the
custom lanyards with your logo
.
For more information click here
.
After your approval, we will proceed with production and you will receive lanyards in 15-17 days. If, on the other hand, you have purchased lanyards without any customization, you will receive the goods in 3-4 days.
If you want to know more about delivery time, visit this page
. For more information on placing orders visit the section
how to order
. If you have doubts about payments, visit the section
payments