Promotional Multi ink pens
Promotional Multi ink pens: more color to your writing!
Below more details on
More Items in One? The Exceptional Value of Promotional Multi-Colour Pens as Corporate Gifts
How many times have you seen multicoloured pens? Certainly more than you think. Featuring more biro pens in a single writing accessory, their usefulness is undisputed and unattainable. They represent a valuable option for all companies that want to convey cheerfulness with a touch of colour. Plus, they prove to be an unmatched promotional product for all targets.
Personalised pens have always been among the corporate gifts in the highest demand. Freelancers' studies, established companies and new-born realities will all ask for a bunch of custom pens for their promotion at some point. Since they fully meet all the requirements of a successful promotional product, they are often employed by new businesses to make themselves known. However, they are a safe choice for all brands which are embarking on a new advertising campaign and want to reach a wider audience as well.
One of the most appreciated qualities of personalised pens is that they come in handy for anyone and on any occasion.
Writing is a habit that never dies, even though new and cutting-edge technological devices are constantly being launched. We all pick up a pen to take notes, write down our tasks and appointments or update our to-do-list. If customised, this writing accessory will take your logo everywhere and will be a very welcome souvenir.
The Outstanding Utility of Promotional Multi-Colour Pens
Like all types of customisable pens, the multicoloured versions enjoy all the advantages of the standard model. They are useful, elegant and small. This latter quality, in particular, allows your corporate gifts to always be with your customers. The little dimensions of promotional multi-colour pens is in fact an additional benefit. We are indeed talking of a small item that features up to three or four biros of different colours.
Having two items in one is no small feat. On the contrary, it can give an even more captivating image of the brand. We see it with some types of custom keyrings, such as personalised bottled opener keyrings. Branded keyring torches are a valuable example as well. Personalised trolley tokens are then worth a mention, as they often play the role of keychains too. Finally, we find some custom sticky notes with both slips of paper and page markers.
In all cases, these accessories are useful for at least two different purposes and have a very small size. The result is that they can be carried comfortably and practically with you at all times and used as needed. Promotional multi-colour pens fit this description perfectly.
Why Have More Pens in a Single Item? How Promotional Multi-Colour Pens Turn Out to Be a Gem that You Can No Longer Do Without
With refills of different colours, promotional multi-colour pens allow you to offer more biros with a single pen. Having various pen colours at hand can be of great help, if not even a necessity.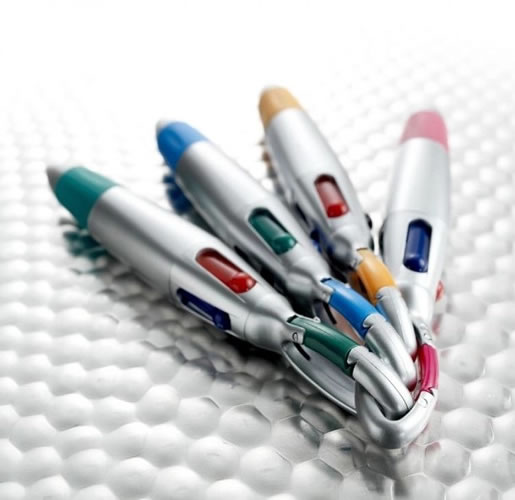 This is true especially when you want to highlight some parts of a text. In this way you will be able to memorise information more easily and to consult what is written more quickly. This is due to the fact that the chromatic contrasts capture the eye and foster visual memory.
Giving your customers or your team promotional multi-colour pens means offering them corporate gifts from which they will hardly part. No doubt they will put their ballpoint pen in their bag, case, or work folder, as by doing so they will take more pens with themselves. They will then be able to choose the one they need depending on the situation. Not to mention that, once a refill runs out of ink, they will have 2 or 3 more to keep on using. This results in increased longevity of your corporate gifts and, as a result, in a longer-lasting promotional effect.
From Children's Accessories to Corporate Gifts for Everyone: How Promotional Multi-Colour Pens Appeal to All
The strength of promotional multi-colour pens is colour. Of course, it makes them perfect corporate gifts for a young audience. High-school and university students can find in these items valuable partners for their studies. They will use them to highlight the title of a topic or the keywords within a text. Not to mention kids, who can easily give vent to their creativity giving birth to vivid drawings and writings.
However, we are completely wrong if we think that colours are for younger people only. Not only are adults making extensive use of them – just think of the latest fashions that welcome the whole rainbow palette. Instead, they are the key to a company that wants to present itself as welcoming and friendly. You will just have to print your logo on brightly coloured promotional products – such as  custom polyester tote bags. As a result, you will convey the cheerful character of your brand.
For this reason, promotional multi-colour pens are perfect for a mainly or fully adult target as well. This type of customised pens will be useful both in the office and on the road. Your customer or employees will be able to take notes in their personal notebook or planner with a simple move. And they will just need a simple click to change ink and write the details with the colour they wish.
Promotional Multi-Colour Pens: A Guide to the Materials
Does your company aim to look cheerful? No doubt that you will find multicoloured pens suitable promotional products for your marketing strategy. The available models differ first of all for the types of ink available as refills. The most common ones are black, blue and red. However, you can find green as well. Besides the colours that you want to offer, you will have to choose your multicoloured pens based the materials too.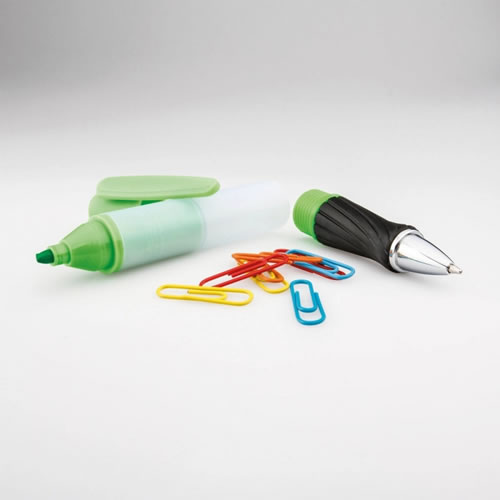 In particular, our category includes:
Promotional plastic pens. This is the most classic model. It is suitable for all types of audiences and very cheap. These are also the most customisable promotional products in terms of chromatic choice. This means that you can best reproduce the colours of your brand and evoke in your target the sensations you want.
Printed eco-friendly pens. These corporate gifts are made of ABS plastic – a material known to be easily and repeatedly recyclable. Besides being vibrant and useful, this multicoloured pen shows care for the environment. Taking a green attitude is a choice that many companies make, both to help the planet and to embrace the trend of the moment.
Promotional touch screen pens. Their dual functionality as pens on the one hand and as stylus for electronic devices on the other will foster the image of your company. These models will certainly gain the approval of IT-enthusiasts. However, they will be highly appreciated by anyone. All of us are using tablets and smartphones today, and they make it easier to use these devices. There is one last aspect that is interesting about this type of pen. Their double functionality means double exposure to the public eye. As a result, their promotional effect will be twice as strong as well.
In conclusion, promotional multi-colour pens can become special corporate gifts. They are suitable for everyone and last long. The advantages they bring with them are remarkable. They range from the high advertising impact to the ability to arouse positive emotions in those who use them. By printing your name and contact information on the body of your multicoloured pen, you will get unparalleled promotional products. Not to mention that, by choosing a touch pen or an eco-friendly model, you can offer an accessory of the highest value. In the first case, it will be exceptionally useful. In the second, it will be a sustainable choice.
Did you like this content? Click here to download it.
The success in giving promotional multi ink pens does not only lie in choosing the right type, but also in devising a particular design or message that most strikes the attention of those who receive the gift, and also accompanying it with your logo. Promotional multi ink pens are among the most popular customizable promotional items on the market, maybe because they are easy to use and indispensable in everyday life. If you imagine them with your communication message imprinted, it is sure to be a hit. On this page you will find more than one type of promotional multi ink pens, so that you can choose the promotional item that best suits your brand or your communication with object, based on price, colour, size, shape.
Where can I found all the information on promotional multi ink pens?
Information about multi ink pens such as quantities availability in stock, printing variables, prices, exact sizes of the items are visible on the relevant page dedicated to the product. It is possible to create customized estimates and graphic drafts in total autonomy by clicking on the two red buttons clearly visible on the page. If you need more information about 4 colors pens, we are always available via chat, email, phone.
How can I see my logo on promotional multi ink pens before the order?
Promotional multi ink pens, personalised 2 colors pens or custom 4 colors pens are perfect to be personalized but...how can I see my multi ink pens with my logo before ordering on HiGift? It's very simple, just follow these steps. You are now in the promotional multi ink pens category, choose your item and, once inside the product sheet, click on try your logo. In this tab you can try your own writing on the personalized item or directly upload your logo and test your promotional article. You can even eliminate the colored background of your logo. Don't worry, your graphic proof is not the official proof that will go into production! That will be provided by us after the order, at the latest within 24 hours.
How can I calculate an estimate for promotional multi ink pens?
On HiGift you can make, download and save all the estimates you need in your personal area! You are now on promotional multi ink pens category, select your favorite customizable item and, once inside the product sheet, click on get your price and buy. Just enter the quantity, the color of multi ink pens, the type of customization you require based on the characteristics of your logo. In a few clicks you will be able to get your quote. At this point you can download it or save it in your personal area. If you want to revise the quote, just go back by clicking on the appropriate button. If you add various products such as multi ink pens, 2 colors pens or 4 colors pens to your cart, you will also be able to download or save the overall estimate of all your promotional items before checking out. In this way you can do all the tests you want with your favorite corporate gifts!
Can I obtain some discounts with the purchase of promotional multi ink pens?
If you are looking for personalized cheap multi ink pens , here you are in the right place. In fact, on HiGift you can find different ways to save on your corporate gifts such as multi ink pens, 2 colors pens or 4 colors pens. Also if you buy a small quantity of multi ink pens, you can save on the cost each, which decreases as quantities increase. Furthermore, by registering on our site you will participate in the HiGift Circle loyalty program which will allow you to obtain increasingly exclusive benefits as you climb your status. How to get to be a Platinum customer? Just buy your corporate gifts from us, so, once you have reached a certain spending threshold, you can scale from Bronze to Silver up to Gold and finally Platinum to get, among other advantages, an important discount on the purchase of all the promotional items present on the site. Finally, if you want to stay updated on discounts and promotions that can include multi ink pens, 2 colors pens o 4 colors pens, subscribe to our newsletter, you will receive it monthly and will always contain news on discounts and benefits for you.
Corporate Gifts have multiple benefits for businesses. They can be part of corporate merchandising, a promotional and advertising tool for customers, and also a gift for employees during holidays, anniversaries or corporate anniversaries. They are useful tools to leave a memory of the brand during events, fairs, promotions to potential customers. Promotional items customized with your logo, if chosen carefully with respect to the communication message you want to convey, undoubtedly create added value to your brand.
Promotional Multi ink pens - FREQUENT QUESTIONS
Writing has a long history, which not only fascinates but also adds culture. Joseph Conrad, the famous English writer, said: Only one half of the book is written, the other half must be taken care of by the reader.
Nothing more true. Regardless of the technology and digitization of writing, pens remain a must have in your bag, your pocket, on the desk of your office. To take a note quickly, to write on while you are on the phone, for company briefs or simply to fill out the shopping list.
Corporate pens are must have promotional items. your customer will always associate your business with quality and class when they use their customised pen.
This corporate gift is always appreciate because it's useful and executive gadget, which can be low cost but also high quality. Multicolor pens , for example, are very colorful and cool for schools or for offices to mark up.
Personalized pens can be a real distinctive corporate items precisely for the flexibility of the object they are: metal pens, eco-friendly pens , wooden pens, multi-colored pens, plastic pens and for those who do not want to give up the digital touch, even touch screen pens. In short, the pen has always been a timeless passe-partout to communicate your brand. Boost your brand awareness. If you got a focus, visit and shop our dedicated section: Pens
HiGift offers a wide range of corporate pens to be customized according to the shape, material and color required.
There are many different kind of pens: for example plastic pens are economical and inexpensive but useful for the office and for school; the Eco-pens are produced with sustainable and/or recycled material. Something special to save and protect our planet.
We advise you to choose the company gifts, always taking care of your core business and your line marketing strategy, considering the different possibilities of customization: from the classic types to more fun and blithe models.
In addition to being customizable in its shape, all custom printed pens are also customizable in material and color.
In our dedicated section of our web site you will find many ideas of custom pens
And If you are looking for a much sought-after that you cannot find on our website..
No problem at all.
Let's Contact us and we will find the items you searching for.

Verifying every detail is important. It is therefore normal to buy Promotional Multi ink pens without having touched them can block your purchase process. For this on HiGift it is possible to receive a sample before ordering the entire quantity of the Multi ink pens. The procedure is very simple: just click on the red button calculate your quote and buy and enter 1 in the desired quantity. Then need to click on confirm order to proceed to purchase the sample without the desired print, after registering on our site or logging in if you are already a customer. In many cases it is also possible to customize the sample with your own logo, in order to be able to see the finished promotional product. Just choose the personalization on the calculator and that's it. To find out the cost of the neutral sample, go to the price summary that you see in the product sheets of Multi ink pensand you will find it highlighted. In case the timing does not allow you to wait for the receipt of the sample to place the order, write to our customer service, we will be happy to help you with information or photos of the selected product.
You can order your
promotional multi ink pens
quickly by following these steps:
If you are not already our customer, sign in on HiGift or log into your account.
Choose the promotional item you prefer and, once you have entered the product sheet, click on the appropriate red button calculate your quote and buy.
Enter the quantity and possibly the color of multi ink pens, choose the type printing and follow the steps indicated until you have the final quote.
Click on confirm order to proceed with the purchase.
When ordering, you can upload your logo, or do it later in your personal area within the relevant order. Our staff will proceed to make you a free print draft to show you the
promotional multi ink pens with your logo
.
For more information click here
.
After your approval, we will proceed with production and you will receive Multi ink pens in 15-17 days. If, on the other hand, you have purchased multi ink pens without any customization, you will receive the goods in 3-4 days.
If you want to know more about delivery time, visit this page
. For more information on placing orders visit the section
how to order
. If you have doubts about payments, visit the section
payments