Personalised Towels
Personalised Towels: a great gift for your customers!
Below more information on
Who Can Print Custom Towels with Logo and Name or Personalised Towels with Photo? Find Out Our Microfiber Towels as Promotional Products and Corporate Gifts
Personalised towels are a great gift idea because they are original and practical. From custom microfiber towels with logo to personalised beach towels with photo, the choice is very wide. You can customise any towel and include it among your company's promotional gifts. Custom towels are perfect as corporate gifts for your store or wellness centre, too. Like many successful promotional products, our custom towels with logo come in handy on several occasions. We use personalised bath towels in our home, but we also need a personalised gym towel every time we do some sports. Not to mention personalised beach towels, which are a cannot-do-without accessory for a relaxing day at the seaside or at the pool.
This means that you can create your custom towels for different purposes and targets. Wellness centres and hotels often make their own custom towels with logo and offer them to their guests during their stay.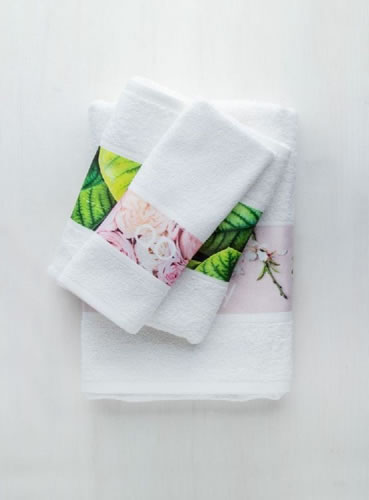 The same applies to companies in the sports sector. Fitness centres can use a personalised gym towel as a promotional product or corporate gift. The combination of comfort and style will ensure effective advertising.
Personalised Towels with Logo as Promotional Products and Gift Ideas: Microfiber Towels, Golf Towels or Swimming Towels?
Custom towels, whether they are made of microfiber or terrycloth, can easily become exceptional promotional products or much-appreciated gift ideas. You just have to print your brand logo on the surface of these bath accessories to achieve a cherished wow effect with your customisable towel. Many businesses try to amaze their target by making personalised embroidered towels, while others aim for maximum functionality by making a personalised gym towel. Anyway, everyone can create their own terrycloth or microfiber towels, according to their needs and preferences. The logo cannot be missing on a customisable towel if this is meant to become your next corporate gift. On the other hand, personalised towels with photo or initials are highly cherished as gifts for friends and relatives. Whether it is a personalised gym towel or a couple of personalised beach towels, you are going to give birth to an incredibly successful accessory. Whether offered as promotional products or as gifts to a loved one, all towels on our website are outstandingly useful and practical, besides being highly customisable. For this reason, your custom terrycloth or microfiber towels will be used more and more times, each time promoting your brand in the best way.
Custom towels are practical and versatile. Moreover, they are necessary in every home. Terrycloth towels – as much as microfiber towels – can be used to dry off after showering or bathing or after physical activity. These personalised towels with photo or logo can even be worn during a sauna. In other words, any company can make custom towels with logo if they want to effectively promote their brand. Anyone who is looking for a gift for a friend or relative can find a customisable towel that works for them. Personalised bath towels are useful and versatile as much as a personalised gym towel. The choice depends on the type of use that you envision for your gifts and – of course – on what your loved one likes most.
Promotional Products or Gift Ideas? How Versatile Custom Towels with Logo or Personalised Towels with Photo Are
All companies can print their logo on a customisable towel and create perfect corporate gifts for both customers and the team. Everyone will find a way to use these promotional products in their everyday life, at home or at the gym. All custom towels – whether they are made of terrycloth or microfiber – are very effective tools from an advertising point of view. Part of the success that personalised beach towels and bath towels enjoy as promotional products is due to their cheap price. This quality is advantageous because anyone can create large quantities of custom towels with logo or photo. This represents a great benefit if your hotel, spa or store is thinking about several personalised towels to use as promotional products or corporate gifts for customers and guests. Besides, each personalised gym towel or bath cloth will be used daily. This means that your logo will be visible whenever your corporate gifts come in handy – which is quite often.
Custom towels are great gift ideas for friends and family as well. As they are used every day at home, having your loved one's name or initials printed or embroidered on customisable towels – perhaps one of our personalised microfiber towels – will undoubtedly be a success. Photos and writings can be applied to the surface of a customisable towel as well. By doing so, you will take advantage of their large printing area, just like when making custom sweatshirts or personalised caps. Despite their versatility, however, custom towels with logo are essential corporate gifts and promotional products for sports centres and spas.
Sports Brands and Custom Towels with Logo: Print Your Personalised Towels as Promotional Gifts for Guests and Customers
Personalised towels are unquestionable allies for gyms, sports centres and shops of sporting goods when it comes to promoting their brand. Moreover, custom towels are a way to offer maximum comfort to members and customers, too.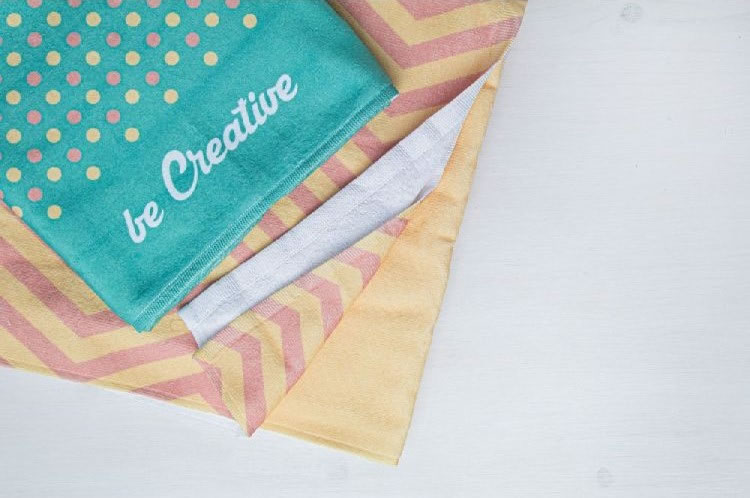 Personalised bath towels made of terry cloth or microfiber can be given as corporate gifts to buyers and new member of a fitness program. Whoever receives these bath accessories as promotional gifts can use their custom microfiber towels with logo on different occasions. On the other hand, if someone has purchased a product in a sports store, they can use their personalised gym towel during group or solo workout sessions, both at home and outdoors. Besides, members of a sports centre can use custom microfiber towels during their activity at the gym and show your logo to everyone. In both cases, whoever receives your promotional sports products can use them at home too, even when they have guests.
Any company in the sports sector can benefit greatly from creating their own custom golf towels or personalised microfiber towels. These corporate gifts are essential for sports and, as a consequence, particularly appropriate for such businesses. In particular, any custom microfiber towel communicates that the centre or store cares about the well-being of its customers. A personalised gym towel will give a consistent image of the brand as well because it will have offered promotional gifts in line with its activity. This results in strong customer reliability and loyalty. Last but not least, all custom towels, in microfiber or terrycloth, will spread your logo everywhere, if used in other contexts.
To further emphasise the idea of seriousness, companies can create other promotional sports products besides their custom golf towels with logo, too. Yoga centres, for instance, can create some custom yoga accessories, such as mats or leggings. Finally, all sports brands will be able to achieve an excellent advertising effect by creating branded water bottles.
Print Your Custom Towels with Logo for Healthy Moments of Relaxation: Find Out Personalised Towels as Corporate Gifts for Spas, Hotels and Businesses
Our lives are hectic and, as a consequence, we constantly need some relaxing moments. Some play sports – and they will love getting your personalised gym towel as a promotional gift. Others, on the other hand, prefer to spend time in a wellness centre or at the spa, to enjoy maximum tranquillity. Not to mention holidays, when we can really relax. It is no coincidence that many hotels offer guests a spa area. To give each customer refreshing and unforgettable moments of relaxation, these facilities can create their personalised towels by embroidering or printing their own logo.
Personalised bath towels will be very useful for guests and help them recover all energy. Especially if you choose high quality custom towels for your customers. If you have already made personalised bath towels for your wellness centre, you know that these soft and comfortable accessories amaze anyone. Using these corporate gifts, customers will be able to remember your facility more easily. If your spa is aiming for maximum comfort, you can consider creating your own custom microfiber towel as well. Besides, you can create personalised candles. You can place them in your spa rooms or offer them as gifts to customers.
Hotels and B&Bs too benefit enormously from making custom towels with logo. Giving guests personalised bath towels – most often made of terrycloth – means making them feel at home. This sense of familiarity is critical for your customers to retain a positive memory of your facility. And this is very important, as the quality of the experience at your hotel will determine whether your customers will talk about you to friends, family or colleagues. Summer resorts and hotels near the sea can create personalised beach towels with logo and name of their brand. Finally, custom towels can become great promotional products to be offered on different occasions. The advertising effect will be outstanding, because any customisable towel – it does not matter whether it is made of terrycloth or microfiber – can be used several times for a long time.
In conclusion, any company, along with stores that sell household goods or cosmetics, can distribute its custom towels with logo as promotional gifts and items. Today, health and well-being are the focus of general attention. For this reason, any business, regardless of its sector of activity, can make embroidered personalised towels with name and logo. Moreover, you can create other promotional products to offer along with your custom towels, too. Companies, for instance, can create personalised picture frames for customers and team.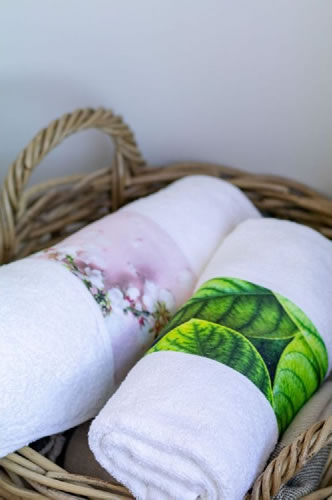 These household items are always in vogue and will be excellent promotional gifts for your brand. On the other hand, cosmetics stores will get surprising advertising by creating personalised cosmetic bags.
Terrycloth Towels, Beach Towels or Microfiber Towels? How to Choose the Right Corporate Gifts for You
Would you like to create your custom towels with logo, but you do not know whether to go for a terrycloth or a microfiber towel? Personalised towels offer different printing possibilities depending on the model and the material, regardless of whether they are used as promotional products or gift ideas. Anyone can add a writing, such as the name of the brand or their friend's, and an image – the logo cannot be missing for companies. The large printable surface allows you to apply a photo and a phrase or company motto as well.
However, not all custom towels are the same. If you want to create your personalised terrycloth towels or microfiber towels, consider size and material. Of course, the target and your business sector play a decisive role in choosing the most suitable corporate gifts. Here are some ideas:
Sports activities would get the best promotional effect by choosing custom microfiber towels. They are lightweight, compact, have an excellent absorption capacity and dry quickly. Such a personalised gym towel can be used anywhere, not only in fitness centres, but at home, on hikes, or in the pool as well. It is then not surprising that printing personalised microfiber towels is particularly recommended for sports stores and brands.
For cosmetics stores, hotels and wellness centres, personalised cotton towels are unsurpassed corporate gifts and promotional products. These bath accessories are soft and fluffy and look refined. This makes this type of custom towels an unparalleled gift idea if you embroider the name or initials of your friend or relative on it.
If you are looking for a good option for any recipient, you can print personalised terrycloth towels. These custom towels with logo are suitable for sports and home use.
To conclude, everyone – individuals, companies and shops – can choose their own customisable towel and turn it into a unique bath or sports accessory. The selection ranges from terrycloth towels to the practical microfiber towel, so that you can create personalised bath towels, but also a unique personalised gym towel or even personalised beach towels. The variety is endless and allows everyone to find the perfect promotional products and gift ideas for their purpose, whether they are looking for custom towels to offer as birthday gifts or as promotional products for their next advertising campaign or daily activity inside and outside the company.
Did you like this content? Click here to download it.
The success in giving personalised towels does not only lie in choosing the right type, but also in devising a particular design or message that most strikes the attention of those who receive the gift, and also accompanying it with your logo. Personalised towels are among the most popular corporate gifts; they help to give visibility, personality and uniqueness to your brand. A useful, classic gift that is renewed to keep up with the times! On this page you will find more than one type of personalised towels, so that you can choose the promotional item that best suits your brand or your communication with object, based on price, colour, size, shape.
Where can I found all the information on personalised towels?
Information about towels such as quantities availability in stock, printing variables, prices, exact sizes of the items are visible on the relevant page dedicated to the product. It is possible to create customized estimates and graphic drafts in total autonomy by clicking on the two red buttons clearly visible on the page. If you need more information about gym towels, we are always available via chat, email, phone.
How can I see my logo on personalised towels before the order?
When you buy personalized items such as towels, gym towels or golf towels with your logo, it is normal that you ask yourself in advance how the final result will be. With HiGift you will be able to have a vision of how your promotional items with a logo will be created, and this before purchasing. Go to the product sheet of the item you have chosen in towels and click on the red button try your logo. You can save your graphic draft in your personal area or download it and you will realize personalised towels you are purchasing. Please note that this will only be your graphic proof and that the professional print proof will be provided by us in the 24 hours following your order.
How can I calculate an estimate for personalised towels?
On HiGift you can make, download and save all the estimates you need in your personal area! You are now on personalised towels category, select your favorite customizable item and, once inside the product sheet, click on get your price and buy. Just enter the quantity, the color of towels, the type of customization you require based on the characteristics of your logo. In a few clicks you will be able to get your quote. At this point you can download it or save it in your personal area. If you want to revise the quote, just go back by clicking on the appropriate button. If you add various products such as towels, gym towels or golf towels to your cart, you will also be able to download or save the overall estimate of all your promotional items before checking out. In this way you can do all the tests you want with your favorite corporate gifts!
Can I obtain some discounts with the purchase of personalised towels?
On HiGift there are several ways to buy cheap towels. The first and most obvious: if you buy towels, gym towels or golf towels iin huge number, the price per item will be lower. If you buy the same items in smaller quantities, you will have a higher price each. This detail is clearly visible in the price table on each product sheet: it is often enough to add a minimum quantity of towels to get a better price. Also, if you subscribe to our newsletter you will be updated on the promotions we release every month. That's right, you got it right: you can find promotions on personalised towels, that is the articles you are looking for! If you become our customer you will also be able to access the HiGift Circle loyalty program which will allow you to have exclusive benefits by climbing the statuses. That is, more towels, gym towels or golf towels you buy, the sooner you will be able to reach the threshold for your passage of status and obtain increasingly important benefits, discounts included.
Corporate Gifts have multiple benefits for businesses. They can be part of corporate merchandising, a promotional and advertising tool for customers, and also a gift for employees during holidays, anniversaries or corporate anniversaries. They are useful tools to leave a memory of the brand during events, fairs, promotions to potential customers. Promotional items customized with your logo, if chosen carefully with respect to the communication message you want to convey, undoubtedly create added value to your brand.
Personalised Towels - FREQUENT QUESTIONS
Why should you buy and giveaway custom towels? Corporate gifts are a fundamental step in promoting and sponsoring your brand.
Who wouldn't want a company known by its logo?
The goal of each brand, in fact, is to become top of mind for its sector.
Personal accessories, such towels and bathroom accessories are very appreciated pocket items.
They can be seen by lots of people and so your logo became is remembered.
If your company's field is about beauty or hospitality. These items are representing perfectly your identity awareness.
Don't underestimate these cheap but well thoughts.

HiGift offers a wide range of towels to be customized according to the shape, material and color required.
We advise you to choose corporate gifts, always taking care of your core business and your line marketing strategy, considering the different possibilities of customization: from the classic types to the most fancy and blithe designs.
Spread your mission, vision and values through your promotional items and choose it carefully to express your brand. Towels are very flexible promotional items: colored or not, embroidered or printed on, in microfiber or in terry.
In our dedicated section of our web site you will find many ideas suitable for your logo.

Verifying every detail is important. It is therefore normal to buy Personalised Towels without having touched them can block your purchase process. For this on HiGift it is possible to receive a sample before ordering the entire quantity of the Towels. The procedure is very simple: just click on the red button calculate your quote and buy and enter 1 in the desired quantity. Then need to click on confirm order to proceed to purchase the sample without the desired print, after registering on our site or logging in if you are already a customer. In many cases it is also possible to customize the sample with your own logo, in order to be able to see the finished promotional product. Just choose the personalization on the calculator and that's it. To find out the cost of the neutral sample, go to the price summary that you see in the product sheets of Towelsand you will find it highlighted. In case the timing does not allow you to wait for the receipt of the sample to place the order, write to our customer service, we will be happy to help you with information or photos of the selected product.
You can order your
personalised towels
quickly by following these steps:
If you are not already our customer, sign in on HiGift or log into your account.
Choose the promotional item you prefer and, once you have entered the product sheet, click on the appropriate red button calculate your quote and buy.
Enter the quantity and possibly the color of towels, choose the type printing and follow the steps indicated until you have the final quote.
Click on confirm order to proceed with the purchase.
When ordering, you can upload your logo, or do it later in your personal area within the relevant order. Our staff will proceed to make you a free print draft to show you the
personalised towels with your logo
.
For more information click here
.
After your approval, we will proceed with production and you will receive Towels in 15-17 days. If, on the other hand, you have purchased towels without any customization, you will receive the goods in 3-4 days.
If you want to know more about delivery time, visit this page
. For more information on placing orders visit the section
how to order
. If you have doubts about payments, visit the section
payments