Personalised Socks
Personalised Socks: fully customizable!
Discover more details on
Personalised Socks: Fashion Accessories, Sports Items – Custom Promotional Products and Personalised Gift Ideas for Everyone!
Personalised socks show up in the list of the items we use every day. They are in the highest demand in winter. However, they go well for any season. Our assortment includes light custom socks as well as warm printed socks. Like many other successful promotional products, their advertising impact is due to their being amazingly versatile. In this, they largely exceed our expectations.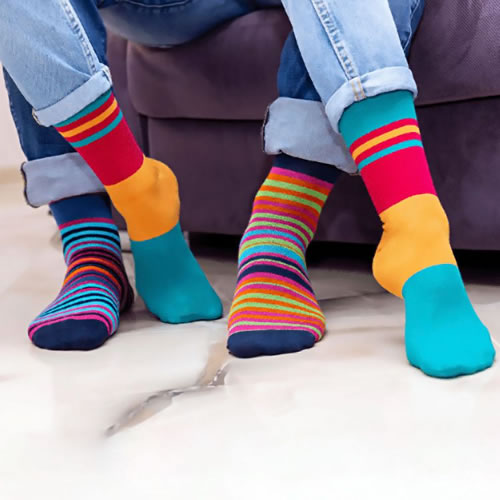 You can choose size, fabric and length to find the personalised socks that best suit your needs. There is an option for any recipient and any function your custom socks are meant to fulfill. That is to say, whether they will be promotional products for customers or team members or whether they will become unique custom gifts for relatives or friends.
The surprise effect is guaranteed. The large print area that customisable socks present plays a role into it as well. Whatever you wish to print – be it your friend's name or your logo, your motto or the photo of your favourite character –, personalised socks will prove to be a real canvas where you can give vent to your creativity.
Custom Socks: Branded Corporate Gifts and Personalised Gift Ideas for Your Loved Ones
As they are printed clothing items, personalised socks and customisable socks stand out as an excellent gift idea on several occasions. Companies usually employ textile products to spread their logo. Think of printed T-shirts, which are largely used by bars and restaurants or at fairs and conventions – not to mention matches. Personalised caps, too, are lucky corporate gifts. They turn out to be perfect for sports events and corporations, but also for informal catering activities.
Printed clothing is however among the first choices when it comes to making a gift for a loved one, too. Especially those who want to give their personalised gifts a special meaning rely on them. Printed T-shirts and embroidered hats are among the most requested in this case, too. Besides them, it is personalised fashion accessories that prove to be popular as custom gift ideas. Personalised socks belong to this category. And – with no surprise – they seem perfect both as custom promotional products for your team or clientele and as personalised gifts for family and friends.
Custom Socks and Personalised Socks for Team and Customers
The most relevant promotional products in the world of custom corporate gifts share the same features. Among these, being versatile, useful, practical, fashionable or cheerful, or carrying a particular message. Personalised socks meet all these requirements and do so in an outstanding way. First, we all wear them on a regular basis. Secondly, they can be customised with nice or chic prints. The large surface available for customisation is a great plus in this sense. For companies, this means that they will be able to reproduce the brand logo with the highest visibility. They may even add writings or images if they want to spread a message or arouse specific emotions. Custom socks with logo can fall within everyday work uniform. If we are in front of personalised sports socks, they will likely become a part of the players' clothing in the match field.
Sports centres and shops can find in customisable socks incredible allies to spread their brand. Together with all personalised sports accessories, custom socks refine cohesion within the team. It does not matter whether it is made of corporate members or players – the effect is the same. The feeling of belonging is always essential. Nobody wins alone. This is true both in the sports field and in the market. Giving your team custom socks with logo will make each member feel a part of its success.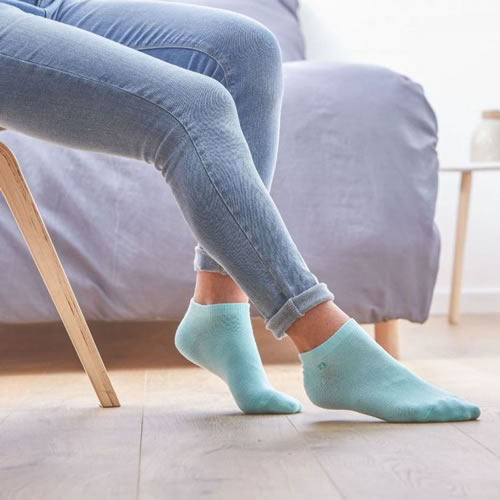 Everyone will feel the achievement as their own. Customers and spectators will then remember your name, together with your symbol, your identity. And your personalised sports socks will have played a crucial role in it!
Sports centres and shops can match custom socks with logo with other promotional products. You have the chance to choose among various corporate gifts, according to the sector you are active in. So, for instance, you may be interested in promotional cycling products or promotional football items. But you will also find personalized hiking gear and much more.
Custom Gifts for Friends? Amaze Your Loved Ones with Personalised Socks
Do you want to show affection to your dearest friend with a pair of customisable socks? The options are many. Such variety is exactly what makes these personalised fashion accessories perfect as custom gifts too. The style and taste of who will receive your printed socks will guide you in the selection of the model and print to apply. For instance, nice pictures with bright colours will win the heart of a cheerful and sunny person with a strong passion for originality. Making personalised socks by printing the initials of the recipient, on the other hand, is the right choice if they love class. These custom socks will likely become their favourite personalised fashion accessories.
Printing a photo on your custom socks is by far the most original idea. These personalised gifts turn into a memory. They symbolise the bond that you both share and show how much you know your friend, partner or relative. By applying custom writings on your personalised socks, on the other hand, you will be able to convey any message. A dedication or the recipient's favourite quote are both amazing ideas if you want to impress them with your printed socks. Does your friend play tennis or football? Are they gym enthusiasts? Then go for personalised sports socks to amaze them.
Customisable socks are often taken into account as gifts for children, too. Kids will cherish a pair of personalised socks if there is a special photo printed on them. For instance, that of their favourite character, pictures of dogs and cats or funny images. Custom socks with initials too can arouse wonder. If we wear accessories which represent us, we feel good. They become unique and significant. This is especially true if we are talking about personalised gifts that we were offered by one of the dearest people in our lives!
From Winter to Summer, from the Match Field to the Couch: Create the Best Personalised Socks for You
Do you want to make custom socks with logo to promote your brand or football team? Or are you interested in printing the initials of a loved one on a pair of customisable socks? Whoever your printed socks are meant for, you have several models from which to choose. In particular, personalised socks differ for their length and for the fabric in which they are made. So, you will find:
Personalised sports socks. Their fabric is made specially to do sport. Of course, they look perfect for sports corporations and teams. However, they prove to be effective promotional products for sports shops too. Is this your case, try and give away custom socks with logo to the customers who have bought a product. You may also use them as corporate gifts to give to visitors at a fair or event;
Custom knee socks, ideal on cold days. You can give them away as promotional products together with other personalised fashion accessories. Curious about the options? Try to offer them with a pair of custom gloves;
Personalised ankle socks. This is by far the most popular model. Customisable socks of this type are suitable for any season. Moreover, they meet everyone's approval as personalised fashion accessories. Matched with custom buffs, they will give birth to a full set useful in every time of the year;
Personalised socks that align with the shoe line. Clothing stores can use them as custom promotional products, especially in the summer time.
In conclusion, despite being much requested in winter, customisable socks are personalised fashions accessories for any time of the year and for any type of target. We all use them on a daily basis. For some activities they are even of utter importance. The sports sector cannot do without them. Custom socks with logo build cohesion within the team. They do so on the playing field, but also in groups of hikers and cylists. 
Printed socks made unique with writings or a photo, on the other hand, can be offered as custom gifts. They will be much cherished by anyone, be it friends or family, customers or employees. One of the strengths of custom socks is that they are easy to match with other gift ideas or custom promotional products. Thanks to all these qualities, personalised socks offer a chance to convey an emotion or message. By doing so, you can promote your brand or show affection to a loved one.
Did you like this content? Click here to download it.
Personalised socks with your printed logo are a thought that lasts over time, a memory that every person who interacts with your company carries with them, a promotional item that, using it, will unknowingly advertise your brand. Personalised socks are among the most popular customizable promotional items on the market, maybe because they are easy to use and indispensable in everyday life. If you imagine them with your communication message imprinted, it is sure to be a hit. On this page you will find more than one type of personalised socks, so that you can choose the promotional item that best suits your brand or your communication with object, based on price, colour, size, shape.
Where can I found all the information on personalised socks?
Information about socks such as quantities availability in stock, printing variables, prices, exact sizes of the items are visible on the relevant page dedicated to the product. It is possible to create customized estimates and graphic drafts in total autonomy by clicking on the two red buttons clearly visible on the page. If you need more information about children socks, we are always available via chat, email, phone.
How can I see my logo on personalised socks before the order?
When you buy personalized items such as socks, sport socks or children socks with your logo, it is normal that you ask yourself in advance how the final result will be. With HiGift you will be able to have a vision of how your promotional items with a logo will be created, and this before purchasing. Go to the product sheet of the item you have chosen in socks and click on the red button try your logo. You can save your graphic draft in your personal area or download it and you will realize personalised socks you are purchasing. Please note that this will only be your graphic proof and that the professional print proof will be provided by us in the 24 hours following your order.
How can I calculate an estimate for personalised socks?
Do you know that on HiGift it is quick and easy to obtain an ad hoc quote? If you are in the personalised socks category and you are therefore interested in this type of personalized items, just choose from the preview images the article that best suits your promotion. At this point, enter the product sheet and click on the appropriate red button. A pop-up will open and you just need to follow all the instructions given there. You need to know how many printed socks you want, your favorite color, if you want them customized and how many colors your logo has. In a few clicks you will have your quote and you can download it or save it in your account. If, on the other hand, you are interested in purchasing multiple types of socks, sport socks o children socks and want to have an overall estimate of several promotional items, just go to the cart. There too you will find the possibility to download your quote.
Can I obtain some discounts with the purchase of personalised socks?
On HiGift there are several ways to buy cheap socks. The first and most obvious: if you buy socks, sport socks or children socks iin huge number, the price per item will be lower. If you buy the same items in smaller quantities, you will have a higher price each. This detail is clearly visible in the price table on each product sheet: it is often enough to add a minimum quantity of socks to get a better price. Also, if you subscribe to our newsletter you will be updated on the promotions we release every month. That's right, you got it right: you can find promotions on personalised socks, that is the articles you are looking for! If you become our customer you will also be able to access the HiGift Circle loyalty program which will allow you to have exclusive benefits by climbing the statuses. That is, more socks, sport socks or children socks you buy, the sooner you will be able to reach the threshold for your passage of status and obtain increasingly important benefits, discounts included.
Branded Merchandise have multiple benefits for businesses. They can be part of corporate merchandising, a promotional and advertising tool for customers, and also a gift for employees during holidays, anniversaries or corporate anniversaries. They are useful tools to leave a memory of the brand during events, fairs, promotions to potential customers. Promotional items customized with your logo, if chosen carefully with respect to the communication message you want to convey, undoubtedly create added value to your brand.
Personalised Socks - FREQUENT QUESTIONS
The origin of the fashion word is modus, from latin language, which means manner, norm, time, rule.
The fashion of clothing was born out of the need to cover up in an elegant way, of the wealthier classes.
In fact, the latter used a lot of money for the fabrics of their clothes and for this reason the clothes were part of the property that was sold after death. The clothes were so precious and expensive.
From this story comes the word fashion, used today. There are many fashion accessories that can be honored as corporate gifts.
In this section, we try to make you a creative selection: Personalized socks, personalized bracelets, personalized belts, personalized necklaces and jewels,
but also hair accessories and cufflinks for shirts.
And if it seems to you that custom socks are a promotional items that can go unnoticed, you are wrong. Personalized socks are a great gift for children, but also for sports adults.
There is always a time when a sock becomes an opportunity for visibility.
HiGift offers a wide range of personalised socks, which vary in material, color and printing techniques.
They can be chosen in different colors, but also in different materials.
We advise you to choose your company gift in line with your core business and your marketing communication, considering the different possibilities of customization:
from classic models to the most extravagant and fun ones.
in fact, choosing corporate promotional items correctly is not just a good advertising move but also helps to strengthen the identity and mission of your business.
In the appropriate section of our website you will find many ideas to make your best custom socks to amaze your customers, employees or members of your association.
Custom socks can be a real marketing tool, but also a funny giveaway for a graduation party or a bachelorette.
Verifying every detail is important. It is therefore normal to buy Personalised Socks without having touched them can block your purchase process. For this on HiGift it is possible to receive a sample before ordering the entire quantity of the Socks. The procedure is very simple: just click on the red button calculate your quote and buy and enter 1 in the desired quantity. Then need to click on confirm order to proceed to purchase the sample without the desired print, after registering on our site or logging in if you are already a customer. In many cases it is also possible to customize the sample with your own logo, in order to be able to see the finished promotional product. Just choose the personalization on the calculator and that's it. To find out the cost of the neutral sample, go to the price summary that you see in the product sheets of Socksand you will find it highlighted. In case the timing does not allow you to wait for the receipt of the sample to place the order, write to our customer service, we will be happy to help you with information or photos of the selected product.
You can order your
personalised socks
quickly by following these steps:
If you are not already our customer, sign in on HiGift or log into your account.
Choose the promotional item you prefer and, once you have entered the product sheet, click on the appropriate red button calculate your quote and buy.
Enter the quantity and possibly the color of socks, choose the type printing and follow the steps indicated until you have the final quote.
Click on confirm order to proceed with the purchase.
When ordering, you can upload your logo, or do it later in your personal area within the relevant order. Our staff will proceed to make you a free print draft to show you the
personalised socks with your logo
.
For more information click here
.
After your approval, we will proceed with production and you will receive Socks in 15-17 days. If, on the other hand, you have purchased socks without any customization, you will receive the goods in 3-4 days.
If you want to know more about delivery time, visit this page
. For more information on placing orders visit the section
how to order
. If you have doubts about payments, visit the section
payments