Personalised Sportswear
Personalised Sportswear: make your brand be noted!
Discover more details on
Give Comfort to Your Team or Customers with Branded Sportswear
Sport should be part of our daily lives. Moving helps the well-being of the body and mind. Today, more and more people are aware of it and are committed to staying healthy. Whether you go for a run, play football or volleyball or spend your free time playing Padel, you need to wear the right custom sportswear.
This, of course, is a must for athletes who practice sports at a competitive level. For your football team or the members of your sports centre, you can think of creating branded sportswear to ensure them the maximum performance and the highest degree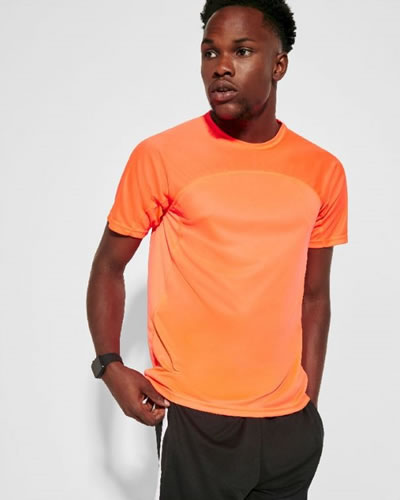 of comfort during their activity. Not only will everyone appreciate your efforts, but they will also feel further motivated to give their best for the team or for themselves. All because your custom team sportswear will make them feel part of your reality, supported and true professionals.
The Importance of the Right Branded Sportswear for Sport
All custom sportswear items are designed to perform the best physical activity. For this reason, they are breathable and sufficiently adherent. Plus, they do not hinder movement. Our assortment includes several branded sportswear products among which you can choose your own personalised technical clothing items. These are made with fibres that maintain the right body temperature both during activity and during breaks. In other words, anyone who wears them will not suffer from heat or cold. The result will be maximum concentration on performance. Plus, custom sportswear is very important to avoid colds or illnesses due to the change in temperature once you are done with your activity.
Branded sportswear as well as personalised technical clothing places the utmost importance on comfort. Anyone who plays sports must be able to move in total freedom. Looking for branded sportswear is essential for a professional athlete. Custom team sportswear is key to make all players and fans feel united. However, these are not the only cases in which personalised technical clothing proves to be helpful. Instead, many brands can find in custom sportswear an incredible resource to circulate their logo.
Branded Sportswear for Everyone: From Professionals to Fans, From Subscribers to Customers
All products in the 'branded sportswear' category are extremely versatile. They become essential accessories for anyone who practices sports at a competitive level – especially if you go for custom team sportswear. Besides, they prove to be extremely impactful promotional products if offered to the right audience. Of course, any shop which sells sporting goods can create its own custom sportswear. Then, it only has to either sell it to its customers or offer the items as corporate gifts.
Nowadays, many practice sports and aim for the best performance as well as for the highest comfort. It is not surprising, then, that personalised technical clothing is more and more widespread. Any brand can take advantage of it. Anyone who wears your printed sports t-shirt or your custom track pants will bring your logo around and advertise for your reality.
Sports centres, gyms and associations can find the perfect branded sportswear for their activity and offer it to their members. In this way, your custom team sportswear items will become promotional products in all respects. Besides, they will be very effective corporate gifts. Those who come to watch the match will for sure admire your logo.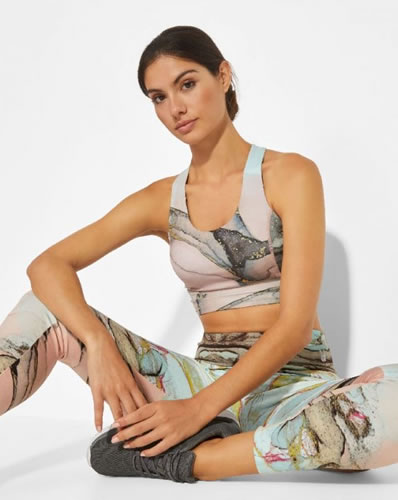 Moreover, your customers will be able to wear your custom sports t-shirts even outside of your reality. Needless to say, by doing so they will spread your name. Finally, branded sportswear can create unique merchandise. Fans will go crazy for custom sports t-shirts with the name of their favourite player. Even friends and relatives of your centre members may want a custom sportswear item with your logo.
Choices for All Tastes and Sports: A Closer Look at Branded Sportswear Products
As in the case of personalised clothing in general, custom sportswear too has a notable variety. The selection includes different products. We find adult as well as children's clothing, besides garments for women and for men. In general, the different subcategories can be summarily divided into top, lower body clothes and suits.
Branded Sportswear: The "Top" Choices
For the upper body, the world of custom team sportswear offers several possibilities. We find common t-shirts, as well as polo shirts, long-sleeved shirts and jackets. These garments are important because they allow us to move our torso and arms freely. These are undoubtedly the most popular promotional products and corporate gifts used as branded merchandise.
Custom Sportswear: Printed Leggings, Pants and Shorts
Wearing the right personalised technical clothing for your lower body is very important for any physical activity. For joggers, those who play in a team or attend the gym, pants, shorts and leggings prove to be the number one allies to move in absolute comfort. And, of course, successful promotional products and corporate gifts for any sports reality.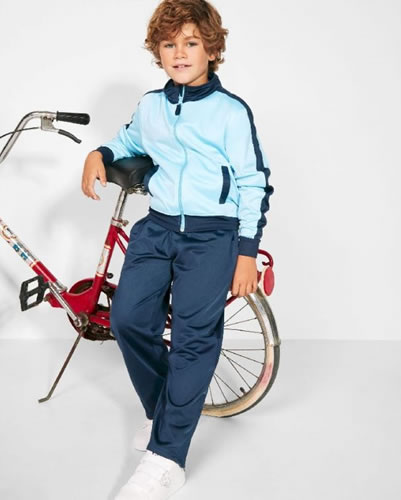 Printed leggings are extremely popular among women. Still, they are very comfortable for men too. Very useful for yoga and Pilates, printed leggings are great for jogging and many other activities as well. You will also find printed leggings for children and in various lengths;
Custom sports shorts cannot miss in summer. Men, women and children will find them extremely comfortable thanks to the elasticity and breathability that characterises them;
Custom track pants are long, perfect for training on cold days. They can have elastic waistband, straight or tight fit, ankle cuffs and many other features.
Single-Piece Branded Sportswear: Branded Tracksuits, Sports Sets and Jackets
If you want to give away complete promotional products and corporate gifts, personalised sports sets and branded tracksuits are the right answer. Besides, windbreakers and technical jackets can be the perfect choice if you organise outdoor activities.
Personalised sports sets include custom sports tank tops or printed t-shirts and custom track pants or sports shorts. Their strength as promotional products is that of being complete and ready-to-use corporate gifts. They will also create greater cohesion within the team and have a double promotional impact. Custom sports sets include two pieces of personalised technical clothing, each of which will display your logo;
Branded tracksuits have a very similar function when used as promotional products as well as corporate gifts. They are perfect for gyms, for training, and for anyone who goes jogging. For this reason, they stand out for their versatility. Anyone can use them and make your logo well visible;
Branded windbreakers and personalised sports jackets are often more useful than expected. While they are must-have accessories for trekking and during boat trips, they shelter from rain and wind at any time.
In conclusion, choosing your own custom sportswear or personalised technical clothing can give a twist to how your brand is perceived by the public. Besides, these corporate gifts and promotional products also strengthen the team's bond and customer attachment to the sports centre. The branded sportswear sector is very broad and opens the way to different possibilities. You will just have to find the right promotional products or corporate gifts for you!
Did you like this content? Click here to download it.
The success in giving personalised sportswear does not only lie in choosing the right type, but also in devising a particular design or message that most strikes the attention of those who receive the gift, and also accompanying it with your logo. Personalised sportswear are among the most popular corporate gifts; they help to give visibility, personality and uniqueness to your brand. A useful, classic gift that is renewed to keep up with the times! In our stock you will find both personalised sportswear cheaper to use as personalized gifts, and premium gifts promotional sport t shirts that will allow you to exalt yourself from the competition thanks to their unique design and their quality.
Where can I found all the information on personalised sportswear?
All information about sportswear is reported in the product sheet of each items. Therefore, the quantities available in stock, the colours, the prices, the types of printing are always visible and updated in real time. To get a personalized quote or a pre-view of how the promotional sport t shirts with your logo could look, just click on the buttons available on the item page. For any further information do not hesitate to contact us!
How can I see my logo on personalised sportswear before the order?
When you buy personalized items such as sportswear, sport t shirts or sports shorts with your logo, it is normal that you ask yourself in advance how the final result will be. With HiGift you will be able to have a vision of how your promotional items with a logo will be created, and this before purchasing. Go to the product sheet of the item you have chosen in sportswear and click on the red button try your logo. You can save your graphic draft in your personal area or download it and you will realize personalised sportswear you are purchasing. Please note that this will only be your graphic proof and that the professional print proof will be provided by us in the 24 hours following your order.
How can I calculate an estimate for personalised sportswear?
Do you know that on HiGift it is quick and easy to obtain an ad hoc quote? If you are in the personalised sportswear category and you are therefore interested in this type of personalized items, just choose from the preview images the article that best suits your promotion. At this point, enter the product sheet and click on the appropriate red button. A pop-up will open and you just need to follow all the instructions given there. You need to know how many promotional sportswear you want, your favorite color, if you want them customized and how many colors your logo has. In a few clicks you will have your quote and you can download it or save it in your account. If, on the other hand, you are interested in purchasing multiple types of sportswear, sport t shirts o sports shorts and want to have an overall estimate of several promotional items, just go to the cart. There too you will find the possibility to download your quote.
Can I obtain some discounts with the purchase of personalised sportswear?
On HiGift there are several ways to buy cheap sportswear. The first and most obvious: if you buy sportswear, sport t shirts or sports shorts iin huge number, the price per item will be lower. If you buy the same items in smaller quantities, you will have a higher price each. This detail is clearly visible in the price table on each product sheet: it is often enough to add a minimum quantity of sportswear to get a better price. Also, if you subscribe to our newsletter you will be updated on the promotions we release every month. That's right, you got it right: you can find promotions on personalised sportswear, that is the articles you are looking for! If you become our customer you will also be able to access the HiGift Circle loyalty program which will allow you to have exclusive benefits by climbing the statuses. That is, more sportswear, sport t shirts or sports shorts you buy, the sooner you will be able to reach the threshold for your passage of status and obtain increasingly important benefits, discounts included.
Promotional Items have multiple benefits for businesses. They can be part of corporate merchandising, a promotional and advertising tool for customers, and also a gift for employees during holidays, anniversaries or corporate anniversaries. They are useful tools to leave a memory of the brand during events, fairs, promotions to potential customers. Promotional items customized with your logo, if chosen carefully with respect to the communication message you want to convey, undoubtedly create added value to your brand.
Personalised Sportswear - FREQUENT QUESTIONS
Personalized sportswear is a very important step for creating an image identity and brand positioning.
Custom sportswear is a sign of a consolidated image and professionalism.
It also creates a sense of belonging and loyalty inside groups.
It's true that the dress does not make the monk, but it certainly helps in the institutionalization of its image.
Nowadays the corporate image identity it's important as the sold product.
Personalized sportswear is ideal for sports teams, gyms, martial arts schools, dance schools, and also for companies that do social activities and use sport as a moment of identification and aggregation.

HiGift offers a wide range of sportswear to be customized according to the shape, material and color required.
We advise you to choose corporate gifts, always taking care of your core business and your line marketing strategy, considering the different possibilities of customization: from the classic types to the most fancy and blithe designs.
Spread your mission, vision and values through your promotional items and choose it carefully to express your brand. In our dedicated section of our web site you will find many ideas suitable for your logo.
And If you are looking for a much sought-after that you cannot find on our website.
No problem at all.
Just contact us and We are delighted to let you know!.

Verifying every detail is important. It is therefore normal to buy Personalised Sportswear without having touched them can block your purchase process. For this on HiGift it is possible to receive a sample before ordering the entire quantity of the Sportswear. The procedure is very simple: just click on the red button calculate your quote and buy and enter 1 in the desired quantity. Then need to click on confirm order to proceed to purchase the sample without the desired print, after registering on our site or logging in if you are already a customer. In many cases it is also possible to customize the sample with your own logo, in order to be able to see the finished promotional product. Just choose the personalization on the calculator and that's it. To find out the cost of the neutral sample, go to the price summary that you see in the product sheets of Sportswearand you will find it highlighted. In case the timing does not allow you to wait for the receipt of the sample to place the order, write to our customer service, we will be happy to help you with information or photos of the selected product.
You can order your
personalised sportswear
quickly by following these steps:
If you are not already our customer, sign in on HiGift or log into your account.
Choose the promotional item you prefer and, once you have entered the product sheet, click on the appropriate red button calculate your quote and buy.
Enter the quantity and possibly the color of sportswear, choose the type printing and follow the steps indicated until you have the final quote.
Click on confirm order to proceed with the purchase.
When ordering, you can upload your logo, or do it later in your personal area within the relevant order. Our staff will proceed to make you a free print draft to show you the
personalised sportswear with your logo
.
For more information click here
.
After your approval, we will proceed with production and you will receive Sportswear in 15-17 days. If, on the other hand, you have purchased sportswear without any customization, you will receive the goods in 3-4 days.
If you want to know more about delivery time, visit this page
. For more information on placing orders visit the section
how to order
. If you have doubts about payments, visit the section
payments