Custom Leggings
Custom Leggings: ideal for pilates or yoga!
Below more details on
Perfect Promotional Products for Your Customers or Yoga Centre? Find Out Practical, Pretty and Versatile Printed Leggings!
Branded sportswear belongs to the most amazing corporate gifts when it comes to utility and image return.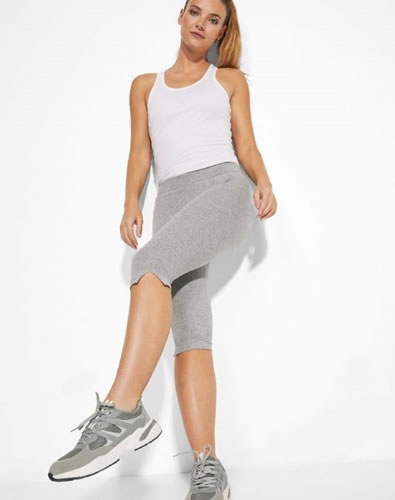 A must-have during sports activities, which are increasingly practiced even within the company, personalised sportswear items are useful at home as well as for personal hobbies. From personalised tracksuits to branded windbreakers, giving away these pieces of clothing is a successful advertising move.
Even more so if we adopt some markedly versatile items as promotional products, which can be used in different contexts besides sports. This is the case of printed leggings. Besides being widely used in yoga and Pilates classes, this branded sportswear item is suitable for running and gym exercises too. Moreover, it is also worn quite often as normal clothing. Precisely because they can meet different needs, printed leggings represent a significant resource for companies and sports or yoga centres.
Facts, Peculiarity, Popularity: Leggings Under the Lens
Leggings have been a fashion for several years now. Besides, the trend of getting them personalised or to buy custom leggings with name and prints has spread too. These little extras give the piece of clothing a more personal and characteristic touch. But what lies behind the popularity of the most loved, simple and versatile custom yoga accessories?
Custom branded leggings boast a particular history and properties. These both make this personalised sportswear at the same time attractive and very useful. Made unique through prints, writings and – above all – the brand logo, they will make excellent publicity thanks to their features, but also because everyone knows them and will appreciate such useful accessories, even if they already have a pair or more at home. Finally, leggings are widespread in the world of yoga and Pilates.
Some Facts About Leggings: Before They Became Fashion Items and Corporate Gifts
Although they have come back into fashion not so long ago, printed leggings have a very ancient origin. We find them in the war uniform of soldiers, who used to wear them under their pants. They were then rediscovered around the 1950s, giving rise to an alternative version with a band running under each foot. The type of leggings we know today, however, spread in the 1970s and owes much to Capri pants, compared to which, however, it is way more adherent.
The current fashion of simple or printed leggings was launched in the early 2000s. Since then, we find them in sporty, elegant, informal and sought-after outfits. Besides, branded leggings are for adults and children, for women and men alike. And, last but not least, printed leggings populate yoga and Pilates classes and come in handy for several other physical activities – both indoors and outdoors – as well.
Printed Leggings Features: What Makes These Corporate Gifts Extremely Versatile
We all have in mind how leggings are. They are super-tight, comfortable and practical pants. Their distinctive quality is the elasticity, which is due to the material in which these sports accessories are generally made.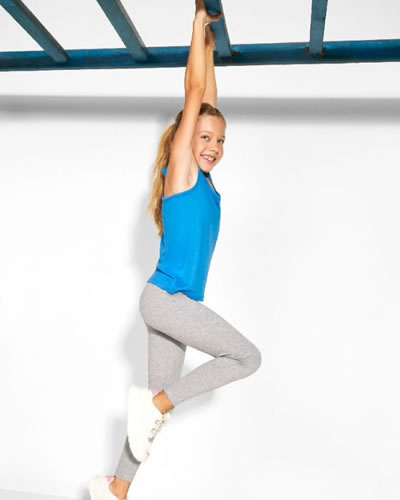 They differ from other custom track pants and custom sports shorts because they are made of cotton and elastane. The latter is a natural fibre which is responsible for the maximum fit of custom leggings. The result is a high practicality in movements and an incredible adaptability of the fabric to the legs. Your printed leggings will then be perfect for any target, thanks to their flexibility.
Part of the versatility of leggings as yoga accessories and promotional products lies in the variety of applicable print types and the wide richness of the catalogue. This includes branded leggings for women and men, besides allowing the creation of custom leggings for children. The differences between the various models do not end here, as the assortment includes printed leggings different in colour and length. Some are long up to the knee; others cover the entire leg up to the ankle. In this way, you can create printed leggings suitable for the season when you want to distribute them as personalised yoga accessories or promotional products.
As for the printing possibilities, among the techniques available we find three. First, screen printing is perfect for applying logos and simple designs on your corporate gifts. Secondly, transfer printing is a digital process that guarantees maximum rendering in terms of colours and details. Lastly, embroidery is the safe choice for those who aim at fine-looking printed leggings.
Ideas for Using Printed Leggings as Corporate Gifts and Promotional Products
Due to their properties and the success they enjoy in the world of fashion and sports, custom leggings are an important marketing resource when used as corporate gifts or promotional products. They can be given to the team, employees, members of sports centres or gyms. They are a must for those who practice yoga or Pilates, but they are suitable for any sport.
For this reason, custom leggings with logo are of course perfect corporate gifts for anyone who works with athletes. Besides that, however, they prove to be successful as promotional products for companies that care about the health of their team as well. Here are some ideas on how to make the most of them depending on the brand that chooses them as promotional products:
For yoga centres and gyms that offer Pilates classes, printed leggings are a must-have. Their elasticity makes the movements comfortable and avoids any impediment during the activity. For these businesses, it is a great idea to give away branded leggings along with other personalised sports accessories or custom yoga accessories. Personalised candles too can be part of your gift, as they are often used for meditation. The result will be complete corporate gifts, with which to communicate to your subscribers your closeness and willingness to offer them the best experience, focusing on originality, comfort and well-being;
Any company which is attentive to the health of its employees can make printed leggings or custom leggings with logo and distribute them to its team. Everyone will be able to wear your branded leggings during a yoga class with colleagues at a company break or use them for their own personal practice. In this case too, if brands distribute custom leggings with logo and name, they can combine them with other personalised sportswear, such as custom sports t-shirts or custom sports tank tops.
Sports centres, gyms, shops, companies: it does not matter who makes and distributes printed leggings as corporate gifts or promotional products. Any brand can benefit from the comfort and versatility to spread its name. Printed on the fabric, your logo will certainly circulate, not least because branded leggings, often worn in non-sporting contexts, will be noticed by a very large number of people – alias potential customers.
Did you like this content? Click here to download it.
The success in giving custom leggings does not only lie in choosing the right type, but also in devising a particular design or message that most strikes the attention of those who receive the gift, and also accompanying it with your logo. Custom leggings are among the most popular corporate gifts; they help to give visibility, personality and uniqueness to your brand. A useful, classic gift that is renewed to keep up with the times! On this page you will find more than one type of custom leggings, so that you can choose the promotional item that best suits your brand or your communication with object, based on price, colour, size, shape.
Where can I found all the information on custom leggings?
Information about leggings such as quantities availability in stock, printing variables, prices, exact sizes of the items are visible on the relevant page dedicated to the product. It is possible to create customized estimates and graphic drafts in total autonomy by clicking on the two red buttons clearly visible on the page. If you need more information about pilates trousers, we are always available via chat, email, phone.
How can I see my logo on custom leggings before the order?
When you buy personalized items such as leggings, yoga leggings or pilates trousers with your logo, it is normal that you ask yourself in advance how the final result will be. With HiGift you will be able to have a vision of how your promotional items with a logo will be created, and this before purchasing. Go to the product sheet of the item you have chosen in leggings and click on the red button try your logo. You can save your graphic draft in your personal area or download it and you will realize custom leggings you are purchasing. Please note that this will only be your graphic proof and that the professional print proof will be provided by us in the 24 hours following your order.
How can I calculate an estimate for custom leggings?
Do you know that on HiGift it is quick and easy to obtain an ad hoc quote? If you are in the custom leggings category and you are therefore interested in this type of personalized items, just choose from the preview images the article that best suits your promotion. At this point, enter the product sheet and click on the appropriate red button. A pop-up will open and you just need to follow all the instructions given there. You need to know how many personalised leggings you want, your favorite color, if you want them customized and how many colors your logo has. In a few clicks you will have your quote and you can download it or save it in your account. If, on the other hand, you are interested in purchasing multiple types of leggings, yoga leggings o pilates trousers and want to have an overall estimate of several promotional items, just go to the cart. There too you will find the possibility to download your quote.
Can I obtain some discounts with the purchase of custom leggings?
If you are looking for personalized cheap leggings , here you are in the right place. In fact, on HiGift you can find different ways to save on your corporate gifts such as leggings, yoga leggings or pilates trousers. Also if you buy a small quantity of leggings, you can save on the cost each, which decreases as quantities increase. Furthermore, by registering on our site you will participate in the HiGift Circle loyalty program which will allow you to obtain increasingly exclusive benefits as you climb your status. How to get to be a Platinum customer? Just buy your corporate gifts from us, so, once you have reached a certain spending threshold, you can scale from Bronze to Silver up to Gold and finally Platinum to get, among other advantages, an important discount on the purchase of all the promotional items present on the site. Finally, if you want to stay updated on discounts and promotions that can include leggings, yoga leggings o pilates trousers, subscribe to our newsletter, you will receive it monthly and will always contain news on discounts and benefits for you.
Promotional Items have multiple benefits for businesses. They can be part of corporate merchandising, a promotional and advertising tool for customers, and also a gift for employees during holidays, anniversaries or corporate anniversaries. They are useful tools to leave a memory of the brand during events, fairs, promotions to potential customers. Promotional items customized with your logo, if chosen carefully with respect to the communication message you want to convey, undoubtedly create added value to your brand.
Custom Leggings - FREQUENT QUESTIONS
Verifying every detail is important. It is therefore normal to buy custom leggings without having touched them can block your purchase process. For this on HiGift it is possible to receive a sample before ordering the entire quantity of the leggings. The procedure is very simple: just click on the red button calculate your quote and buy and enter 1 in the desired quantity. Then need to click on confirm order to proceed to purchase the sample without the desired print, after registering on our site or logging in if you are already a customer. In many cases it is also possible to customize the sample with your own logo, in order to be able to see the finished promotional product. Just choose the personalization on the calculator and that's it. To find out the cost of the neutral sample, go to the price summary that you see in the product sheets of leggingsand you will find it highlighted. In case the timing does not allow you to wait for the receipt of the sample to place the order, write to our customer service, we will be happy to help you with information or photos of the selected product.
You can order your
custom leggings
quickly by following these steps:
If you are not already our customer, sign in on HiGift or log into your account.
Choose the promotional item you prefer and, once you have entered the product sheet, click on the appropriate red button calculate your quote and buy.
Enter the quantity and possibly the color of leggings, choose the type printing and follow the steps indicated until you have the final quote.
Click on confirm order to proceed with the purchase.
When ordering, you can upload your logo, or do it later in your personal area within the relevant order. Our staff will proceed to make you a free print draft to show you the
custom leggings with your logo
.
For more information click here
.
After your approval, we will proceed with production and you will receive leggings in 15-17 days. If, on the other hand, you have purchased leggings without any customization, you will receive the goods in 3-4 days.
If you want to know more about delivery time, visit this page
. For more information on placing orders visit the section
how to order
. If you have doubts about payments, visit the section
payments