Custom Soft PVC USB sticks
Custom Soft PVC USB sticks: soft and colorful!
Discover more information on
How to Make the Most Useful Office Supplies Cheerful? Use Personalised USB Sticks in Soft PVC for Your Promotion
Work is not usually associated with fun. Still, the day at the office does not have to be sad and boring. It is indeed quite easy to make it livelier. You only need to bring a small accessory with you, at best one of your personalised items. In this way, you will give a touch of vitality and colour to the work environment. Combining the seriousness of the office with a cheerful look is no small feat. However, personalised USB sticks in soft PVC succeed perfectly in this.
In fact, these are not the only promotional office supplies that can add vivacity to the day spent sitting at your desk. Printed stickers and personalised labels, too, for instance, are a meaningful resource in this sense.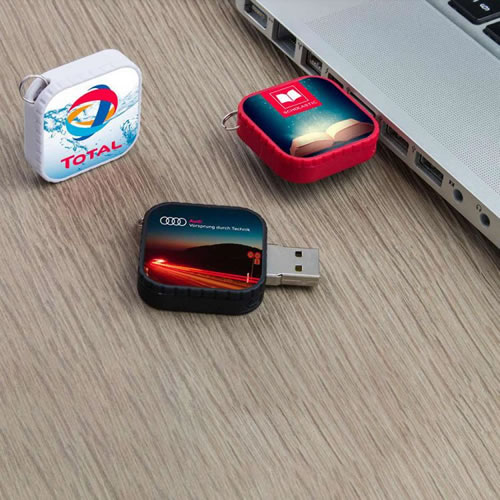 They are very useful to identify at a glance which notebook, binder or document holder we are looking for, without ruining the cover. At the same time, however, they can be personalised in a cheerful way, thanks to colourful prints and nice images.
Branded USB flash drives are not only essential corporate gifts at work. Instead, they also belong to the category of personalised tech products. High tech promotional items experience more and more success, given the strong presence of the high-tech world in our lives. So, if custom metal USB sticks are the best corporate gifts to give a professional image of the company on the one hand, on the other branded USB sticks made of soft PVC depict the brand as easy-going, fun, and close to the customer or employee. Also, like all personalised USB pen drives, these versions are perfect both inside and outside the office.
The Strength of Opposites: Usefulness and Fun in Practical and Cute Promotional Products
The models of personalised USB sticks made of soft PVC have the same utility and functionality as classic custom USB flash drives but come with a cheerful and playful look. They are then the best option for a company with an informal attitude and the desire to arouse sympathy. With personalised USB sticks made with soft PVC, each brand can offer its employees very useful, but at the same time nice, promotional office supplies. The resulting corporate gifts will be ideal for dampening stress in the workplace.
Custom USB Flash Drives in Soft PVC and Their Effects: Versatile Use and Unforgettable Cheerfulness
Branded USB sticks, in any case, are not a prerogative of offices or professional studios. On the contrary, they can be useful at home as well. For instance, you can use branded USB pen drives to save photos and other files. They are perfect for those who work on their own projects in their free time. Custom USB sticks made with plasticised PVC are the most obvious choice when a brand is looking for personalised USB flash drives which can become fun and enjoyable corporate gifts for customers. Branded USB sticks in soft PVC, with their nice look, further strengthen the link between the brand and the jovial atmosphere it wants to evoke.
In this way, the strength of custom USB sticks made of soft PVC lies precisely in the variety of effects they have on those who receive them. It does not matter whether they are meant as corporate gifts for your team or as promotional products for your customers. On the one hand, personalised USB sticks are useful for both office and personal tasks. On the other, they inspire sympathy and joy. By doing so, they impress themselves in a positive way in those who use them.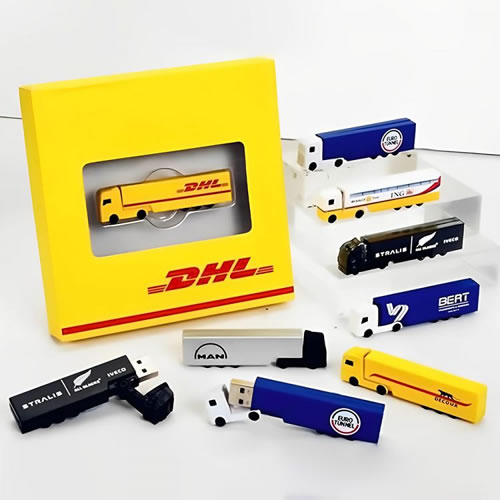 Their cheerful shape and bright colours will turn your custom USB pen drives made of plasticised PVC into beloved and unforgettable corporate gifts or promotional products. As a result, your brand will get a lasting and positive publicity. This will be due both to the practical utility and to the emotional effect of your personalised USB flash drives made with soft PVC.
Technical Specifications of Custom USB Sticks in Soft PVC
As with all promotional products made with a specific material, branded USB pen drives in soft PVC require a closer look at their specific technical properties. If items such as personalised wooden USB sticks and branded bamboo pens stand out for their eco-friendly nature as they are made of natural materials, custom USB flash drives in soft PVC have different, despite equally noteworthy features.
Soft And Resistant, Cheerful and Durable: All the Qualities of Personalised USB Sticks Made of Soft PVC
PVC is one of the most widely used plastic substances globally when it comes to creating items of the most various type. It is very popular even in the world of promotional products. We find it in some printed plastic keyrings, for instance. Among its main features, resistance is worth a mention. Thanks to this quality, branded USB flash drives and custom USB sticks made with plasticised PVC prove to be long-lasting promotional products. Moreover, it influences the company image, the success of advertising, as well as the environment in a positive way. As personalised USB sticks are amazingly durable, there will be less need for new items to be produced – as few people will want to buy new ones. This results in lower gas emissions and a reduction in the use of pollutants.
So, these custom plastic USB sticks turn out to be an eco-friendly choice, maybe surprisingly. Also, as they do not get ruined easily, personalised USB flash drives present your brand as quality conscious. Moreover, whether they are given as corporate gifts or promotional products, they will sponsor your logo for a long time to come. Customers as well as employees will be impressed by the efficiency of their branded USB pen drives made with soft PVC. Thanks to this, they will hardly forget the company that gave them these wonderful promotional products. Besides, we should not forget that plasticised PVC is a safe material for health. This is the reason why we find it in several personalised toys for children.
Finally, soft PVC is characterised by an incredible softness. It also allows full freedom as for the colouring possibilities. It is precisely thanks to its malleability that plasticised PVC is used to make some personalised cosmetic bags.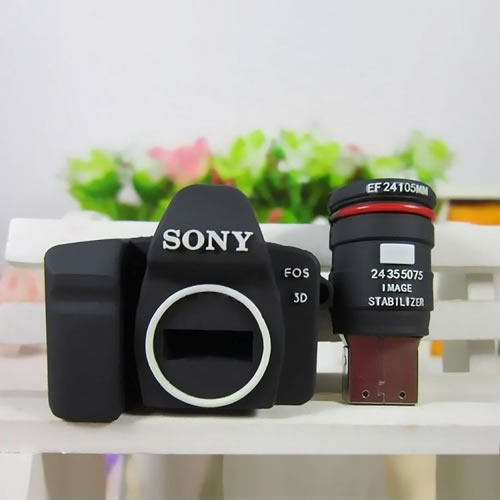 These are successful because they are soft, but reliable as well. On the other hand, many custom USB sticks made of plasticised PVC are coloured, besides being soft. So, it will be both the visual and tactile appeal that will amaze those who receive these promotional products.
Promotional Products and Distribution: Companies, Shops and Personalised USB Sticks in Soft PVC
The versatility of PVC and USB flash drives makes custom USB pen drives made of plasticised PVC suitable promotional products and corporate gifts for all targets. Personalised USB sticks made of plasticised PVC can be given as corporate gifts to employees, ideally before summer holidays. Customers, on the other hand, can appreciate them as high-tech promotional products and use them at their office or at home. Besides, as this type of custom USB flash drives is suitable for business work as well as for hobbies and personal interests, they prove to be extremely versatile. This means that any activity can give them away.
Thanks to the different shapes in which they are available, these versions of the classic personalised USB sticks can be the ideal promotional products for shops, music or photography schools, and basically any recreational centre. They are fist-class corporate gifts in the summer, as the bright colours of most custom USB flash drives made with plasticised PVC evoke joy and light-heartedness. By choosing the design that best suits their activity, each brand can count on the playful look and undisputed utility of personalised USB sticks in soft PVC to leave the customer with a positive and lasting memory of their business.
Did you like this content? Click here to download it.
The success in giving custom soft pvc usb sticks does not only lie in choosing the right type, but also in devising a particular design or message that most strikes the attention of those who receive the gift, and also accompanying it with your logo. Custom soft pvc usb sticks are among the most popular customizable promotional items on the market, maybe because they are easy to use and indispensable in everyday life. If you imagine them with your communication message imprinted, it is sure to be a hit. On this page you will find more than one type of custom soft pvc usb sticks, so that you can choose the promotional item that best suits your brand or your communication with object, based on price, colour, size, shape.
Where can I found all the information on custom soft pvc usb sticks?
Information about soft pvc usb sticks such as quantities availability in stock, printing variables, prices, exact sizes of the items are visible on the relevant page dedicated to the product. It is possible to create customized estimates and graphic drafts in total autonomy by clicking on the two red buttons clearly visible on the page. If you need more information about usb drives, we are always available via chat, email, phone.
How can I see my logo on custom soft pvc usb sticks before the order?
When you buy personalized items such as soft pvc usb sticks, usb drives or plastic usb stick with your logo, it is normal that you ask yourself in advance how the final result will be. With HiGift you will be able to have a vision of how your promotional items with a logo will be created, and this before purchasing. Go to the product sheet of the item you have chosen in soft pvc usb sticks and click on the red button try your logo. You can save your graphic draft in your personal area or download it and you will realize custom soft pvc usb sticks you are purchasing. Please note that this will only be your graphic proof and that the professional print proof will be provided by us in the 24 hours following your order.
How can I calculate an estimate for custom soft pvc usb sticks?
Do you know that on HiGift it is quick and easy to obtain an ad hoc quote? If you are in the custom soft pvc usb sticks category and you are therefore interested in this type of personalized items, just choose from the preview images the article that best suits your promotion. At this point, enter the product sheet and click on the appropriate red button. A pop-up will open and you just need to follow all the instructions given there. You need to know how many promotional soft pvc usb sticks you want, your favorite color, if you want them customized and how many colors your logo has. In a few clicks you will have your quote and you can download it or save it in your account. If, on the other hand, you are interested in purchasing multiple types of soft pvc usb sticks, usb drives o plastic usb stick and want to have an overall estimate of several promotional items, just go to the cart. There too you will find the possibility to download your quote.
Can I obtain some discounts with the purchase of custom soft pvc usb sticks?
If you are looking for personalized cheap soft pvc usb sticks , here you are in the right place. In fact, on HiGift you can find different ways to save on your corporate gifts such as soft pvc usb sticks, usb drives or plastic usb stick. Also if you buy a small quantity of soft pvc usb sticks, you can save on the cost each, which decreases as quantities increase. Furthermore, by registering on our site you will participate in the HiGift Circle loyalty program which will allow you to obtain increasingly exclusive benefits as you climb your status. How to get to be a Platinum customer? Just buy your corporate gifts from us, so, once you have reached a certain spending threshold, you can scale from Bronze to Silver up to Gold and finally Platinum to get, among other advantages, an important discount on the purchase of all the promotional items present on the site. Finally, if you want to stay updated on discounts and promotions that can include soft pvc usb sticks, usb drives o plastic usb stick, subscribe to our newsletter, you will receive it monthly and will always contain news on discounts and benefits for you.
Promotional Items have multiple benefits for businesses. They can be part of corporate merchandising, a promotional and advertising tool for customers, and also a gift for employees during holidays, anniversaries or corporate anniversaries. They are useful tools to leave a memory of the brand during events, fairs, promotions to potential customers. Promotional items customized with your logo, if chosen carefully with respect to the communication message you want to convey, undoubtedly create added value to your brand.
Custom Soft PVC USB sticks - FREQUENT QUESTIONS
Verifying every detail is important. It is therefore normal to buy custom soft pvc usb sticks without having touched them can block your purchase process. For this on HiGift it is possible to receive a sample before ordering the entire quantity of the soft pvc usb sticks. The procedure is very simple: just click on the red button calculate your quote and buy and enter 1 in the desired quantity. Then need to click on confirm order to proceed to purchase the sample without the desired print, after registering on our site or logging in if you are already a customer. In many cases it is also possible to customize the sample with your own logo, in order to be able to see the finished promotional product. Just choose the personalization on the calculator and that's it. To find out the cost of the neutral sample, go to the price summary that you see in the product sheets of soft pvc usb sticksand you will find it highlighted. In case the timing does not allow you to wait for the receipt of the sample to place the order, write to our customer service, we will be happy to help you with information or photos of the selected product.
You can order your
custom soft pvc usb sticks
quickly by following these steps:
If you are not already our customer, sign in on HiGift or log into your account.
Choose the promotional item you prefer and, once you have entered the product sheet, click on the appropriate red button calculate your quote and buy.
Enter the quantity and possibly the color of soft pvc usb sticks, choose the type printing and follow the steps indicated until you have the final quote.
Click on confirm order to proceed with the purchase.
When ordering, you can upload your logo, or do it later in your personal area within the relevant order. Our staff will proceed to make you a free print draft to show you the
custom soft pvc usb sticks with your logo
.
For more information click here
.
After your approval, we will proceed with production and you will receive soft pvc usb sticks in 15-17 days. If, on the other hand, you have purchased soft pvc usb sticks without any customization, you will receive the goods in 3-4 days.
If you want to know more about delivery time, visit this page
. For more information on placing orders visit the section
how to order
. If you have doubts about payments, visit the section
payments