Promotional Plastic USB flash drives
Promotional Plastic USB flash drives: the cheapest ones!
Discover more information on
Personalised USB Sticks in Plastic: Small, Cute and Cheap Corporate Gifts to Promote Any Brand!
We know how practical, useful and attractive objects are the best when it comes to spreading the logo. They are the number-one items in the world of promotional products. If they come in handy often and can be used easily, your corporate gifts will never stay in a drawer, especially if you have personalised them in an original and meaningful way for your brand.
Finding everyday items and turning them into sensational corporate gifts is not that hard. You just have to take into account your brand spirit, sector of activity, target audience, and promotional intent.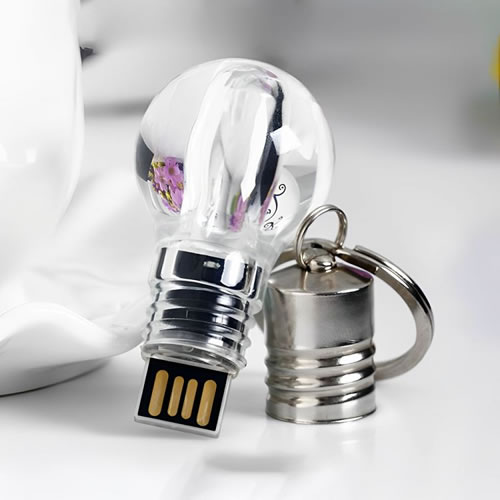 In any case, there are some promotional products you simply can not go wrong with, because they are useful in any situation and are highly customisable. Among these, personalised USB sticks in plastic deserve a mention.
Due to their playful or serious appearance, the low cost at which they can be personalised and the thousand areas in which they are useful, these branded USB flash drives represent a safe choice for any company, brand or store. If their convenience will surprise those who choose these USB sticks as corporate gifts on the one hand, their versatility will astonish those who receive them as a gift. So, these promotional products will imprint your logo in the memory of your customers, employees and collaborators forever.
Corporate Gifts and Plastic: The "Brothers" of Custom Plastic USB Flash Drives and the Advantages of the Material
Plastic is often used in items production. This trend is obviously visible in the corporate gifts industry as well, where plastic items are quite frequent. We see this with promotional plastic pens as well as with printed plastic keyrings. In both cases we are in front of the most classic and never out of fashion promotional products. As far as plastic models are concerned, they are the most common and popular as well. As in the case of personalised USB sticks in plastic, all corporate gifts made with this material present features that play incredibly in favour of the company.
The first advantage is the cost. Plastic promotional products are generally cheaper than versions made from other materials. This is undoubtedly a great opportunity for brands, who can exploit the advantageous price to order large quantities of printed keyrings, promotional pens and branded USB sticks made of plastic and distribute the corporate gifts obtained to a wider audience. They are then perfect personalised promotional products for wide-ranging advertising campaigns, because they allow you to reach a large portion of your target with a modest investment.
The second advantage is that plastic promotional products are not always enemies of the environment. Rather, in recent years several alternatives and sustainable versions have come out on the market. We find eco-friendly branded pens and printed eco-friendly keyrings made of PVC, ABS or other plastics which are less harmful to the environment. Custom USB flash drives too feature green models, which you can find in the "personalised eco-friendly USB sticks" category. Choosing corporate gifts made with plastic can then be a way to spread awareness about green alternatives as well.
Plastic Custom USB Sticks as Promotional Corporate Gifts: Usefulness and Communicative Impact, Choice of Model and Customisation
Branded USB sticks in general are always widely successful when distributed as promotional products. It is no coincidence that high-tech promotional gifts are increasingly in demand among companies active in the IT sector and not only.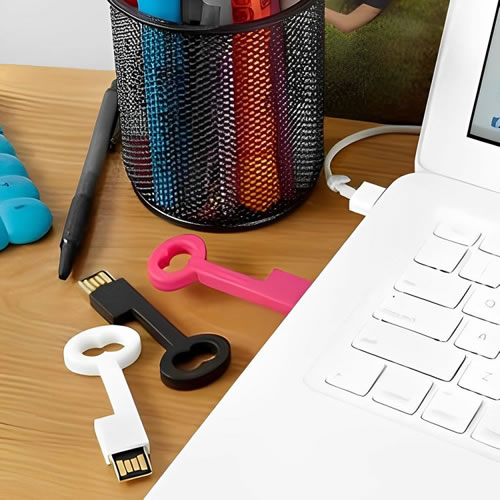 Personalised USB flash drives are the most versatile from this point of view, because they can be useful for work and hobbies, as well as being incredibly practical to carry anywhere, given their small size. In their plastic versions, our branded USB sticks are not only useful and comfortable, but also versatile in terms of model choice and customisation possibilities. All this, of course, makes them exceptional corporate gifts and promotional products for any business.
Small Corporate Gifts, Maximum Promotional Effect: Give Plastic Personalised USB Sticks for Wide-Ranging Advertising Campaigns
Sponsoring the brand is a necessity for any business, from companies to stores, from large to small production. To do this, however, sometimes prohibitive costs are required. However, custom USB flash drives in plastic ensure maximum advertising result with little expenses. The low price at which they can be purchased and customised allows any brand to adopt them as promotional corporate gifts. And not just in the IT-world. Although they are high tech promotional gifts, plastic branded USB flash drives are useful for everyone, at home and at work, for office matters as well as for personal hobbies.
Because they require low investment, they are perfect for large-scale advertising campaigns, perhaps at the start of business. If you are a newborn brand and want to make yourself known on the market, you can make use of the incredible advantages of plastic custom USB sticks and give them as promotional products to customers, visitors at fairs or congresses, or even at the business opening party.
Even companies that have been active for a long time can make personalised USB flash drives in plastic and distribute them as corporate gifts to employees or as promotional products to customers, perhaps on a special occasion. You can take advantage of the low price to give them along with other custom computer accessories, so as to offer complete corporate gifts. In all cases, the way in which these branded USB sticks will be made will determine what image they will give of the company.
Make Your Own Plastic Personalised USB Sticks: Variety and Communicative Impact
Among the many advantages that characterise branded USB flash drives made of plastic, the wide variety available in the catalogue is an excellent resource. Thanks to the assortment, every business – not only high-tech brands – can adopt custom USB sticks in plastic as promotional products or corporate gifts, because they can find the model that best suits their activity.
The variety of personalised USB flash drives made of plastic available presents serious to playful designs, able to meet all tastes and needs. Within the first group we find versions that belong to the subcategory of custom metal flash drives too, as they are made of both materials.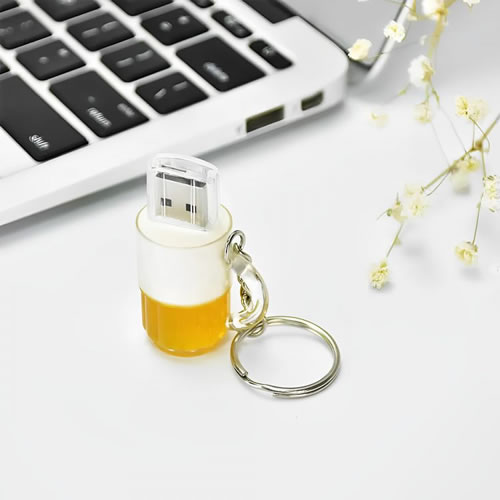 They are, of course, corporate gifts with a simple, yet refined appearance, ideal for sober targets.
If your brand, on the other hand, wants to focus on playfulness and give a cheerful image of itself, you will go safe with branded flash drives made of plastic which look colourful and fun in their shape, as well as with personalised USB sticks in soft PVC. Many designs represent objects and can be chosen to communicate a message or to make plastic personalised flash drives representative of your business.
In conclusion, custom USB sticks made with plastic are high-tech promotional gifts suitable for any brand, incredibly versatile and affordable. They are perfect for your first promotion, but also for an advertising campaign that aims to strengthen the brand image. Utility, variety, convenience are the three keywords that make personalised USB sticks in plastic an important promotional resource for any activity.
Did you like this content? Click here to download it.
The success in giving promotional plastic usb flash drives does not only lie in choosing the right type, but also in devising a particular design or message that most strikes the attention of those who receive the gift, and also accompanying it with your logo. Promotional plastic usb flash drives are among the most popular customizable promotional items on the market, maybe because they are easy to use and indispensable in everyday life. If you imagine them with your communication message imprinted, it is sure to be a hit. In our collection you will see a wide range of promotional plastic usb flash drives, available in different colours and prices. Choose from if what you prefer; each object can be customized with your logo or your slogan.
Where can I found all the information on promotional plastic usb flash drives?
All information about plastic usb flash drives is reported in the product sheet of each items. Therefore, the quantities available in stock, the colours, the prices, the types of printing are always visible and updated in real time. To get a personalized quote or a pre-view of how the personalised cheap usb sticks with your logo could look, just click on the buttons available on the item page. For any further information do not hesitate to contact us!
How can I see my logo on promotional plastic usb flash drives before the order?
Promotional plastic usb flash drives, personalised cheap usb sticks or custom shaped pendrives are perfect to be personalized but...how can I see my plastic usb flash drives with my logo before ordering on HiGift? It's very simple, just follow these steps. You are now in the promotional plastic usb flash drives category, choose your item and, once inside the product sheet, click on try your logo. In this tab you can try your own writing on the personalized item or directly upload your logo and test your promotional article. You can even eliminate the colored background of your logo. Don't worry, your graphic proof is not the official proof that will go into production! That will be provided by us after the order, at the latest within 24 hours.
How can I calculate an estimate for promotional plastic usb flash drives?
Do you know that on HiGift it is quick and easy to obtain an ad hoc quote? If you are in the promotional plastic usb flash drives category and you are therefore interested in this type of personalized items, just choose from the preview images the article that best suits your promotion. At this point, enter the product sheet and click on the appropriate red button. A pop-up will open and you just need to follow all the instructions given there. You need to know how many personalised plastic usb flash drives you want, your favorite color, if you want them customized and how many colors your logo has. In a few clicks you will have your quote and you can download it or save it in your account. If, on the other hand, you are interested in purchasing multiple types of plastic usb flash drives, cheap usb sticks o shaped pendrives and want to have an overall estimate of several promotional items, just go to the cart. There too you will find the possibility to download your quote.
Can I obtain some discounts with the purchase of promotional plastic usb flash drives?
On HiGift there are several ways to buy cheap plastic usb flash drives. The first and most obvious: if you buy plastic usb flash drives, cheap usb sticks or shaped pendrives iin huge number, the price per item will be lower. If you buy the same items in smaller quantities, you will have a higher price each. This detail is clearly visible in the price table on each product sheet: it is often enough to add a minimum quantity of plastic usb flash drives to get a better price. Also, if you subscribe to our newsletter you will be updated on the promotions we release every month. That's right, you got it right: you can find promotions on promotional plastic usb flash drives, that is the articles you are looking for! If you become our customer you will also be able to access the HiGift Circle loyalty program which will allow you to have exclusive benefits by climbing the statuses. That is, more plastic usb flash drives, cheap usb sticks or shaped pendrives you buy, the sooner you will be able to reach the threshold for your passage of status and obtain increasingly important benefits, discounts included.
Branded Merchandise have multiple benefits for businesses. They can be part of corporate merchandising, a promotional and advertising tool for customers, and also a gift for employees during holidays, anniversaries or corporate anniversaries. They are useful tools to leave a memory of the brand during events, fairs, promotions to potential customers. Promotional items customized with your logo, if chosen carefully with respect to the communication message you want to convey, undoubtedly create added value to your brand.
Promotional Plastic USB flash drives - FREQUENT QUESTIONS
anyone who has experienced the floppy disk cannot fail to appreciate usb flash drives with smaller and easier shapes to carry around. But plastic usb flash drives, as we know them today, the simpler ones have much more functions than in the past. The plastic usb flash drives to be customized, in fact, are used to store files, documents, videos, but they also have other interesting uses, such as:
Install any operating system;
Run portable apps anywhere;
Protect yourself online from viruses by installing specific programs on your USB flash drive
All these features make the promotional plastic usb flash drives to be custom branded promotional items that are highly appreciated both in trade fairs, in meetings and in company refresher courses. USB flash drives in both plastic and metal are techno gadgets that can not be missing in any office. The advice is to focus on products that can be used by those who will receive them in everyday life, and that therefore have a real practical use. Usb flash drives in plastic respond to this need and therefore it is never a wrong idea to focus on USB sticks and if you want to economize this promotional items just focus on plastic usb flash drives with simple printing.
promotional plastic usb flash drives have always been one of the best-selling and sought-after promotional items. To customize plastic USB flash drives, we advise you to view all the customization possibilities that we explain in each product sheet; here are some:
Transfer: it is ideal for all those objects that cannot be screen printed due to their size or shape. With this technique, the logo is printed on a special paper and then transferred and fixed on the product with a high temperature press. The transfer prints have very vivid, precise colors, resistant to washing and wear.
Laser engraving: this technique uses a precision laser to engrave objects. Unlike mechanical procedures, the depth of the engraving made with a precision laser can be measured in hundredths of a millimeter. During the customization process, the surface of the product is burned with extreme precision by the passage of the laser beam, giving shape to the logo to be reproduced on the object; it is also possible to reproduce small logos with extreme precision and detail.
Pad printing: used for the personalization of plastic, metal, wood and paper products. It allows you to print very accurate and high definition logos even of small dimensions. The particular advantage of pad printing is the possibility of printing on curved surfaces. Pad printing is the most popular printing method.
Verifying every detail is important. It is therefore normal to buy Promotional Plastic USB flash drives without having touched them can block your purchase process. For this on HiGift it is possible to receive a sample before ordering the entire quantity of the Plastic USB flash drives. The procedure is very simple: just click on the red button calculate your quote and buy and enter 1 in the desired quantity. Then need to click on confirm order to proceed to purchase the sample without the desired print, after registering on our site or logging in if you are already a customer. In many cases it is also possible to customize the sample with your own logo, in order to be able to see the finished promotional product. Just choose the personalization on the calculator and that's it. To find out the cost of the neutral sample, go to the price summary that you see in the product sheets of Plastic USB flash drivesand you will find it highlighted. In case the timing does not allow you to wait for the receipt of the sample to place the order, write to our customer service, we will be happy to help you with information or photos of the selected product.
You can order your
promotional plastic usb flash drives
quickly by following these steps:
If you are not already our customer, sign in on HiGift or log into your account.
Choose the promotional item you prefer and, once you have entered the product sheet, click on the appropriate red button calculate your quote and buy.
Enter the quantity and possibly the color of plastic usb flash drives, choose the type printing and follow the steps indicated until you have the final quote.
Click on confirm order to proceed with the purchase.
When ordering, you can upload your logo, or do it later in your personal area within the relevant order. Our staff will proceed to make you a free print draft to show you the
promotional plastic usb flash drives with your logo
.
For more information click here
.
After your approval, we will proceed with production and you will receive Plastic USB flash drives in 15-17 days. If, on the other hand, you have purchased plastic usb flash drives without any customization, you will receive the goods in 3-4 days.
If you want to know more about delivery time, visit this page
. For more information on placing orders visit the section
how to order
. If you have doubts about payments, visit the section
payments