Personalised Clocks & watches
Personalised Clocks & watches: modern, technological or even classic!
Discover more details on
Make the most of your time! With personalized clocks and watches you'll advertise your company every second!
It's always a good time to give away personalized clocks and watches! They're useful corporate gifts and never needless. They have all the requirements of a successful promotional product. They can be used often, by anyone and they can display your logo. They're small and easy to deliver to your customers or employees. Very comfortable, those who receive them will immediately appreciate their practicality.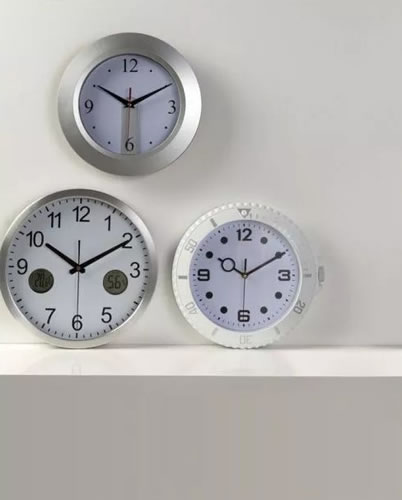 One of the advantages of personalized clocks and watches is that they aren't affected by seasonality. Unlike a personalised straw hat, for instance, you can give them away both in winter and summer. They'll be an appropriate thought at any time, because they're always useful. There are various types, all suitable to be given both to your customers and to your employees.
Personalized clocks and watches with photo: corporate gifts for your employees
Giving your team corporate gifts is a great idea for an event or a dinner. Another possibility is to distribute them just before the holidays, for instance during the Christmas period.
Offering your employees personalized clocks and watches will give them an original and comfortable promotional product. They can take them with them anywhere, whether it's branded wristwatches or branded smart watches. On the other hand, in the case of wall clocks or desk clocks, they can keep them at home or in the office. In both cases, they'll appreciate your promotional products a lot and use them throughout the day!
Corporate gifts convey attention and gratitude to employees. Moreover, they create cohesion within the team and strengthen the feeling of belonging to the company. To realise their full potential, personalized clocks and watches must be unique and communicative. A great idea is to add a photo. Think about last year's corporate dinner or an event all of your employees attended to. If you have a shot with the whole team, print it onto your personalized clocks and watches to create a great gift.
Giving away branded wristwatches to employees: spread your name with a small but effective corporate gift!
As you can wrap them around your wrist, watches have a great advantage. You can wear them anywhere without the least effort. All you need to do is to clip them. Then, you'll advertise your logo with an accessory that isn't only useful, but also chic. Branded wristwatches have indeed an elegant design. They can be combined with any outfit and give a touch of class to any look. For a gift that your employees can use on any occasion, the ideal is to customise them in a simple way. All you need is to print or engrave your logo on the strap and you'll create a corporate gift with guaranteed success.
There are also models in step with the times. We're talking about smart watches. They combine the features of typical watches with technological functions. Besides marking the time, these personalized corporate gifts can count the steps, measure the heart rate, connect with the smartphone to accept calls and do other activities. All this without picking up the phone. It's no coincidence that they're so fashionable and always well received.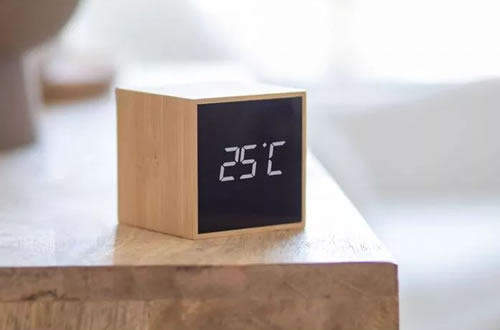 Giving them as a corporate gift to your employees will offer them a very useful accessory, with many functions beyond those of a simple watch.
Looking for corporate gifts for your office? Personalised desk clocks are what you need!
If you were thinking of a personalized clock as a gift for your team, the first image you probably came up with is that of personalised desk clocks. Your employees will be able to use them in the office to keep an eye on the time while they work. Having personalised table clocks has several positive effects on your team:
They're very useful corporate gifts that will allow your workers to respect the schedule.
They'll be perfect decorative elements because they're in line with the company.
A simple glimpse will make your employees feel part of the work reality.
Personalized clocks and watches with logo: the promotional products you've been waiting for!
Giving promotional products to customers is a marketing strategy with guaranteed success. Simple, useful and durable items will most likely be used, and they will spread your brand. Not only that: successful corporate gifts will encourage audiences to turn to you again in the future, too.
For this purpose, however, the customer must be able to attribute the accessory to you. Printing or engraving the company logo on your corporate gifts will make them unmistakable. Moreover, you'll thus customise them in a mild way. Personalized clocks and watches with logo will be perfect to be combined with any look, in the case of branded wristwatches. The same goes for personalised desk clocks or custom wall clocks, which will suit any type of furnishing.
Looking for the best watch to give to your customers? Branded smart watches will help them to stay fit and not waste time!
Your customers are running against the clock, too. We live in a fast-paced society in which everyone is always on the move. Branded wristwatches are the best way to keep track of the minute and make sure you're on time. It's no coincidence that, for many, it's a tool they can't do without.
Giving branded wristwatches to your customers will increase their confidence in the company. With such corporate gifts, you'll prove to be attentive to the needs of your audience and to focus on quality. Buyers will certainly value this aspect for their future purchases. Besides advertising outside the company thanks to a useful and stylish promotional product, branded wristwatches are accessories that retain customers.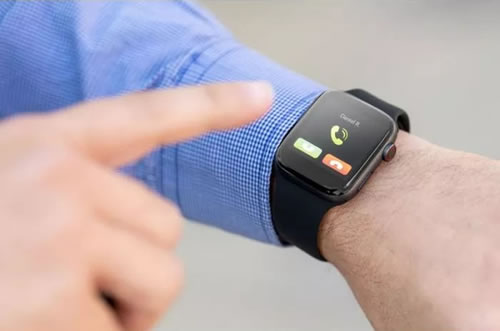 Again, you can choose branded smart watches for an even more useful and special gift. Smart watches are the perfect idea for:
A company that focuses on technological innovation. Branded smart watches are an example of how an old invention can always be renewed. Especially if you work in the technology industry, your customers will appreciate this choice very much.
An active brand in the field of sport: with their ability to count steps and other sports parameters, branded smart watches are ideal for a sports centre or an activity that's dedicated to sport. Your audience can't but consider it a focused and helpful gift.
Branded wristwatches and branded smart watches are perfect for both adults and younger people. If you have a young clientele, these corporate gifts are for you!
Corporate gifts for home: give your customers custom wall clocks
On the other hand, custom wall clocks are suitable for a mostly adult audience. They can become perfect accessories for your customers' home. As already mentioned, printing the logo will be enough to create a successful corporate gift. Custom wall clocks with logo have the following features:
They match with the furniture thanks to a unique design and a sober style.
They're useful to check the time in the house, where you don't always wear a wristwatch. They can be very helpful in the kitchen, to keep an eye on the cooking time.
Your customers will always have your logo under their eyes. As a result, they'll remember your company very well.
Relatives and friends visiting your customers' home will likely notice your custom wall clock. Maybe, they'll even take an interest in your business.
However, you shouldn't underestimate personalised desk clocks. You can place them not only on desks, but on a shelf or on a piece of furniture as well. Your printed logo will decorate your customers' homes with a touch of uniqueness. That's how your personalized clocks will sponsor your brand effectively.
Did you like this content? Click here to download it.
Personalised clocks & watches with your printed logo are a thought that lasts over time, a memory that every person who interacts with your company carries with them, a promotional item that, using it, will unknowingly advertise your brand. Personalised clocks & watches are a simple and easy to use objects and this is the added value of the promotion that you will be able to obtain through this kind of promotional item. In our collection you will see a wide range of personalised clocks & watches, available in different colours and prices. Choose from if what you prefer; each object can be customized with your logo or your slogan.
Where can I found all the information on personalised clocks & watches?
All information about clocks & watches is reported in the product sheet of each items. Therefore, the quantities available in stock, the colours, the prices, the types of printing are always visible and updated in real time. To get a personalized quote or a pre-view of how the custom smartwatches with your logo could look, just click on the buttons available on the item page. For any further information do not hesitate to contact us!
How can I see my logo on personalised clocks & watches before the order?
Personalised clocks & watches, promotional wristwatches or custom smartwatches are perfect to be personalized but...how can I see my clocks & watches with my logo before ordering on HiGift? It's very simple, just follow these steps. You are now in the personalised clocks & watches category, choose your item and, once inside the product sheet, click on try your logo. In this tab you can try your own writing on the personalized item or directly upload your logo and test your promotional article. You can even eliminate the colored background of your logo. Don't worry, your graphic proof is not the official proof that will go into production! That will be provided by us after the order, at the latest within 24 hours.
How can I calculate an estimate for personalised clocks & watches?
On HiGift you can make, download and save all the estimates you need in your personal area! You are now on personalised clocks & watches category, select your favorite customizable item and, once inside the product sheet, click on get your price and buy. Just enter the quantity, the color of clocks & watches, the type of customization you require based on the characteristics of your logo. In a few clicks you will be able to get your quote. At this point you can download it or save it in your personal area. If you want to revise the quote, just go back by clicking on the appropriate button. If you add various products such as clocks & watches, wristwatches or smartwatches to your cart, you will also be able to download or save the overall estimate of all your promotional items before checking out. In this way you can do all the tests you want with your favorite corporate gifts!
Can I obtain some discounts with the purchase of personalised clocks & watches?
If you are looking for personalized cheap clocks & watches , here you are in the right place. In fact, on HiGift you can find different ways to save on your corporate gifts such as clocks & watches, wristwatches or smartwatches. Also if you buy a small quantity of clocks & watches, you can save on the cost each, which decreases as quantities increase. Furthermore, by registering on our site you will participate in the HiGift Circle loyalty program which will allow you to obtain increasingly exclusive benefits as you climb your status. How to get to be a Platinum customer? Just buy your corporate gifts from us, so, once you have reached a certain spending threshold, you can scale from Bronze to Silver up to Gold and finally Platinum to get, among other advantages, an important discount on the purchase of all the promotional items present on the site. Finally, if you want to stay updated on discounts and promotions that can include clocks & watches, wristwatches o smartwatches, subscribe to our newsletter, you will receive it monthly and will always contain news on discounts and benefits for you.
Branded Merchandise have multiple benefits for businesses. They can be part of corporate merchandising, a promotional and advertising tool for customers, and also a gift for employees during holidays, anniversaries or corporate anniversaries. They are useful tools to leave a memory of the brand during events, fairs, promotions to potential customers. Promotional items customized with your logo, if chosen carefully with respect to the communication message you want to convey, undoubtedly create added value to your brand.
Personalised Clocks & watches - FREQUENT QUESTIONS
A clock is not only an instrument for knowing the exact time, but it is also an instrument for measuring time.
The clock has a long history. Depending on the historical period, the culture of the moment and fashions that have followed, the clock has always been reshaped in multiple forms: - Table clocks;
- Wall clocks;
- Watches;
- Smart watches.
Whatever you are, a small or a big company, with huge past or a start up company, customize clocks and watches for your brand can't be a bad idea.
Whichever custom clocks or watches you order, recipients are sure to feel more positive about your brand.

HiGift offers a wide range of watches to be customized according to the shape, material and color required.
We advise you to choose the company gifts, always taking care of your core business and your line marketing strategy, considering the different possibilities of customization: from the classic types to more fun models.
In addition to being customizable in its shape, the clock is also customizable in material and color.
In our dedicated section of our web site you will find many ideas in plastic, metal and also in bamboo, for an ecological choice too.
And If you are looking for a particular model that you cannot find on our website..
No problem at all.
Let's Contact us and we will find the items you searching for.

Verifying every detail is important. It is therefore normal to buy Personalised Clocks & watches without having touched them can block your purchase process. For this on HiGift it is possible to receive a sample before ordering the entire quantity of the Clocks & watches. The procedure is very simple: just click on the red button calculate your quote and buy and enter 1 in the desired quantity. Then need to click on confirm order to proceed to purchase the sample without the desired print, after registering on our site or logging in if you are already a customer. In many cases it is also possible to customize the sample with your own logo, in order to be able to see the finished promotional product. Just choose the personalization on the calculator and that's it. To find out the cost of the neutral sample, go to the price summary that you see in the product sheets of Clocks & watchesand you will find it highlighted. In case the timing does not allow you to wait for the receipt of the sample to place the order, write to our customer service, we will be happy to help you with information or photos of the selected product.
You can order your
personalised clocks & watches
quickly by following these steps:
If you are not already our customer, sign in on HiGift or log into your account.
Choose the promotional item you prefer and, once you have entered the product sheet, click on the appropriate red button calculate your quote and buy.
Enter the quantity and possibly the color of clocks & watches, choose the type printing and follow the steps indicated until you have the final quote.
Click on confirm order to proceed with the purchase.
When ordering, you can upload your logo, or do it later in your personal area within the relevant order. Our staff will proceed to make you a free print draft to show you the
personalised clocks & watches with your logo
.
For more information click here
.
After your approval, we will proceed with production and you will receive Clocks & watches in 15-17 days. If, on the other hand, you have purchased clocks & watches without any customization, you will receive the goods in 3-4 days.
If you want to know more about delivery time, visit this page
. For more information on placing orders visit the section
how to order
. If you have doubts about payments, visit the section
payments