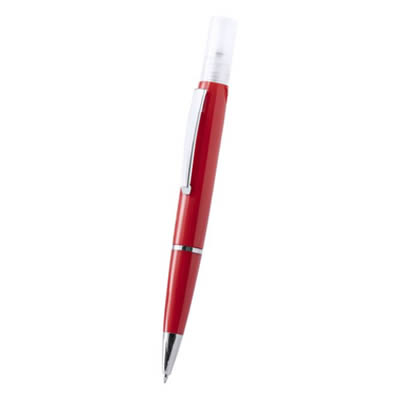 Custom Antibacterial pens
Custom Antibacterial pens: protect your writing!
Read more information on
Custom antibacterial pens with your printed logo are a thought that lasts over time, a memory that every person who interacts with your company carries with them, a promotional item that, using it, will unknowingly advertise your brand. Custom antibacterial pens are among the most popular corporate gifts; they help to give visibility, personality and uniqueness to your brand. A useful, classic gift that is renewed to keep up with the times! On this page you will find more than one type of custom antibacterial pens, so that you can choose the promotional item that best suits your brand or your communication with object, based on price, colour, size, shape.
Where can I found all the information on custom antibacterial pens?
Information about antibacterial pens such as quantities availability in stock, printing variables, prices, exact sizes of the items are visible on the relevant page dedicated to the product. It is possible to create customized estimates and graphic drafts in total autonomy by clicking on the two red buttons clearly visible on the page. If you need more information about antimicrobial pens, we are always available via chat, email, phone.
How can I see my logo on custom antibacterial pens before the order?
Custom antibacterial pens, personalised antimicrobial pens or promotional antibacterial pencils are perfect to be personalized but...how can I see my antibacterial pens with my logo before ordering on HiGift? It's very simple, just follow these steps. You are now in the custom antibacterial pens category, choose your item and, once inside the product sheet, click on try your logo. In this tab you can try your own writing on the personalized item or directly upload your logo and test your promotional article. You can even eliminate the colored background of your logo. Don't worry, your graphic proof is not the official proof that will go into production! That will be provided by us after the order, at the latest within 24 hours.
How can I calculate an estimate for custom antibacterial pens?
On HiGift you can make, download and save all the estimates you need in your personal area! You are now on custom antibacterial pens category, select your favorite customizable item and, once inside the product sheet, click on get your price and buy. Just enter the quantity, the color of antibacterial pens, the type of customization you require based on the characteristics of your logo. In a few clicks you will be able to get your quote. At this point you can download it or save it in your personal area. If you want to revise the quote, just go back by clicking on the appropriate button. If you add various products such as antibacterial pens, antimicrobial pens or antibacterial pencils to your cart, you will also be able to download or save the overall estimate of all your promotional items before checking out. In this way you can do all the tests you want with your favorite corporate gifts!
Can I obtain some discounts with the purchase of custom antibacterial pens?
If you are looking for personalized cheap antibacterial pens , here you are in the right place. In fact, on HiGift you can find different ways to save on your corporate gifts such as antibacterial pens, antimicrobial pens or antibacterial pencils. Also if you buy a small quantity of antibacterial pens, you can save on the cost each, which decreases as quantities increase. Furthermore, by registering on our site you will participate in the HiGift Circle loyalty program which will allow you to obtain increasingly exclusive benefits as you climb your status. How to get to be a Platinum customer? Just buy your corporate gifts from us, so, once you have reached a certain spending threshold, you can scale from Bronze to Silver up to Gold and finally Platinum to get, among other advantages, an important discount on the purchase of all the promotional items present on the site. Finally, if you want to stay updated on discounts and promotions that can include antibacterial pens, antimicrobial pens o antibacterial pencils, subscribe to our newsletter, you will receive it monthly and will always contain news on discounts and benefits for you.
Corporate Gifts have multiple benefits for businesses. They can be part of corporate merchandising, a promotional and advertising tool for customers, and also a gift for employees during holidays, anniversaries or corporate anniversaries. They are useful tools to leave a memory of the brand during events, fairs, promotions to potential customers. Promotional items customized with your logo, if chosen carefully with respect to the communication message you want to convey, undoubtedly create added value to your brand.
Custom Antibacterial pens - FREQUENT QUESTIONS
Personalized pens have always been one of the most purchased promotional products. There are companies that personalize their company pens every year, as a real recurrence. to give to suppliers, employees, customers and collaborators and to take with you to any trade fair or event in the sector. An excellent strategic marketing choice that leads them every year to look for a pen with an original design. By doing so, these companies create real collections of pens, creating also expectation and expectation in the recipients who every year await the special gift. But pens are a vehicle for transmitting microbes and bacteria and today, more than ever, we are all looking for products that raise our level of safety and protect our loved ones. If you are a company looking for this too, antibacterial pens are a products not to be missed. Custom antibacterial pens are made such by a process of working the surface of the pen itself with active ingredients that are activated to fight the formation and growth of germs and bacteria every time that we touch the pen. The antibacterial pens are available in both black and blue refills and there are also models equipped with a sanitizing spray on the top to sanitize hands after use. With this simple but original product you can face your trade fairs in total safety, taking care of your customers and increasing trust in your brand. These antibacterial pens are special and innovative pens and will be just one more reason to remember your company.
Custom antibacterial pens can mainly be printed both in pad printing and with UV Led. Let's see together, quickly, what both prints consist of:
Pad printing: it is an indirect printing technique because it uses a pad as an object with which to transfer the color. In practice, the pad is print first against the steel plate where the logo has been engraved and colored, and then on the antibacterial pen, with a pad mechanism. Pad printing is a process used mainly in the printing of small objects, such as ballpoint pens. It has a high versatility and adapts to curvilinear shapes. It is the most economical solution for various products other than pens.
UV Led: this printing technique involves direct printing on the surface of the product without the aid of any heat treatment, ensuring an instant result of high quality. We can use this type of printing on metal, glass or plastic products.
The antibacterial pens can be printed both on the clip and on the barrel of the pen, both in a circular and linear way. Considering the limited space that you can have on a pen, we advise you to develop simple but impactful graphics, also simplifying your logo, but without distorting it.
Verifying every detail is important. It is therefore normal to buy Custom Antibacterial pens without having touched them can block your purchase process. For this on HiGift it is possible to receive a sample before ordering the entire quantity of the Antibacterial pens. The procedure is very simple: just click on the red button calculate your quote and buy and enter 1 in the desired quantity. Then need to click on confirm order to proceed to purchase the sample without the desired print, after registering on our site or logging in if you are already a customer. In many cases it is also possible to customize the sample with your own logo, in order to be able to see the finished promotional product. Just choose the personalization on the calculator and that's it. To find out the cost of the neutral sample, go to the price summary that you see in the product sheets of Antibacterial pensand you will find it highlighted. In case the timing does not allow you to wait for the receipt of the sample to place the order, write to our customer service, we will be happy to help you with information or photos of the selected product.
You can order your
custom antibacterial pens
quickly by following these steps:
If you are not already our customer, sign in on HiGift or log into your account.
Choose the promotional item you prefer and, once you have entered the product sheet, click on the appropriate red button calculate your quote and buy.
Enter the quantity and possibly the color of antibacterial pens, choose the type printing and follow the steps indicated until you have the final quote.
Click on confirm order to proceed with the purchase.
When ordering, you can upload your logo, or do it later in your personal area within the relevant order. Our staff will proceed to make you a free print draft to show you the
custom antibacterial pens with your logo
.
For more information click here
.
After your approval, we will proceed with production and you will receive Antibacterial pens in 15-17 days. If, on the other hand, you have purchased antibacterial pens without any customization, you will receive the goods in 3-4 days.
If you want to know more about delivery time, visit this page
. For more information on placing orders visit the section
how to order
. If you have doubts about payments, visit the section
payments