Personalised mugs are a great choice on several occasions. They can help you promote your business, create unique gifts, or celebrate special events.
There are several ways to use them. They can be part of an advertising campaign for your company or events. They make first-class corporate gifts as well as souvenirs for weddings, birthday parties, and anniversaries. Last but not least, they can be special promotional products for loyal customers or on special occasions.
Choosing the right type of personalised mugs and printing technique can make the difference between a quality cup and an ordinary one.
With the information in this article, you will be able to choose the type of cup and printing technique that best suits your needs. As a result, you will create high-quality custom mugs that will stand out for their exceptional appearance and durability.
How to Choose the Material for Your Printed Mugs
When you have to choose the material for your personalised mugs, you will have many options to take into account. Each of them has unique features that can affect the quality and durability of the image you decide to print. Among the most common materials are ceramic, stainless steel, plastic, glass and bamboo.
Ceramic is very popular. It is robust, durable and able to keep the drinks inside the cups warm.
Stainless steel, on the other hand, is resistant to corrosion and wear. So, it is ideal for mugs intended to be used for a long time.
Plastic is lightweight and easy to carry around. This makes it suitable for people who are often on the go.
The glass has excellent transparency and an elegant finish. It is then the perfect option if the recipient has refined tastes.
Bamboo is eco-friendly and versatile, and it will make your custom mugs stand out for being original.
Choosing the right material for your needs is crucial. For instance, if you want your cup to be used for a long time, you should rather go for ceramic or stainless steel.
Besides, when thinking about the material for your personalised mugs, you should also consider whether the material is safe for the food and resistant to the heat.
It must meet the regulatory requirements of the country in which you intend to use your custom cups. Checking this conformity is essential. Only in this way will you ensure that it's safe for food use and complies with the laws in force.
How to Choose the Printing Technique for Your Personalised Mugs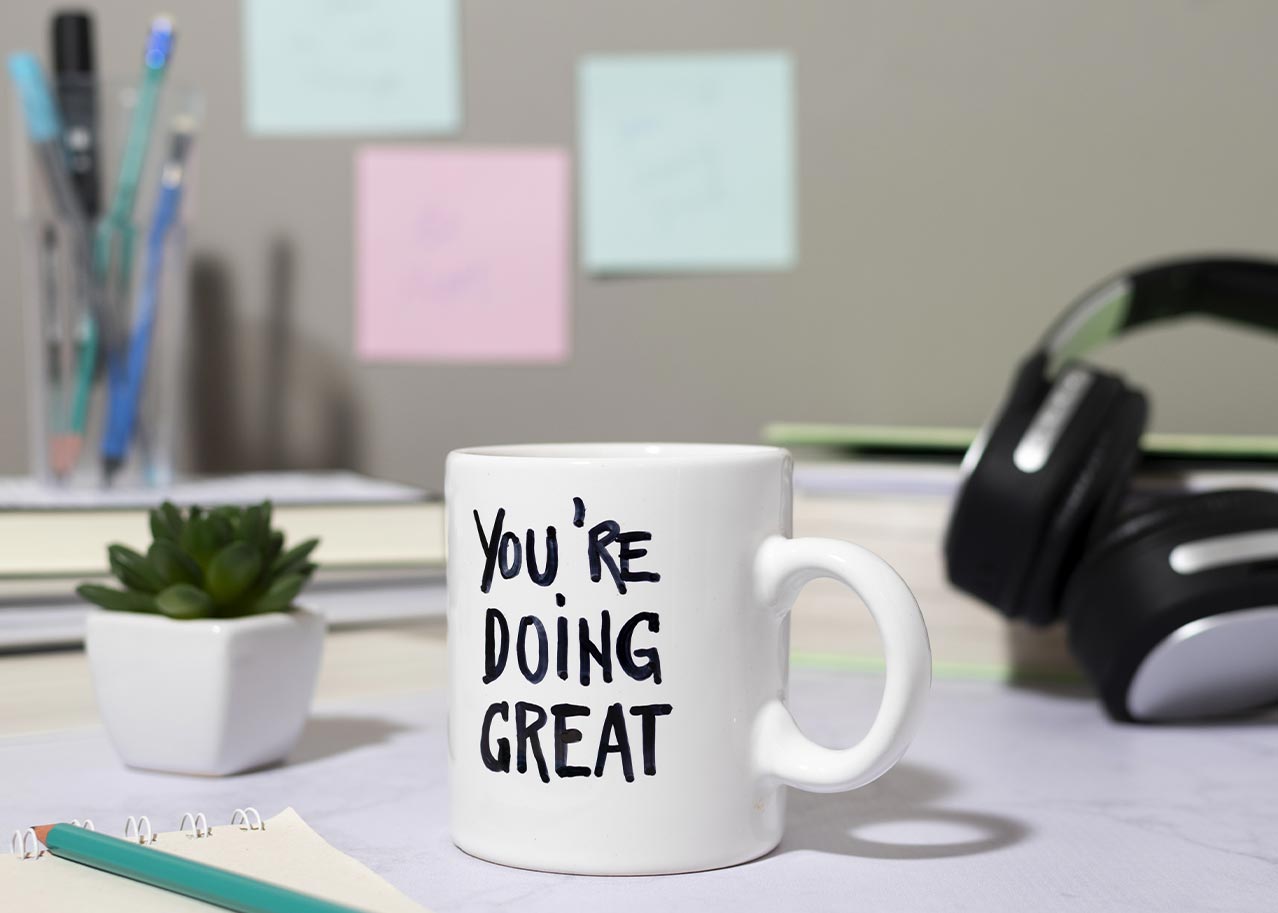 Choosing the right printing technique for your custom mugs is of the greatest importance. It can affect the quality and durability of the image you print. Before making your choice, you should consider several factors. Among these, the type of cup you wish to customise, the picture design and the amount of printed mugs that you would like to create.
Sublimation or thermal transfer printing are the best options for ceramic cups.
The former uses sublimation inks that turn into gases with the heat. They ensure sharp and long-lasting pictures.
Thermal transfer uses a heat-sensitive sheet that melts onto the cup when heated. The result is well-detailed and precise.
Cups made of stainless steel go particularly well with sublimation. The inks used with this technique blend seamlessly with the stainless material. The final print will be flawless.
Tampon printing is generally recommended for plastic cups, because its inks are perfect for this material.
Thermal transfer is the best option for cups made of glass. It's delicate and produces fine and pleasant pictures.
Finally, the best techniques for bamboo cups are digital printing or sublimation.
So, in general, the choice of the technique to create your printed mugs depends on your specific needs and the characteristics of the material.
How to Choose Design Options for Custom Mugs
If you wish to customise a mug, various design options are possible. One of the most popular is to print pictures on the surface. A photo mug is a unique and meaningful gift that will no doubt amaze those who will receive it. Company logos, custom writing, and drawings can be applied on your branded mugs as well.
Obviously, the application of the writing or picture depends on the type of printed mug chosen, too. Variable in size, shape and possible presence of accessories – such as caps in the case of a personalised travel mug – custom cups offer a wide choice. And, based on the model selected, you can decide how to make them so that they're in line with your needs and tastes.
Tips for Creating the Perfect Custom or Branded Mugs
In conclusion, here are some steps that will help you create the perfect printed mugs for your needs:
Choose the right material for your personalised cups or custom mugs. There are many options available including ceramic, stainless steel, plastic, glass and bamboo. Each material has unique qualities and different properties that can affect the final result of the printed image.
Choose the right printing technique. Sublimation, thermal transfer, pad, digital and laser printing are just a few of the options available. Consider the features of each technique and choose the one that best suits your personal needs and the material of the cup chosen.
Think of an eye-catching design for your printed mugs. Being unique and attractive can make the difference. It may determine whether your personalised cups will be used often and appreciated for their beauty or left on a shelf. There are several options to choose from when it comes to printing

photos, logos and writings. Make sure you find a design that reflects the spirit of your business or of the event and that appeals to your

target audience

. Or, in the case of a

photo mug

for a loved one, that it appeals to their tastes.

Calculate your budget. Personalised mugs can have different costs depending on the material, printing technique and design chosen. It's important to calculate the budget you can afford and think of the best options accordingly.
Follow these simple points and you'll just have to try your logo, send the order and wait for the professional graphic draft to get an idea of the final result. You will be able to make any changes you think necessary until you achieve an effect which satisfies you. After that, you'll just have to wait for the creation and delivery of your exclusive printed mugs!
Click here and learn more about HiGift.eu and how to create custom cups and other personalised items!