Deciding to get a tattoo is always a brave choice. To imprint on the skin a drawing, a phrase or a symbol that will remain forever requires certainties that not everyone can have at all times. However, there is a solution to decorate your body without having to worry about the future. It's custom temporary tattoos.
Is a Tattoo Forever? Not Always
As the name itself says, a temporary tattoo lasts for a limited period of time. The colour doesn't enter the skin. Instead, it's only "attached" on the part of the body that you want to decorate.
For this reason, it's an easy and smart way to have a fake tattoo with a great impact.
Children have loved this type of tattoo since forever. Moreover, nowadays you can find temporary tattoos of all kinds, shapes and colours, so that you'll no doubt find the one for you or your kid.
Where Can You Buy Temporary Tattoos?
Not so long ago, this type of tattoo was quite difficult to find. They often appeared as surprises inside chip packages or Easter eggs.
Not infrequently they were also quite disappointing. The subject that was represented as well as the graphic rendering weren't really satisfying most of the times. The edges weren't well defined, the colours dull or even inappropriate. The result was that these tattoos turned out to be messes rather than small works of art as they should have been.
At least they didn't last long. It was indeed very easy to wash them away.
Today, however, everything is much simpler and above all the result much better. Custom temporary tattoos nowadays are beautiful and able to raise emotions. You can design your own temporary tattoo by choosing between many subjects. You'll surely find the one that meets your tastes or that suits the situation perfectly.
Not to mention the aesthetic performance, which is much more detailed. As a result, your personalised temporary tattoos will look like full-fledged quality tattoos.
How Many Types of Temporary Tattoos Are There and Which One to Choose?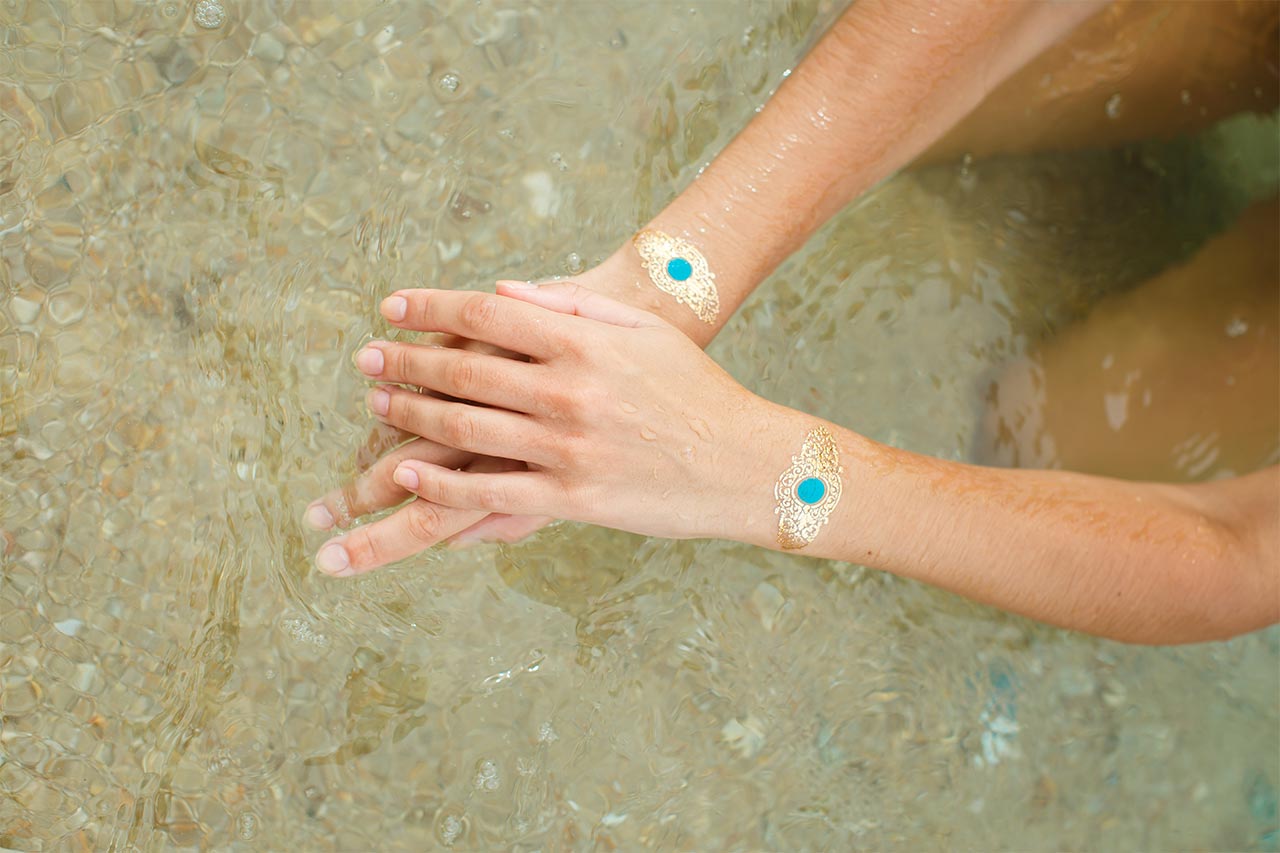 When it comes to temporary tattoos, you're spoiled for choice. The first step is to decide which technique you want to use. Currently, there are three possibilities. Some fake tattoos can be applied with a spray on a stencil, some others are made with henna. Lastly, we find custom tattoo stickers, which are the easiest to use.
Moreover, these latter are quite classic and very safe. For this reason, they're the perfect choice when you're looking for personalised temporary tattoos for children. Besides, they leave room for creativity, because there are many subjects available. In this case, you can design your own temporary tattoo in any sense. You can choose to apply photos of people or of animals, drawings of your liking, catchphrases or sentences that are meaningful to you. In this way, these custom temporary tattoos allow you to create a decoration tailored to your skin. The result will be unique!
On HiGift you just need to provide the images or drawings you prefer. These will then be transformed into extraordinary temporary tattoos.
They're printed on a special paper so that they look reversed from the original. In this way, the flipped image will be correct once applied on the skin.
Using them is very easy. After choosing the part of the body to be tattooed (we recommend to choose hair-free areas with no articulation), the skin must be perfectly clean and dry.
After that, gently lift the transparent protective film from the tattoo, place it on the skin and moisten the paper with a damp cloth for about 30 seconds, pressing on the tattoo.
Finally, you'll simply have to slowly raise the paper support. You'll now see your custom temporary tattoo in all its beauty. Let it air dry and then flaunt it whenever you want.
In general, these tattoos last for 3/5 days. However, their durability depends on external factors, such as the frequency with which you wash the area, how often it comes into contact with clothes and how many times you go to the pool or the sea...
In any case, when the image begins to fade, just rub the area with a sponge or cotton wool soaked in alcohol or makeup remover lotion. It'll disappear altogether.
Custom temporary tattoos aren't suitable only for body parts. On the contrary, they can be applied on clothes, tablets, notebooks. Even in these cases their duration varies depending on the use that's made of it. There is only one thing they really fear: the washing machine! Once put there, they'll go away forever without leaving stains.
Unique Ideas for Unique Events: How to Throw an Unforgettable Party
Temporary tattoos, especially custom tattoo stickers, can be used on various specific occasions, both by adults and children. Here are a few ideas on how to make the most of them.
Personalised Temporary Tattoos for Weddings, Holy Communions, Confirmations
All these are perfect events to design your own temporary tattoo and give it to all the children invited. You may choose a unique theme that kids like. You can either give it to each little guest personally or leave all your personalised tattoos in a common area when the party begins.
Temporary Birthday Tattoos
These parties are the ideal occasion to organize something fun and original. Why not create custom tattoo stickers, perhaps with the name and age of the partygoer, or with a theme design that can characterise the whole party?
In this case as well, it may be a good idea to create a specific area where everyone can choose the tattoo and get help from adults to apply it without smudges. So, each guest will have their own custom tattoo. The party will be even more special and every guest will keep a good memory of it.
Temporary Tattoos for DIY-Activities
Fake tattoos can be used for DIY-activities to do with children. You can decorate glass jars, ceramic jars or hard-boiled eggs.
The way to apply them is the same as on the skin, but it's important to choose an object which is smooth and clean, possibly white or transparent. To make it last longer, you can add a little vinyl glue or transparent paint in the end to fix the pattern even better.
In conclusion, personalised temporary tattoos are a good alternative to permanent ones, which – as the name suggests – are incredibly difficult to erase. They're also a way to give even the children the opportunity to decorate their skin with cute and fun images.
Their visual effect is quite impressive and they're not as demanding as real tattoos. Moreover, they don't deform with the passing of time. Lastly, people who love to change and get tired of things easily can wear a different one every time. This will give them the chance to choose the best one for any occasion they want to flaunt it at.